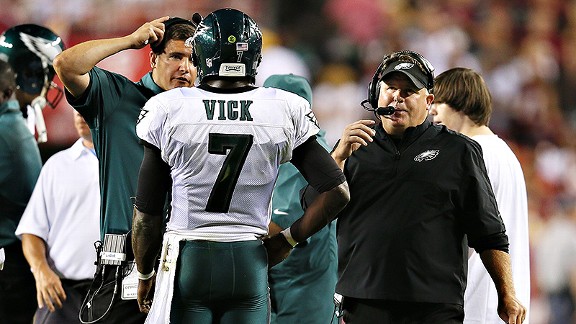 Rob Carr/Getty ImagesJon Gruden tells the guys about the Eagles' new-look offense, Robert Griffin III's health and more.
• Monday Night Football's Jon Gruden discusses the speed of Chip Kelly's offense, Robert Griffin III's return to the Redskins, mobile QBs, Steelers-Bengals and more. Gruden

• ESPN NFL Insider Adam Schefter shares his thoughts on whether the league considered suspending Ndamukong Suh, the Patriots' injuries and more. Schefter

• ESPN NFL analyst Herm Edwards weighs in on Ndamukong Suh's illegal block, Chip Kelly's style of play, what to expect from Week 2 and more. Edwards

• Two-time Super Bowl champion Jimmy Johnson talks about how defenses will attack Chip Kelly's offense, Colin Kaepernick's performance against the Packers, the Lions' handling of Ndamukong Suh and more. Johnson

LISTEN LIVE ON ESPNLA.COM


Coming Up

3:00 PM

Max & Marcellus

7:00 PM

ESPNews

10:00 PM

SportsCenter Tonight
NCAA TOURNAMENT BET PAYOFFS
Mike Greenberg completes the latest installment of the guys' bracket wager payoff. Photos


Watch: Greeny Milks a Cow


Watch: Greeny Gets Waxed


Watch: Greeny Competitively Eats


Watch: Greeny Sings Vanilla Ice

JAYSON STARK'S MLB TRIVIA
Cy Young teammates Greg Maddux and Tom Glavine will enter the Baseball Hall of Fame together. Three pairs of current teammates have won MVP awards. Who are the players? Listen

THE HIGHLIGHTS
Jeff Fisher, Rams
Rams coach Jeff Fisher discusses the attention that Michael Sam has received during training camp, Tony Dungy's controversial comments, St. Louis' upcoming season and more.
J.J. Watt, Texans
Texans DE J.J. Watt weighs in on the start of training camp, Jadeveon Clowney's potential, Andre Johnson's future in Houston, his team's upcoming season and more.
Charlie Strong, Texas
Texas coach Charlie Strong comments on preparing for his first season with the Longhorns, whether the Big 12 needs a conference title game, the treatment of student-athletes and more.
Rory McIlroy, Golf
Golfer Rory McIlroy dishes on winning the Open Championship, what he can accomplish moving forward and his father's bet on him as a young kid.
Bob Bowlsby, Big 12
Big 12 commissioner Bob Bowlsby explains his comments about cheating in the NCAA and covers the potential for the Power Five conferences to form their own governing body.
Lovie Smith, Buccaneers
Buccaneers coach Lovie Smith discusses his team's preparations for training camp and addresses Tony Dungy's comments about Michael Sam.
Chris Paul, Clippers
Clippers G Chris Paul dishes on his role models, the pressure on NBA stars to refrain from taking a maximum salary, LeBron James' return to the Cavaliers and the Donald Sterling situation.
Brian Hoyer, Browns
Browns QB Brian Hoyer talks about recovering from his knee injury, starting training camp, his performance last season, Cleveland's offense and his relationship with Johnny Manziel.
BEST OF MIKE & MIKE ON ESPN RADIO: FLY, EAGLES FLY