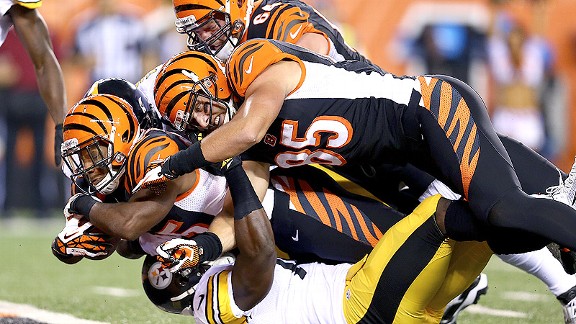 Andy Lyons/Getty ImagesThe guys give their takes on Steelers-Bengals, Andy Dalton, Ben Roethlisberger and much more.
• Seahawks QB Russell Wilson weighs in on the win over the 49ers, what he did during the weather delay, the crowd noise in Seattle, Pete Carroll's style of coaching and more. Wilson

• Bills QB EJ Manuel dishes on Buffalo's comeback against the Panthers, his game-winning TD pass to Stevie Johnson, adjusting to life in the NFL and more. Manuel

• ESPN NFL analyst Cris Carter covers Steelers-Bengals, Cincinnati's potential, the suspension of Dashon Goldson, the Buccaneers' struggles, the Eagles' style of play and more. Carter

• ESPN NFL Insider John Clayton discusses the Steelers' 0-2 start, Dashon Goldson's suspension, Tim Tebow's future, Robert Griffin III's status and more. Clayton

• Greeny and Golic share their thoughts on the Bengals' win over the Steelers, the state of the AFC North, Pittsburgh's 0-2 start and more. Listen

LISTEN LIVE ON ESPNLA.COM


MikeAndMike Mike & Mike
Coming this hour, more talk on the NFL's new domestic violence policy, Giants QB Eli Manning, and Eagles RB LeSean McCoy.
about an hour ago

MikeAndMike Mike & Mike
ESPN Senior Fantasy Analyst Matthew Berry joining us next! Tweet us your fantasy questions!
about 2 hours ago

MikeAndMike Mike & Mike
How long would you stick with RGIII before you bench him for Kirk Cousins?
about 2 hours ago

MikeAndMike Mike & Mike
Coming up this hour, Jorge, Mike, and Jemele discuss RGIII, the Cowboys and Matthew Berry and Dale Jarrett will be joining us!
about 2 hours ago

Cthomas25 Big C
@MikeAndMike I think he is reacting to the media noise. But sometimes it takes criticism to realize you made a mistake. #justgetitright
about 2 hours ago

TakeMeBackTo98 JD
@MikeAndMike Hes doing what needs to be done as a business man. In that sense, hes a good leader regardless of when, where and why he did it
about 2 hours ago

MikeAndMike Mike & Mike
Is Roger Goodell being a leader in the new domestic violence policy or just reacting to the media noise?
about 3 hours ago

espngolic Mike Golic
"@winegar_ronald: @MikeWellsNFL Their own fault .. They could've brought @espngolic son in for a look" couldn't agree more
about 13 hours ago

Espngreeny Mike Greenberg
Playing in the NFL is no more a privilege than any other good job. In fact, even less so. You're either good enough or you're not.
1 day ago

mes1up mark
@MikeAndMike Josh Gordon knew the rules!!! He broke the rules & must pay for breaking rules!!!
1 day ago

MikeAndMike Mike & Mike
Coming up this hour, Talking about the Joshes: Shaw and Gordon with Browns reporter Pat McManamon and @ESPN_ReceDavis
1 day ago

sixer0606 matthew maybury
@Espngreeny what about George faking his import export business.. Vandalay industries.. "SAY VANDALAY !!With his pants around his ankles ha!
1 day ago

johnpslavin John Slavin
@Espngreeny you have to talk about George pretending to be a marine biologist. :-)
1 day ago

SC_Fusion Denmark-Olar Vikings
@Espngreeny I know the "human fund" episode and your right, it's about the same
1 day ago

KeepInFit76 Christopher Reuter
@Espngreeny what about when Constanza faked being handicapped
1 day ago

ChrisBottorf SnowPatrol
@MikeAndMike never lie. The truth is the best no matter what. This is why no one will ever believe athletes.
1 day ago

WilliamCassaday Will
@MikeAndMike I guess that depends on whether or not his activities were illegal. Getting a lawyer indicates nefarious activity though
1 day ago

KingJaffeJoPHer Salvatore Lucania
Lol RT @mdm1906 What if he got hurt pledging and the lie was to cover up hazing? @jemelehill @michaelsmith @Espngreeny @MikeAndMike
1 day ago

jemelehill Jemele Hill
The morning is sure to be off to a rousing start. @michaelsmith and I are w/ @Espngreeny on @MikeAndMike this morning. #Leggo
1 day ago

MikeAndMike Mike & Mike
What would you do if you were in Josh Shaw's shoes? Would you have lied or not? If so, what would you say?
1 day ago
NCAA TOURNAMENT BET PAYOFFS
Mike Greenberg completes the latest installment of the guys' bracket wager payoff. Photos


Watch: Greeny Milks a Cow


Watch: Greeny Gets Waxed


Watch: Greeny Competitively Eats


Watch: Greeny Sings Vanilla Ice

JAYSON STARK'S MLB TRIVIA
Derek Jeter is the active leader in postseason game appearances with 158. Only two other active players have appeared in at least 80 postseason matchups. Who are they? Listen

THE HIGHLIGHTS
Matthew Berry, NFL
ESPN fantasy analyst Matthew Berry provides a fantasy breakdown of wide receivers and tight ends in the NFL.
Jeff Saturday & Shaun O'Hara, NFL
ESPN NFL analyst Jeff Saturday and NFL Network's Shaun O'Hara discuss Josh Gordon's suspension from the NFL.
Bobby Bowden, CFB
College Football Hall of Famer Bobby Bowden weighs in on the Josh Shaw situation at USC, previews the upcoming season and looks ahead to the College Football Playoff.
Jimbo Fisher, Florida State
Florida State coach Jimbo Fisher previews the Seminoles' upcoming season.
Kevin Love, Cavaliers
Cavaliers F Kevin Love responds to Timberwolves owner Glen Taylor's criticism. Plus, Love covers joining Cleveland and the call he received from LeBron James.
Jayson Stark, MLB
ESPN MLB Insider Jayson Stark discusses pennant races and Giancarlo Stanton's future with the Marlins.
Matthew Berry, NFL
ESPN fantasy analyst Matthew Berry provides tips for selecting RBs.
Bob Stoops, Oklahoma
Oklahoma coach Bob Stoops previews the Sooners' upcoming season.
BEST OF MIKE & MIKE ON ESPN RADIO: EARNING THEIR STRIPES