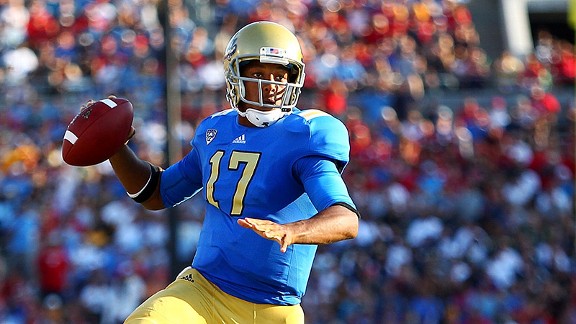 AP Photo/Ben LiebenbergKirk Herbstreit tells the guys about Brett Hundley, Johnny Manziel, Mack Brown's future and more.
• College GameDay's Kirk Herbstreit talks about the Longhorns' struggles, Johnny Manziel's style of play, standout QBs and more. Herbstreit

• ESPN Radio's Colin Cowherd comments on whether his perception of Johnny Manziel changed during Texas A&M's loss to Alabama and more. Cowherd


LISTEN LIVE ON ESPNLA.COM


Coming Up

3:00 PM

Max & Marcellus

7:00 PM

ESPNews

10:00 PM

SportsCenter Tonight
NCAA TOURNAMENT BET PAYOFFS
Mike Greenberg completes the latest installment of the guys' bracket wager payoff. Photos


Watch: Greeny Milks a Cow


Watch: Greeny Gets Waxed


Watch: Greeny Competitively Eats


Watch: Greeny Sings Vanilla Ice

JAYSON STARK'S MLB TRIVIA
This season, Clayton Kershaw has struck out more than 200 hitters for the fifth time in his career. Only two other active pitchers have achieved at least five seasons with 200 strikeouts. Who are these players? Listen

THE HIGHLIGHTS
Jeff Cameron, CFB
97.9 ESPN Tallahassee's Jeff Cameron weighs in on Jameis Winston's latest off-the-field incident and Florida State fans' support of Winston.
Devon Still, Bengals
Bengals DT Devon Still comments on dealing with his daughter's battle with cancer while playing football. Plus, Saints coach Sean Payton discusses donating 100 Still jerseys.
Herm Edwards, NFL
ESPN NFL analyst Herm Edwards discusses Jonathan Dwyer's arrest and previews the upcoming weekend's games.
Brian Woods, NFL
FXFL commissioner Brian Woods discusses the new minor league football league he formed and how it will help the NFL grow.
Adam Schefter, NFL
ESPN NFL Insider Adam Schefter talks about the Vikings' decision to place Adrian Peterson's on the league's exempt list.
Donald Trump, Billionaire
Billionaire Donald Trump covers the latest off-the-field issues in the NFL, how sponsors will determine the future of the league and his previous interest in buying the Bills.
Kirk Herbstreit, CFB
ESPN CFB analyst Kirk Herbstreit previews this weekend games, including Auburn-Kansas State, Florida-Alabama and Clemson-Florida State.
Jayson Stark, MLB
ESPN MLB Insider Jayson Stark poses his latest trivia question and talks about the Beltway teams' clinching of their division titles.
BEST OF MIKE & MIKE ON ESPN RADIO: RISING STARS