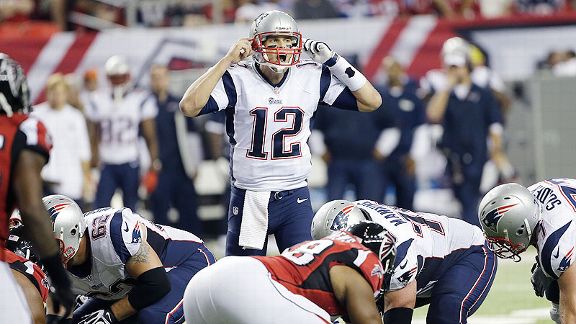 AP Photo/John BazemoreThe guys give their takes on Patriots-Falcons, Eagles-Broncos, Giants-Chiefs and much more.
• ESPN NFL analyst Ron Jaworski weighs in on Peyton Manning's dominance, Tom Brady's performance during the Patriots' 4-0 start, Geno Smith's struggles, the criticism of Matt Schaub and more. Jaworski

• ESPN NFL analyst Mike Ditka dishes on Peyton Manning's place in history, Bears-Lions, what being 0-4 is like, the state of the Patriots' offense, Vince Wilfork's injury and more. Ditka

• ESPN NFL analyst Cris Carter covers Justin Tuck's defense of Tom Coughlin, the Broncos' 4-0 start, Reggie Bush's role in the Lions' offense, the Vikings' QB situation and more. Carter

• ESPN NFL analyst Tim Hasselbeck talks about the Seahawks' win over the Texans, the scrutiny of Matt Schaub, Jake Locker's injury, Jay Cutler's turnovers against the Lions and more. Hasselbeck

• Greeny and Golic react to Week 4 of the NFL season, including Eagles-Broncos, Patriots-Falcons, Vince Wilfork's injury, Giants-Chiefs, Steelers-Vikings and more. Listen

LISTEN LIVE ON ESPNLA.COM


Coming Up

3:00 AM

Inside The Huddle

4:00 AM

The Sporting Life

5:00 AM

Dari and Mel
BEST OF MIKE & MIKE PODCAST
JAYSON STARK'S MLB TRIVIA
Adrian Gonzalez has hit at least 20 home runs in eight of the last nine seasons. Three other active players have achieved 20 home runs in each of the last nine seasons. Who are they? Listen

FRANK CALIENDO
Our favorite moments with Frank Caliendo:
-Watch: 'A Visit from St. Nicholas'


-Watch: William Shatner


-Listen: #GolicButtPhoto voicemails


-Watch: Donald Trump


-Listen: Trick-or-Treat


-Watch: Stephen A. Smith


-Watch: Mel Kiper Jr.


-Watch: Charles Barkley


-Watch: Allen Iverson's rant


-Watch: Remembering Robin Williams


-Watch: LeBron James' letter

THE HIGHLIGHTS
Adam Caplan, NFL
ESPN NFL Insider Adam Caplan covers the civil lawsuit against Jameis Winston, Winston's draft position, Adrian Peterson's future and the rumors surrounding Philip Rivers.
Tom Thibodeau, Bulls
Bulls coach Tom Thibodeau dishes on his future, the injuries his team has endured this season, Derrick Rose's recovery, Chicago's defense, Joakim Noah's intensity and preparing for the Bucks.
Mel Kiper Jr., NFL
ESPN Radio's Mel Kiper Jr. discusses how the civil lawsuit against Jameis Winston affects Winston's draft stock, Marcus Mariota's composure and Todd Gurley's talent.
Grant Hill, NBA
Seven-time NBA All-Star Grant Hill weighs in on the Cavaliers' improvement, the Bulls' potential in the playoffs, the absence of a star on the Hawks' roster and Chris Paul's postseason record.
Roger Cossack, NFL
ESPN legal analyst Roger Cossack talks about his reaction to the verdict in the Aaron Hernandez trial, factors that contributed to the verdict and Hernandez's next steps.
Michele Roberts, NBA
NBPA executive director Michele Roberts comments on the investigation into Thabo Sefolosha's season-ending injury, player safety, tanking in the league and one-and-dones.
Charles Barkley, NBA
Basketball Hall of Famer Charles Barkley gives his takes on Thabo Sefolosha's injury, MVP contenders, the Pelicans' improvement, the outlook for the Bulls in the playoffs and Scott Brooks' future.
Kevin McHale, Rockets
Rockets coach Kevin McHale dishes on preparing for the Mavericks in the first round of the NBA playoffs, his team's defense, Dwight Howard's recovery and younger players' approach to the game.
OFF-MIKES EPISODES
View episodes of ESPN.com's first Emmy winner, "Off-Mikes," a series based on the interactions of Greeny and Golic on "Mike & Mike."
-"Snook, Line and Sinker"


-"Wee-Wee Mon Sewer"


-"Raging Bull-Oney"


-"Bend It Like Golic"


-"The Wettest Yard"


-"Pomp You Up"


-"Throw Momma from the Chair"


-"Air Force Ton"


-"Night of the Living Chippers"

BEST OF MIKE & MIKE ON ESPN RADIO: MONDAY MORNING QB