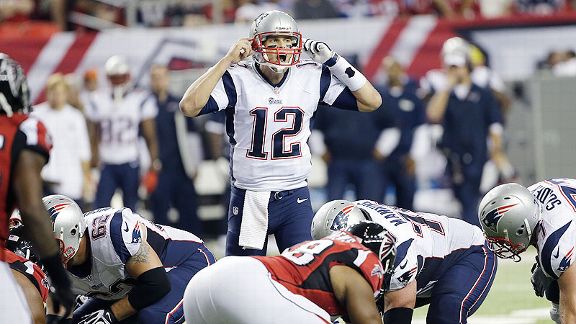 AP Photo/John BazemoreThe guys give their takes on Patriots-Falcons, Eagles-Broncos, Giants-Chiefs and much more.
• ESPN NFL analyst Ron Jaworski weighs in on Peyton Manning's dominance, Tom Brady's performance during the Patriots' 4-0 start, Geno Smith's struggles, the criticism of Matt Schaub and more. Jaworski

• ESPN NFL analyst Mike Ditka dishes on Peyton Manning's place in history, Bears-Lions, what being 0-4 is like, the state of the Patriots' offense, Vince Wilfork's injury and more. Ditka

• ESPN NFL analyst Cris Carter covers Justin Tuck's defense of Tom Coughlin, the Broncos' 4-0 start, Reggie Bush's role in the Lions' offense, the Vikings' QB situation and more. Carter

• ESPN NFL analyst Tim Hasselbeck talks about the Seahawks' win over the Texans, the scrutiny of Matt Schaub, Jake Locker's injury, Jay Cutler's turnovers against the Lions and more. Hasselbeck

• Greeny and Golic react to Week 4 of the NFL season, including Eagles-Broncos, Patriots-Falcons, Vince Wilfork's injury, Giants-Chiefs, Steelers-Vikings and more. Listen

THE HIGHLIGHTS
Gary Player, Golf
Golf legend Gary Player reacts to Nelson Mandela's death and talks about meeting Mandela, Mandela's compassion and humility, the value the former South African president placed on sports and more.
Tim Jansen: 12/6
Tim Jansen, Jameis Winston's attorney, reacts to the decision not to pursue charges against Winston for sexual assault. Jansen also explains why he isn't expecting a civil lawsuit.
Lester Munson: 12/6
ESPN legal analyst Lester Munson comments on the decision not to charge Jameis Winston after a sexual assault investigation, whether a civil lawsuit will be filed and more.
Brian Billick, NFL
Super Bowl XXXV champion Brian Billick dishes on the Seahawks' weaknesses, the state of the NFC North, Aaron Rodgers' status, Jay Cutler's value and more.
Gary Pinkel, Missouri
Missouri coach Gary Pinkel comments on his future, what about Auburn poses the biggest challenge for his team, the atmosphere in Columbia leading up to the weekend's matchup, transitioning to the SEC and more.
Tom Osborne, CFB
College Football Hall of Famer Tom Osborne discusses the ending to Alabama-Auburn, Michigan State's defense, the case for a one-loss team playing in the national championship and more.
Herm Edwards, NFL
ESPN NFL analyst Herm Edwards weighs in on how to beat the Seahawks, Bill Belichick's comments about replay, the playoff picture, Mike Tomlin's apology and more.
Mike Slive, CFB
SEC commissioner Mike Slive comments on why the winner of his conference deserves to play in the national championship more than Ohio State, the value of a loss, the competitiveness of his teams and more.