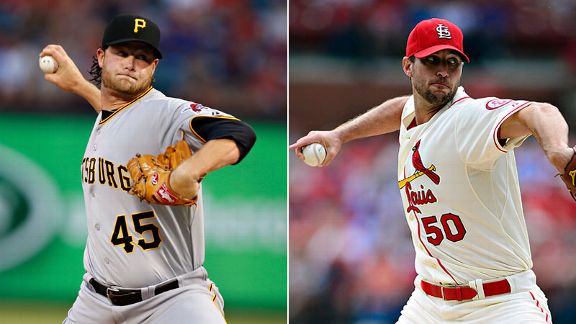 Getty ImagesBuster Olney tells the guys about Pirates-Cardinals, Tigers-Athletics, David Price and much more.
• ESPN MLB Insider Buster Olney covers Max Scherzer's escape in Game 4, the Red Sox's turnaround, his expectations for Game 5 of Tigers-Athletics and Pirates-Cardinals and more. Olney

• ESPN MLB analyst Doug Glanville discusses the Tigers' win over the Athletics to force a Game 5 and more. Glanville


• ESPN Radio's Colin Cowherd gives his takes on the MLB playoffs, the teams that could reach the BCS title game and more. Cowherd


LISTEN LIVE ON ESPNLA.COM


WHO'S IN?
Listen live to Mike & Mike for the daily winning word for your chance to win a trip to the College Football Playoff. Enter » Listen (6-10 a.m. ET)

FRANK CALIENDO
Our favorite moments with Frank Caliendo:
-Watch: Stephen A. Smith


-Watch: Mel Kiper Jr.


-Watch: Charles Barkley


-Watch: Allen Iverson's rant


-Watch: Remembering Robin Williams


-Watch: LeBron James' letter

THE HIGHLIGHTS
Bill Belichick, Patriots
Patriots coach Bill Belichick comments on his approach to the season, September football, Peyton Manning's abilities, the role analytics plays in the sport and situational coaching.
Ron Jaworski, NFL
ESPN NFL analyst Ron Jaworski discusses Broncos-Patriots, Tony Romo's health, Ben Roethlisberger's performance against the Colts and the Steelers' offensive line.
Robert Kraft, Patriots
Patriots owner Robert Kraft talks about moving forward from his team's loss to the Chiefs, New England's slow start and the rivalry between Tom Brady and Peyton Manning.
Brian Billick, NFL
Super Bowl XXXV champion Brian Billick discusses whether the Giants can be considered a dynasty, if the Patriots' defense can stand up against the Broncos' and the Saints' struggles.
Jayson Stark, MLB
ESPN MLB Insider Jayson Stark covers Madison Bumgarner's performance in the World Series, the outlook for the Royals and Pablo Sandoval's future with the Giants.
Avery Johnson & Chris Broussard, NBA
ESPN's Avery Johnson and Chris Broussard talk about challengers to the Bulls and the Cavaliers in the Eastern Conference, the state of the Lakers and contenders in the Western Conference.
Danny Kanell, CFB
ESPN CFB analyst Danny Kanell weighs in on the first College Football Playoff rankings, the selection process for the committee and the matchup between Auburn and Mississippi.
Jon Gruden, NFL
Monday Night Football's Jon Gruden discusses concerns for the Cowboys, Tony Romo's return in the loss to the Redskins, Broncos-Patriots and the Colts' loss to the Steelers.
BEST OF MIKE & MIKE ON ESPN RADIO: NOW OR NEVER