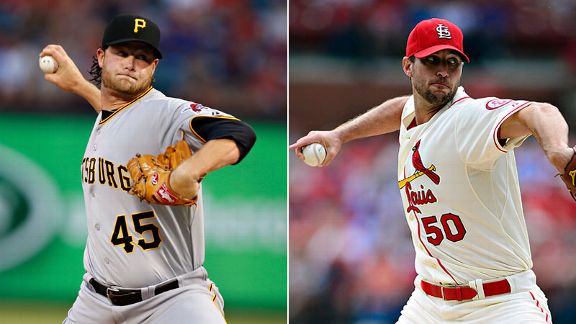 Getty ImagesBuster Olney tells the guys about Pirates-Cardinals, Tigers-Athletics, David Price and much more.
• ESPN MLB Insider Buster Olney covers Max Scherzer's escape in Game 4, the Red Sox's turnaround, his expectations for Game 5 of Tigers-Athletics and Pirates-Cardinals and more. Olney

• ESPN MLB analyst Doug Glanville discusses the Tigers' win over the Athletics to force a Game 5 and more. Glanville


• ESPN Radio's Colin Cowherd gives his takes on the MLB playoffs, the teams that could reach the BCS title game and more. Cowherd


LISTEN LIVE ON ESPNLA.COM


Coming Up

2:00 AM

SportsCenter AM

3:00 AM

Mike and Mike

5:00 AM

ESPNLA Morning Show
BEST OF MIKE & MIKE PODCAST
JAYSON STARK'S MLB TRIVIA
Adrian Beltre is one of three active players with at least 300 home runs and four Gold Gloves. Who are the other two individuals? Listen

FRANK CALIENDO
Our favorite moments with Frank Caliendo:
-Watch: 'A Visit from St. Nicholas'


-Watch: William Shatner


-Listen: #GolicButtPhoto voicemails


-Watch: Donald Trump


-Listen: Trick-or-Treat


-Watch: Stephen A. Smith


-Watch: Mel Kiper Jr.


-Watch: Charles Barkley


-Watch: Allen Iverson's rant


-Watch: Remembering Robin Williams


-Watch: LeBron James' letter

THE HIGHLIGHTS
Brad Stevens, Celtics
Celtics coach Brad Stevens dishes on the use of analytics in the NBA, the best strategy for defending the Warriors, teams' approach to the draft and Stephen Curry's 3-point shooting abilities.
Frank Caliendo, Comedian
Comedian Frank Caliendo shares his thoughts on appearing on the "Late Show with David Letterman" and how Letterman influenced the entertainment industry.
P.J. Carlesimo, NBA
ESPN NBA analyst P.J. Carlesimo reacts to Game 1 of the Western Conference finals between the Warriors and Rockets and covers whether selecting a post player with a top pick in the draft is a smart move given the current trend of "pace and space."
Adam Schefter, NFL
ESPN NFL Insider Adam Schefter covers Robert Kraft's decision not to appeal Deflategate sanctions on behalf of the Patriots, the future of Tom Brady's appeal as well as the potential of the NFL in L.A. in 2016.
Jim and Erin Kelly, NFL
Pro Football Hall of Famer Jim Kelly and Kelly's daughter, Erin Kelly, dish on the process of writing Erin's new book "Kelly Tough," the book's message and how cancer changed Jim's priorities.
Peter King, NFL
Sports Illustrated's Peter King discusses Robert Kraft's relationship with Roger Goodell, the sentiment of NFL owners about the Patriots' sanctions and potential rule changes for next season.
Tim Legler, NBA
ESPN NBA analyst Tim Legler discusses the current offensive trend in the NBA that includes increased pace and 3-pointers, why the Bulls weren't able to capitalize on the Cavaliers' injuries and how the Warriors are winning with their defense.
Daryl Morey, Rockets
Rockets GM Daryl Morey discusses the growing attention to sport analytics in the NBA, potential changes to the NBA draft lottery and the key for Houston to defeat the Warriors.
OFF-MIKES EPISODES
View episodes of ESPN.com's first Emmy winner, "Off-Mikes," a series based on the interactions of Greeny and Golic on "Mike & Mike."
-"Snook, Line and Sinker"


-"Wee-Wee Mon Sewer"


-"Raging Bull-Oney"


-"Bend It Like Golic"


-"The Wettest Yard"


-"Pomp You Up"


-"Throw Momma from the Chair"


-"Air Force Ton"


-"Night of the Living Chippers"

BEST OF MIKE & MIKE ON ESPN RADIO: NOW OR NEVER