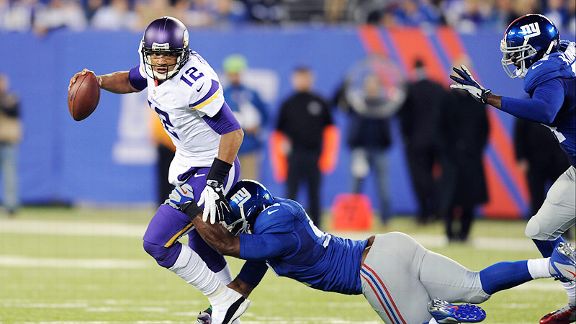 AP Photo/Bill KostrounThe guys give their takes on Vikings-Giants, Josh Freeman's struggles, New York's 1-6 start and more.
• Chargers coach Mike McCoy weighs in on Philip Rivers' resurgence, the state of the AFC West, his time around Peyton Manning and more. McCoy

• ESPN NFL analyst Cris Carter covers Vikings-Giants, Minnesota's usage of Josh Freeman, Adrian Peterson's future, Patriots-Jets, Jermichael Finley's injury, player safety and more. Carter

• ESPN NFL Insider John Clayton comments on Josh Freeman's debut with the Vikings, the QB situations in Chicago, Philadelphia, St. Louis, Cleveland and Jacksonville, Brandon Meriweather's suspension and more. Clayton

• Greeny and Golic share their thoughts on the Giants' win over the Vikings, Josh Freeman's disappointing debut for Minnesota and more. Listen

LISTEN LIVE ON ESPNLA.COM
SportsCenter AM
2:00 AM-3:00 AM


MIKE & MIKE AT NBA ALL-STAR WEEKEND
MIKES AND ME
Now you can be pictured with Mike & Mike! Print this image, pose with the Mikes and tweet your photo to @MikeAndMike using the hashtag #MikesAndMe for a chance to be featured here and on the show. Watch

THE HIGHLIGHTS
Jayson Stark, MLB
ESPN MLB Insider Jayson Stark talks about the first use of instant replay, Masahiro Tanaka's debut, which team has the most pressure to be successful this season and more.
Adam Vinatieri, Colts
Colts K Adam Vinatieri weighs in on why the NFL wants to change the extra point, how increasing the length of PATs would affect the frequency of two-point conversion attempts and more.
Mark Cuban, Mavericks
Mavericks owner Mark Cuban comments on how the D-League could become a viable transitional system for the NBA, the preparedness of prospects for the league, NCAA rules and more.
On the pace of CFB, 3/6
Mike Greenberg and Mike Golic share their thoughts on Nick Saban's comments supporting the NCAA's tabled 10-second rule proposal, the pace of CFB and more.
Tom Izzo, Michigan State
Michigan State coach Tom Izzo talks about changes the Spartans need to make, why NBA prospects should play in college, the ideal transitional system to the league and more.
Paul Hewitt, George Mason
George Mason coach Paul Hewitt discusses how to change the one-and-done rule, the characterization of CBB players, the benefits of playing in college and more.
Bill Polian, NFL
ESPN NFL analyst Bill Polian weighs in on Kirk Cousins' value to the Redskins, the risk involved with drafting QBs, Colin Kaepernick's contract negotiations and more.
Jeff Van Gundy, NBA
ESPN NBA analyst Jeff Van Gundy discusses LeBron James' efficiency, the Pacers' chances of getting home-court advantage in the playoffs, how the league can eliminate incentive to lose and more.
BEST OF MIKE & MIKE ON ESPN RADIO: FIRST IMPRESSION