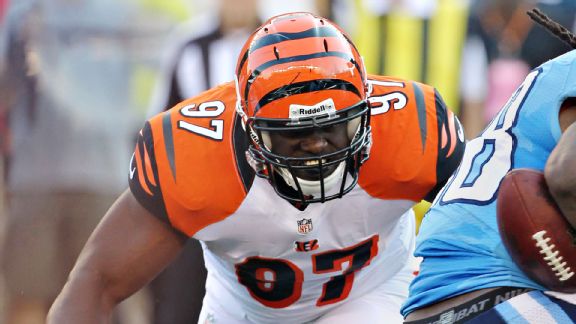 Brian Spurlock/USA TODAY SportsAnthony Munoz tells the guys about Geno Atkins' knee injury, Andy Dalton's potential and much more.
• ESPN NFL analyst Ron Jaworski shares his thoughts on the sack on Andy Dalton, Dalton's progress this season, the injury to Geno Atkins, the differences in Robert Griffin III this season, Tony Romo's leadership and more. Jaworski

• Pro Football Hall of Famer Anthony Munoz talks about the Dolphins' safety sack of Andy Dalton, Geno Atkins' injury, Dalton's potential, how the Bengals stack up to other top teams in the AFC and more. Munoz

• ESPN Radio's Colin Cowherd weighs in on the Dolphins' win over the Bengals and discusses his impressions of the Red Sox's World Series victory, including his skepticism of David Ortiz. Cowherd

• Our own Joaquin shares his unique experiences from Halloween. Joaquin

• Mike & Mike unveil their "Stone Cold Lead Pipe Locks" for Week 9. Locks

LISTEN LIVE ON ESPNLA.COM
BEST OF MIKE & MIKE PODCAST
JAYSON STARK'S MLB TRIVIA
Nelson Cruz could become the fourth player since 2010 to achieve back-to-back seasons with 40 home runs. Who are the other three? Listen

FRANK CALIENDO
Our favorite moments with Frank Caliendo:
-Watch: 'A Visit from St. Nicholas'


-Watch: William Shatner


-Listen: #GolicButtPhoto voicemails


-Watch: Donald Trump


-Listen: Trick-or-Treat


-Watch: Stephen A. Smith


-Watch: Mel Kiper Jr.


-Watch: Charles Barkley


-Watch: Allen Iverson's rant


-Watch: Remembering Robin Williams


-Watch: LeBron James' letter

THE HIGHLIGHTS
Kenny Chesney, Country Singer
Singer and songwriter Kenny Chesney joins Mike Greenberg and Mike Golic to discuss his new tour, stories from the road and SEC football. Plus, he is surprised by close friend and New Orleans Saints head coach Sean Payton who calls in to the show.
Sean Payton, Saints Head Coach
New Orleans Saints head coach Sean Payton calls in to surprise Mike & Mike and close friend singer/songwriter Kenny Chesney to give an outlook on the Saints' plans for the 2015 NFL draft.
Damien Woody, ESPN NFL Analyst
ESPN NFL analyst Damien Woody shares his thoughts on the NFL draft including concerns about Jameis Winston and the rise of Marcus Mariota. Plus, he denies that the Mayweather-Pacquiao fight will change the landscape of boxing's popularity.
Mike Dunleavy Sr., Former NBA Head Coach
Former NBA head coach and current TNT NBA guest analyst Mike Dunleavy Sr. weighs in on the Warriors' overtime win over the Pelicans in Game 3, Kevin Love's expanded role in the Cavs' Game 3 victory, Derrick Rose's near return to full strength and more.
Mike Golic on Greg Hardy suspension
Mike Golic shares his thoughts on the NFL's decision to suspend Greg Hardy for 10 games. Golic says that just because Hardy missed last season doesn't mean he has been fairly punished, and fans who blame Goodell are wrong.
Mel Kiper Jr. & Todd McShay, NFL
ESPN Radio's Mel Kiper Jr. and ESPN NFL draft Insider Todd McShay share notes on their latest NFL draft mocks, including whether Marcus Mariota could be selected No. 1 and why Todd Gurley is a top 10 prospect.
Jim Lampley, Boxing
HBO's Jim Lampley shares his thoughts on the ticketing problems with Mayweather-Pacquiao, the long wait for the fight to come to fruition, what this event will do for both fighters' careers and more.
OFF-MIKES EPISODES
View episodes of ESPN.com's first Emmy winner, "Off-Mikes," a series based on the interactions of Greeny and Golic on "Mike & Mike."
-"Snook, Line and Sinker"


-"Wee-Wee Mon Sewer"


-"Raging Bull-Oney"


-"Bend It Like Golic"


-"The Wettest Yard"


-"Pomp You Up"


-"Throw Momma from the Chair"


-"Air Force Ton"


-"Night of the Living Chippers"

BEST OF MIKE & MIKE ON ESPN RADIO: FOOTBALL FRIDAY