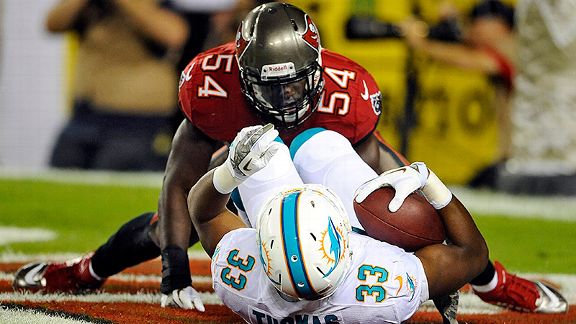 AP Photo/Brian BlancoThe guys give their takes on Dolphins-Buccaneers, Stephen Ross' comments and much more.
• ESPN NFL Insider John Clayton comments on Dolphins-Buccaneers, the futures of Joe Philbin and Jeff Ireland, Jay Cutler's status, Peyton Manning's injury and more. Clayton

• ESPN NFL analyst Mark Brunell dishes on the state of the Dolphins, Chiefs-Broncos, Peyton Manning's health, the Bears' QB situation and more. Brunell

• ESPN.com Dolphins reporter James Walker weighs in Miami's performance during its loss to the Buccaneers, what comes next in the NFL's investigation of the team, Stephen Ross' comments and more. Walker

• FOX Sports' Jay Glazer talks about his conversation with Richie Incognito, what comes next for the Dolphins, the relationship between Jonathan Martin and Incognito and more. Glazer

• Greeny and Golic share their thoughts on the Buccaneers' win over the Dolphins, Stephen Ross' remarks regarding Richie Incognito and Jonathan Martin and more. Listen

LISTEN LIVE ON ESPNLA.COM


STONE COLD LEAD PIPE LOCKS
Espngreeny Mike Greenberg
Just got home. Inexplicable things going on, involving my wife, and worse, my dog. #Bears week begins. They sent stuff. @StacyGSG has pics.
47 minutes ago

bhofheimer_espn bill hofheimer
Our @HermEdwardsESPN talks travel and more in this entertaining @Pursuitist interview (via @StacyGSG). http://t.co/UJVDNZOl83
about 2 hours ago

MGolicJR57 Mike Golic Jr
the second half of our Bye Week podcast is live! Check it out! @GolicNewmanPod http://t.co/fjl0T1fsfX
about 6 hours ago

MikeAndMike Mike & Mike
Mike & Mike discuss the latest developments in the Adrian Peterson story and discuss with Jon Gruden & Adam Schefter: http://t.co/s7NGDchVDr
about 7 hours ago

Espngreeny Mike Greenberg
What we have here is an embarrassing vacuum of leadership. #Vikings #Panthers #NFL
about 8 hours ago

MikeAndMike Mike & Mike
STARK TRIVIA: Besides Kershaw, name the 2 active pitchers with at least 5 seasons of 200+ strikeouts.Thanks to #mobilsuper
about 11 hours ago

MikeAndMike Mike & Mike
One of Americas best known businessmen, Donald Trump, joins the guys now on the state of the NFL - LISTEN LIVE -- > http://t.co/eKCR2pVKhF
about 13 hours ago

ijdb19 Ian Bridger
Preach it @Espngreeny....you're dead on this morning. #Vikings have handled the #Peterson situation horribly. Embarrassing
about 14 hours ago

Ryno716 Ryan Peterson
@Espngreeny I am a diehard Vikings and NFL fan and very disappointed in AP. That being said I will still watch the NFL
about 14 hours ago

HardYardsLA HardYardsLA
@espngolic @Espngreeny Spot on take. NFL's moral compass only points to true money-not that they have a resp. 2do anything else,but b real..
about 14 hours ago

MikeAndMike Mike & Mike
Tune in for the latest reaction to the Vikings placing Adrian Peterson on the exempt list --> LISTEN LIVE http://t.co/eKCR2pVKhF
about 14 hours ago

MikeAndMike Mike & Mike
As seen on @SportsCenter, @NFLPA President Eric Winston discusses off the field issues & the new drug policy. Listen: http://t.co/YtIHUChefX
1 day ago

dariusrucker Darius Rucker
It's about to be the most wonderful time of the year… I am so excited to finally make a Christmas album. Details: http://t.co/cODZ8fY7kW
1 day ago

MikeAndMike Mike & Mike
REMINDER! Today at 9pm ET @jemelehill and @CariChampion will host a two hour @espnW Special on the state of the NFL on @espnradio.
1 day ago

ESPNNFL NFL on ESPN
Here's @MikeandMike's #NFLRank top 5 QBs:1 Peyton Manning2 Aaron Rodgers 3 Tom Brady 4 Drew Brees5 Philip Rivers
1 day ago

espngolic Mike Golic
RSVP to the #GiveHope Donate Profits Day at @Chilis! At least $100k on 9/22 will go to @StJude - http://t.co/Bsa2oImbDH
1 day ago

MikeAndMike Mike & Mike
How the Eagles beat the Colts, the Vikings' mishandling of Adrian Peterson and visits w/ Jim Turner & Eric Winston: http://t.co/OX51mMms7L
1 day ago

Espngreeny Mike Greenberg
This is Mrs Greeny's new feature. You'll recognize her first interview. Hint: He played to win the game.@StacyGSGhttp://t.co/1TdO0Z1OQS
1 day ago

michaelsmith Michael Smith
If you would be so kind, please listen to this @hisherspodcast. We peel back the layers to the Adrian Peterson story http://t.co/91GM1xLnPC
1 day ago
NCAA TOURNAMENT BET PAYOFFS
Mike Greenberg completes the latest installment of the guys' bracket wager payoff. Photos


Watch: Greeny Milks a Cow


Watch: Greeny Gets Waxed


Watch: Greeny Competitively Eats


Watch: Greeny Sings Vanilla Ice

JAYSON STARK'S MLB TRIVIA
This season, Clayton Kershaw has struck out more than 200 hitters for the fifth time in his career. Only two other active pitchers have achieved at least five seasons with 200 strikeouts. Who are these players? Listen

THE HIGHLIGHTS
Adam Schefter, NFL
ESPN NFL Insider Adam Schefter talks about the Vikings' decision to place Adrian Peterson's on the league's exempt list.
Donald Trump, Billionaire
Billionaire Donald Trump covers the latest off-the-field issues in the NFL, how sponsors will determine the future of the league and his previous interest in buying the Bills.
Kirk Herbstreit, CFB
ESPN CFB analyst Kirk Herbstreit previews this weekend games, including Auburn-Kansas State, Florida-Alabama and Clemson-Florida State.
Jayson Stark, MLB
ESPN MLB Insider Jayson Stark poses his latest trivia question and talks about the Beltway teams' clinching of their division titles.
On Adrian Peterson, 9/17
Mike Greenberg and Mike Golic react to Adrian Peterson's placement on the NFL's exempt list and the Vikings' handling of the situation.
Jim Turner, NFL
Former Dolphins offensive line coach Jim Turner shares his side of the story of the Jonathan Martin-Richie Incognito situation, which opposes the Wells report.
Brian Dawkins, NFL
ESPN NFL analyst Brian Dawkins breaks down the Eagles' comeback win over the Colts and the off-the-field issues in the NFL.
Jemele Hill, NFL
His & Hers' Jemele Hill weighs in on the latest developments in the Adrian Peterson case and the continued bad publicity the NFL faces.
BEST OF MIKE & MIKE ON ESPN RADIO: DISTRACTION BOWL