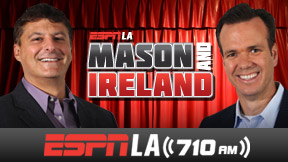 Enjoy lunch with Mason & Ireland
Hosts: Mason & Ireland
Weekdays 12:00 PM - 3:00 PM
Subscribe on iTunes


E-mail: ireland@710espn.com

Join Steve Mason and John Ireland every day from 12 - 3 p.m. PT. The longest running duo in L.A., Mason & Ireland set the standard for sports talk radio.
Friday's Show Highlights
Steve Nash is practicing with the team today, and it looks like he may be available for game one of the playoffs on Sunday against the Spurs. National confidence isn't high for the Lakers. Most people are picking them to lose to the Spurs. Jordan Hill is also practicing, and there's a chance he could be back at some point during the post season.
We listened to Charles Barkley's thoughts on the Lakers going into the playoffs. He thinks that Nash coming back isn't a good thing, because at this stage in his career Steve Blake is playing better than Nash. Mason agrees with Barkley. Ireland believes Nash and Blake will both start.
RJ Bell, Pregame.com told us that Vegas is taking the Spurs in the Lakers vs. Spurs first round playoff matchup. In the east they're taking Boston over New York.
Beto Duran, ESPNLA 710 Lakers Reporter told us that Steve Nash wants to play on Sunday and if he does he will start. D'Antoni eluded that Nash and Blake could both start. They'll go with a smaller back court which will make their bench stronger.
Yesterday Antwan Jamison was asked what it was like to play for Mike D'Antoni and before responding he paused for a long time. What does this say?
Subscribe on iTunes
MASON & IRELAND ON DEMAND
Don't miss a moment! Steve and John want you to listen back to every hour.
LET'S DO LUNCH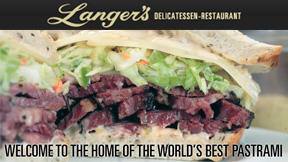 Mason & Ireland open up the phone lines every day in the 12 o'clock hour, so bring your best take! 1.888.710.ESPN (3776) They'll select a best caller each day to win a $107.10 gift certificate to Langer's Deli, home of the world's best pastrami and the world famous #19! LangersDeli.com »
MASON & IRELAND ON FACEBOOK
LISTEN LIVE ON ESPNLA.COM


Coming Up

3:00 PM

Max & Marcellus

5:30 PM

ESPNews

9:00 PM

SportsCenter Tonight
WEEKDAY LINEUP


Where EVERY Lakers game is on the radio
LISTEN LIVE
to our pre and post-game shows