Category archive:

Iowa Hawkeyes
August, 19, 2013
08/19/13
10:27
AM ET
There's been a lot of talk lately about a new, separate division in college athletics. The big boys breaking away to govern themselves, fleeing the controversy-riddled NCAA.
The five major football conference commissioners each had a turn during their football media days last month to discuss the future of the NCAA -- and they weren't shy about the topic. The overall theme was a need for change, and everything seemed to be on the table.
So the threat of separation -- talk of which has been around for years but never really taken seriously -- is real now. At the NCAA convention in January, a revolution could be at hand -- at the very least dealing with the way the NCAA is administered.
What effect could this have on the sport of college basketball? Could the most sacred of all NCAA championships -- the men's basketball tournament -- be radically altered as a result of these changes?
Not likely, say the three commissioners who run the highest-profile hoops-driven conferences that don't sponsor Division I football (Big East, A-10 and WCC).
[+] Enlarge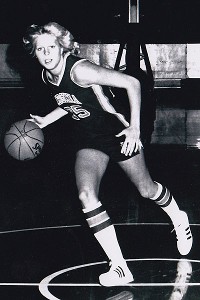 Courtesy of Val AckermanNew Big East commish Val Ackerman played college basketball and is fully aware of its importance within the NCAA.
"My starting point is that this is not recent,'' said new Big East commissioner Val Ackerman. "These comments aren't that new. I agree we need to take a hard look at the structure and the divisions and see what the role of conferences and the NCAA headquarters should be. I think the discussion that would seem to be most appropriate is around football, whether or not there needs to be a new kind of division.
"But I think basketball is a different sport, as are the other sports, in ensuring that no matter what structure [of the NCAA] is devised, the basketball tournament should be preserved. People want the great stories -- Florida Gulf Coast, Wichita State or Butler. That's what college sports is about.''
A basketball tournament without schools in basketball-rich areas in the Big East, for example, wouldn't make any sense, she added.
"Participation of all Division I schools in a Division I championship in basketball, field hockey or whatever is worth fighting for, regardless of football decisions,'' Ackerman said.
College football already is separated to some degree, with the conferences keeping the bowl money and controlling the sport's championship. The NCAA is only in place to administer the rules and regulations. Ackerman, a member of the Knight Commission, thinks "at the very least the NCAA should be compensated," something she would likely find strong resistance to from her conference commissioner colleagues in the ACC, SEC, Pac-12, Big Ten and Big 12.
"[The NCAA] doesn't get any share of football revenue," Ackerman said. "The conferences have it both ways. They want the NCAA to deal with academic eligibility and enforcement, but they don't get any revenue out of the pot.''
Ackerman does believe there needs to be a restructuring within the NCAA and is in favor of delving deeper into the stipend issue, especially in light of the ongoing O'Bannon lawsuit against the NCAA that deals with profiting off player images.
But Ackerman sees no scenario where the NCAA tournament would be touched by any major structural change to college sports.
Neither does West Coast Conference commissioner Jamie Zaninovich, who is currently on the men's basketball selection committee.
"There is going to be change, but it's unclear what that change looks like in the NCAA,'' Zaninovich said. "We think we all make a strong case that we bring a lot of value in men's basketball and in other sports. But at the end of the day, we're not the ones making the decision.
"But I haven't talked to anybody -- and I talk to a lot of people, but anybody with a significant voice -- that doesn't believe there should remain a consistent NCAA men's basketball championship, and all championships that we have. They are all very successful properties and are very successful for the student-athlete experience.''
The NCAA membership relies heavily on the 14-year, $11 billion men's tournament deal that was signed in 2010 with CBS/Turner.
"I'm confident that whatever happens with the NCAA, those things will remain the same,'' said Zaninovich of the championships. "The consensus is with our TV partners, city hosts and student-athletes that one of the best things we have is our championships.''
Zaninovich didn't dismiss some sort of new cut for Division I dealing with allocating resources, cost of attendance and so on. But he scoffed at any notion of changing the existing NCAA tournament model to segregate the financial haves and have-nots among the schools.
[+] Enlarge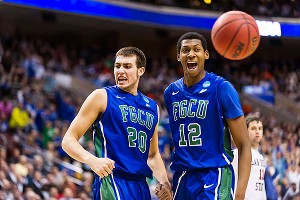 Howard Smith/USA TODAY SportsA separate tourney that doesn't include Cinderella stories like Florida Gulf Coast? Not likely.
"It's obvious how important the funds of the NCAA tournament are to the NCAA budget,'' Zaninovich said. "That can't be understated. But the tournament has never been healthier. Our digital and mobil growth audience is all trending in the right direction. Florida Gulf Coast was one of the best stories ever covered. Those things are hard to replicate in other sports, especially if you only had 60-something schools with access to the event. There is no scarcity in the underdog story. That's what is compelling.''
Atlantic 10 commissioner Bernadette McGlade agreed that there should be change in the governance with all 32 conferences represented on the board, but she wouldn't be opposed to weighted votes based on each conference's financial influence in the NCAA. The current board has 11 permanent Football Bowl Subdivision representatives and seven rotating Football Championship Subdivision reps.
"So much of the NCAA's core fabric is the basketball championship,'' McGlade said. "A nationally relevant, basketball-centric league and the big five conferences can coexist together. We have to take the concerns of the BCS-level leagues seriously. We need to address them. We voted for the stipend. We are aligned philosophically.''
McGlade scoffed at the idea that the top three or four in the A-10 or the new Big East wouldn't be able to compete with the top of the big five football conferences. Everyone knows in basketball that is true. So a tournament with those conferences alone doesn't make sense to the commissioners, and they don't see how the public or the television partners would ever agree to such a proposal.
"The overall massive appeal is driven by the Cinderella story and with everyone having a chance to win,'' said McGlade, who also pointed out that the five football conferences don't touch much of the population-heavy Northeast (outside of Boston College and Syracuse), where the A-10 and Big East dominate. Holding a tournament without the majority of the Northeast corridor would exclude important markets.
"I'm optimistic that the big five don't want to destroy the championship,'' McGlade said. "They want to seek change, but everyone puts a tremendous amount of value on the championship."
August, 9, 2013
08/09/13
9:47
AM ET
Iowa has no more excuses. This is the season.
The expectation is to contend for a top spot in the Big Ten and, at the very least, make the NCAA tournament for the first time since 2006.
A trip next week to England and France should be the start of something big for the Hawkeyes, the beginning of a program-changing season for fourth-year coach Fran McCaffery.
"There's no question about it," McCaffery said. "A lot of people expect it of us. A lot of people will pick us to be ranked in the top 25 in the preseason. That means you're an NCAA tournament team. The challenge is, are you a top-25 team? Are you an NCAA team?
"We can talk about a lot of things, but we have to take care of them. We have to be healthy, be consistent, be a better road team, a better 3-point shooting team. All of these things that we say are going to happen, we have to make them happen."
McCaffery hasn't shied away from what must be done. A year ago, in a similar conversation, McCaffery discussed how the Hawkeyes were close in 2012 but didn't defend well enough to get into the NCAAs. Iowa reached the NIT second round. The Hawkeyes won eight Big Ten games, 18 overall.
[+] Enlarge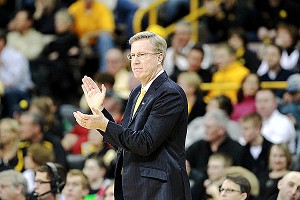 Reese Strickland/USA TODAY SportsIowa coach Fran McCaffery knows his team won't be short on talent this season.
Last season, the numbers showed two more NIT wins to the title game (before losing to Baylor), one more Big Ten win and seven overall.
There were plenty of late-possession losses, notably on the road at Purdue, Minnesota, Wisconsin and Nebraska. Iowa won only three road games -- at Penn State and Northwestern and then in the NIT quarterfinal at Virginia.
"We were way better, but we missed some opportunities to close games," McCaffery said. "We have to establish that we can make 3s, be more consistent offensively, get more individuals to score the ball on offense."
This isn't a team full of stars, but a crew that can produce at every position.
The roster is loaded with experience in Melsahn Basabe, Mike Gesell, Roy Devyn Marble, Zach McCabe, Aaron White, Josh Oglesby, Anthony Clemmons, Gabriel Olaseni and Adam Woodbury -- all significant contributors. Add Wisconsin transfer Jarrod Uthoff and freshman Peter Jok and the Hawkeyes can go 11 deep.
"We're a deeper team, a more experienced team, one that has now proven it can defend but now has to be more consistent making shots," McCaffery said. "I think we will."
Last season, Iowa's schedule was front-loaded in the Big Ten, playing Indiana, at Michigan and Michigan State in the first three games. The Hawkeyes lost them all, and the hole was too deep to crawl out from in the end. They also didn't get a chance to play Michigan or Ohio State at home in the unbalanced schedule.
This winter, the Hawkeyes play Ohio State, Michigan State, Michigan, Illinois, Minnesota, Northwestern and Wisconsin twice. The one-play road games are at Indiana and Penn State with the two at home against Purdue and Nebraska.
There are no excuses with this schedule. The opportunities are aplenty. Taking on Xavier in the Battle 4 Atlantis and then likely Tennessee and then perhaps Kansas in the title game offer power-rating points in the Bahamas. Hosting Notre Dame in the ACC/Big Ten Challenge and going to rival Iowa State will be two more RPI boosters.
"We were probably one more road win from getting in last year," McCaffery said. "We had four times where guys hit shots in the last 15 seconds. We have to make sure that doesn't happen."
It starts with this trip to Europe.
Gesell won't play due to a broken finger. That means everyone else has to play meaningful minutes. Olaseni is from London, so this trip is in part for him. But with a whopping six games on the schedule, it's clear McCaffery is intent on more than just sightseeing. He needs to incorporate Jok and Uthoff, and the trip will provide some answers on whether the team can really go 11 deep.
"I want to see Olaseni be more aggressive offensively. I want to see Woodbury be more aggressive offensively. I want to see Marble and White do what they're supposed to do and upgrade their game a bit," McCaffery said. "Uthoff, McCabe and Basabe should be scorers. We need those guys. Our strength lies in that very few teams will have as many good players. Some may have stars we don't have, but we have a lot of players capable of double figures."
Woodbury and Olaseni need to benefit as centers on the trip while Uthoff logging minutes after sitting out for a year is imperative, according to McCaffery.
The talk is done. The quest to complete the four-year plan of making the NCAAs and being nationally, not just regionally, relevant is now at hand. Iowa has won just one NCAA tournament game since reaching the 1999 Sweet 16.
The trip is the first step of what should be many if Iowa is truly going to be a March player once again.
September, 24, 2012
09/24/12
10:09
AM ET
Iowa looks like a sleeper team in the Big Ten, one that could be on the bubble -- if not more -- next March.
But third-year coach Fran McCaffery won't hype his squad without disclaimers. No one knows the Hawkeyes' personnel better than he does, and he isn't one to gloss over their deficiencies.
"We didn't defend," said McCaffery of last season's team, which went 18-17 and reached the second round of the NIT. The Hawkeyes gave up 108 points in that NIT loss at Oregon, the second time during the latter half of the season that they allowed opponents over the century mark (the other was a 103-89 loss to Indiana).
[+] Enlarge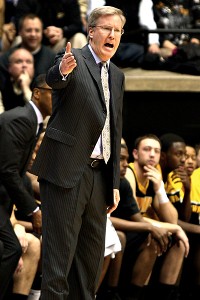 Khris Hale/Icon SMIEntering his third season in the league, Iowa coach Fran McCaffery understands the marathon of a Big Ten season and how to prepare his team for league play.
"We won 18 games -- that's a nice number. We made the NIT -- that's great. We won a [postseason] game. There are a lot of things to be positive about," McCaffery said. "But if you're analytical about our team -- and look at our losses -- you'll see that we gave up 52 percent on 3s, we got beat off the dribble. That all starts at the point of pressure."
Senior Bryce Cartwright, a junior-college transfer the year before, started at the point for the Hawkeyes last season.
"He was a nice player, running the fast break, and led the league in assists [averaging 5.9 per game] as a junior," McCaffery said. "But he wasn't applying the pressure at the point. In our league there are too many good players on whom you need to contain the dribble penetration."
So, three weeks from the start of practice, have the Hawkeyes solved their problem? McCaffery believes so.
He glows about freshman point guard Mike Gesell, who is "terrific at handling the ball, can make shots and is incredibly athletic." He loves the potential of 6-foot-11 freshman center Adam Woodbury, whom he predicts will be a force at both ends of the court.
McCaffery called returning guard Josh Oglesby one of the best shooters he has seen. Backcourt mate Roy Devyn Marble's scoring average more than doubled from 5.7 points as a freshman to 11.5 a game last year. McCaffery hopes Marble can make similar strides as a junior. "That's the key for us. [Marble] can go from [averaging] 13 points to scoring 18 or 19 points a game and be a legitimate first-team all-Big Ten player," McCaffery said. "We lost Matt Gatens, the best shotmaker I've been around."
But the Hawkeyes have size -- with Woodbury, whom McCaffery calls "a big-time player" -- that should help on the defensive end.
"[Forward] Aaron White was terrific but has to be a better defender," McCaffery said. "We've got players who can produce. Melsahn Basabe and Zach McCabe give us size and depth, too. We can now sub effectively. But we have to defend consistently. Tired teams rest on defense."
So far during individual workouts, one of the best frontcourt players on the floor has been London native Gabriel Olaseni. He didn't play much last season as a freshman, averaging five minutes a game.
"[Olaseni] has a chance to be special," McCaffery said. "He's 6-1 and 230 pounds, moves his feet, blocks shots, catches and finishes. He does everything that you want a player to do. But he hasn't done it in games under pressure."
Now that McCaffery has been through a couple of seasons at Iowa he understands the marathon of a Big Ten season. The league is deep enough to carry a team like the Hawkeyes on its coattails toward a bid.
But Iowa's nonconference slate may be a hindrance. No opponent on its schedule is a lock for the NCAA tournament this season. The Hawkeyes desperately need in-state foes Iowa State and Northern Iowa -- whom they will face in back-to-back games in early December -- to have NCAA-caliber seasons. If it splits those games -- or wins both -- Iowa should have enough quality wins.
The Hawkeyes open the season at the Cancun Challenge against Western Kentucky on Nov. 20. The top team outside of Iowa in the Cancun Challenge is probably Wichita State. DePaul will be improved but not projected to make the NCAAs.
Iowa also visits Virginia Tech as part of the ACC-Big Ten Challenge on Nov. 27, but the Hokies will likely be projected to finish in the bottom third of the ACC. A loss there would sting.
McCaffery doesn't expect his team to run the table and go 13-0 during its nonconference slate. "But we understand that we have to win those games we're supposed to win," he said.
Oh, and Iowa's Big Ten schedule opens with three of the league favorites -- Indiana (on Dec. 31), at Michigan (Jan. 6) and Michigan State (Jan. 10). The Hawkeyes will know within a week of conference play whether they're contenders or pretenders.
Will the nonconference slate be enough to prepare them for that gantlet? "I don't know," admitted McCaffery, who is playing it conservatively. The Hawkeyes will play in the Great Alaska Shootout in 2013, and then in 2014 McCaffrey said they'll head to New York for a nonconference tournament with Syracuse, Texas and Cal.
But first they have to get through this season. "In all likelihood, we'll start two freshmen, a sophomore and two juniors," McCaffery said. "We'll still be a relatively young team. I struggle with whether or not I should [add] one more big [game]. Last year we didn't take care of business in nonconference. We were 8-5.
"If the last shot of the season goes in, we're 9-9 in the Big Ten and sole possession of seventh place -- and a Big Ten team that has finished 9-9 hasn't been left out of the [NCAA] tournament. But we probably wouldn't have gone because we lost those five games."
Which brings him back to defense.
"I want to play fast, but we've got to be more consistent and hold teams in the low 40s [in shooting]," McCaffery said. "We have to contain the penetration at the point. If we do that we can score and come at you in waves. I've got 11 or 12 players this year. My first year I was lucky if I could get to six or seven."
So yes, Iowa is a Big Ten sleeper. How much the Hawkeyes awaken during conference play will depend on what they show in November and December -- and, most important, on how they're able to defend.
August, 28, 2012
08/28/12
12:25
PM ET
ALBUQUERQUE, N.M. -- Craig Neal knew the pasta Steve Alford would like for lunch at this particular Nob Hill area restaurant a mile or so from New Mexico's campus.
Alford took Neal's recommendation, and after a few bites knew it was a good call.
Throughout lunch, and on the car ride back to campus, it became obvious how much Alford and Neal are alike. Finishing each other's sentences isn't an uncommon thing.
They are all about basketball and family, with the two interwoven throughout the past five seasons -- a period in which a sense of stability has returned to New Mexico.
The Lobos have been to the NCAA tournament twice in the past three seasons, winning a game in each of those two appearances. UNM has also won or shared the Mountain West Conference title in three of Alford's five seasons and won a combined 58 games in the two NCAA seasons.
New Mexico is expected to challenge for a tourney bid again, pushing league favorites UNLV and San Diego State along with Colorado State and Nevada in a top-heavy MWC.
[+] Enlarge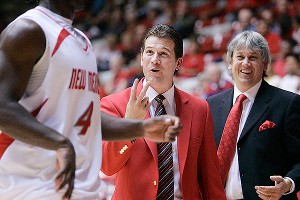 AP Photo/Jake SchoellkopfCraig Neal has been by Steve Alford's side for eight seasons, first at Iowa and now at New Mexico.
Part of the reason for UNM's success is Alford's ability to keep Neal. He could've easily returned to the NBA as an assistant coach by now. He's been a finalist for several college head-coaching jobs.
But Alford has made Neal one of the top-paid assistant coaches (an estimated $250,000 salary), with plenty of perks. And their friendship has made it extremely difficult to leave.
"It's easy when you get along and you're best friends," said Neal, who was with Alford for the latter part of his eight-year tenure at Iowa.
"[Also] I pay him too much," Alford interjected with a laugh. "He gets a country club membership and he's got Harleys."
"He does pay me too much and it makes it hard for me to leave," Neal said. "I get to play golf with my boss. I've got a good gig. It's not always easier somewhere else. I found a place where my family is happy and I'm raising them in a good place.
"It's been very helpful for both of us here that it's a place that reminds us of home with the enthusiasm of basketball. It's not always greener on the other side. We have a great thing going and it's hard to leave. It would have to be a special situation. He'll let me know what that is."
The two former Indiana high school stars competed against each other in the early 1980s. They went to two high-profile colleges -- Alford to Indiana and Neal to Georgia Tech -- and then both had stints in the NBA, with Neal enjoying a 16-year professional career as a player and coach.
Alford was an Olympian. Neal stayed in the pros longer. Alford has been a head coach at multiple levels of basketball. Neal has been a trusted assistant in the pros and in college, lately for Alford.
They played for their fathers in high school, Steve in New Castle, Ind., and Craig in Washington, Ind.
"We grew up in basketball families and then Steve and I went our separate ways," Neal said. "But we kind of always viewed things the same way."
"We were both coaches' kids and played at a high level," Alford said. "We've been around a lot of good programs -- him in the NBA and me in college. He played for [Bobby] Cremins and I played for Coach [Bob] Knight. We played for our dads. If you can't figure out a blueprint then you should be doing something different. We've been together for eight years and averaged 25 wins a season with six championships of some sort in those eight years. They gave us the opportunity to really do the things we want to do with that blueprint here."
And in an interesting twist, for the past few seasons they have watched their sons compete against each other in Albuquerque, last spring playing for the 5-A state title.
Eldorado, where Saint Mary's-bound senior Cullen Neal plays, beat La Cueva, where UNM-bound senior Bryce Alford plays, in the state title game at the Pit. Bryce will join his brother Kory on the Lobos' roster in 2013 as Kory begins playing this season after redshirting in 2011-12.
The state final in March between Eldorado and La Cueva tipped off after the Lobos beat San Diego State in the Mountain West Conference tournament in Las Vegas. Soon after the net cutting and postgame news conference, Alford hustled to his hotel room and Neal to his and they watched the state title game online, on their respective laptops.
Neal said they were texting each other throughout the game. Neal had the final say, as Cullen scored 34 points for the Eagles' first state championship since 2005. The two teams will be favorites to meet again in the state final this school year.
"It's been fun with the kids growing up together the last eight years from the end of elementary to middle school to high school," Alford said. "We've watched them grow and mature from boys into young men. Our families are very close. Kory is here. Bryce is coming here. Cullen is going to Saint Mary's and [younger brother] Dalton is looking around. We've got four boys that are here instead of New Castle and Washington."
Added Neal: "It's been fun, even though they're at different schools. The most satisfying thing is when they work out with our guys and spend time with us."
New Mexico helped Alford and Neal quite a bit by upgrading the famed Pit and producing a quality practice facility with basketball-only weight and training rooms, as well as plush locker and meeting rooms.
The departure of San Diego State to the Big West in 2013 means UNM and UNLV will be the clear leaders in facilities and coaching salaries in the Mountain West.
On the court, the Lobos lost Drew Gordon off last season's NCAA third-round and MWC champion team, but they should challenge again.
The return of 7-foot center Alex Kirk from a back injury will help. The backcourt is as good as any in the West with Kendall Williams, Demetrius Walker, Tony Snell and Hugh Greenwood all back.
The schedule is improving under Alford with road games against Cincinnati and Saint Louis, an appearance at the Paradise Jam in the Virgin Islands (which includes UConn, among others), home games against likely SoCon favorite Davidson, possible Pac-12 sleeper USC, co-Horizon favorite Valparaiso, Summit League champ South Dakota State and the annual home-and-home rivalry games against New Mexico State.
Tack on a round-robin slate against possible NCAA teams UNLV, San Diego State, Colorado State and Nevada and the Lobos have plenty of power-rating points to be back in position for a bid again.
"This year we have a chance to be really good," Alford said. "Alex Kirk is back and should be one of the best big men out West. Our guards are back and we have really good guards. Anytime you have good guard play you can make things happen. We've got that. Next year we should be even better with the majority of our team back."
UNM basketball is the state's pro team. The fan base expects NCAA bids. And under Alford and Neal there is no reason to believe the Lobos won't be in the hunt for a bid every season going forward.
Lose Neal and the Lobos would take a hit.
But for now he's sticking with his best friend.
They look out for each other -- and the Lobos program and its passionate fan base has been the beneficiary.
October, 28, 2011
10/28/11
2:03
PM ET
Ohio State was tabbed as the consensus Big Ten favorite on media day Thursday in Chicago -- and the conference certainly plans to reward the Buckeyes early on in league play.
Examine the conference schedules of the contenders and it's clear that, barring early missteps or injuries, the Bucks should get out to a solid start early on and get out to a comfortable league lead.
Let's examine six of the more interesting schedules in the Big Ten this season:
The favorite

Ohio State
First eight: Northwestern, at Indiana, Nebraska, at Iowa, at Illinois, Indiana, at Nebraska, Penn State
The Buckeyes don't play a ranked team until Michigan on Jan. 29. They should be 8-0 heading into that game.
The middle six: Michigan, at Wisconsin, Purdue, Michigan State, at Minnesota, at Michigan
Clearly there are speed bumps here with the UW road game and plenty of danger spots along the way.
The final four: Illinois, Wisconsin, at Northwestern, at Michigan State
Ohio State has struggled in the past at Northwestern. This could be a dicey finish to the season if these last two games matter. Wisconsin will get its last shot in Columbus, but will it be too late for the Badgers? The Buckeyes also will be in tournament form by the time they get to this stage.
The contenders

Wisconsin
First eight: at Nebraska, Iowa, Michigan State, at Michigan, at Purdue, Nebraska, Northwestern, at Illinois
There are four road games in here, and none will be easy. The Badgers might have a hard time keeping pace with Ohio State early in the conference race. Nebraska will be up for its first Big Ten home game. Winning at Michigan, Purdue and Illinois will be quite a chore for this team. The Badgers run the risk of being two to three games behind Ohio State.
The middle six: Indiana, at Penn State, Ohio State, at Minnesota, at Michigan State, Penn State
Wisconsin doesn't get much of a break here, either. The Badgers will be looking at a three-game grouping of OSU, at Minnesota and at Michigan State. Keeping pace with OSU in the middle of the conference will be exceedingly difficult.
The final four: at Iowa, at Ohio State, Minnesota, Illinois
The Badgers might have to concede the Big Ten title by the time it gets to the road game at Ohio State -- unless the Buckeyes have slipped up. The final two games should give the Badgers the momentum needed to be strong going into the Big Ten tournament.

Michigan State
The first eight: Indiana, at Nebraska, at Wisconsin, Iowa, at Northwestern, at Michigan, Purdue, Minnesota
The Spartans will have to play four of the first six on the road. Michigan State will be road tested by this time with the games against North Carolina in San Diego, versus Duke in New York and at Gonzaga. Still, the environments will be tough. MSU will have to weather this to stay in the race early.
The middle six: at Illinois, Michigan, Penn State, at Ohio State, Wisconsin, at Purdue
Once again, the Spartans have a consistent schedule in which no grouping is free of potholes. They will have to steal a road game in this group to stay in the race.
The final four: at Minnesota, Nebraska, at Indiana, Ohio State
If the Spartans are still in the race, hosting OSU to end the season is a coup. It could also dramatically help MSU's seed potential in the NCAAs. The most dangerous game, though, could end up being at Minnesota. That could turn out to be a pivotal game for both schools.

Michigan
The first eight: Penn State, Minnesota, at Indiana, Wisconsin, Northwestern, at Iowa, Michigan State, at Purdue
The Wolverines could get off to a contending start with this opening. Don't be surprised to see Michigan, instead of the Badgers, on Ohio State's heels early in the conference season based on this schedule.
The middle six: at Ohio State, Indiana, at Michigan State, at Nebraska, Illinois, Ohio State
This is where we'll know whether Michigan is a pretender or contender. The Wolverines get two shots at Ohio State in this group, go to Michigan State and face a possible danger game at Nebraska.
The final four: at Northwestern, Purdue, at Illinois, at Penn State
Michigan could be in the chase and might need another road win here or could be positioning itself well for seeding in the Big Ten tournament.
No favors for the rebuilder

Iowa
The first eight: Purdue, at Wisconsin, at Minnesota, Ohio State, at Michigan State, Michigan, at Purdue, Nebraska
The Hawkeyes are expected to be improved this season, but the record in the Big Ten might not look that way early with road games at Wisconsin, Minnesota and MSU, plus Ohio State in Iowa City, in the first five games.
The middle six: at Indiana, Minnesota, Penn State, at Northwestern, at Penn State, Indiana
If it still has confidence, Iowa has a chance to pick up a significant number of wins here.
The final four: Wisconsin, at Illinois, at Nebraska, Northwestern
The Hawkeyes are a legit spoiler in this scenario and could have a strong finishing kick to be trouble in the Big Ten tournament.
Can the Cats finally do it?

Northwestern
The first eight: at Ohio State, Penn State, Illinois, at Michigan, Michigan State, at Wisconsin, at Minnesota, Purdue
Northwestern hasn't had great starts in the Big Ten. This won't be an easy chore with road games at OSU, Michigan and Wisconsin. But that does mean getting three of the toughest out of the way early.
The middle six: Nebraska, at Illinois, Iowa, at Purdue, at Indiana, Minnesota
This is where the Wildcats have to make up ground and mount a bid campaign. Stumble here and the bid-less streak could continue.
The final four: Michigan, at Penn State, Ohio State, at Iowa
The Wildcats have an intriguing finish. OSU will be a struggle, of course, but Northwestern does have a schedule that provides a strong opportunity to impress the committee. The key will be weathering that rough start.
June, 7, 2010
06/07/10
12:17
PM ET
Big 12 commissioner Dan Beebe is one of the 10 members of the NCAA tournament selection committee and was on the inside of the decision-making process that led to the change from a 65- to a 68-team field, despite the assumption nationally that the 96-team format was a done deal.
On Sunday night, Beebe emphasized that difference between perception and reality as he deals with the swirling rumors that his conference will implode after getting raided by the Big Ten and the Pac-10.
And that's why we need some perspective here before the assumption is made that the entire current format will be thrown into chaos with a land grab by the Big Ten and Pac-10.
Based on discussions Sunday night with a number of high-ranking sources throughout the NCAA (including those who have been in some of the direct talks on these topics during the past decade), here is some relevant information on the various possibilities:
• If the Big Ten can persuade Notre Dame to join the league, the expansion discussion is over. The Big Ten doesn't need anyone else but the Irish to accomplish its goal of increasing its value. The networks have lined up to get the Irish deal from NBC, and adding ND would enhance the Big Ten television property. All conference television contracts have a clause that they are subject to change if there is a membership change, meaning they can be worth more money (with Notre Dame) or less (if, say, the ACC were to lose members even after doubling its current deal).
• Being in the Association of American Universities is a major deal for the academic side of Notre Dame. If the Irish could be assured that they would get an 11-vote bloc of Big Ten schools to usher in Notre Dame as a member, that could sway the Irish hierarchy to move toward the Big Ten. If the Irish have no shot at the AAU, that could be a deciding factor against their joining the Big Ten. Getting into the AAU makes a Big Ten acceptance a lot easier.
• Romancing Notre Dame has been going on since the 1920s. The timing has to be right. There will be a critical mass of alumni who will want to remain as a football independent. For every other sport, being in the Big Ten makes more sense than the Big East, although this isn't a decision about the rest of them.
• Notre Dame wouldn't want to be one of five additions to the Big Ten. The Irish won't want their addition to be devalued.
• Big Ten commissioner Jim Delaney and Notre Dame athletic director Jack Swarbrick have a longstanding relationship. Swarbrick was instrumental in bringing Big Ten championship games to Indianapolis while working in Indiana with the sports commission.
• Delaney won't get burned here. He's considered one of the most savvy and shrewdest negotiators in college athletics. He's not going to issue an invitation and get turned down.
• If Notre Dame were to join the Big Ten, the rest of the chatter would halt. The Big East could bump up Villanova football to FBS to avoid expansion, or it could add a member to stay at 16.
• If Notre Dame is the only grab by the Big Ten, there is no need to toy with Missouri and Nebraska.
• That means the ultimatum doesn't make any sense. Why would the Big 12 tell Missouri and Nebraska they have to be in or else? What's the consequence? The Big 12 isn't going to boot them out of the league. If they don't get an invite to the Big Ten, the chances are that nothing happens to the Big 12.
• The Longhorns won't do anything that won't benefit Texas. They don't want to leave unless they have to get out. Texas enjoys being the deal-maker in the Big 12 rather than just another school, albeit an important one, in the Pac-10 or even the Big Ten.
• Pac-10 presidents gave commissioner Larry Scott the go-ahead to look at expansion, but the academic profile of schools the league would invite is critical, much like the Big Ten. Not all the Big 12 schools meet this standard.
• UCLA and USC get the most money in the Pac-10 because of appearances. Both schools won't want to lose that status in a new, expanded conference.
• The Pac-10 can only expand and expect to make enough money on a television deal with Texas. Adding random Big 12 and/or MWC schools won't increase the value of a proposed television deal.
• The Big Ten Network deal that Delaney has is based on subscription fees and makes more money than the Pac-10 could on its own.
• The Pac-10's best hope is for a television merger with the Big 12, forming a mega TV deal. The Pac-10 and Big 12 television deals are up in 2012, and both leagues have confirmed discussions on a television agreement.
• A number of sources find it hard to believe that Kansas would somehow be left with nothing. Football drives this, but the power; prestige; tradition; and, most important, ratings of basketball do have serious value. It's akin to leaving out Duke in some sort of ACC chaos.
• Underselling the value of the new $10.8 billion deal with the NCAA tournament is a mistake. It matters. This is a football-driven discussion, but it's not at the expense of disrupting the entire NCAA tournament plan.
• A number of conference presidents are trying to ensure that any potential move makes sense. (For example, did Boston College to the ACC make sense?)
• Boise State would probably take a MWC invite, but does the MWC want to invite Boise State without knowing what will happen to the Big 12?
• All of this is relative to the discussions going on at the Pac-10 and the Big Ten. But so many of the doomsday scenarios could be tamed if Notre Dame were to tell the Big Ten yes.
March, 23, 2010
03/23/10
6:08
PM ET
Quick hitters for a Tuesday during Sweet 16 week:
• Oregon is shooting large by going after Gonzaga's Mark Few, Pitt's Jamie Dixon and Florida's Billy Donovan. I'd be surprised if any of them were to take the bait. The money isn't as grand as what apparently is being bandied about. The facilities are expected to be beautiful, but Nike czar Phil Knight has always been about improving the infrastructure at Oregon more so than supplementing a coaching salary. Former Oregon AD Pat Kilkenny probably will be making the call. Oregon would likely go with a Nike coach and there is one that I think would be a great fit if the Ducks thought out of the box: BYU's Dave Rose, who has done a tremendous job with the Cougars. Everyone at the school from the president on down was superb in helping Rose out during his horrific pancreatic cancer battle over the summer. But it would be hard for Rose to turn down Oregon, if the Ducks were to look at him. Rose coaches an entertaining style that would be a great fit, and he's an A-plus person who would do wonders with the boosters. If not Rose, then non-Nike coaches Randy Bennett of Saint Mary's and Mark Turgeon of Texas A&M should be given a shot to at least decide if they want to move.
• I wouldn't be shocked if Tubby Smith listened to Oregon. But staying at Minnesota also makes sense with the Gophers poised to be in the Big Ten title chase next season. If Paul Hewitt were to leave Georgia Tech, that's the better fit for Smith.
• Hewitt to St. John's sounds great, but does Hewitt want to give up on Georgia Tech and the ACC? He has always told me how much his family loves Atlanta. He hasn't had problems recruiting talent to Georgia Tech. Unless it were a necessity, a coach shouldn't leave a football power-six school for a basketball-only school, regardless of its conference affiliation.
• There was no shot Donovan was leaving Florida for St. John's. I don't buy he's leaving Florida for anywhere at this juncture. He didn't go to Kentucky. He turned his back on the NBA. His family loves Gainesville. He's close with the top athletic director in the country, Jeremy Foley, and he makes $3.5 million a year.
•Houston coach Tom Penders was adamant that he was just resigning from Houston, not retiring. He said he has a lot of coaching left in him. Penders said the decision was his, not the school's. Penders, whose moniker is "Turnaround Tom" (not sure who coined that phrase), said he wants to coach again, as soon as next season. But he has to have a destination.
• Texas assistant Rodney Terry would certainly make a lot of sense at Houston. He has support. Let's see if he can get the gig. Keep hearing conflicting reports on whether Billy Gillispie of Kentucky, UTEP and Texas A&M fame can get the job. Marquette assistant Tony Benford, a native of Hobbs, N.M., and former Texas Tech player, has always recruited Texas well and deserves a look.
• Seton Hall alumnus Adrian Griffin, now an assistant with the Milwaukee Bucks, has had initial conversations with the school about the opening. He is pushing his loyalty to the institution, his ties to the NBA, his MBA and his tutoring under Rick Pitino, P.J. Carlesimo, Scott Skiles, Jeff Van Gundy and others in the NBA. Griffin would likely be behind Siena's Fran McCaffery, Robert Morris' Mike Rice and Richmond's Chris Mooney. Still, the former Pirate will at least get a chance to be heard. He should since he's so passionate about the school.
• Central Florida's opening is creating quite an interest with Minnesota Timberwolves assistant Reggie Theus, Murray State's Billy Kennedy and possibly Marshall's Donnie Jones, who was an assistant at Florida.
• Boise State's list continues to be a solid group: former Montana coach Larry Krystkowiak, Portland coach Eric Reveno, Weber State's Randy Rahe and Gonzaga assistant Leon Rice.
• If DePaul is serious about an on-campus arena with approximately 8,000 seats, it could change the job for the foreseeable future. But the Blue Demons must put a shovel in the ground for potential coaches to feel like there can be serious movement on the subject.
• Jeff Lebo's bounce back from fired at Auburn to hired at East Carolina is one of the better moves for a dispatched coach.
• Former St. John's coach Norm Roberts would go back to Kansas if Bill Self had an opening on the staff. But he also would like to be a head coach again -- next season. Roberts had the Red Storm playing at a high level, but couldn't close out a number of close games.
• A number of NBA personnel officials expect a floodgate of players to declare for the NBA draft with plenty making poor decisions with only a short window (end of April to May 8) to withdraw under a new NCAA rule.
• Fordham getting Hofstra's Tom Pecora would be a great get for local ties within the city. But Pecora still never coached Hofstra in the NCAA tournament. You can't hide from that fact. That doesn't mean he shouldn't deserve a shot at another school, but Fordham needs someone who has experienced the NCAAs to rise up from the depths of the A-10. Pecora is well liked in the city and beyond but hasn't been able to get over the hump in the CAA since Jay Wright left for Villanova. Hofstra would be a coveted job if it were open and assistants like Pitt's Tom Herrion would be near the top of the list.
• Penn hasn't officially hired Jerome Allen yet. Does that mean Lafayette's Fran O'Hanlon could be in the mix?
• UC Irvine has a wide net to cast and it should include BYU assistant Dave Rice, who is as well connected in the West as any other assistant.
• Iowa was once a plum job. The Hawkeyes could do no wrong going with Dayton's Brian Gregory or Utah State's Stew Morrill, but UTEP's Tony Barbee would also be an interesting call if he's not in play at DePaul.
• Charlotte is one of the top jobs open with a chance to move up quickly in the A-10.
• It's still early, but if a major job opened, the coaching carousel will spin at a much quicker rate. So far the job list isn't as high profile yet.
March, 22, 2010
03/22/10
11:10
AM ET
The coaching carousel is in full tilt for the spring, and there were plenty of rumors to chase this weekend. Many of them proved to be untrue. Here are some of the things I culled from various sources over the weekend:
St. John's: Rick Pitino told ESPN.com on Sunday that he intends to finish his career at Louisville. Florida coach Billy Donovan told ESPN.com he's not involved at St. John's and he's "happy where I'm at." Florida athletic director Jeremy Foley also confirmed to ESPN.com that he hasn't been contacted by St. John's, calling the bluff on any Donovan-to-St. John's story.
So where does that leave the Red Storm after the heavy hitters? Well, there is plenty out to choose from. If the Red Storm want Virginia Tech's Seth Greenberg or Georgia Tech's Paul Hewitt, they'll have to get them in a clandestine way without any kind of formal search. Can it be done? Possibly. But the money has to be large, with assurances that there is a real commitment in place. I concur with Dick Vitale. If it ends up being another solid coach who doesn't have national name recognition, even someone with strong New York ties, why get rid of Norm Roberts?
Seton Hall: Siena's Fran McCaffery and Richmond's Chris Mooney appear to be strong candidates. That doesn't mean they're the only candidates, but the Pirates are said to be looking for a fresh face with a clean track record after the Bobby Gonzalez debacle. If the Pirates push, they can probably land McCaffery, while Mooney might be harder to pry away from an elite A-10 job. But both may have to think twice, given the talent returning to their respective teams next season.
Oregon: Mike Bellotti's decision to step down as athletic director makes it even more clear that former AD and influential Oregon booster Pat Kilkenny will make the hire with the nod from Nike's Phil Knight, who has invested in Oregon as much as any high-profile alumnus at any other school. Don't be surprised to see the next Oregon coach coming from the family of coaches who work with Nike. The next Oregon coach has be someone who can sell the program to the boosters and aid in filling the arena and the boxes. Gonzaga's Mark Few gets first crack, and then it could down the line with elite Nike-sponsored coaches such as Minnesota's Tubby Smith and recent Nike addition Jamie Dixon of Pitt. The level of interest for any on these coaches is unknown.
Iowa: The Hawkeyes formed a search committee on campus. This isn't a search for a new professor. The basketball coach must be a fantastic recruiter and energize a sleeping fan base at this moment. But they also need a proven coach. That's why the Hawkeyes could do no wrong with Utah State's Stew Morrill or Dayton's Brian Gregory. According to sources, both would listen if called. Morrill has been one of the most underrated coaches in the country for over a decade. Gregory has Dayton as an A-10 contender. Gregory was once in the Big Ten as an assistant under Tom Izzo.
Central Florida: Three interesting names keep floating up here: Minnesota Timberwolves assistant Reggie Theus, former Alabama coach and current ESPN analyst Mark Gottfried, and Appalachian State coach Buzz Peterson. UCF needs to make a splash of a hire. Theus would certainly fit that description.
Boise State: Here's who is not going to Boise: LSU's Trent Johnson. I spoke with him Sunday, and he reassured me that any chatter of him going back to Boise was ridiculous. He said he has one of the top recruiting classes coming to Baton Rouge. Now, former Montana coach Larry Krystkowiak is a viable candidate and is seriously in the mix. But so too should be Portland's Eric Reveno. Weber State's Randy Rahe and Gonzaga assistant Leon Rice are on the radar. Boise State should be a coveted job since there could be a day in the near future when Boise State joins the MWC.
• If Penn hasn't hired interim coach Jerome Allen yet, there could be some movement with Lafayette's Fran O'Hanlon. I'd still be surprised if Allen didn't get the job.
• IPFW's Dane Fife is expected to be in play at Toledo. But the more Ohio State wins, the likelier it becomes that you could see someone like Jeff Boals. Don't be surprised when the MAC looks to the Big Ten for hires.
• Hawaii hired former USC assistant Gib Arnold because of his strong local ties. His father, Frank, was the former coach there. Expect Arnold to keep up a mix of international players with mainland JC players and high school seniors to get the Warriors back to relevance.
• As for Charlotte, Buzz Peterson worked for the Charlotte Bobcats, so going to Charlotte from Appalachian State would make perfect sense. I've had a number of coaches say the Charlotte job is one of the best in the A-10.
• Houston coach Tom Penders resigned Sunday, according to multiple reports. While Texas assistant Rodney Terry should be in the mix, is there anyone who doesn't think former Kentucky and Texas A&M coach Billy Gillispie gets the job?
• Fordham should just hire alumnus Mike Rice of Robert Morris. He's a sound, intense coach. Would they get a bigger name? Probably not.
The hot names: Ben Jacobson, Northern Iowa; Steve Donahue, Cornell; Tony Barbee, UTEP.
Barbee should be in play at DePaul and Auburn if he chooses to leave what could be another CUSA champ at UTEP next season.
Jacobson should be patient and make sure he doesn't do something that doesn't make sense (such as going to a bottom-dweller).
Donahue needs to leave Cornell if he wants to climb. The Big Red may never be at this point again. But Donahue is comfortable, so if the right move isn't out there, he should be patient.
A few random thoughts from the first weekend:
• The Mountain West Conference did a sensational job of getting four teams in the NCAA tournament. All four teams represented well in either the first or second round. But not getting a team in the Sweet 16 still limits the MWC from being treated with true credibility as a proven elite league. The MWC must break through with a Sweet 16 team soon.
• Decisions abound for the NBA draft among players who were ousted in the first weekend. Remember, under a new NCAA rule, players have until May 8 to withdraw from the NBA draft. That means there will be roughly a week to make a decision on staying in the draft (the NBA deadline to withdraw is still 10 days before the draft). There won't be much time for workouts.
So from the teams that have lost, who has to make decisions about leaving for the NBA or at least testing the draft for a week?
Kansas: Cole Aldrich and Xavier Henry.
Georgetown: Greg Monroe
Georgia Tech: Gani Lawal and Derrick Favors.
Gonzaga: Elias Harris.
Florida State: Solomon Alabi.
UTEP: Derrick Caracter.
BYU: Jimmer Fredette
Texas: Avery Bradley and Jordan Hamilton.
• For the record, Butler athletic director Barry Collier said he wasn't fired at Nebraska and left more than $1 million on his contract to return to his alma mater.
March, 17, 2010
03/17/10
3:23
PM ET
Fran McCaffery has had quite a run of late, taking Siena to three straight NCAA tournaments, including two upsets in the first round.
The Saints are a trendy pick to win a third straight first-round game as No. 13 Siena goes up against No. 4 Purdue in Spokane on Friday.
Whenever McCaffery is done coaching this month, he'll have a decision to make.
Does he stay at Siena, where he has recently ruled the MAAC, or chase a bigger payday in a tougher conference?
Two years ago, he could have been a major player for the Providence job that Drake's Keno Davis ended up taking. McCaffery, however, was smart to stay put and not push for the job.
Now, McCaffery is definitely high up on the lists at Seton Hall and DePaul. If Norm Roberts isn't able to survive at St. John's, he could be in play there as well. McCaffery has the pedigree of someone who would be marketable to these Catholic schools. He was an assistant at Notre Dame under Digger Phelps. He is coaching at a similar institution now, though it is smaller and in a less rigorous conference. He has strong ties in the New York metro area, and there are no NCAA violations or any behavioral issues on his record. It would also make sense for Charlotte to look at him since he was once at UNC-Greensboro.
Still, he has to balance what would be a big payday with the assurance that it's the absolute right job he's taking.
He's a winner. But this is an intriguing situation for someone like McCaffery. There always seems to be the assumption that you have to go where the money and the league says you should. But do you?
I've covered the game for 20 years now, and I've seen plenty of questionable moves. The most recognizable ones came out of Butler. Few coaches have realized just how good a gig they've had in Indianapolis. Todd Lickliter left for Iowa and was fired three years later. Lickliter believed he could turn the Hawkeyes around. Barry Collier left for Nebraska. He was fired and ended up back at Butler as the athletic director.
McCaffery has to be careful here. He must make the right decision at a critical point in his career. Does also he look at Iowa, where he could be a fit since he was at Notre Dame and knows the Midwest?
The same could be true of someone like UTEP's Tony Barbee, who is a strong candidate at Auburn and DePaul. Barbee has the Miners in the NCAA tournament as a 12-seed and regular-season champions of Conference USA.
UTEP should be just as good next season, assuming the NBA doesn't grab Derrick Caracter and/or Randy Culpepper as early entrants. Barbee could be even hotter as a candidate with another successful season in El Paso. Another strong season could really improve his position in the market; he might not have to take a job at the bottom of a league that doesn't present much of an opportunity to move up in the standings quickly.
The most intriguing development Wednesday was Rutgers' announcement that it was sticking with Fred Hill. That news came to light hours after it was reported by the Newark Star-Ledger that Bobby Gonzalez was out at Seton Hall. Hill's contract situation didn't help Rutgers make a move -- he's reportedly owed over $1 million. But while Hill has had some attrition lately, such as losing big man Greg Echenique, he didn't draw attention to himself like Gonzo.
Gonzo's antics didn't help him. That fact was clear Wednesday. The lack of decorum of his Second Chance U. players -- from Keon Lawrence's wrong-way driving in the fall to Herb Pope's punch in the groin Tuesday night in the NIT loss to Texas Tech -- the Hall's appearance was not appealing.
Seton Hall should try to woo someone like McCaffery or Davidson's Bob McKillop, but the school is also smart enough to know that both coaches are in good situations. McKillop loves his life in the Davidson community north of Charlotte. Why would someone want to leave what makes sense for the craziness of the bottom of the Big East in the competitive New York metro area?
Still, the Hall will have to go with someone who has had no trouble in his past. Likewise, Fordham is trying to do that in looking for a replacement for Dereck Whittenburg. The Rams are looking to make a splash with the hire, but instead they need to ensure it is someone who makes sense, who wants to rebuild and doesn't mind grinding. That's why someone like Rhode Island's Jim Baron -- who might have overstayed his situation at URI after failing to make the NCAAs -- would be an interesting call. But why not look at a coach at a school that can't compete financially, like Northeastern's Bill Coen? There are coaches out there who need to take a gamble to move up rather than leave a comfortable situation. That's why places like Fordham and Seton Hall should also consider Tom Herrion, the top assistant at Pitt, or Hofstra's Tom Pecora. These might be jobs at which NCAA tournament appearances or success isn't the issue, but character and personality fit are more likely the answers. Pitt promoted Jamie Dixon as an assistant and that worked, right? Robert Morris' Mike Rice worked at Fordham, where he is an alum.
Some other quick hitters

• Hawaii already interviewed Gib Arnold, the former USC assistant, and Saint Mary's Kyle Smith. Arnold and Smith have strong ties to Honolulu. UH officials were on the mainland in Los Angeles on Wednesday talking to Gonzaga assistant and former Utah and Eastern Washington head coach Ray Giacoletti, Colorado assistant and former Wyoming coach Steve McClain and Southern Miss assistant and former San Jose State coach Steve Barnes. The Warriors couldn't go wrong with any of these choices. All have a sense of the difficulties of the job at Hawaii. I still contend it is a quality job.
• Charlotte is lurking as a quality gig for someone who can move quickly up the A-10 ladder. What will be interesting is whether former Charlotte assistant Dalonte Hill, now at Kansas State, can get a serious look after he left the 49ers and took committed player Michael Beasley with him to Manhattan. I would think the 49ers would get a lot of hits from head coaches.
• Oregon will wait until Gonzaga's Mark Few finishes the season before an official push. After that, expect the Oregon program to look long and hard at coaches with Nike ties who have been at a national-championship level. That's why Minnesota's Tubby Smith will be dangled as a candidate.
• Would Providence's Keno Davis go back to Iowa to coach the Hawkeyes after his father Tom was pushed out? I would say yes. Would they hire him? I think it would be hard after the way the Friars' season ended.
• I find it hard to believe that Trent Johnson would leave LSU and head back home to Boise State. Coaches are squawking about this occurring. I would be surprised if Johnson left an SEC job for the WAC. This was one bad year at LSU after winning the SEC West the previous season, but give him time.
• I'm not just shilling for a fellow colleague. I do love the knowledge Fran Fraschilla and Tim Welsh share with me on the game. They both were and should coach again if they feel it's right for them and their families. One coach just started with us and I wouldn't be surprised if he got a call this spring: former Alabama coach Mark Gottfried. He won with the Tide and reached the Elite Eight but had a number of injuries that derailed him late in his tenure. Gottfried deserves another shot.
• Was the Ernie Kent firing the longest, most drawn-out process recently? Why didn't Oregon just make it official when Mike Bellotti informed Kent? It made no sense to wait.