Steve Fisher, Leon Rice talk about moves
December, 7, 2011
12/07/11
9:18
AM ET
San Diego State and Boise State men's basketball, along with the rest of their sports, are moving from the MWC to the Big West and WAC, respectively, now that their football programs are heading to the Big East for the fall of 2013.
Multiple sources confirmed early Wednesday that San Diego State would go to the Big West, pending approval by the conference's board of directors, while Boise State plans to announce that it will join the WAC in all sports except football.
[+] Enlarge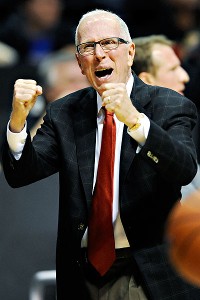 Christopher Hanewinckel/US PresswireSan Diego State coach Steve Fisher says moving to the Big West will help his program grow.
When contacted Tuesday, neither men's basketball coach -- SDSU's Steve Fisher or Boise State's Leon Rice -- has an issue with leaving the Mountain West for another conference.
Fisher's Aztecs are now established after their Sweet 16 run last season. They are relevant in laid-back San Diego, and Viejas Arena is one of the hidden gems in the country due to its passionate fan base. The Aztecs are off to a fantastic start this season, despite losing four of five starters. They beat Pac-12 favorite Cal at home and won at Arizona, and their only losses are to Valley favorite Creighton at home and at Big 12 title contender Baylor.
Fisher is so comfortable in San Diego State's current state that he has no issue about heading to the Big West. This is more about the Aztecs as a program, rather than any conference affiliation.
"Football appears headed to the Big East, and if we go to another league, we'll continue to grow the program,'' said Fisher, who said he expects the Aztecs to land in the Big West. A Big West source said late Tuesday night that San Diego State will join the league, but the conference's board of directors hasn't met to officially discuss the matter. That will likely occur soon.
The Big West already has taken in Hawaii for all sports except football. The Rainbow Warriors, who will leave the WAC, will join the Big West in 2012, while their football program goes to the Mountain West. The Mountain West won't accept a member without football, but is willing to take a program that only gives it football. The WCC, which looks at state schools, or the Big Sky weren't options.
The Big West will be a cost-saving move for the rest of the Aztecs' programs, and it certainly helps the baseball program since the all-California (plus Hawaii) league is a national player in that sport.
Fisher said that a move to a league (like the Big West) that has an ESPN television contract will change the Aztecs' scheduling. San Diego State's games against Cal, Creighton and Arizona didn't get the national exposure Fisher wanted.
"The one real big positive is that it would get us on the ESPN family of networks, and that will help our program and be a huge sell for us,'' said Fisher. The Mountain West Conference doesn't have a contract with ESPN. MWC teams can appear on an ESPN network only in a tournament that ESPN televises or in a nonconference road game against a school in a league that has a deal with ESPN.
"I believe that this will make it easier for us to schedule teams from the Midwest or the East,'' Fisher said. "It will greatly enhance our ability to recruit. And that's the lifeblood of any program. If I were to approach Illinois or Louisville and say you'll be on national television, that will resonate more than [saying] you'll be on local cable. I think we've got a lot going for us that we've created over a period of time. We are in a good position right now.
"Change should not be feared, but change should be an exciting time for us,'' Fisher said.
The Mountain West has changed recently with BYU's departure to the WCC. Utah's basketball program is in a terrible situation right now. But the Utes still have a national name, and their exit to the Pac-12 was another hit to the MWC. And adding Fresno State and Nevada don't equate to BYU.
Big West matchups against Long Beach State or UC Santa Barbara may resonate locally more than games against Colorado State or Wyoming, as long as Fisher can make good on his guarantee that he'll be able to land even more national games. The hope is that San Diego State can command a Gonzaga-like national schedule prior to the conference slate. And there's no reason to think that a deeper Big West couldn't land multiple NCAA bids in the future.
San Diego State's success so far this season is another indicator that Fisher has a program to build on, rather than just a hot team from a season ago.
"If you asked me before the season, I was nervous about this season,'' Fisher said. "We lost a lot of players, but we have nine that suit up that are really, really playing well together. It's been a wonderful start.''
[+] Enlarge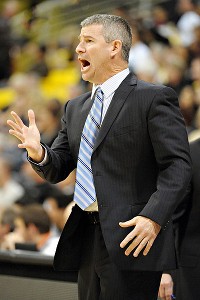 Kirby Lee/US PresswireBoise State coach Leon Rice isn't paying attention to the conference shake-up.
Meanwhile, Boise State was supposed to be rebuilding in Rice's second season. Yet the Broncos are 7-1, with their only loss coming at Long Beach State. They haven't played a strong slate but did beat a quality squad (Indiana State) at home. Boise State will learn more about itself in a winnable game at LSU on Dec. 10, and faces a very difficult game at surging Denver on Dec. 17, which is bound for the WAC. This is Boise's first and only season in the MWC.
"I was definitely concerned with having 11 new guys, but we're playing well together right now,'' Rice said.
The Broncos' move from the Big Sky to the Big West to the WAC to the MWC to the WAC again won't have much of an effect on the program's growth.
Rice said he was told that all options are being explored. The WAC does offer regional teams Idaho, Denver, Seattle and Utah State, which is still in the conference for 2013. One reported scenario which called for Utah State and San Jose State to replace Boise State and San Diego State in the MWC could be on hold.
One source with direct knowledge of the situation said the MWC may hold off on adding Utah State and San Jose State if a full merger with Conference USA occurs. If that happens -- and with C-USA losing three members (Houston, SMU and Central Florida) to the Big East in all sports -- the MWC and C-USA may see the benefit of merging and being at 16 to 18 members versus expanding again on their own.
"I'm not paying attention to any of this right now,'' Rice said. "Seriously, I could care less. We're in the middle of our season, we're grinding away. I have no control over it. I'll just be excited wherever we go and whatever happens. I don't think it matters. San Diego State would be leaving, too. So the Mountain West would be changing. The gap between the Mountain West and the Big East or the WAC won't be that much different. You wouldn't believe how little I've focused on it.
"Our football team moved from the WAC to the Mountain West, and then BYU, Utah and TCU all leave, so the league isn't the same when they get there,'' Rice said. "I don't want to speculate or even look at it.''
An MWC without San Diego State means UNLV and New Mexico should dominate at the top, while Colorado State, Wyoming, Nevada and Fresno State likely take turns at No. 3. If the MWC doesn't join C-USA in a full merger, the league will need to put Utah State and San Jose State back in the mix and weaken the WAC. The WAC would then be led by New Mexico State and possibly Denver, but would lack the depth Boise State could have gotten in the MWC.
But it won't matter to coach Rice. Just like it's irrelevant to Fisher. The mood for both is more inward now. If a program takes care of itself and wins, regardless of its conference affiliation, it can get noticed with possible nonconference games and a postseason berth.
San Diego State is a new member of the Western elite and can stand on its own under Fisher.
Boise State is so new in trying to become relevant in hoops that moving to the WAC may not alter much at all in its rebuilding process.
Both schools are moving football to the Big East at the expense of the rest of their sports. But neither coach seems to be upset about it. So why should anyone else?