Drew II must step up for UCLA
December, 7, 2012
12/07/12
8:29
AM ET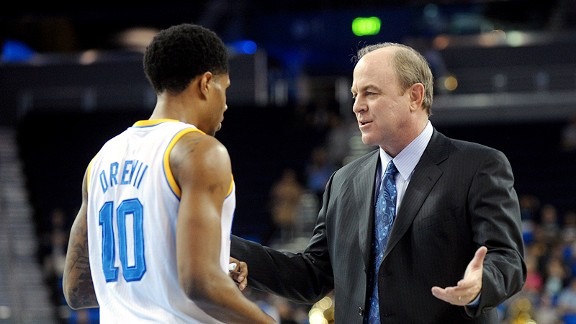 David Hood/CSM/AP PhotoBen Howland is pushing Larry Drew II to assume a leadership role for UCLA.
Larry Drew II has an opportunity he never had at North Carolina.
He has a chance to be a leader, to take over a team, to be given a squad that will be his to steer.
UCLA coach Ben Howland said Thursday that the Bruins need Drew II to be the voice of this team.
Apparently, there is no one else Howland wants to take over this team in its time of need.
"The guy that needs to do this is Larry," Howland said as the Bruins prepared to leave for Houston for Saturday's game against Texas in Reliant Stadium. "He's a fifth-year senior. He's done a real good job. We need him to pick it up another notch, and I think he can do it. He has to do it. I'm pushing him harder to be that guy."
Drew was the starting point guard at North Carolina two years ago before he was replaced by then-freshman Kendall Marshall in February 2011. Drew subsequently left the team and transferred. UCLA took him to sit a year and play one year.
Drew hasn't been vocal in L.A. -- yet. He hasn't shot the ball well, knocking down less than 40 percent overall and 20 percent on 3s. But he has had quite an assist-to-turnover ratio at 8.5 (68) to 1.4 (11). He had 11 assists and two turnovers in the most recent game, a nine-point loss to San Diego State in Anaheim on Saturday.
The Bruins need someone to take over this team. Freshman Shabazz Muhammad has the personality to do so, but he might be in the wrong position. It's not as easy to be the decisive leader as a forward. It's always easier if it's the playmaker.
The Bruins have had success with a point leading the team from Jordan Farmar to Darren Collison to Russell Westbrook. Howland pointed out that all three are in the NBA and have been highly successful. No one is assuming that for Drew. All the Bruins would like is someone to take charge, which that hasn't happened in an erratic, underachieving season that has included a home loss to Cal Poly.
The Bruins have seen two transfers already in the fall semester -- Tyler Lamb and Josh Smith -- and getting a healthy Tony Parker back in the rotation is much needed.
"That gives us eight guys who are going to play," Howland said. "Half of our rotation players are freshmen. The veterans have to step up and be better leaders and exemplify what needs to be done to execute offense and defense."
Howland was pleased with the practice Wednesday and is intending to play his more favored man-to-man instead of zone against the Longhorns. But working on man-to-man in an exhibition game this week also affirmed for him how far the Bruins still have to go defensively.
Kyle Anderson, who brings the ball up at times, isn't going to be the leader.
Nope, it has to be Drew for the Bruins going forward.
"I'm pushing him," Howland said. "I want him to do it by example by how hard he plays. Larry gets into floating modes. We need his motor up. He does a great job in decision-making. It has been fantastic."
But his leadership hasn't been equal as of yet. If Howland is right and Drew is the player to start directing this team, that will be one important role defined in a season that needs to find its path sooner than later to avoid being derailed.