College hoops must build off title game
April, 9, 2013
04/09/13
4:04
AM ET
ATLANTA -- That's what we all want.
That's what the sport needs and craves.
What Louisville and Michigan did Monday night in the national championship game must be duplicated for college basketball to thrive. Officials need to find ways to increase freedom of movement when the rules committee meets next month.
Players need to work on their skill set, especially making the open jumper and 3-pointer. Converting on the offensive putback and at the free throw line are musts too.
Louisville won the national title 82-76, and both teams made eight 3s, attempting nearly the same number of free throws and shooting better than 45 (Louisville) and 52 percent (Michigan).
[+] Enlarge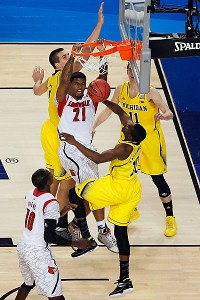 Kevin C. Cox/Getty ImagesChane Behanan and Louisville helped put on a show in the national title game.
Beauty.
There was no slogging through 40 minutes. The clutching and grabbing wasn't the norm. Players ran, pushed tempo, forced turnovers and raced down the other end.
"I enjoyed it," Michigan coach John Beilein said. And that was after his team lost the national title game.
Beilein was thoroughly entertained and said that college basketball continues to sustain itself. It reinvented itself again for 40 minutes on Monday night. Beilein and Louisville coach Rick Pitino predicted Sunday that there was a chance, if both teams played to their offensive potential, this game's final score could be in the 70s or 80s.
It was.
"Sometimes expectations get so high, I knew it would be a great game," Pitino said. "You never know if you're going to win. The other night I knew that Michigan-Syracuse wouldn't be a great game. I knew our game against Wichita State wasn't going to be a great game because of the type of defense Syracuse and Wichita play.
"I knew [the title game] would be a great game. Two great offensive teams doing battle. Two great backcourts, great frontcourts, great talent. I was so happy to see that, because I knew it would be a great game. Didn't know we'd win, but I knew it would be a great game."
OK, so now comes the hard part: How does college basketball keep this going?
I searched for answers immediately after the game and found two sage men sitting a few rows behind the court, former Arkansas coach Nolan Richardson and former South Carolina/Wake Forest coach Dave Odom.
"When you play any way that you need to play to win, then that's what can happen," Richardson said.
Richardson said Louisville wasn't pressing like his Razorbacks team did in the 1990s. That's OK. They may not have had an identity like the Hogs or UNLV in the '90s, but there is still something to work with, a style that can be copied with the commitment and personnel.
Odom echoed Richardson's assessment: A team must be able to play differently to pull off an entertaining victory with a final score that isn't locked in the 50s or low 60s.
"[Louisville was] the most versatile team in the country," Odom said. "They could play fast; they could play in the 70s or the 80s. To beat Wichita State, they could play in the 50s or 60s. You've got to have a versatile team to meet the requirements of the night. What coaches do in the offseason is that they remember what won and try to mimic it."
[+] Enlarge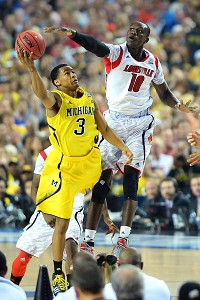 Robert Deutsch/USA TODAY SportsWhen guys like Trey Burke have room to make plays, college hoops can be an offensive game.
But they do it only if they have the players.
"Can it happen?" said Louisville's Luke Hancock, the Final Four's MVP. "It's rare that you'll get two teams like that on the floor together. We're a pretty good team, and Michigan is a great team. It's rare that type of matchup happens."
The Butler-UConn game in 2011 was a brutal watch. Neither team could score effectively. There have been other years when one team had been dominant offensively and the other slogged through the game. In 2008, Kansas-Memphis provided drama and big shots.
But title games that produce high-scoring, must-see affairs have been rare.
Coaches aren't going to suddenly change the way they approach the game. But if the personnel provides an alternative, if there is an opportunity to emphasize the offensive skills, then it can happen.
Look, this was a national title game in which two players -- Michigan's Spike Albrecht and Hancock -- ended up in a shootout while other players struggled. Having players who can finish on the offensive glass and those who can flush the ball on a drive are a plus. There was a little bit of everything in this national championship game.
Copying the game plan sounds easy enough. Actually pulling it off is probably wishful thinking. But we can hope it occurs.
Coaches, players and officials unite. Watch what occurred in the Georgia Dome on Saturday night. Build off it. Believe that it can be possible. Finish the shots that must be made, look for the opportunity to run when it's available, defend and force turnovers to ensure there is tempo change to create more possessions.
This is all possible and plausible if there is a commitment to change and making sure the game is as entertaining on a regular basis as the national title game was Monday night.
"You know, a lot of times when you get to the Final Four, you get to a championship, the game's not always great, not always pretty," Pitino said. "This was a great college basketball game."
Let's hope that this was not a fluke but rather the start of something that will create a hunger for more.