Joshua Smith comfortable with his weight
November, 8, 2013
11/08/13
1:19
PM ET
PYEONGTAEK, South Korea -- It was requested Joshua Smith weigh in multiple times a day at UCLA, but in the nine months since he transferred to Georgetown, those checkups have lessened to a mere handful total.
He is accepted for who he is at Georgetown. All the Hoyas want him to be is reliable, to honor the commitment they have made to him by never shirking his responsibilities.
Joshua Smith is a large man. That's not an insult. That's a fact. He's listed at 6-foot-10, 350 pounds. That's who he is, that's who he was at UCLA and will be at Georgetown for his final two years of college basketball.
He has taken the sage advice of John Thompson Jr., an imposing man himself. Thompson is at nearly every Georgetown practice when the Hoyas are home, towering over his son, Hoyas' head coach John Thompson III, and every player, including Smith.
"He told me to be confident in myself whatever weight I am as long as I play hard," Smith said.
[+] Enlarge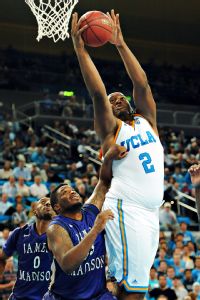 Jayne Kamin-Oncea/USA TODAY SportsJoshua Smith's weight had become a constant struggle doing his time at UCLA.
Smith played in six games as a UCLA junior last fall but the NCAA wiped those away and gave Smith two full seasons to play, essentially giving him an extra semester of competition over a five-year period.
In his first game with Georgetown, Smith put on quite the show. He scored a game-high 25 points on 10 of 13 shooting in an 82-75 loss against Oregon at Camp Humphreys.
"I think I've weighed in here just a few times and Coach Thompson said, 'I don't care if you weigh 500 pounds or 200 pounds as long as you do everything I ask,'" Smith recalled. "Then he said it should take care of itself."
That wasn't the case when Smith was a highly touted recruit out of Kent, Wash., and UCLA won his services.
Smith never had a real chance at UCLA when he spent the previous year recovering from a torn patella tendon. He was shelved for three months, still eating the same, but not doing any exercising.
Yet, he was able to fool himself and the Bruins' staff after having a solid freshman season, shooting 55.5 percent from the field, grabbing 6.3 rebounds and scoring 10.9 points a game.
The worst was still to come, though. His sophomore season was a disaster. UCLA was a program in disarray. Players were being disciplined for poor choices and the Bruins lost to teams they shouldn't have early and often. Smith's minutes declined, and so did his production.
While he doesn't fault the Bruins' staff for its concern about his weight and cardiovascular health, the fixation on that issue continued to cause him anxiety.
"I would weigh in before and after a workout," Smith said. "I kept thinking I didn't want to let my weight affect me. But then people would say, 'He's lagging' or 'He's barely getting up the floor, his weight is an issue.'
"I was caught up in what everyone was writing about me. Even if I felt I had had a good game or good stretch of games, there were still people saying negative things and questioning me. So I did wonder, 'Is this OK? Am I good enough playing in this shape?' I had to stop letting people dictate to me what they felt. I know my body and they don't. I had to go out there and just play."
Accepting his size wasn't easy. Smith said he felt as if he had to fit into a certain box, and if he didn't make the designated weight, he would feel failure and disappointment.
Being told you're too thin or too fat can have a lasting effect on a person's psyche. So, too, can the constant badgering of making weight.
The number was always on his mind.
He would question himself: Did I gain today? Did I lose? How much? Why not more? How could I gain when I didn't eat more than the day before?
"I was just trying to get molded into what the coaches thought I should be or the strength coach thought I should be or the fans or the boosters," Smith said. "I told people that my whole life leading up to that I had been the same size."
But endurance was an issue last year. His minutes declined in those six games. He was a shell of his former self; the post moves, quick hands and feet couldn't be a factor if he couldn't stay on the court.
He knew he had to get out of UCLA and he didn't want to wait until the end of the season. But when he got to Georgetown, coincidentally after playing against the Hoyas in Brooklyn a few weeks prior, he couldn't last a few minutes.
"I was tired after three or four minutes," Smith said.
Smith worked in the spring on his endurance. He drafted a letter in April to request a waiver to play in the fall. He followed the instructions of Georgetown's staff and faculty. He was optimistic but not overconfident about getting the waiver. While other coaches told ESPN.com they were stunned the waiver was passed without an appeal, the NCAA confirmed that any waiver has to have a documented reason to be successful.
Student privacy laws protect the contents of the waiver. But Smith said his case was that UCLA wasn't the best situation for him and that he had only played in six games, so he was looking for a break.
He got one. Now the onus is on him to prove it wasn't done in vain. Throughout this week's practices at Camp Humphreys, Smith has been on and off the court in spurts with the Hoyas, giving the team different looks with him in the lineup (more halfcourt and bigger) and out (quicker and smaller).
The college basketball world will be watching how long he can be effective on the court. But he's done worrying about what anyone else thinks about him.
"When I've played well, I didn't get caught up in that," Smith said. "The coaches have told me here, if I get tired just let them know. I want to play as hard as I can. I don't know if that's going to be five minutes or 10 minutes or two minutes. I have no idea. I just want to go out and leave it all out on the floor. That's all I can do."