Category archive:

Auburn Tigers
September, 27, 2011
09/27/11
12:42
PM ET
Connecticut is putting on the full-court press to join the ACC in case the league decides to expand again. And Duke coach Mike Krzyzewski and North Carolina coach Roy Williams both told ESPN.com they would like to see the league eventually go to 16 teams, with two eight-team divisions.
But there is no sense of urgency in the ACC, especially since the Big East for the moment is making Pitt and Syracuse stay for 27 months per the league's bylaws. The conference has plenty of time to figure out how to schedule its 14-team league.
So the attention now returns to the SEC with Monday's official announcement that Texas A&M will join the conference for the 2012-13 season. That gives the league 13 teams.
Should there be more?
Like Krzyzewski and Williams, Kentucky coach John Calipari would eventually like to see his conference get to 16.
"I don't think this stuff is done yet," Calipari said. "I've said for months that there may be four conferences with 16 or 18 teams each. But I can tell you that the SEC at 13, 14 or 16 is going to be stable. We're fine. If they're going to add, I'd like us to go and get Virginia Tech, Maryland and Missouri to go along with Texas A&M. We're not going to do anything at the expense of academics. You're also going to see basketball step up in the next five years in the SEC."
[+] Enlarge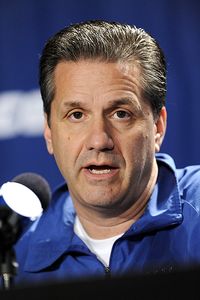 Howard Smith/US PresswireJohn Calipari would like to see the SEC add Missouri, Virginia Tech and Maryland.
Calipari tweeted Monday that he thought the move to add the Aggies was tremendous for the league and new coach Billy Kennedy, a native of SEC country (Louisiana).
"Texas A&M is a great school academically, has a well-run athletic department and will fit well," Calipari said. "Their fan base is ridiculous, just like all of us. The SEC is different. The SEC is about schools with strong fan bases and geography. We want the markets. There is no buyout in the SEC because no one wants to leave."
Vanderbilt coach Kevin Stallings said he would have been fine with the SEC staying put at 12 teams, but he's not against the expansion.
"I like the simplicity of an even number and I'm not sure it was completely necessary," Stallings said. "I don't think we're finished seeing movement and if so, if we end up at 14 or 16, if that's what the commissioner's office said we need, then I'm fine with it. Our league isn't going anywhere. We're as stable as any league in college athletics and we have visionaries who run our league. If they think we're better suited to be at 14 or 16, then I'm OK with that."
The SEC will run into issues on further expansion since it would be hard to take a team from a state where there is already a conference member. The new ACC buyout of up to $20 million poses a problem, too. But the new markets in new states is what Calipari was talking about when he rattled off Missouri, Maryland and Virginia Tech. Still, it would be extremely difficult to pry the Terrapins away from playing Duke and North Carolina every year or the Hokies from rival Virginia after Tech expended a lot of political capital with the Cavaliers to not block the school's move from the Big East to the ACC eight years ago.
The SEC's current number of 13 will be a scheduling issue for football and basketball. Football still has divisions, which is a matter unto itself as the league decides what to do with the Aggies and how to handle an unbalanced schedule.
The SEC got rid of divisions for men's basketball for this season, but the scheduling format still mirrors the football East-West split with each team playing its old side twice and the other once for the 2011-12 season.
Stallings was on an SEC committee to determine a 12-team, no-division schedule for 2012-13. The consensus was to have everyone play each other once (11 games), with seven more games coming from doubling up against league opponents to get to 18 league games. The SEC currently plays 16. The same formula is expected to be applied to a 13-team, no-division SEC next season. The Atlantic 10, which has 14 teams, has a format of playing only 16 league games with every team playing each other at least once, three teams twice.
The question for the SEC will be which rivalries are protected in a doubling-up scenario. There are a few natural ones to protect like Alabama-Auburn, Ole Miss-Mississippi State and Vanderbilt-Tennessee with newer ones like Kentucky-Florida and maybe more traditional ones like Tennessee-Kentucky or Florida-Georgia kept, as well. There could be a need to ensure Texas A&M plays LSU twice as well, or perhaps twice with Arkansas, a former rival from the Southwest Conference.
Whatever the case, Stallings doesn't seem all that worried.
"I think we just have to have an open mind going forward," he said. "We'll come to the best concept relative to 13."
August, 11, 2011
08/11/11
11:24
AM ET
Anthony Grant and Tony Barbee have figured out how to hunker down this time of year.
Alabama and Auburn are obsessed with football all 12 months of the year, but especially now as fall practice begins and the anticipation grows to a fever pitch for a new season to begin.
In other words, this is exactly the time when basketball at "football schools" like Bama and Auburn can go into lockdown mode in preparation for what should be critical seasons for both programs.
"This is the mecca of college football with what Coach [Nick] Saban has done here and the history of Alabama football,'' said Grant, who is entering his third season in Tuscaloosa. "But this is the time of year for our guys to get into shape, to get through preseason conditioning. To get our focus down. I know this is not our time. But what you do now can help structure your season.''
The Crimson Tide won 25 games last season but fell short of making the NCAA tournament. Ultimately, Alabama reached the NIT final, losing to Wichita State. But going 0-for-3 in the Paradise Jam in the Virgin Islands in November was a killer and a relatively weak nonconference schedule made for a disappointing Selection Sunday after going a stunning 12-4 in league play.
The Tide returns the core of that team, including big man JaMychal Green, who is expected to star for USA basketball at the World University Games, as well as wing Tony Mitchell, who may be just as gifted an offensive player.
Bama has a legitimate chance to finish in the top four in the SEC along with Kentucky, Vanderbilt and Florida, with Mississippi State quite possibly on its heels. The Tide will be projected as one of the favorites along with Purdue to win the Puerto Rico Tip Off in November. Playing at Dayton, against Kansas State in Kansas City, and against Oklahoma State in Birmingham gives the Tide winnable games against well-respected programs that will be in a bit of re-tooling mode this season.
"The postseason was good for us since our guys had never been,'' Grant said of the NIT run. "We played a good schedule last year but we didn't win any of those games -- at Purdue, at Providence, at Oklahoma State and the bad weekend in the Virgin Islands. We weren't able to make up for that week.''
Like most coaches at big-time football schools, Grant will take advantage and make sure all recruiting visits are scheduled around home Alabama football games. But that is for 2012 and beyond.
"There's no question that you have to take advantage of having 100,000 people on campus and get a feel for that atmosphere,'' said Grant, a former assistant at Florida and one-time head coach at VCU. "We took advantage of that at Florida and we're taking advantage of it here. We didn't have that at VCU.
"I go in stages and right now this is when my emphasis for our guys is to go to class, get off to a good start academically and get them through the preseason conditioning to get ready for practice in October. I try to compartmentalize since we go both semesters.''
Grant knows the Tide's place at this time of year. So, too, does Barbee, who is entering his second season at Auburn. This is still fairly new to Barbee, who he played at UMass and was an assistant at Memphis before he was head coach at UTEP. None of those places are dominated by football.
He makes sure he's at the home football games and said no one was as big a fan of the Tigers' national championship run as he was last season. But Barbee takes a bit of a different approach.
[+] Enlarge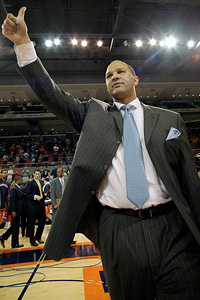 John Reed/US PresswireAuburn basketball can be a challenge to recruit for, but Tony Barbee does have a new arena to sell to recruits.
"The recruits and parents come in for those weekends and the pageantry and it's impressive," he said. "But they're not football players and they want to know what it's like for basketball and if it's over the top for every game. We have to sell them on basketball.''
And that's what he's trying to do, even in the shadows of a defending national champion.
Barbee is convinced the Tigers will be more than a pest this season in the SEC. Auburn has Texas guard Varez Ward healthy and eligible after he sat out last season. Clemson wing Noel Johnson is also eligible. And the team's top returning player -- guard Frankie Sullivan -- is healthy after an injury-riddled season limited him to only six games in 2010-11.
"We're in a good stage, similar to what occurred at UTEP where there wasn't a lot left and we've now had two good recruiting classes to set the foundation,'' Barbee said. "I think Varez Ward will be as good a point guard as anyone has in the league. Frankie Sullivan will be one of the best shooters and now we've added Noel Johnson, we've added [freshmen] Cedric McAfee and Willy Kouassi and no one is talking about us.
"And they shouldn't be. We were supposed to be the worst team in the BCS last season and yet we win four SEC games and should have won eight or nine.''
Playing its first season in the school's new $92.5 million arena, Auburn also beat Sweet 16-bound Florida State and a couple of those SEC losses were indeed decided in the final seconds.
Nevertheless, the Tigers will be picked near the bottom of the league again. But Barbee fully expects for his team to be a tough out and have a chance to finish much higher.
So here in mid-August, as the two most recent kings of college football get set for another season, not many people on either campus are buzzing much about basketball. And that's fine. It's not their time.
Most SEC basketball programs -- with the exception of Kentucky and Vanderbilt -- understand that feeling. But Barbee senses that hoops isn't the distant, mere distraction that it was for so many years.
"It seems like things are changing with what Kentucky did last year, what Florida and Georgia and Vanderbilt did,'' Barbee said. "I think this league is as tough as ever. I think you're seeing a lot more basketball talk in the SEC right now.''
No one is foolish enough to think Auburn or Alabama basketball can unseat football in popularity, now or ever. And neither coach is seeking to do so.
All they're doing is preparing their teams under the shadows of uber-elite football programs. And that's why they can't squander this time of the year when they can work in relative obscurity.
August, 19, 2010
08/19/10
11:53
AM ET
Had the NCAA tournament been extended to 68 teams in 2009 instead of 2011, would Jeff Lebo still be at Auburn?
Possibly. The Tigers won 10 SEC games, had a top seed in the SEC tournament, beat Florida in the first round of the conference tournament (for their ninth win in 10 games) and had 22 wins overall before losing to Tennessee.
[+] Enlarge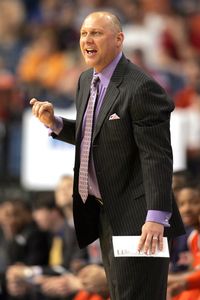 Cliff Welch/Icon SMIJeff Lebo arrives at East Carolina after six seasons at Auburn.
Despite that, the Tigers' résumé was soft without major nonconference wins. But if the selection committee had been looking for three more at-large schools, would Auburn have had a case?
"We had to be one of the first ones out," Lebo said. "We were a No. 1 seed in the NIT. But it's hard to tell. I've always said there are three things that can signal the death of a coach: a new AD, a new president and a new arena. I had all three."
And after failing to make the NCAA tournament again in what was his fifth season -- despite winning 24 games, tied for second-most in school history -- Lebo had to produce in his sixth season. The Tigers finished 15-17 overall, 6-10 in the SEC, and Lebo was out.
He would have opened Auburn's new arena this fall against his alma mater, North Carolina. According to Lebo, Tar Heels coach Roy Williams said the game was contingent on Lebo being the head coach. Instead, Lebo is at East Carolina, in what has become one of the more irrelevant programs in Conference USA.
Of course, Lebo isn't looking at it that way. He says he's fortunate to have landed in a good place and was never anxious about being out of work, since the call from ECU athletic director Terry Holland (who once recruited him to Virginia) came within days of his Auburn exit.
"Who knows what would have happened at Auburn?" Lebo said. "I think that team deserved to be in the NCAA tournament. It was disappointing."
Of all the coaches who will begin the 2010-11 season in a new place, Lebo is an example of one who won't shy away from a challenge.
Give him some credit here: He doesn't seem to mind a tough gig. The former Tar Heel led Tennessee Tech to a 27-win season and an NIT appearance in 2002 before embarking on a two-year stint at Chattanooga. While it didn't produce an NCAA tournament berth, his reputation as an ethical coach and his strong ties to the North Carolina family tree certainly helped him land at Auburn in 2004, a team with a thin record of success in the SEC.
Now he's at ECU. The Pirates have been to two NCAA tournaments in their history. The most recent one was in 1993, and that was a team that won only four games in the Colonial Athletic Association but earned a berth by winning the conference tournament title.
Going to ECU makes loads of sense, especially for Lebo's family. His wife, Melissa, is from the area, and his father-in-law played football at ECU. Lebo is still a recognizable name in North Carolina and has plenty of connections in the state.
He was hardly in a position to be selective. But he has an athletic director that he knows and respects in Holland. And in a league like C-USA that is constantly searching for an identity, there is hope that he can move the program upward.
"People tell me why can't you do it," Lebo said. "But I'm interested in finding ways to get it done. We're moving in the right direction, and we've seen it happen in football and baseball, so why not in men's basketball?"
Lebo isn't hung up on the fact that he helped push for the new arena at Auburn, was present as contractors and builders put the shovels into the ground yet won't be around to coach the Tigers in their new digs. That honor will go to his replacement, former UTEP coach Tony Barbee. Lebo said politely that maybe one day he'll take ECU to play in the arena.
North Carolina is no longer going to play Auburn now that Lebo is no longer the Tigers' coach. Coincidentally, Lebo said he had a deal for Williams to bring Kansas to Chattanooga for a game before he left the Jayhawks for North Carolina. Lebo said he hasn't broached the subject of the Tar Heels playing at ECU with Williams, but he's convinced he will at some point.
Ken Potosnak, Lebo's assistant at Auburn, came with him to East Carolina. He said Lebo's character and integrity are integral to why he will succeed.
"Jeff has won at every stop," Potosnak said. "Right now we have to change the climate and the environment here. This hasn't been a household name."
Hardly. Expectations are low outside of ECU. The Pirates finished with four wins in C-USA play last season, 10 overall. Leading scorer Brock Young is back as a senior to lead ECU. So at least there is an anchor to lead the team for Lebo.
But the truth is, he is modeling his plans more on surprising mid-level programs than on the upper echelon. That's realistic.
"Northern Iowa was at this point so you can see it happen at places like that, like Butler, like George Mason," Lebo said. "We're an under-the-radar program. It is hard. But it just takes a few guys and momentum. We've got decent pieces here. We think we can do it with the right personnel. If we can get some kids, get confidence and have success early, we can turn the corner quickly."
July, 28, 2010
07/28/10
9:21
AM ET
Editor's note: Auburn guard Frank Williams had successful surgery on his left knee Tuesday in Birmingham, the school announced Thursday. No date given for his return. Williams was the team's top returning scorer at 12.7 points a game.
ORLANDO, Fla. -- Auburn was visible this week at the AAU Super Showcase.
How that translates into elite-level recruits or developmental players who will help the Tigers to potentially become an SEC West contender remains to be seen.
It was just one snapshot from a few days toward the end of the July evaluation period.
[+] Enlarge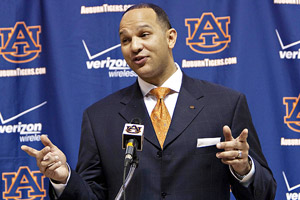 AP Photo/Dave MartinTony Barbee guided UTEP to the Conference USA regular-season title last season.
But having new head coach Tony Barbee and a rotation of his assistants -- Randall Dickey, Tony Madlock and Milt Wagner -- at ESPN's Wide World of Sports Complex was a must.
Yet being in view for potential recruits is a minor blip compared to what Barbee has to accomplish at his new gig. He has to make sure he's as accessible as possible in the state for anyone who calls for his presence. Auburn basketball has an image problem in the SEC -- and especially nationally.
"Being visible is a big part of what I have to do,'' said Barbee. "I've done speaking at every VFW club [locally] and speaking around the state and in the city. The only reason I've said no is that I can't be in two places at once. Victories go a long way but visibility does too. A lot of people are saying they haven't seen the Auburn program around.''
The Tigers were competitive under Jeff Lebo last season, winning six SEC games (and 15 overall). Two seasons ago, Auburn won 24 games and reached the third round of the NIT, and with a 10-6 record in the SEC, the Tigers were in the conversation for an NCAA tourney berth.
But it was still hard to get any traction. Lebo was fired, ultimately landing at East Carolina after four losing seasons in six years at Auburn.
He made every attempt to turn Auburn into a winner. He witnessed the development of a massive new arena, set to open in the fall. He may have been able to land his alma mater, North Carolina, in a potential opener for the building. But alas, his departure meant that game would never happen.
Enter Barbee. He guided UTEP to the Conference USA regular-season title in 2009-10, helped turn Derrick Caracter into an NBA player, was able to get bounce-back transfers and had a tremendous find in Arnett Moultrie, which all equated to turning the Miners into the best team in the conference.
But the model for building a winner at UTEP isn't the same as trying to make Auburn relevant again in the SEC. Barbee would gladly take a transfer like Caracter again and would have probably been pleased if Moultrie wanted to follow him, but instead Moultrie chose SEC West rival Mississippi State. So Barbee has to grind this summer to fill the roster with potential transcending players for the future.
With four of the five starters gone from last season's team, the Tigers are gutted and left to lean heavily on Frankie Sullivan. That won't strike too much fear in the rest of the SEC West, let alone a loaded SEC East that could have five of six teams in the NCAA tournament.
New buildings can draw curious fans into the arena. But it won't win games.
"It may bring them in, but what keeps them in is what we put on the floor, and at least effort-wise, we will be [worth watching],'' Barbee said. "How good we will be? I don't know. We lost 90 percent of our scoring and rebounding. Frank Sullivan is a tremendous player, but he can't do it by himself.''
Barbee is trying to preach patience and perspective. He has to, because Auburn is looking at a major rebuilding effort.
The Tigers need players and have six newcomers coming this season. The schedule was light, too, with Barbee saying he needed seven games. He's still looking to fill a few of those slots, including an opener. Auburn has Florida State at home as its marquee game, but don't expect Barbee to load up the schedule with his team likely to struggle.
Barbee said depth is an issue on the perimeter, as is experience, with the majority of the roster being freshmen and sophomores.
"We've got to increase the talent level,'' Barbee said.
Barbee was considered a strong candidate for the vacant DePaul job but said he didn't chase after that position as hard. "They were bad rumors,'' said Barbee of him being a top candidate at DePaul. "It was a place I looked, but Auburn came to the plate faster.''
Barbee has a chore ahead. His former UMass coach, mentor and good friend, Kentucky's John Calipari, was a close adviser during the job search. Of course, trying to stay out of the cellar in the SEC West (ahead of LSU, Arkansas and Alabama, while chasing Ole Miss and Mississippi State) is more realistic than hanging with the top of the SEC East in the near future.
But don't tell that to Barbee. He wanted to catch Calipari in the C-USA standings before he left for Kentucky -- when Calipari was the head coach at Memphis and Barbee was at UTEP. Barbee's Miners moved ahead of Memphis last season, but had Calipari stayed with the Tigers, with a roster that would have been as loaded as Kentucky's, that might not have happened.
"Our relationship is the same it was in Conference USA,'' Barbee said. "I've said this before -- he's my mentor and friend and always will be my coach to me. But he kicked my butt in Conference USA. We were going right after him and we'll do the same thing at Auburn. He knows how competitive I am. I'm going after his jugular, and he'll do the same for me. It won't affect our relationship.''
But that's a nonissue for Barbee now. He's got a goal to catch Kentucky and a bar to set. He's looking to motivate his team and program, and he wants to sell that to fans when he makes himself visible in the state.
After all, he, along with Alabama's Anthony Grant, are competing for the attention of hoop fans in a football-crazed state.