Category archive:

Oregon State Beavers
September, 7, 2012
09/07/12
11:44
AM ET
Craig Robinson was on a plane Friday morning, heading home from Charlotte, N.C., to Corvallis, Ore., in time to host recruits this weekend.
It has been by far the busiest time since he took over at Oregon State four years ago.
And it doesn't appear it will slow down until March.
[+] Enlarge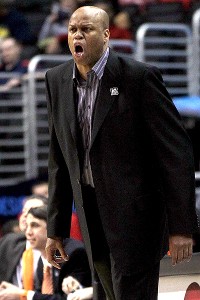 Stephen Dunn/Getty ImagesCraig Robinson is optimistic about the possibilities for his Oregon State Beavers.
Robinson coached the Beavers on a 4-0 trip to Spain that concluded last week. The team and Robinson didn't arrive in Corvallis until Aug. 29.
Two days later, he was on a plane with his wife, two youngest children and oldest son, Avery. (His oldest daughter, Leslie, had to stay behind for high school.) The Robinsons headed east to drop off Avery for his sophomore season at Division III Wesleyan in Middletown, Conn.
Two days after that, the Robinsons were in Charlotte for the Democratic National Convention, where Robinson spoke in front of the DNC about his sister, first lady Michelle Obama.
Thursday night, Robinson and wife Kelly were among the family members on stage at the Time Warner Cable Arena after President Barack Obama accepted the Democratic Party nomination.
"It has been exhausting," said Robinson. "When I get back, we've got an official visit coming in, and then I've got to hit the road recruiting. There has been no break."
Four years ago, Robinson had just gotten the Oregon State job. He spent the summer trying to build the program while actively campaigning for his brother-in-law. His role was much more pronounced in 2008 as a surrogate on the campaign.
He hadn't been as involved this summer during the re-election campaign, due to his scheduling commitments and no need to introduce the Obama family to the public. But his role will now increase, with a slew of appearances wedged in among visits, recruiting, workouts and coaching the Beavers in practice between Oct. 12 and Election Day on Nov. 6.
"I'll go all over the place for the campaign," said Robinson. "There's a lot of stuff to be done."
But Robinson's focus is on the Beavers. For the second consecutive year, he sees a chance for a significant breakthrough.
The Beavers were supposed to do so a year ago, finally shedding the nonconference losses to teams off the national grid.
The Beavers performed well in nonconference play, beating Texas in New Jersey. With the Pac-12's most exciting player in Jared Cunningham, they had a chance heading into the conference. Oregon State beat UCLA but couldn't win the close games again, losing overtime games to Arizona and Stanford and ultimately fading in the league with a five-game skid to finish 7-11 in the Pac-12. That meant another College Basketball Invitational appearance, the third in four years for the Beavers.
Cunningham left for the NBA as a first-round draft pick, but the trip to Spain convinced Robinson that Oregon State has a chance to surprise this season in a wide-open conference where Arizona, UCLA and Stanford should be the top three. Nothing has been a given lately in this league, producing Colorado as Pac-12 tournament champ and the top two regular-season finishers -- Washington and Oregon -- failing to earn an NCAA bid.
"I love this team," said Robinson. "I thought we would take a huge drop in production with Jared leaving, since that's 18 points, but everybody is better."
The Beavers averaged 78.9 points a game in the Pac-12 last season. They averaged 82.8 in the four games in Spain, allowing 66 a contest.
The reason for Robinson's optimism lies with the play of forward Angus Brandt (15.8 ppg, 8.8 rpg on the trip), the renewed leadership of Roberto Nelson (15 ppg) and the evidence that Devon Collier and Eric Moreland have the ability to carry the Beavers.
Collier made 23 of 32 field goals on the trip. Moreland averaged nine points and 9.2 rebounds and had 13 blocks in four games.
"I used to say that this team goes as Jared goes, but it will go as Devon Collier goes," said Robinson. "If he plays well and Eric Moreland plays well, then we'll be a better basketball team. I was really pleased overall by their posture on this trip on and off the court. They showed maturity and leadership and [are] capable of guarding the 2 through 5."
Robinson said the defense must pick up and that was a focus on the trip.
Nelson, who hasn't been as assertive as needed, showed he could be a leader.
"It's clear to me he's one of the leaders of this team, if not the leader," said Robinson. "It's his spot to lose."
Joe Burton still needs to work on his conditioning, but the player who took the biggest leap was Brandt.
"He was confident, and before he was just figuring everything out," said Robinson.
Point guard Ahmad Starks was under control. Robinson said he can be a 16-point, five-assist player this season.
The sleeper on the team didn't make the trip.
The Beavers just added Olaf Schaftenaar, younger brother of former Beavers stretch power forward Roeland Schaftenaar. The 6-9 Dutch freshman was cleared to play and was arriving this week for class. Robinson said he starts out at a higher level than his brother when he arrived in Corvallis.
Oregon State will have a shot to prove itself early in the season when it plays Alabama in the 2K Sports Classic benefiting the Wounded Warrior Project at Madison Square Garden on Nov. 15. Beat Alabama and the team could face Purdue or Villanova for the title to get some early national attention. The Beavers also play Kansas in Kansas City, Mo.
For the first time since Robinson has been at Oregon State, no games are in his hometown of Chicago or in the D.C. area near the White House.
Still, this team can't afford to lose any lower-level games, like its loss to Idaho at home last season. The schedule has a few chances for recognition early before a Pac-12 slate that will determine plenty in the first half, with road trips to UCLA, USC, Cal and Stanford.
"There's no reason why we can't be in the mix," said Robinson, "but I like the fact that we're expected to be down without Jared. I like our chances."
May, 17, 2012
05/17/12
2:17
PM ET
Oregon State put the full-court press on
Victor Robbins
as soon as
Jared Cunningham
declared for the NBA draft by the NCAA's April 10 deadline.
The Beavers nabbed the 6-foot-6 forward from Compton, Calif., to give them a much-needed body up front who has length and athleticism.
"After Jared stayed in the draft, [Robbins] will fit in perfectly with us like the guys that we've been recruiting of late," coach Craig Robinson said. "For us to get Victor, the planets had to be aligned. We were aware of him, but not heavily recruiting him and hadn't any big plans to push unless Jared was gone for good."
Cunningham made up his mind before April 10, thus allowing the Beavers to get heavily involved in recruiting Robbins.
Robbins is Exhibit A for the coaches in the ACC who support the April 10 draft deadline. Those coaches initially pushed for the early-entry draft rule of May 8 and then again last year, when the legislation came through to set a unilateral NCAA deadline of April 10.
The NBA still respects only one deadline, which is its own on April 29. Baylor's Quincy Miller announced he was returning to Baylor by the April 10 deadline but then changed his mind before April 29 for the NBA. He couldn't go back to Baylor, but he was eligible for the NBA draft. Maryland's Terrell Stoglin, who was ultimately banned for a year by the Terps for a violation of team rules, didn't say anything by the April 10 deadline but declared by April 29.
The purpose of the April 10 deadline was to give college coaches more time to fill scholarships used by early entrants. But it is a selfish rule for the college coaches to not allow the underclassmen to test the draft process anymore. If they declare by April 29, they are no longer an amateur in the eyes of the NCAA.
"It's possible that we might not have gotten him if the deadline were April 29," Robinson said. "Knowing in the middle of April helps us just like knowing in March would help us. The earlier that we know the better it is."
Villanova coach Jay Wright also benefited from the early notification that two of his players, Maalik Wayns and Dominic Cheek, were declaring for the draft.
"It worked out exactly how the rule is planned to," Wright said. "Those two made decisions that allowed us to get involved with two transfers [who] we probably wouldn't have taken if we had those two back."
Villanova picked up Wake Forest's Tony Chennault and Rice's Dylan Ennis.
Connecticut was in a unique situation. The Huskies, who are banned from the 2013 postseason for poor APR scores, lost Alex Oriakhi to Missouri and saw two other big men -- Roscoe Smith and Michael Bradley -- transfer. In addition, they lost Jeremy Lamb and Andre Drummond to the draft.
Adding 6-10 Phillip Nolan in the spring was a result of all the available roster spots. UConn assistant coach Kevin Ollie said that the Huskies offered playing time, and Nolan jumped at the chance. But the early entries definitely did open up a void that the Huskies saw a need to fill.
Kentucky knew it was going to be replacing early entrants during the season. Picking up Nerlens Noel late to fill Anthony Davis' spot was planned. It wasn't a result of any early deadline or Davis' inability to test the draft process.
The same is true for Duke. The Blue Devils were recruiting 6-7 Amile Jefferson, even before Austin Rivers decided to leave early for the NBA draft. An early-entry deadline had no bearing on the Blue Devils' spring recruiting.
"It had nothing to do with the NBA draft," Duke coach Mike Krzyzewski said. "We wanted him on our roster no matter what. He's a great get and a perfect fit for Duke. He certainly solidifies our team and makes our team more athletic."
Krzyzewski added that Duke isn't in a position to suddenly add players late (although the Blue Devils were recruiting transfers like Oriakhi and Central Michigan's Trey Zeigler, who went to Pitt).
"It's pretty tough for us to do it here," Krzyzewski said of adding late signees who weren't recruited until April.
Robbins is a huge addition to Oregon State. But don't think Robinson is in favor of preventing underclassmen from working out for teams to see if they'll be drafted in the first or second round.
"I think we should do what's best for the student athletes," Robinson said. "If they can test the market to see where they stood, then they'd have a more realistic opinion of their talents, and we would have an easier job of keeping them in school."
Robinson said that he would favor a more flexible approach/rule from the NCAA.
"You should be able to come back to your school and finish your eligibility," said Robinson in regard to a player's poor draft status or being undrafted. The latter was once a rule but has since been removed by the NCAA (assuming the player doesn't sign with an agent). "I still think we're in the business of educating kids and getting them college degrees. We would wait to see where Jared got drafted. We would love to have him back. If he didn't [come back] we would have a list of guys to jump on. I think everyone should have a chance to come back one time as a student-athlete."
That was once the rule, as late as two seasons ago.
And like Robinson, Wright would like one date instead of two.
Of course, the early date means the coaches benefit and the players don't. But that's only if they can find a player who fits their program. If it's just a warm body to fill a spot, it won't matter much. If it's a player who will actually contribute and make a difference, it will be a success.
Don't expect the Oregon State and Villanova pickups to replace the pro-level talent that's gone. And ultimately that's the reality: Having a unilateral early-entry date may get the school a player to fill the spot, but he's not going to be a star who can replace the production that's left. If it was just about filling the roster and adding length, size or athleticism, it has the potential to be deemed a modest success once in a while for a few schools.
May, 4, 2012
05/04/12
12:58
PM ET
UCLA's recent mediocrity hasn't been celebrated or seen by the rest of the Pac-12 as an opportunity.
Instead, the conference desperately needs the Bruins to come back -- and fast. Having Arizona dip, even just for one season, didn't help either.
So when the coaches gathered this week for the annual spring meetings in Phoenix, the mood was upbeat. The Pac-12 -- that ultimate big-boy punching bag in college basketball lately -- has two of the nation's top three recruiting classes. And they're from the league's two most prestigious programs.
[+] Enlarge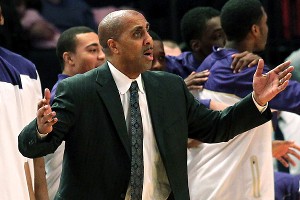 Anthony Gruppuso/US PresswireYou know it's a down year when your regular-season champ doesn't make the NCAA tournament.
"I think any buzz for our league is good for everybody,'' Oregon State coach Craig Robinson said. "As competitors, we would like the buzz to be about us, but as long as it's somebody in our conference and especially a brand name like UCLA, that can only be good for the rest of us.''
The Pac-12 had only two teams make the NCAA tournament in 2012, and one of those (Cal) was in the First Four in Dayton and lost. Regular-season champ Washington didn't get a bid, an embarrassing situation for the conference, which became the first big six league to not have its regular-season winner receive a bid.
Utah arrived in the conference and was abysmal in its first season, finishing 3-15 in the Pac-12 and 6-25 overall. Arizona State fell apart and finished 10-21. USC was decimated by injuries and was the worst of all, finishing a stunning 1-17 in league play and 6-26 overall.
The saving face of the Pac-12 was actually new member Colorado. The Buffaloes won the conference tournament, beat UNLV in the NCAA tourney and hung around with Baylor before losing in the Round of 32.
But perception of the league being down wasn't a reach. It was reality. The numbers and results didn't lie. The Pac-12 was an almost hard-to-fathom 1-25 against the RPI top 40 in nonconference play.
So with Arizona loaded up with four ESPNU 100 recruits in the Class of 2012 and UCLA having secured Kyle Anderson in the fall, the Bruins kept up the momentum in the spring by grabbing another top-five recruit (Shabazz Muhammad) and a four-star big man (Tony Parker).
That's not just good for those two schools, it's welcomed by the rest of the league.
Don't think Pac-12 commissioner Larry Scott didn't take notice of the Bruins' big April.
"It's extremely important,'' Scott said. "The public and media follow big brands, and it doesn't get any bigger than UCLA basketball in our conference.
"Having them have a strong recruiting class [and] a new Pauley Pavilion to move into is great news for our conference. We've got new TV deals. The timing couldn't be better.''
The conference's coaches have long complained about the television package and a general lack of national exposure. A few years ago, first-place Cal was at USC in a critical game and it wasn't even televised.
Well, the Pac-12 finally has a new TV package that will allow every conference game to be televised on one of three networks: ESPN, Fox or the new Pac-12 Network. The league will shift from a straight Thursday-Saturday/Sunday schedule to one that has more flexibility.
[+] Enlarge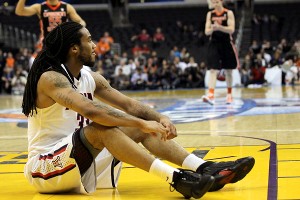 Stephen Dunn/Getty ImagesThe Pac-12 tourney has had some thrillers over the years, but few in L.A. bothered to notice.
In addition, the conference tournament now has a chance to have a sellout with the league choosing Las Vegas as the neutral destination. The Pac-12 had struggled mightily to draw consistent crowds to the Staples Center in Los Angeles. That shouldn't be the case at a destination venue like the MGM Grand, where the Pac-12 will become the fourth conference to play its conference tournament in Vegas, joining the Mountain West (Thomas & Mack Center), WCC and WAC (both at the Orleans Arena).
What will this conference look like by next March, though?
A year ago, the league was gutted by early entrants to the NBA draft at USC, UCLA, Washington, Washington State, Arizona and Stanford.
"Our league wasn't going to be good in the nonconference in November or December because of who left,'' Oregon coach Dana Altman said. "And then UCLA lost Reeves Nelson [dismissed early in the season] and so we weren't in a position to do well.''
Now they must be.
"We need some top-10 teams,'' said Cal coach Mike Montgomery, who has consistently been a Pac-12 title contender at Stanford and Cal. "We didn't have any, and it hurt us. Based on the recruiting, Arizona and UCLA should be in the mix.
"You need good teams going in. It will help us all if we're competing against better teams. Our RPI goes up. One through nine we were pretty good last year.''
The early onus will be on UCLA. The Bruins have to show well at the Legends Classic in Brooklyn, N.Y., with Georgetown and ESPN.com preseason No. 1 Indiana in the four-team field.
"We've had some bad losses out there,'' Montgomery said of the Pac-12's shoddy nonconference record lately. "Typically, everyone looks at UCLA and makes a judgment. It may not be fair or right and they haven't been the best team, but when they [are down], it hurts everybody. It's incumbent on everybody to win the games [you're supposed to win] in the pre-conference.''
Montgomery didn't excuse his own team. The Bears beat no one of significance outside league play last season and were annihilated by Missouri and UNLV.
"We didn't perform well, and that hurt our league,'' Montgomery said. "The impressions start early. We shouldn't lose games we shouldn't lose, because then when the league plays each other, we're screwed. We can't do anything to improve the reputation. That's on all of us to have a better November and December heading into the conference.''
USC coach Kevin O'Neill isn't doubting the Pac-12's ability to bounce back this season with several NCAA tournament teams.
"And we plan on being one of them,'' O'Neill said of the Trojans, led by Jio Fontan, who missed last season with a knee injury. "UCLA and Arizona had top recruiting classes, and that helps everybody improve. I think it's great. We'll see how they react to stressful situations.
"All our teams look good on paper, and we should be one of the top leagues in the country. We lost more pros in this league than the five other power leagues together the last few years. We're producing great players and most are doing well. But all of that is going to change. It's going to be a great year for our league.''
November, 25, 2011
11/25/11
1:19
PM ET
The past three weeks have been quite a whirlwind.
I've seen 20 teams in a number of venues on both coasts.
So after a thankful day to be with my family -- and a big thanks to all my tremendous colleagues who grind every day on our editorial operation on ESPN.com and on both sides of the camera on ESPN -- here's a look at what I've picked up on after two weeks on the road. And remember, this only includes games I've seen in person.
[+] Enlarge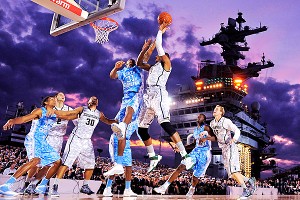 AP Photo/Mark J. TerrillIt doesn't get much more scenic than what we witnessed at the Carrier Classic.
Best venue: It was natural to be skeptical about whether or not the Carrier Classic could be pulled off. But it far exceeded my expectations. The Navy did what it does best -- tremendous organization. The enormity of the USS Carl Vinson was awe-inspiring. The men and women who serve on the ship, as well as the ship's leadership, couldn't have been more welcoming. They were so grateful to have a chance to show what they do on a daily basis. The two teams -- North Carolina and Michigan State -- were model guests and displayed tremendous appreciation. The pageantry of the event, from the patriotic opening to the scenic view of downtown San Diego, will be hard to ever duplicate due to the uniqueness of 11-11-11 and the inaugural nature of the game. And the outdoor game may have seemed like a gimmick, but it was well-played in spurts for being the season opener for both teams.
Best team: North Carolina. The Tar Heels have lived up to the hype as the No. 1 team in the country. They have flaws, especially their perimeter depth. But the overall length of the frontcourt, the ability to get out on the break and the potential to hit scoring spurts and run out on teams is impressive. The Heels have three players -- Harrison Barnes, Tyler Zeller and Kendall Marshall -- who will compete for the ACC POY and two others -- John Henson and James Michael McAdoo -- who will be tough to defend.
Signature moment: When Duke coach Mike Krzyzewski won game No. 903 against Michigan State, passed his mentor Bob Knight and became the all-time winningest men's coach in NCAA history. The impromptu embrace by Coach K and Knight was met by a swarm of photographers and a rare teary eye from Coach K. The moment was genuine, real and showed the true emotion of such an arduous task of grinding out wins in this sport for three-plus decades.
Most impressive half: Kentucky's complete domination of Penn State in the first half at the Mohegan Sun Arena. The Wildcats made it look like it was a guarantee game with an opponent from a weak Division II conference. To Penn State's credit, the Nittany Lions did respond the next day and beat South Florida. But Kentucky showed on this day that it had more offensive versatility with the emergence of Doron Lamb and Kyle Wiltjer.
Most dominating performance: Jared Cunningham, Oregon State. Cunningham went off for 37 points in an overtime win over Texas in the Legends Classic. Cunningham was a highlight reel a year ago but has settled down, working on his game and finding ways to score in a variety of ways. Hofstra coach Mo Cassara said he was the best guard they've gone against in quite some time after Cunningham lit up the Pride for 35 in Corvallis prior to the Texas game. Cunningham is a legit Pac-12 Player of the Year candidate.
Best sub: Syracuse's Dion Waiters. Waiters jump-started the Orange with 11 points off the bench in the comeback win over Virginia Tech in the NIT Season Tip-Off semifinal. Waiters is a game-changer when he's on the floor. He gives Syracuse a different look because of his ability to get into the lane quicker than Scoop Jardine. He's not as refined as Jardine and can be hit or miss, but when he's on he gives the Orange a different look.
[+] Enlarge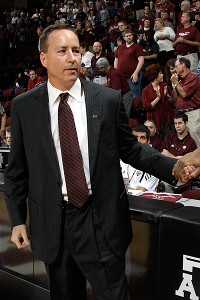 AP Photo/David J. PhillipTexas A&M's Billy Kennedy was diagnosed with Parkinson's disease before the start of the season.
Most courageous: Texas A&M coach Billy Kennedy and St. John's coach Steve Lavin. Kennedy is trying to come back from a series of health setbacks, most notably being diagnosed with Parkinson's disease. He went through incredible fatigue over a five-week stretch that weakened him and it doesn't help that he has bone spurs in his shoulder. The first-year A&M coach is beat up, but is making a comeback one step at a time. He's an inspiration and a model of perseverance.
Lavin, meanwhile, is returning from prostate cancer surgery that was more extensive than most. He had a seven-hour procedure to take out his prostate and also scrape other lymph nodes to ensure that the cancer was all gone. He said he is cancer-free, but is still working his way back from the exhausting surgery. Lavin has to manage his energy and that's why he was able to coach in the Garden for two days in a row but then needed to take a day off from the rigors of coaching earlier this week.
Biggest surprise: Stanford's blowout win over Oklahoma State. The Cowboys were obviously a bit distracted on Wednesday. Oklahoma State coach Travis Ford, who has been crushed by the horrific plane crash that cost the lives of women's coaches Kurt Budke and Miranda Serna, said there were no excuses. And there is this: Stanford was that good. Josh Owens scored 21 points and is, like Cunningham, a Pac-12 POY candidate. I'm not sure Stanford can continue this early-season success, but the Cardinal certainly have the look of an upper-division Pac-12 team.
Two to single out: Over the past three weeks, I took notice of two players who continue to exhibit maturity and professionalism in the way they handle themselves with the media and the respect they have for those older than them. Texas freshman Myck Kabongo has a tremendous presence about him. So too does Michigan State senior Draymond Green. You sense that both of these young men will be stars in whatever they choose to do going forward.
Player only scratching the surface: Kentucky's Anthony Davis will be a star by season's end with his ability to control the paint. He is such an immense talent with his length and game-changing shot-blocking. His offense will only continue to diversify.
Most important wins: Vanderbilt beating NC State and Oregon State in the closing moments. The Commodores found ways to win the Legends Classic with key defensive stops and timely shooting at the IZOD Center. The Wolfpack and Beavers are vastly improved from a year ago, but the Dores had to win these games to shed the sour taste of getting beat up by Cleveland State at home. Vandy will get big man Festus Ezeli back in a few weeks. So these wins were critical for this team's confidence.
Two teams to watch: Oregon State still has to win the games it should over the next month -- all against teams outside the power-six conferences and perhaps none against teams bound for the NCAA tournament. But the talent is in place with this team to make some noise in the Pac-12. The emergence of Ahmad Starks as a push-it point guard, the length of Eric Moreland and Devon Collier, the soft hands of Joe Burton inside and the scoring of Cunningham make this team a good watch.
NC State had talent when Mark Gottfried arrived and it has only gotten better. C.J. Leslie is a potential big-time scorer. Scott Wood can make shots. C.J. Williams and Alex Johnson are solid role players. DeShawn Painter is a rugged face-up and inside post player and the potential exists for Thomas de Thaey and Jordan Vandenberg to cause problems when they body people up in the lane. The ACC is weak beyond the top three, opening up a spot for the Wolfpack.
The great enigma: Mississippi State. After dropping a home game to Akron, the Bulldogs won the 2K Sports Classic benefiting Coaches vs. Cancer with wins over Texas A&M and Arizona. Arnett Moultrie and Renardo Sidney provide one of the tougher matchups of any big man combo. Dee Bost is a veteran point guard who knows how to run a team. But the two players who may hold the key to this team are Deville Smith and Rodney Hood, a pair of freshman guards who can change the game with their speed and shooting when inserted.
Incomplete read: Drexel. The Dragons were without two of their top three guards in Chris Fouch and Tavon Allen. Yet Drexel pulled away from Rider in impressive fashion during the Tip-Off Marathon. The CAA favorite has a tough inside, undersized player in Samme Givens and a grinding guard who can get points in Frantz Massenat. But then the Dragons fell flat in the Virgin Islands and lost to Norfolk State and scored 35 points against Virginia. Let's see how Drexel does once it's healthy before giving a full review.
Best coaching jobs: Kansas' Bill Self and Virginia Tech's Seth Greenberg. Neither team won when I saw them but they were going up against top-five squads in Kentucky and Syracuse. Self and Greenberg are maximizing the talent on their teams. They do have studs in Thomas Robinson (Kansas) and Dorenzo Hudson (Virginia Tech), but they get their teams to play as hard as they coach. Kansas' play in Maui deserves high praise and the Jayhawks will once again be in contention to win the Big 12. The Hokies will find a way to be on the bubble again. Neither team is as stocked as it has been in the past, but these two coaches will get these teams to reach their potential.
Best teams: Nothing I saw changed my opinion that North Carolina, Kentucky, Duke and Syracuse are all legitimate Final Four contenders. I have yet to see Ohio State, but put the Buckeyes in that group, as well.
Best game I missed: Well, that one is easy. The Kansas-Duke championship game at the Maui Invitational will go down as one of the best 40 minutes of the regular season. What a show that was.
October, 3, 2011
10/03/11
11:17
AM ET
At this time last year, Ben Hansbrough's name didn't appear on the Wooden Award preseason watch list.
Five months later, he edged out Connecticut's Kemba Walker for Big East Player of the Year.
Using that as a backdrop, let's remember that the list of 50 Wooden nominees is flawed, much like any of the award lists. The Wooden Award does not allow its voters to nominate any freshmen or transfers (either four-year or junior college) on their ballots.
And with college basketball as loaded with talent as any year since 2007-08, narrowing it down to 50 is not easy. So below I've attempted to come up with the names that didn't make it, either as "just missed the cut" omissions or just because they're freshmen or transfers. These guys aren't on the list (which can be found here), but might show up when it's updated during the season.
This group is by no means definitive, either. There's no telling who else might emerge nationally as the games get under way.
Let's take a look …
The omissions (in alphabetical order):
Julian Boyd, Long Island: The Blackbirds are the favorite again in the Northeast Conference and the main reason is because Boyd is back and ready to dominate the stat sheet.
D.J. Cooper, Ohio: The diminutive point guard does a little bit of everything; he averaged 15.8 ppg, 7.5 apg and 5.0 rpg for the Bobcats last season.
[+] Enlarge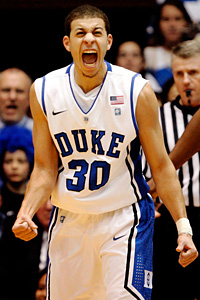 Streeter Lecka/Getty ImagesSeth Curry hasn't done enough to warrant a mention on a preseason watch list, but he might end up being a Wooden addition.
Jared Cunningham, Oregon State: Cunningham has some of the best hops in the sport and a chance to be a Pac-12 star, allowing the Beavers to finally move up in the standings this season.
Seth Curry, Duke: Curry was a standout shooter for the Blue Devils on their trip to China and could be one of the top scorers on the team.
Brandon Davies, BYU: Davies was recently reinstated to the Cougars, and the offense is expected to flow through him inside and out as BYU mounts a campaign to win the WCC in its first year in the league.
Matthew Dellavedova, Saint Mary's: SMC coach Randy Bennett envisions this as one of the best teams he's ever had, but a lot of that will have to do with whether Dellavedova can shoot like Mickey McConnell did last season.
Greg Echenique, Creighton: Echenique was a rebounding force for Venezuela this summer and should do even more for the Bluejays with a full season to work with.
TyShwan Edmondson, Austin Peay: The Governors should be the favorite in the Ohio Valley with a legit scorer like Edmondson, who has a strong man, Will Triggs, to take pressure off him.
Kyle Fogg, Arizona: Fogg is next in line to assume a leadership position for the Wildcats, who are in a position to compete for Pac-12 titles for years to come.
Kevin Foster, Santa Clara: As a sophomore, Foster sort of came out of nowhere to average 20.2 ppg and become one of the nation's top 3-point shooters.
Chris Gaston, Fordham: The Rams aren't any good, but the nation's leading returning rebounder (11.3 rpg) at least deserves a shout-out in this space.
Yancy Gates, Cincinnati: UC coach Mick Cronin said he'd be surprised if Gates wasn't one of the 10 names on the Big East preseason first team.
Malcolm Grant, Miami (Fla.): The Hurricanes have to play most of the season without big man Reggie Johnson, so Grant will have more opportunities to shine.
Rob Jones, Saint Mary's: Jones could be a double-double regular for the Gaels, and for Saint Mary's to win the WCC, Jones will have to be a star.
Doron Lamb, Kentucky: John Calipari says Lamb will be the Wildcats' best player. Just Coach Cal mind games, or the truth?
Meyers Leonard, Illinois: Leonard didn't contribute a whole lot as a freshman, but he was a hidden gem on the U.S. U-19 team in Latvia this summer. The Illini are expecting big things out of him.
C.J. McCollum, Lehigh: McCollum is the nation's leading returning scorer (21.8 ppg) and is in the top five in steals (2.5 spg). Oh, and he did that as a freshman. What more do you need to know?
Cameron Moore, UAB: The Blazers have been consistently good under Mike Davis and have had unheralded C-USA stars. Moore is the latest.
Toure' Murry, Wichita State: If the Shockers win the Missouri Valley over Creighton, a lot of the credit will end up going to the veteran Murry.
[+] Enlarge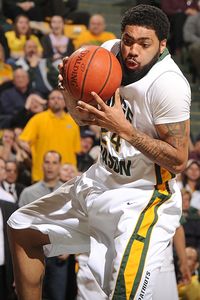 Rafael Suanes/US PresswireRyan Pearson looks to lead Mason to another run to the NCAAs.
Brandon Paul, Illinois: Illini coach Bruce Weber was a bit surprised Paul didn't crack the top 50 on the Wooden list, given his overall importance to this team.
Ryan Pearson, George Mason: The Patriots are a trendy pick for the Top 25 and a lot of that has to do with the versatility of Pearson.
Damier Pitts, Marshall: The Thundering Herd are a real sleeper to gain an NCAA tourney berth out of Conference USA in large part because of Pitts.
Herb Pope, Seton Hall: Pope has come back from multiple life-threatening situations and has a real shot as a senior to put it all together and finally shine.
Terrence Ross, Washington: The Huskies can't be dismissed as a major player for the Pac-12 title, and if they win it, Ross will be a significant reason why.
Robert Sacre, Gonzaga: Sacre has matured into a solid post player, and that progress shows no signs of stopping as the Zags once again compete for the West Coast title.
Mike Scott, Virginia: If the sleeper Cavs mount a run to the NCAA tournament, the oft-injured Scott will be the reason why.
Renardo Sidney, Mississippi State: If Sidney is in shape and plays up to his potential, he has SEC Player of the Year potential and could be the difference between the Bulldogs making the NCAAs or NIT.
Andrew Smith, Butler: The Bulldogs will have fewer stars this season, but Smith has a chance to outshine Khyle Marshall and newcomer Roosevelt Jones with his scoring prowess in the post.
Chace Stanback, UNLV: Stanback's suspension to start the season is only one game, so that won't diminish his ability to lead the Rebels in their hunt for a Mountain West title.
Raymond Taylor, Florida Atlantic: FAU quietly won the Sun Belt East Division last season and Mike Jarvis' diminutive point guard was the catalyst behind the regular-season championship.
Hollis Thompson, Georgetown: If the Hoyas are to make the NCAA tournament again and be a pest in the upper half of the Big East, then Thompson needs a breakout season.
Kyle Weems, Missouri State: Doug McDermott is the one everyone is talking about in the Valley, but let's not forget that Weems is the reigning MVC Player of the Year. Too bad for the Bears he's their only returning starter.
Kendall Williams, New Mexico: The sophomore guard was the leading scorer in four postseason NIT games for the Lobos and should only get better with the addition of Australian Hugh Greenwood.
The transfers
Dewayne Dedmon, USC: Trojans coach Kevin O'Neill firmly believes this JC transfer is an NBA talent who could dominate the post and average a double-double for SC.
Arnett Moultrie, Mississippi State: The former UTEP big man is ready to have a bust-out season for a team that has serious bounce-back potential after a disappointing 2010-11 campaign.
Mike Rosario, Florida: The former Rutgers scoring guard finally has plenty of support around him and will put up numbers for a winner.
Rakim Sanders, Fairfield: The Boston College transfer should flourish after dropping down a level, and he should get coach Sydney Johnson another trip to the NCAA tourney. Johnson is beginning his first year at Fairfield after leading Princeton to the 2011 tourney.
Royce White, Iowa State: White is finally ready to be a star on the college scene after multiple transgressions at Minnesota.
Brandon Wood, Michigan State: The Spartans picked up a rare senior transfer (taking advantage of the graduate transfer rule) from Valparaiso who could be one of the best shooters in the Big Ten.
Tony Woods, Oregon: The embattled Woods arrived from Wake Forest after legal issues and has a chance to really shine as a double-double player for the first time in his career.
The freshmen
Bradley Beal, Florida: Beal has a chance to be a productive player in a frontcourt that has a vacuum after multiple seniors departed.
Gary Bell Jr., Gonzaga: Coach Mark Few has been anticipating Bell's arrival for over a year now. He's expected to step in and deliver right away.
Wayne Blackshear, Louisville: The Cardinals fancy themselves a Big East title contender, and that's partly because they consider Blackshear a star in the making.
Jabari Brown, Oregon: Brown was the star of the Ducks' trip to Italy with his scoring prowess, and expect that to continue in the Pac-12.
Jahii Carson, Arizona State: There is some question right now as to Carson's eligibility, but if he's good to go, the Sun Devils might become relevant in the Pac-12 again.
[+] Enlarge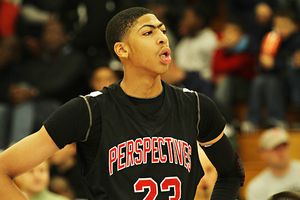 Brendan NolanThere seems to be little doubt that freshman Anthony Davis will have a major impact for UK.
Erik Copes, George Mason: Copes was bound for George Washington before Karl Hobbs was fired; now he'll be a headline performer for the Patriots and first-year coach Paul Hewitt.
Anthony Davis, Kentucky: Davis has a chance to be the SEC Player of the Year and the No. 1 pick in the NBA draft, so expect him to be on the midseason list when freshmen are allowed.
Andre Drummond, Connecticut: He will be an immediate star and help lift the Huskies into the national title chase again. He's more than likely a future top-five pick in the NBA.
Myck Kabongo, Texas: Coach Rick Barnes has had quite a bit of success with big-time freshmen guards, and Kabongo is next in line.
Michael Kidd-Gilchrist, Kentucky: Gilchrist will be another star on what will be a headline team throughout the season.
Johnny O'Bryant, LSU: Coach Trent Johnson needs the Tigers to start trending upward again, and he has a shot with the arrival of the big man from Mississippi.
LeBryan Nash, Oklahoma State: OSU is a bit of a mystery team in the Big 12, but the All-American from Dallas could push the Cowboys into contention.
Austin Rivers, Duke: Rivers will have the ball in his hands quite a bit and appears to be the next Duke star in a lengthy list of recognizable names.
Josiah Turner, Arizona: The Wildcats will win the Pac-12 regular-season title if Turner is as good as advertised.
Cody Zeller, Indiana: If coach Tom Crean is going to turn the Hoosiers into a relevant team this season, it will be because of Zeller and his impact in the Big Ten.
September, 29, 2010
09/29/10
2:38
PM ET
The new 12-team Pac-10 will likely follow the lead of the new 12-team Big Ten. In other words, starting in the 2011-12 school year, it looks like the conference will split into two divisions for football but remain one, 12-team entity in basketball that plays 18 conference games.
The Big Ten already formally announced its two football divisions and will make its official decision about basketball at its annual meetings this spring, with the consensus being there will be 18 league games with every team playing each other at least once, rivalries protected and the other crossover games done on a random basis for competitive balance.
The Pac-10 athletic directors meet next week (Oct. 6-7) and are likely to follow a similar path, with the final say going to the presidents and chancellors who will meet on Oct. 21.
There are still a number of options for the football divisions, from a simple split between North (Washington, Washington State, Oregon State, Oregon, Utah, Colorado) and South (Cal, Stanford, UCLA, USC, Arizona State, Arizona) and variations off that, as well as a zipper option with each rivalry split to form the two divisions (Washington and Washington State on different sides with Utah and Colorado being the two new rivals). Of course, in football, much like the Big Ten did with Ohio State-Michigan, if a rivalry was split in divisions, that game would be one of the mandatory crossover games every season.
More than likely, the men's basketball schedule will have 11 games against every other team, the 12th game would be against the natural rival and then the other six games would be chosen at random, leaving four schools that a team would play only once a season.
The hitch in the Pac-10's scheduling is that every school wants at least one road trip to L.A. and the Bay Area for recruiting and alumni purposes. League officials have to be cognizant of that sentiment.
Oregon State coach Craig Robinson said it was his preference to make sure the Beavers, or for that matter every school, gets to L.A. and the Bay Area each season.
"And we have to play Oregon every year twice, I don't think we should skip that one," Robinson said.
The Pac-10 is the last power-six conference to still play a true round robin schedule in men's basketball. But when the Pac-10 gives up that title, the Big 12 will assume the role of being the only power-six conference that anoints a true champion. The Big 12 will be a 10-team league in 2011-12 with the departure of Nebraska (Big Ten) and Colorado (Pac-10). The conference has already made it known it will play a true, 18-game round-robin schedule when it's a 10-team league.
Twelve teams might be the perfect number for football with two six-team divisions and a championship game. But going from 10 to 12 in men's basketball takes away the equitable scheduling and the true champion and creates a competitively imbalanced schedule. That's what the Big East, Big Ten, SEC, ACC and Big 12 have dealt with lately. The Pac-10 has not.
"I would select the model that gives the opportunity for us to play each other home-and-home as many times as possible in the shortest window of years," Arizona State coach Herb Sendek said. "You want every team to touch each other in the shortest time possible. That's the fairest way to do it."
UCLA athletic director Dan Guerrero said there have been a number of different models discussed, such as playing 16, 18 or even 20 or 22 league games.
"But the overall sentiment is to stay at 18," Guerrero said. "You want a scheduling model where you play your natural rival and do some home-and-homes. We might go to Oregon but they don't come and return. We might play host to Oregon State but not go to Corvallis. Nothing is definitive."
Guerrero said a number of athletic directors are on record as saying they covet being in the Los Angeles market and "we're looking at ways to make that happen."
Guerrero said the consensus among the athletic directors was to go with one division, 18 games and avoid any no-plays in basketball.
"Those are the parameters to build a model around," Guerrero said. "We could have gone with a 22-game model and still kept the double round robin, but that limits nonconference flexibility. I think 18 is the most appropriate."
Guerrero just came off leading the men's basketball selection committee, which created the "First Four" format under the newly expanded 68-team tournament. In that format, Guerrero and the other nine members of the committee reached a compromise where two of the games will involve the last four 16th-seeded teams and two of the games will include the last four at-large teams.
Guerrero has been a peacemaker/mediator with these types of NCAA issues and his experience should serve him well at the Pac-10 meetings next week.
December, 30, 2009
12/30/09
2:30
PM ET
The Pac-10 hadn't beaten a ranked team through November or well into December.
Its record against the rest of the power six conferences was abysmal.
There was just cause to anticipate the league was heading for its worst season in a quarter century, possibly only one or two bids to the NCAA tournament.
The latter isn't still out of the question, but it's now more unlikely with the recent developments as the league begins its conference season Thursday -- the only of the power six leagues that plays a true round-robin schedule.
Cal, the preseason favorite, didn't have one of its best players in Theo Robertson for losses in New York against Syracuse and Ohio State, and at New Mexico.
[+] Enlarge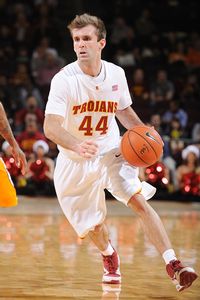 Matt A. Brown/Icon SMIMike Gerrity is one of three players USC was without at one point so far this season.
USC didn't have post player Alex Stepheson for a loss against Loyola Marymount and didn't have point Mike Gerrity or forward Leonard Washington for losses to LMU, Nebraska, at Texas and at Georgia Tech.
No one is saying the Bears would have swept the three mentioned losses or that the Trojans would have erased their four losses if they had those players on the court. But with UCLA, which has had injuries and a defection, down this season at 5-7, the perception of the league goes south with the Bruins. That's the same perception that happened to the ACC when North Carolina had a subpar season in the middle of the previous decade.
"Anybody that knows basketball doesn't think UCLA will be an easy out,'' Arizona State coach Herb Sendek said. "Their personnel is too good, the coaching too outstanding and to think you can go into Pauley like we have to Thursday and get an easy win?''
Coaches in the league are doing what they should, which is, naturally, to pump up the league as the conference season starts. But there is reason to believe the conference will perform better over the next two months.
"I said this early: 'People were quick to judge the Pac-10,''' Washington coach Lorenzo Romar said. "There were several teams that weren't at their full compliment of players.''
Romar cited USC, which is now one of the older teams in the league with upperclassmen Gerrity, Stepheson, Marcus Johnson and Dwight Lewis. He mentioned Cal and even tossed in Oregon, which lost at Portland and to Montana without center Michael Dunigan, fell to Saint Mary's without starting guard Tajuan Porter and is still without senior forward Joevan Catron since Nov. 21.
Are they excuses? Sure. But there are reasons for the frailty of the league when it was going through a transition of losing a glut of players to exhausted eligibility and the NBA draft.
"I feel like we can compete with anybody in the country with all our guys,'' said USC coach Kevin O'Neill, whose Trojans have the conference's only two wins over ranked teams in Tennessee and UNLV. Washington beat Texas A&M at home after the Aggies had dropped out of the Top 25.
"I think our league is a four-bid league for sure,'' O'Neill said. "It's not what we've had the last two years; it's not a six-bid league. But it should be a four-bid league.''
USC may be in the strongest position with the nonconference wins over the Vols and Rebels. The NCAA tournament selection committee will judge the Trojans a bit differently since they didn't have Gerrity, Stepheson and Washington for all or some of the previous losses.
The key for the Trojans will be to keep winning and finish in the top three. Giving a bid to a team that might finish lower in the conference standings than another that doesn't receive a bid is possible if the overall résumé is better. That could be the case with USC.
"There's nothing worse than playing without a true point guard,'' O'Neill said. "The projected favorites should be the projected favorites but there's not a huge separation from the top to the bottom. Everybody is pretty good.''
Romar said the Huskies are close to being a "really good team," especially if they can be better defensively and continue to share the ball. Senior forward Quincy Pondexter is having an all-Pac-10 season so far.
The Huskies didn't win the two big games on the schedule away from Seattle, losing to Georgetown in Anaheim, Calif., and at Texas Tech. But if Washington were to finish first or second, the Huskies will likely be in position for a bid. Cal will likely be judged differently, as long as it finishes in the top two, for playing without Robertson.
USC has the best profile among the rest of the teams. Washington doesn't have the signature win (sorry, but LSU won't be a great get unless the Tigers can go on a run in the SEC West), and Arizona State is lacking one as well. ASU beat LSU in New York, but couldn't win any of its marquee games (save for a win against San Diego State) in losing to Duke in New York, Baylor at home and at BYU. Wazzu missed out on beating Gonzaga and Kansas State in its name games earlier this season. But sleeping on the Cougars, with the league's most proficient scorer in Klay Thompson, and the Sun Devils, which has been much more efficient offensively than expected, would be a mistake.
Even Oregon State is tough to figure once again. The Beavers were the surprise team a year ago with seven Pac-10 wins after rocky nonconference play. The same thing occurred this season. The Beavers couldn't beat Sacramento State or Illinois-Chicago but did win at George Washington and against Fresno State.
Roberto Nelson, a freshman guard from Santa Barbara, has been OSU's best player in practice, according to the staff. But Nelson is only a partial qualifier now and won't be eligible unless he passes the standardized test. And even then, coach Craig Robinson said, he has to decide if it's worth playing Nelson this season or waiting until next season for a full schedule.
The season opens Thursday and Saturday with the Oregon schools in Washington, the Arizona schools in Los Angeles and Stanford at Cal.
"This conference is really, really young, and there were growing pains,'' ASU point guard Derek Glasser said. "Everyone is starting to play better of late. I'm not saying we're going to get six in [the NCAA tournament], but three or four. We'll see how it plays out. But I think we'll be definitely a three- or four-bid-worthy conference.''
The way that occurs could be Cal and Washington finishing first and second, USC third and a fourth team winning the conference tournament. That is all highly plausible.
October, 20, 2009
10/20/09
11:00
AM ET
DURHAM, N.C. -- Bob Knight hasn't said publicly whether he'll show up at Indiana for his induction into the university's athletics Hall of Fame on Nov. 6.
Knight's good friend, Duke coach Mike Krzyzewski -- a former player and fellow Naismith Hall of Fame member -- said it's not imperative that Knight attend the ceremony until the university does a bit more to recognize its former coach's achievements.
Krzyzewski said Knight, who currently serves as an ESPN college basketball analyst, should do what he wants, and he said he thinks Knight should still be at Indiana -- as head coach.
"I do think before coach Knight ever goes there, people at Indiana should think about what happened since he left [in 2000] and celebrate him instead of taking down the things he did," Krzyzewski said. "Over three decades he represented that school, won championships and produced great young men. That record is not talked about. You can't just say you're in the Hall of Fame. That's not enough. In order to have a great future, you need to celebrate the greatness of the past. I think Indiana basketball needs to celebrate coach Knight's time."
Krzyzewski said the school should celebrate the long list of players who came through the program and share the stories of what they've accomplished instead of simply putting up banners.
"Do that, and you're not just celebrating the man, but the men who were developed under his leadership," Krzyzewski said. "That should be done before he goes into the Hall of Fame. Coach Knight is one of the great coaches of all time in any sport. He's a brilliant man. He's very loyal and has a lot of pride.
All those qualities turned him into the winningest coach in history in college basketball and a three-time national champ. Don't just say 'Hall of Fame' and that's it. If coach Knight didn't go at this time, it's very understandable. It's not a slight to anyone."
Krzyzewski said that if they were to honor Knight's legacy in the way in which he described, only then should they "bring him into Assembly Hall, and maybe change the [arena's] name."
• The NCAA tournament selection committee will meet in the first week of November. The topic of expanding the field of 65 is always a possible discussion point, especially in the coming years when the current television contract is up.
Krzyzewski said the committee shouldn't change a thing.
"As long as we have the end-of-season conference tournament -- to me the NCAA tournament starts with the conference tournament, and everybody has a chance except the Ivy League, and if they wanted to do that, they could, but they choose to have their regular-season champion," Krzyzewski said. "I believe we're already doing it. If we expand it you would have to get rid of the end-of-season tournament. I'd rather have the end-of-season tournament. It's a celebration of each conference."
Krzyzewski said expanding the field would dilute "what we already have and we have a great product right now."
North Carolina coach Roy Williams was in agreement, saying he didn't want to see the NCAAs go from 65 to 96, which is an idea that has been discussed.
"I want making the tournament to really mean something, and I think it does in college basketball," Williams said, referencing the fact that 6-6 college football teams can earn a bowl bid.
"To me, that's not a great accomplishment, but making the NCAA tournament is a great accomplishment," Williams said.
• Pencil German national team member Elias Harris into Gonzaga's starting lineup. Harris has been a huge hit since he arrived from Europe. A scorer on the wing, he will pair up with Robert Sacre inside with the Zags using Matt Bouldin, Demetri Goodson and Steven Gray on the perimeter. The celebrated arrival of Sudanese/Canadian national Bol Kong should be muted a bit. Kong will be a player, but is coming along slowly. So slow down on the hype.
• Stanford's loss of freshman Andy Brown with a season-ending ACL injury is a hit because the Cardinal lacked post depth. Brown wouldn't have started, but he was expected to play key minutes.
• Oregon State freshman forward Rhys Murphy is out for a month with a fracture in his right foot. Like Brown, Murphy wouldn't have started, but may have logged 10 minutes a game. Murphy, a 6-7 forward from Australia, still has time to get into game shape by late November. How much he plays may depend on fellow freshman Roberto Nelson, who is still awaiting clearance by the NCAA's Eligibility Center.
• All the injuries at UCLA (five players were out of practice Monday) emphasize how much the Bruins may have to struggle to win the 76 Classic next month. The Bruins play WCC upstart Portland in the first round of the event at the Anaheim Convention Center. The winner of that game gets the winner of the game between Butler and Minnesota, two teams expected to be in the Top 25.
• Just how deep is the SEC East? Florida was picked fifth. The Gators' shot at avoiding three straight seasons without an NCAA tournament appearance was made more difficult with the shift in power in the SEC. Kentucky, Tennessee, Vanderbilt and South Carolina are all projected ahead of the Gators and are likely NCAA tournament teams. Georgia coach Mark Fox has quite a tough road being picked sixth in this lot. The state of Mississippi should have its best year in hoops in quite a while, with Mississippi State and Ole Miss expected to tussle for the SEC West title. Alabama, LSU, Arkansas and Auburn finished out the rest of the predicted West standings.
South Carolina's Devan Downey; Ole Miss' Terrico White; Tennessee's Tyler Smith; Mississippi State's Jarvis Varnado; and Kentucky's Patrick Patterson, tabbed as the preseason player of the year, were on the first team. Who was missing? Well, the potential No. 1 pick in the 2010 NBA draft, Kentucky freshman guard John Wall. Wall will likely supplant White on the first team, but it's also easy to see how a preseason list wouldn't have him, since it's hard to project without having seen a player in college. Still, Wall made the second team, along with LSU's Tasmin Mitchell; Vandy's A.J. Ogilvy; Auburn's DeWayne Reed; and Ole Miss' Chris Warren, who is back from an ACL injury.
• As expected, Oakland was predicted to win the Summit League with Oral Roberts, IUPUI and South Dakota State trailing. Last season's darling, North Dakota State, was picked to finish fifth. Oakland's Johnathon Jones was tabbed as the player of the year. Oakland put three players on the preseason first team in center Keith Benson, Jones and forward Derick Nelson.
• Old Dominion was the consensus pick to win the CAA. The Monarchs return the core of their team, led by Gerald Lee, a first-team all-conference member. Northeastern was tabbed second and had Matt Janning selected first-team all-conference. VCU, with all-conference member Larry Sanders, was third in the poll. George Mason, James Madison, Hofstra and Drexel rounded out the top seven in the 12-team league.
October, 19, 2009
10/19/09
2:21
PM ET
Some quick hitters after nearly five hours of our coverage of Midnight Madness on Friday night on ESPNU:
• The Kentucky event was unprecedented. I'm not sure I've ever seen an entrance like John Calipari's at Kentucky. It was part Bono at a U2 concert and part President Barack Obama at the 2008 Democratic National Convention in Denver. The hype over the Wildcats and their coach is something we've never seen before in college basketball. Calipari can handle the attention and is embracing it, but he also has said to me many times that his team will be young and inexperienced. So, we'll see how the populace handles some expected growing pains this season. I still think the Wildcats can make the Final Four, but there will definitely be losses in a rugged SEC East.
• I saw it Thursday at Cameron Indoor Stadium and then again during Duke's Midnight Madness event: Hall of Fame and Olympic coach Mike Krzyzewski is in as good a space as I've seen him in 20 years of covering the game.
• Cameron Indoor Stadium will have a different look this season with the graduate students taking hold of the end zones and the big boosters moving to more cushioned seats on the side. Duke has learned that the grad students are its most loyal student base and wanted to take care of them. Keep in mind these folks will also ultimately be the most influential as they move on to critical careers. Also, the fire marshal will be pleased with mandatory aisles that were being created with a coat of gray paint. In the past, if you were on the side bleachers, you had no shot to go to the bathroom during the game once you were sandwiched into the long rows of seats.
• Michigan State's Tom Izzo has figured everything out. He enjoys life, is intense with his job, but doesn't take himself too seriously. Last year, he wore a '70s outfit to celebrate the 30-year anniversary of the 1979 national title. This year, he came out in an Indy car because the Final Four is in Indianapolis. The Breslin Center had to close its doors at one point, as fans overcrowded the joint. The Michigan State fan base doesn't get enough credit for its annual passion for this program.
• The FedExForum had to shut its doors for Memphis' event, a first for the school and a celebration of first-year coach Josh Pastner. Pastner said he was overwhelmed with the interest. He has the hardest job of any first-year head coach this season, replacing Calipari. But the manner in which Calipari departed, by taking a number of the players, and with the vacated Final Four (pending Memphis' appeal) may give Pastner a longer leash in the short term.
Pastner is recruiting with the top programs in the country. If he can stay in the top three in Conference USA with some combination of upstarts Tulsa, UTEP and Houston, he should be even more celebrated on the court. Pastner said he had no issue easing into a more observational role during the double session of practice Saturday. He had been one of the grunt assistant coaches at Arizona and Memphis running stations. Now he was in charge, moving between both ends of the floor as his assistants handled the drills.
• North Carolina's John Henson is so slender but he continues to rise above the rest of his teammates. If Larry Drew II can pitch ahead the basketball as Roy Williams says, this team will be exceptionally difficult to defend on the break. If Drew can just get the ball near the basket, Henson, Ed Davis, Deon Thompson and Tyler Zeller -- the four big men who will likely get the most time -- can certainly snatch it and finish.
• Connecticut's event was festive Friday before tragedy struck early Sunday morning on campus with the fatal stabbing of football player Jasper Howard at a university-sponsored dance. The men's basketball team, like everyone else on campus, was stunned with the news. Many of the players, according to assistant coach Patrick Sellers, knew Howard. Sadness has covered the campus.
• UConn freshman forward Ater Majok suffered a stress fracture in his left tibia and is out of practice for a few weeks. Majok isn't eligible to compete until mid-December.
• Oregon State coach Craig Robinson has been waiting for freshman guard Roberto Nelson to be cleared to practice, but it didn't happen by the time practice started Friday. Getting paperwork has been a slow process, and while there doesn't seem to be a concern that Nelson won't be eligible, the process is certainly time consuming as documents get sent to the NCAA Eligibility Center.
• Georgetown coach John Thompson III is certainly changing the mood of the Hoyas. JT3 has lightened things considerably. He was a self-proclaimed huge Michael Jackson fan and didn't hesitate to don a white glove in honor of the King of Pop during the Hoyas' event Friday night.
• North Dakota State's Saul Phillips may never leave Fargo. The city and the school just give him too much material. He said the Bison were going to bring out during its madness event the famed wood chipper from the movie "Fargo" but they couldn't get anyone to go into it.
• Two teams I would have loved to watch their scrimmages but didn't get much of a glimpse of were Washington and Kansas. Both could play deep into March.
• Clemson's Oliver Purnell repelled down from the rafters at the Tigers' event. Purnell has settled in quite nicely at Clemson, producing a consistent winner. He is at ease in his surroundings at Clemson and continues to be a solid citizen in leading that program. Like Izzo, he has learned to not take himself too seriously.
• Give Roy Williams credit: It doesn't matter what occurred the previous spring because he'll dance with his Tar Heel players. Williams' ability to let loose allows him to connect with today's players.