Category archive:

Canisius Golden Griffins
September, 28, 2012
09/28/12
10:28
AM ET
The head coaching job at Canisius opened on March 4 when Tom Parrotta was fired after six seasons.
Jim Baron was let go that same day by Rhode Island after 11 seasons in Kingston.
On April 2, Canisius hired Baron to replace Parrotta.
[+] Enlarge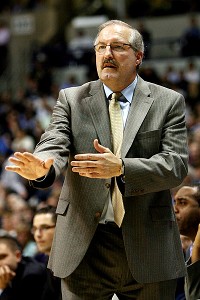 Jim Owens/Icon SMIJim Baron, who made his name playing and coaching at St. Bonaventure, returns to his old Western New York stomping grounds at Canisius.
I'm not sure there was a more perfect fit for the program.
Plenty of coaches get fired every season. A number of them have trouble getting back into the game. Some find a home in television. Others sit idle.
Baron doesn't do idle well. So when Canisius went searching for a coach who could rebuild its program -- which finished 5-25 last season and won only one MAAC conference game -- no one made more sense than Baron.
For one thing, Baron is no stranger to Western New York. He played at St. Bonaventure, then coached at his alma mater as an assistant. He also spent time as an assistant at Rochester, Loyola (Md.) and Notre Dame. His first head coaching job was at St. Francis (Pa.), where he led the Red Flash to the 1991 NCAA tournament.
But Baron is much more synonymous with his tenure as a head coach (1992-2001) at his alma mater, where he built a consistent winner and guided the Bonnies to their first NCAA tournament appearance in 22 years in 2000.
The Rhode Island years were hard -- he took over a program that was on probation and shepherded it through a facility transition period -- but he was passionate about ensuring that the Rams were competitive. He was never shy about pointing out that he led URI into a competitive state in the A-10, winning 20 games in five different seasons and leading his team to the NIT five times.
But he felt underappreciated in Kingston, and ultimately was fired last spring after his first losing season since 2005. He fought with URI over his final two years of salary. Baron claimed he was owed a buyout of more than $1 million. The university said in July that it had paid Baron $126,708.09 in regular salary payments.
Had the Canisius job not been open he might have struggled over where to go next. But -- lucky for him and for the Golden Griffins -- it was. He dove right into the opportunity with the same passion he has exhibited since he took his first coaching job in 1978.
"I was the type of player who had to overachieve by working hard," said Baron. "[As a coach] I want to do it the right way, get the right student-athletes and build it the right way. I want to graduate student-athletes and develop a program, not just a basketball team."
URI was the first -- and only -- state school Baron has worked for during his career. He has thrived at private schools, and most notably Catholic institutions.
He understands the mission of those schools. They get him. And the marriage has worked.
"I was concerned since it hadn't happened to me before," said Baron of being fired and having to seek out another job. "When people [at Canisius] asked me about getting back in I was excited."
Baron points out that St. Francis has struggled since he left in 1992, and that it took St. Bonaventure until last season to win another A-10 title and make an NCAA run.
And he admits he understands where he fits best.
"[At] smaller schools, Catholic schools like St. Bonaventure, I had a real good feel and an appreciation for that type of scenario," said Baron. "It wasn't that difficult to make that adjustment [at Canisius]."
Baron also has the luxury of coaching one of his sons again. He coached Jimmy Baron at Rhode Island. Son Billy transferred from Virginia to URI last season, and will follow his dad to Canisius.
"Billy is a little bit older [than Jimmy, who started for his dad as a freshman]," Baron said. "He's more physically ready. I'm excited to have another opportunity to do this."
A number of different MAAC teams have taken turns at the top of its standings -- most recently Loyola (Md.) and Iona -- so a quick turnaround in the league isn't out of the norm. And with Loyola leaving for the Patriot League in 2013, Canisius will have one fewer team to leapfrog.
"We know this environment, and with 3,500 students on campus we can get involved here and in the city of Buffalo and Western New York," said Baron. "This is an opportunity for the players to enjoy the experience. I'm looking forward to it."
Canisius returns only six players from last season. But that's probably not all bad based on last season's results. Recruiting for 2013-14 will be paramount to changing the fortunes of the program.
Having 6-foot-10 Kansas State transfer Freddy Asprilla in the post and Central Florida transfer guard Isaac Sosa on the roster helps create depth and gives the Golden Griffins some needed experience.
"After our first year we're going to have to replenish some of our scoring," said Baron. "But it helps to have guys with experience right away.
"I've always been a guy who looks at this as a journey more than a sprint," said Baron. "I'll continue to do that and maximize the effectiveness. I'm patient but I'm also realistic and understand that if you've got something there, take advantage of it. We do have some pieces, and we'll try to be in the mix by bringing those pieces together."
October, 24, 2011
10/24/11
11:09
AM ET
Late last week Iona received news that
Lamont "MoMo" Jones
, instrumental in helping Arizona to the Elite Eight last season, has been granted a hardship waiver and can play immediately, instead of sitting in residence under NCAA rules.
The MAAC regular-season conference race and postseason automatic qualifier berth just got more interesting and competitive with Jones joining the Gaels.
The truth is this league was already locked in to having one of the best races, outside of the power six, with or without Jones.
But now that he's eligible, the stakes are even higher with Fairfield and Iona preparing for what should be a chase to the finish. At the MAAC level, it will rival anything the Horizon or Missouri Valley has to offer this season.
[+] Enlarge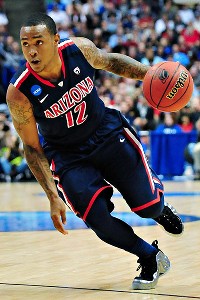 Gary A. Vasquez/US PresswireAdding MoMo Jones to Iona's lineup makes the Gaels better. But will it be good enough to get past Fairfield in the MAAC?
"This league is very top heavy,'' said St. Peter's coach John Dunne, whose Peacocks stunned the field by winning the MAAC AQ on Fairfield's home court in Bridgeport, Conn., last season. "Iona and Fairfield are the most talented. The additions they have clearly make them much more talented. But it will be interesting to see how the dynamic changes those teams.''
Loyola (Md.) and Rider, both with many returnees, are seen as the potential St. Peter's in this league -- a team that could surprise the favorites and win the automatic berth with three strong days in Springfield, Mass. (site of this season's MAAC tournament).
"We got Jordan Latham eligible from Xavier, too,'' Loyola coach Jimmy Patsos said. "I like Fairfield 1, Iona 2 and us and Rider after that. I think it could be a great race. We're deep. We're not as talented. But we're as deep as any team in the league. The key will be Jeff Jones from Virginia for Rider. Can he light it up or not? Fairfield has a new coach, but [it'll] be fine. And [Iona's] [Mike] Glover will be a targeted man.''
MoMo Jones joins an Iona team that is led by returnees Scott Machado on the wing and Glover inside.
Boston College transfer Rakim Sanders is eligible to join the Stags, last season's regular-season MAAC champs, alongside returnees Derek Needham and center Ryan Olander.
The difference between the Stags and Gaels is that Fairfield has two high-profile transfers instead of just one. Former Houston point guard Desmond Wade is also eligible, and he'll take over as the playmaker, sliding Needham to the wing with Sanders as a forward. "I think Rakim is the best player in the league,'' said former Fairfield coach Ed Cooley, now the head coach at Providence. "I don't think there is one matchup in the MAAC [that doesn't favor] him. There is an answer for Glover in the MAAC, and that's length in Olander. The question will be Fairfield's overall chemistry. Now there is a true point guard in Desmond Wade. But the X factor will be Rakim, because no one is close to him.''
Sanders was a tough matchup for ACC teams that played the Eagles. But his last season with BC started poorly with an ankle injury, and neither he nor the team recovered, as he couldn't fit back into the lineup with Reggie Jackson. Sanders found a new home with Cooley, a former BC assistant with strong ties to Sanders and Eagles coach Al Skinner. Cooley is gone, but new coach Sydney Johnson, formerly of Princeton, has been pleasantly surprised by Sanders so far.
The team went to Italy in August, and through the first week of practice, Sanders has lived up to the hype. "He has been very good for us, and there is a reason he started his career in the ACC,'' Johnson said. "He has that caliber of talent. He has a high basketball IQ. He looks the part, too. He's a strong physical kid, who is fast and quick and has an understanding of how to play. He does the right things, and he's unselfish. I'm very pleased with him.''
Johnson said Wade is much more of a natural point, but he can play off the ball like Needham. He said he plans to alternate who handles the ball.
That question is an ongoing issue at Iona now that MoMo Jones is eligible. Machado handled it last season. And Jones did the same for Arizona. Cooley said taking the ball out of Machado's hands could hurt the chemistry, unless this team jells quickly together.
Iona coach Tim Cluess hadn't addressed this topic, because he didn't know Jones' fate for this season. Jones got the waiver because he transferred back to New York, his hometown, to be closer to his ailing grandmother.
How does he solve the problem with who has the ball? "Get two balls,'' Cluess said. "That's the interesting part. Realistically we're just starting to work on it on the court since we didn't want to invest time since we didn't know if they could play together. We will look at who has the ball, will they be interchangeable or if either can play the wing.''
Finding consistency next to Glover inside is also a question for the next few weeks. The expectation was that junior forward Taaj Ridley could be that person, but he has been hampered by foot and Achilles issues.
"I think it's wide-open,'' said Cluess, whose Gaels lost to St. Peter's in the MAAC final last March after the Peacocks upset Fairfield. "Fairfield has the edge. They won it last year, and they have two high-major players. But Loyola has five starters back and is a team that is dangerous. We have to make sure we have that team chemistry. Fairfield has the Boston College transfer, and he could be the best player in the league. They added Wade to what should be a powerhouse. But I like our chances against anybody with the way we shoot the ball.''
Iona and Fairfield have the mix of high-level transfers and four-year players who have blossomed into high-level college players. Each team could win a NCAA tournament game or two in the right scenario. But getting an at-large berth will be determined in the next two months.
The schedules for each favor getting recognized by the selection committee in March. Iona is in the wide-open Puerto Rico Tip-Off with an opener against Purdue on Nov. 17 and the possibility of playing Temple if the Gaels can knock off the Boilermakers. Playing at Marshall, a C-USA top-two team and going on the road in a winnable matchup at Richmond highlight the schedule. It doesn't hurt for power-rating points that Iona plays 11 road games before January.
Fairfield plays at Minnesota, a sleeper in the Big Ten, and has a legit shot to win the weakened Old Spice Classic in Orlando, Fla. Beating Old Dominion in December in Springfield will help, too. Drawing top-five UConn in Hartford, Conn., and visiting Drexel in late December will also assist the power rating.
Johnson walked into a ready-made situation to win again. "This isn't a rebuilding project,'' said Johnson, who led the Tigers to a thrilling Ivy League playoff win over Harvard and then nearly clipped Kentucky in the NCAA tournament opener for both teams. "Ed positioned us. We don't have a lot of excuses. We're preparing ourselves the best we can for March. I want to look in the mirror and when the time comes I want us to have done everything we can to seize the moment and this opportunity.''