Category archive:

Penn State Nittany Lions
July, 31, 2012
07/31/12
3:20
PM ET
Ed DeChellis graduated from Penn State in 1982, spent 10 seasons there as an assistant, then returned as head coach in 2003 following a stint at East Tennessee State.
Instead of batting job insecurity at PSU, he bolted last year and took an opportunity to coach the Naval Academy -- but that doesn't mean he's escaped the tragic mess that has ripped apart his alma mater.
DeChellis said he had no idea of the sexual molestation scandal until he picked up the Harrisburg (Pa.) Patriot News in March 2011 and read the first of many groundbreaking stories from Pulitzer Prize-winning reporter Sara Ganim.
"I knew the man, not in a social setting, but our paths crossed as assistants," said DeChellis of convicted sexual predator and former Penn State defensive coordinator Jerry Sandusky. "When I read it, I couldn't believe it. That was the first I had heard of it."
[+] Enlarge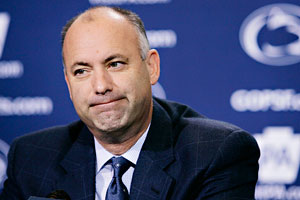 AP Photo/Carolyn KasterEd DeChellis left Penn State last year, but was interviewed at length for the Freeh Report.
Yet DeChellis experienced the thorough nature of the Freeh Report which ultimately led to the dismantling of the Joe Paterno statue in front of Beaver Stadium and which was used exclusively by the NCAA to authorize a historic set of penalties handed down by NCAA president Mark Emmert on the football program.
DeChellis was one of hundreds interviewed for the Freeh Report. He was at his office in Annapolis last January when he was questioned at length.
"They went through every facet of the program," DeChellis said. "It was quite lengthy. 'Tell me about compliance.' There weren't many questions about Jerry Sandusky for me. 'Tell me about the sports camps. How did you run yours? What was the compliance, the budget, the recruiting, the administration. Tell me about the housing.' They hit every aspect of the university. 'Tell me about dealing with public safety.' There was a checklist.
"'Were there any run-ins? Explain the process. If you had a kid in trouble, how did it happen and what did you do? Who was your liaison with the athletic department. Tell me more about the camps. Who ran them? What was the process. At night time, who stayed in the dorms? How many coaches?'"
DeChellis said he wasn't asked specific questions about former Penn State president Graham Spanier. But he was asked about all his direct reports and how the chain of command worked for him in the school's other high-profile sport.
"How many times did you meet? It was nuts and bolts from A to Z in all aspects of the university," DeChellis said. "It went on for four hours."
DeChellis said he was asked about his relationship with Paterno, but there wasn't much to say. He said he didn't see him often outside of traveling together to Big Ten meetings and occasionally when he would stop by practice.
"He was good to me and my family," DeChellis said. "But I didn't see him too often."
As DeChellis watched the sanctions levied last week, he said he immediately thought of the victims, not his school.
"For me as an alum, I think about the kids and the victims," he said."That's what I'm thinking. How it affects the football team isn't the issue. It's how did this affect these young boys. How did it affect their life? Where are they in their lives? No one is investigating that part. What have they done and how difficult has it been for them and been able to overcome these atrocities?
"That's the part I don't know. We don't know who they are. But that's where my heart is. It's embarrassing for me at times as a graduate. We talk about losing money and scholarships, but these kids lost [something] more precious than that stuff. That's embarrassing."
DeChellis said he thought several football players would leave within the week, but that hasn't happened. He thought recruits wouldn't come, but that isn't the case, either. New football coach Bill O'Brien appears to have kept most of the team together, but it remains to be seen if that's possible in two or three years.
DeChellis said his successor in men's basketball, Pat Chambers, has a difficult job even without the current state of the school.
"It's a hard job even without this stuff," he said. "Now you add the perception of the athletic department and university in general and it's more challenging. I know they lost a kid last week [in recruiting].
"We had Trey Burke committed to us before the summer period and he de-committed [and went to Michigan, where he starred last year as a freshman]," DeChellis said. "It was a huge blow to us. We were on the verge of being pretty good and it didn't happen. We would have had really good guards with Tim Frazier and Trey Burke together. We would have been able to contend. I wish Pat all the best, but it will be challenging."
Penn State finished 4-14 in the Big Ten in Chambers' first season, 12-20 overall. DeChellis coached Navy to a 3-26 record, 0-14 in the Patriot League.
August, 30, 2011
08/30/11
1:35
PM ET
Ed DeChellis and Skip Prosser met in the mid-1980s, a pair of assistant coaches who struck up a friendship, a respect and a mutual admiration for history, politics and the military academies.
"We talked every day," DeChellis said, "and there were a number of times that we talked about coaching at Navy.''
Prosser went to the U.S. Merchant Marine Academy. One of his players from his time coaching in Wheeling, W.Va. -- current Tulsa coach Doug Wojcik -- played at the Naval Academy during its David Robinson-led glory years in the mid-1980s.
[+] Enlarge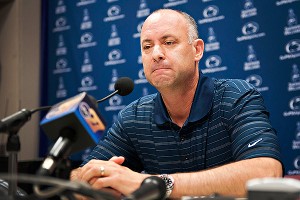 AP Photo/John BealeEd DeChellis was emotional in his departure press conference at Penn State in May.
On the four-year anniversary of Prosser's death on July 26, DeChellis took out Skip's son Mark, an assistant at Wofford and a former assistant at Bucknell, one of Navy's rivals. All of these years later, DeChellis is now head coach of the Midshipmen, a move that sent shock waves around college basketball circles after he resigned from Penn State in late May and took the job at a struggling Patriot League program, just two months after leading PSU to the NCAA tournament.
"We spent a lot of time talking about it,'' Mark Prosser said. "He's genuinely excited about it. My father had great respect for military history, read extensively about the Army and the Navy. He would have been interested in the Navy job some day. He was so proud of Doug Wojcik going to play there with David Robinson. He loved Annapolis. I know he would have loved coaching there. I know [DeChellis] will do well there. His excitement level is very high.''
DeChellis spent Tuesday morning watching his players go through an individual workout early in the morning before they went off to their daily classes and ultimately military responsibilities. He was in his office, watching boats leave out of the Chesapeake Bay. Annapolis, which strangely has had to deal with an earthquake and a hurricane in the past week, is normally a serene spot on the water.
And despite the demands of being a coach at the Naval Academy, the desire to perform, the need to live up to the patriotic values, DeChellis couldn't be more at peace with his surprising decision to leave Penn State for Navy when former Midshipmen head coach Billy Lange left for Villanova to return to Jay Wright's staff.
In March, DeChellis finally got Penn State into the NCAA tournament for the first time in eight seasons at his alma mater. The Nittany Lions lost a tight game to Temple in the first round and were headed for a rebuilding year due to the departure of Talor Battle. But DeChellis had at least finally reached the NCAAs after an erratic tenure, which saw PSU go just 117-139 overall and 41-95 in the Big Ten. The Lions climbed out of the bottom third of the league to tie for fourth and win the postseason NIT in 2009, but then sank back to 11th in 2010 before the run to March Madness in 2011.
"If I wouldn't have made the tournament at Penn State, it would have left me with an empty spot in my belly,'' DeChellis said. "We made the NCAA tournament. We reached the Big Ten tournament finals. We won the NIT. I felt like I was leaving the program in good shape. I'm hoping to come here and do the same thing.''
DeChellis said he had three years left on this contract and insists he felt no pressure to leave, especially at a school where the basketball program is just sort of a holdover until football season begins again. So when he got the call from the Academy, he said he owed it to himself to look at the job. His three daughters are grown and out of the house. Two are back in Johnson City, Tenn., where he got his first head-coaching job at East Tennessee State. A third is still at Penn State. But his wife was willing to move.
"I had never been here, but it had been somewhere in the back of my mind,'' DeChellis said. "This was the job Skip and I would talk about was one of his dream jobs. I didn't really understand it at first. But I came here and fell in love with the institution.''
DeChellis romanticizes about the sounds of the chapel bells, the rhythmic tune of the Midshipmen marching, the sight of them in their dress whites.
"This is what college basketball is supposed to be about -- young men and young women performing academically and trying their best to have balance,'' DeChellis said. "Most people have academics and athletics to balance. Here there is a third part -- the military. There is no downtime. There are no naps. There is no hanging out in the room. There are no third-party people coming on campus, no runners, no street agents. This is what college athletics is supposed to be about.
"I was working our guys out in four-man groups, but I'm not in the gym worrying about the next donor or next development meeting or the next development speech. I love being a part of the campus and community.''
DeChellis said he is preaching patriotism in his recruiting chats, and is up front about the military commitments in Iraq and Afghanistan. He doesn't get into the details about whether there are planned drawdowns in both countries.
"We preach patriotism, since this is a very patriotic time,'' DeChellis said. "We bring up the love of country and the recruiting has gone very well. We're getting commitments.''
Navy won 19 games in 2008-09, but the Middies were well below .500 in each of the past two seasons. The Patriot League has had a number of teams rotate at the top, most recently Bucknell and American, with Lehigh and Holy Cross taking turns competing for a top spot, as well. But Navy? Navy hasn't been in the NCAA tournament since 1998.
[+] Enlarge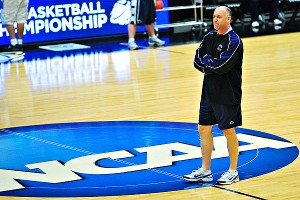 Chris Morrison/US PresswireDeChellis finally guided PSU to the Big Dance last season. Can he eventually do the same in Annapolis?
Could that change under DeChellis?
"I've always felt a guy like Ed DeChellis, his age and experience is really, really good at the Naval Academy,'' Wojcik said. "For me, to have a connection like this through Ed and with Skip, at my alma mater, makes me really proud. I think he'll embrace all of the Academy and any of the restrictions. He'll make it all work. I feel really good about this.
"I tell all my former teammates the same thing. I think it's a very good hire for the Naval Academy.''
Mark Prosser agrees.
"I know he's got a difficult job,'' he said. "But they made an unbelievable hire. I know they'll reap the benefits in the future.''
DeChellis said he has spent considerable time talking to former Navy coaches Paul Evans and Don DeVoe, who both have settled back in Annapolis.
"I've talked to both of them about the challenges of coaching at the Academy, and they all said they enjoyed coaching here the most of anywhere,'' DeChellis said. Evans was once the head coach at Pitt, and DeVoe was once the head coach at Tennessee.
"If I could get Navy to the NCAA tournament, it would be something I would cherish,'' DeChellis said. "My decision wasn't about leaving Penn State but rather coming to the Academy. I got East Tennessee State and Penn State to the NCAA tournament. Now I'm trying to win the Patriot League and go to the NCAAs. That is a very exciting opportunity for me.''
Like DeChellis, Wojcik said he does remember Skip Prosser telling him that coaching Navy always seemed like it would be a dream job.
"Skip realized that this was more than pure coaching,'' Wojcik said. "He knew you could nurture relationships with kids. You have to get there in your career to realize that. We're all chasing the dream of winning the national title. And I think Eddie for all the right reasons is embracing what Skip was preaching 10 years ago.''
Wojcik said the advantages for the Naval Academy in the Patriot League are real, and to beat seven teams instead of a host of at-large candidates each year is something that could work in the new coach's favor.
"It would mean a tremendous amount for them to make the NCAA tournament,'' said Wojcik, who started every game at point guard from 1983-86 for a Navy team that compiled an 82-17 record and went to three straight NCAA tourneys, including the 1986 Elite Eight. He was also an assistant in Annapolis when the Middies played in the Big Dance in 1994, '97 and '98.
"I think he can do it," Wojcik said. "But it will just take time. This is a job that you have to be at the right place and right time in your career. You don't take this to move on.''
January, 31, 2011
01/31/11
1:16
PM ET
Penn State coach Ed DeChellis gathered his team Sunday before practice and didn't hide from the obvious.
"We're 5-4 after the first round of the Big Ten and we've got nine more games to play to make our mark," DeChellis told his team, notably his four senior starters. "These nine games will define you, your career at Penn State and if we're successful in those nine games we've got a great opportunity."
[+] Enlarge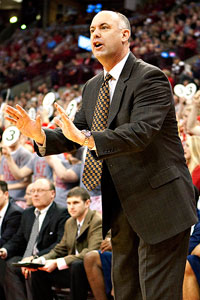 Greg Bartram/US PresswireEd DeChellis was the Big Ten coach of the year in 2009.
Penn State has had one of the more impressive in-season turnarounds to even be in a position to make the NCAA tournament for the first time in DeChellis' eight seasons.
Penn State, which hasn't been to the NCAA tournament since 2001, whiffed on a number of chances in the nonconference portion of its schedule, losing at Ole Miss, versus Maryland in an embarrassing 62-39 final, at Virginia Tech by 10 and then by 10 at home to Maine.
It didn't matter as much at the time that Penn State had knocked off what would be the league leader in the MAAC (Fairfield), co-No. 1 in the A-10 (Duquesne) or that the loss to Maine (America East leader) could be at least rationalized.
The win at Indiana to start the Big Ten gave Penn State a false sense of security that things had turned, especially when that was followed up by consecutive losses at Michigan and at home to Purdue, a humbling 15-point loss.
"I wish I could say it was something that turned it," DeChellis said. "I don't know if there was an awakening. The kids were so disappointed in the way we played. The kids just bought in and all of a sudden what we're trying to do -- of preaching defense and rebounding from day one -- happened. I had been trying to tell them that Maine was a good basketball team. We went to Indiana and won, then went to Michigan and fooled around in the last minute and then Purdue beat us here."
And then Penn State went on a run that has put it in position to be relevant for a bid.
Penn State beat Michigan State and Illinois at home in consecutive games, holding the Spartans and Illini to 62 and 55 points, respectively. Penn State was then within one possession of tying Ohio State before losing 69-66 in Columbus, and lost to Purdue on a JaJuan Johnson last-second shot (63-62) in West Lafayette, Ind.
Penn State then held serve again at home, beating Iowa by 15 and taking down Wisconsin by four (56-52), despite being down nine at the half.
DeChellis laid out the scenarios for his senior starters -- Talor Battle, Jeff Brooks, David Jackson and Andrew Jones.
The Nittany Lions have five road games left -- at Illinois (Tuesday), at Michigan State (Feb. 10), at Wisconsin (Feb. 20), at Northwestern (Feb. 24) and at Minnesota (March 6). And none of the home games are a given -- Michigan (Sunday), Northwestern (Feb. 13), Minnesota (Feb. 17) and Ohio State (March 1).
"I told them if they want to get to the NCAA tournament then this is what you have to do," said DeChellis of winning more key games and staying above .500 in conference play. "There are no second chances for the seniors, no do-overs, no feeling sorry for yourself. You've got to commit to defense and rebounding."
Battle can bail out the Nittany Lions if the offense goes awry. But Penn State can manufacture points.
"Our margin for error is not great because we're not a high-powered team off the bench," DeChellis said. "We play our seven guys. That's who we are. We've embraced that and understand it. I told these seniors it all comes down to these nine games. I really believe that. Two years ago we were 10-8 in the league but our nonconference schedule hurt us. Now our strength of schedule is nine.
"Our one-plays in the league were Indiana and Iowa and we're done with those," Dechellis said. "We play everybody else twice."
According to ESPN.com's InsideRPI Daily, Penn State's SOS is actually four. Playing a strong home-and-home conference schedule in the Big Ten will help keep that SOS strong. The three top-50 wins Penn State has are all in the Big Ten against Michigan State, Illinois and Wisconsin. The only other top-100 win was against Duquesne.
Penn State has drifted in anonymity for some time in the Big Ten, save for that 2001 Sweet 16 blip under Jerry Dunn. DeChellis' best chance to get a bid was two seasons ago when the Nittany Lions finished 10-8 in league play. Ultimately, the Nittany Lions won the NIT.
But the Nittany Lions suffered a major setback a year ago when they were 3-15 in the Big Ten, 11-20 overall.
Having four senior starters and an impact recruit, Taran Buie (Battle's brother), was supposed to change everything. But the nonconference didn't go well overall and Buie was booted from the team after the Maine loss for a compilation of issues from a summer fight to a drinking incident to the need to step it up academically, according to DeChellis. The two will meet in the spring to determine his position in the program.
"I think that [Buie's suspension] was a wake-up call that we're serious," DeChellis said.
The reality is that if the Nittany Lions fail to make the NCAAs this season -- with four senior starters -- they have no one to blame but themselves.
"Our staff and kids would be disappointed," DeChellis said. "Right now we believe we can find ways to win. Some teams hit a lull. I'm knocking on wood that we don't hit that lull since we don't have a margin for error. Sometimes the intangible is a resilient factor, you dig deeper, play harder and get yourself going. There isn't a drill for that. The seniors are committed to making the tournament."
DeChellis said he isn't feeling any pressure to get to the NCAAs. He did receive a three-year extension after the NIT title. But it's clear this is a golden chance with a senior-laden team and the recent resurgence.
"I want it for them, for the players," DeChellis said. "They've worked hard and had disappointment. This would be what they've worked for and what I dream for them. I told them we've got to give what we have and see where this thing ends up after nine games."
June, 7, 2010
06/07/10
12:17
PM ET
Big 12 commissioner Dan Beebe is one of the 10 members of the NCAA tournament selection committee and was on the inside of the decision-making process that led to the change from a 65- to a 68-team field, despite the assumption nationally that the 96-team format was a done deal.
On Sunday night, Beebe emphasized that difference between perception and reality as he deals with the swirling rumors that his conference will implode after getting raided by the Big Ten and the Pac-10.
And that's why we need some perspective here before the assumption is made that the entire current format will be thrown into chaos with a land grab by the Big Ten and Pac-10.
Based on discussions Sunday night with a number of high-ranking sources throughout the NCAA (including those who have been in some of the direct talks on these topics during the past decade), here is some relevant information on the various possibilities:
• If the Big Ten can persuade Notre Dame to join the league, the expansion discussion is over. The Big Ten doesn't need anyone else but the Irish to accomplish its goal of increasing its value. The networks have lined up to get the Irish deal from NBC, and adding ND would enhance the Big Ten television property. All conference television contracts have a clause that they are subject to change if there is a membership change, meaning they can be worth more money (with Notre Dame) or less (if, say, the ACC were to lose members even after doubling its current deal).
• Being in the Association of American Universities is a major deal for the academic side of Notre Dame. If the Irish could be assured that they would get an 11-vote bloc of Big Ten schools to usher in Notre Dame as a member, that could sway the Irish hierarchy to move toward the Big Ten. If the Irish have no shot at the AAU, that could be a deciding factor against their joining the Big Ten. Getting into the AAU makes a Big Ten acceptance a lot easier.
• Romancing Notre Dame has been going on since the 1920s. The timing has to be right. There will be a critical mass of alumni who will want to remain as a football independent. For every other sport, being in the Big Ten makes more sense than the Big East, although this isn't a decision about the rest of them.
• Notre Dame wouldn't want to be one of five additions to the Big Ten. The Irish won't want their addition to be devalued.
• Big Ten commissioner Jim Delaney and Notre Dame athletic director Jack Swarbrick have a longstanding relationship. Swarbrick was instrumental in bringing Big Ten championship games to Indianapolis while working in Indiana with the sports commission.
• Delaney won't get burned here. He's considered one of the most savvy and shrewdest negotiators in college athletics. He's not going to issue an invitation and get turned down.
• If Notre Dame were to join the Big Ten, the rest of the chatter would halt. The Big East could bump up Villanova football to FBS to avoid expansion, or it could add a member to stay at 16.
• If Notre Dame is the only grab by the Big Ten, there is no need to toy with Missouri and Nebraska.
• That means the ultimatum doesn't make any sense. Why would the Big 12 tell Missouri and Nebraska they have to be in or else? What's the consequence? The Big 12 isn't going to boot them out of the league. If they don't get an invite to the Big Ten, the chances are that nothing happens to the Big 12.
• The Longhorns won't do anything that won't benefit Texas. They don't want to leave unless they have to get out. Texas enjoys being the deal-maker in the Big 12 rather than just another school, albeit an important one, in the Pac-10 or even the Big Ten.
• Pac-10 presidents gave commissioner Larry Scott the go-ahead to look at expansion, but the academic profile of schools the league would invite is critical, much like the Big Ten. Not all the Big 12 schools meet this standard.
• UCLA and USC get the most money in the Pac-10 because of appearances. Both schools won't want to lose that status in a new, expanded conference.
• The Pac-10 can only expand and expect to make enough money on a television deal with Texas. Adding random Big 12 and/or MWC schools won't increase the value of a proposed television deal.
• The Big Ten Network deal that Delaney has is based on subscription fees and makes more money than the Pac-10 could on its own.
• The Pac-10's best hope is for a television merger with the Big 12, forming a mega TV deal. The Pac-10 and Big 12 television deals are up in 2012, and both leagues have confirmed discussions on a television agreement.
• A number of sources find it hard to believe that Kansas would somehow be left with nothing. Football drives this, but the power; prestige; tradition; and, most important, ratings of basketball do have serious value. It's akin to leaving out Duke in some sort of ACC chaos.
• Underselling the value of the new $10.8 billion deal with the NCAA tournament is a mistake. It matters. This is a football-driven discussion, but it's not at the expense of disrupting the entire NCAA tournament plan.
• A number of conference presidents are trying to ensure that any potential move makes sense. (For example, did Boston College to the ACC make sense?)
• Boise State would probably take a MWC invite, but does the MWC want to invite Boise State without knowing what will happen to the Big 12?
• All of this is relative to the discussions going on at the Pac-10 and the Big Ten. But so many of the doomsday scenarios could be tamed if Notre Dame were to tell the Big Ten yes.
September, 23, 2009
09/23/09
3:20
PM ET
Ben Howland's right side had been bothering him for about a week. But it wasn't pressing enough to keep him from traveling during a recruiting period.
So, the UCLA men's basketball coach plugged on and flew to Portland and Detroit before coming back on Sept. 13, when he realized the ache was now a pain that wasn't going away.
Howland met with a doctor on the morning of Sept. 14, had a CT scan, and then headed to Las Vegas to Bishop Gorman High School. Still not sure about what was going on with his side, he went back home and waited for word on his results. He visited another recruit on Sept. 15 in Los Angeles. The Bruins were scheduled for their first team workout on Sept. 16. Howland was running around and didn't pick up his phone until noon.
[+] Enlarge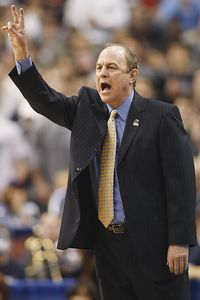 Howard Smith/US PresswireUCLA coach Ben Howland's recruiting schedule was interrupted by appendicitis.
"The message was that there was something with my CT scan, the appendix was infected," said Howland late Tuesday night as he and assistant Scott Garson drove back from a recruiting visit in San Diego. Howland said he had to go to Seattle for another recruiting assignment on Sept. 17.
Not quite.
"The message was I had to call the surgeon right now," Howland said. "I found out at 12:15 p.m. and I was in surgery by 4 p.m."
Howland had laparoscopic surgery on Sept. 16 to remove the appendix.
"It didn't break, it didn't burst and that's great news," Howland said. "I'm just taking it slow. I'm a little bit tired still."
Howland will attempt to take things slowly, but he was slated to work out the Bruins on Wednesday and then leave for a six-day recruiting trip on Friday to Seattle, Portland and Detroit.
What Howland will find when he convenes the Bruins is a team that is extremely thin on the perimeter. The Bruins have essentially three guards to rotate in with sophomores Malcolm Lee and Jerime Anderson and senior Michael Roll. Howland said freshman wing Mike Moser will have to play, as well. Freshman forward Reeves Nelson will need to play small forward, too.
The shortage of perimeter players is a result of the loss of Jrue Holiday, whom the staff wasn't prepared to see leave after one season in Westwood.
"College basketball teams are playing four guards and a big anyway a lot," Howland said. Howland cited former Bruin Luc Richard Mbah a Moute as an example of a big guard who had to board in college and as a result got to the NBA.
Freshman forward Tyler Honeycutt has been bothered by a back injury, and it's still unclear how much he'll be able to help the Bruins this season. Meanwhile, sophomore forward Drew Gordon isn't showing any effects of a knee injury that kept him out of the USA Basketball under-19 trials for all but one practice in Colorado Springs in June. Howland expects Gordon to gobble up a lot of minutes with James Keefe, J'mison Morgan and Nikola Dragovic, the only returning starter. Dragovic is nursing a thumb injury and will be kept in check in some of the early workouts.
The Bruins aren't projected to win the Pac-10, a first in five years. Cal and Washington are projected to win the league. But the Bruins are expected to be talented enough to make the NCAAs.
• Clemson's Oliver Purnell and Notre Dame's Mike Brey wanted to make sure legislators remembered cancer victims in their ongoing debate about health care reform. What neither Purnell nor Brey -- or for that matter fellow coaches Ed DeChellis of Penn State, Tubby Smith of Minnesota and John Thompson III of Georgetown, who were also on the Hill on Tuesday -- needs is to make his appearances political. All of the coaches have fans who are on both sides of the debate, but the one thing that is hard to dispute is the victims in this issue need help.
"Everybody says they're for health care reform but they disagree on how to do it,'' said Purnell. "We were there to say to get something done; get it done now. Waiting for cancer patients is not an option."
Purnell met with the South Carolina delegation, including outspoken members of Congress Sen. Jim DeMint, R-S.C., and Rep. Joe Wilson, R-S.C. Purnell was with a prostate cancer patient and another cancer victim "whose insurance was so high that she couldn't afford it and it was bankrupting her. She couldn't get insurance. We were there to tell their story."
"The easy thing is to put it off, but if you look through the lens of a cancer patient, putting it off is not an option,'' Purnell said.
Purnell said DeMint and Wilson said they were willing to talk about it and come up with something.
"They said there is agreement to a certain level, but the tough part is to bridge the level of disagreement and come up with something acceptable,'' Purnell said. "The problem is that everyone wants health care reform but they can't get an agreement. They need to get a bill that they can agree on, that would pass and that then the president would sign it.''
Brey said there were 700 volunteers working with the American Cancer Society, lobbying members of the House and Senate. He said after the coaches did a news conference, they then split up to work with various state delegations. He said they met with Department of Health and Human Services Secretary Kathleen Sebelius as well as Minnesota Democratic Sens. Al Franken and Amy Klobuchar and Sen. Bob Casey, D-Pa., at a rally that was co-sponsored by the American Cancer Society's Cancer Action Network.
"We were there in the midst of the reform debate and the craziness,'' Brey said. "We just wanted to make sure they didn't lose sight of the cancer patients and to show the progress research has made. We're not in the middle of the debate but we want to keep pushing for a cure to the disease.''
Brey said you could feel the intensity of the debate on health care while walking through the Capitol.
"It was hovering, it was right there,'' Brey said. "This is an interesting time.''
• Quick: Name the top six Big East all-time winningest coaches by victories in conference games.
The first five are easy: Syracuse's Jim Boeheim (356), Connecticut's Jim Calhoun (282), former coaches John Thompson of Georgetown (231), Lou Carnesecca of St. John's (139) and Rollie Massimino of Villanova (123).
I would have never guessed who is No. 6 on this list. Would you?
Well, it's former Villanova coach Steve Lappas (97), who coached the Wildcats for nine seasons, but hasn't coached in the league for eight seasons. But Lappas' hold on No. 6 is fading. Notre Dame's Mike Brey is next at 92. Former Seton Hall coach P.J. Carlesimo is at No. 8 with 90 wins, but he'll be eclipsed this season by Rick Pitino, who has 88 wins at Providence and Louisville, Villanova's Jay Wright (85) and Pitt's Jamie Dixon, who has 81 wins in just six seasons. Georgetown's John Thompson III has 61 wins, good for 17th on the list.
The rest of the current Big East coaches' win totals are: St. John's Norm Roberts (27), West Virginia's Bob Huggins (25), DePaul's Jerry Wainwright (21), Seton Hall's Bobby Gonzalez (19), Cincinnati's Mick Cronin (18), Marquette's Buzz Williams (13), Providence's Keno Davis (11), Rutgers' Fred Hill (8) and South Florida's Stan Heath (7).