Category archive:

Nevada Wolf Pack
October, 28, 2010
10/28/10
10:50
AM ET
The agreement to keep Fresno State and Nevada
in the WAC for two more basketball seasons
should be a benefit to the power rating of the league and any possible at-large berths that might come out of it.
Neither Fresno State nor Nevada has been a recent regular in the NCAA tournament, but the WAC couldn't afford to flounder with six members in 2011-12. The perception of being a league with one fewer member than a fledgling, non-automatic-qualifying conference like the Great West would have been damaging.
Utah State and New Mexico State, the two steadiest programs in the WAC lately and both participants in last season's NCAA tournament, couldn't afford to be left twisting in a six-team league. It would have meant finding four more games next season at a time when scheduling is as hard as it's ever been for NCAA-bound programs outside the power six conferences.
The WAC is expected to move on expansion sooner than later, even with the decision by Mountain West-bound Fresno State and Nevada to stay put for another season in exchange for a lesser exit fee.
For the WAC to make a significant step, the league must convince Montana to join for 2012-13. The WAC can land Denver and/or Seattle and has Texas-San Antonio and Texas State lined up and ready to accept a bid.
The latter two aren't going to move the meter for men's basketball. Denver has shown signs of progress under coach Joe Scott and is in a position to contend in the Sun Belt this season. If Denver was able to snag an NCAA bid, the timing could work out well for the school and the WAC, since the Denver market yearns for a college basketball winner to call its own. And in Seattle, without the NBA in town, maybe coach Cameron Dollar and the Redhawks can create a niche fan base as an alternative to Washington.
But Montana offers the most traditional college basketball program that the WAC could land out West. The pickings are slim, and the WAC won't go after a Big West school, although WAC member Hawaii could still flirt with football independence and send the rest of its sports to the Big West. So if there is another school out there that makes sense for all sports, it is Montana.
The Grizzlies first have to make a decision about moving up from the FCS to the FBS after many a successful run at the lower level of football. But the Grizz are an attraction in the state, and they have a loyal following and a history in hoops with well-regarded coaches (Jud Heathcote, Mike Montgomery, Stew Morrill, Larry Krystkowiak and now Wayne Tinkle, who led Montana to the NCAAs last March).
The Grizzlies are an annual Big Sky contender, fit in the WAC's geographic footprint and would give someone (Idaho? Utah State?) a natural rival. Montana could still play rival Montana State twice in a home-and-home, just like New Mexico and New Mexico State do even though they're in separate leagues.
Look, the WAC is in a dire situation regardless of the choices. But landing the Grizzlies would make the best of a poor situation. Adding a combination of Montana, Denver and the two Texas schools to get to an even 10 members for 2012-13 would allow the basketball league to hold water for now.
Utah State and New Mexico State -- and for that matter Hawaii, if Gib Arnold can turn the Warriors around -- desperately need programs in the league that add some value. Montana would. Denver could. Seattle is still a reach, but not out of the question because of its potential under Dollar.
If Montana chooses to stay put, the likelihood is that all four of the other candidates will join the WAC for eight members in football, 10 in men's basketball. The two Texas schools would create a bridge between members New Mexico State and Louisiana Tech. If Montana decides to join, then Seattle is likely out.
June, 25, 2010
06/25/10
11:07
AM ET
NEW YORK -- You can blame it on poor advice, workouts, injuries, the NCAA's very early early-entry withdrawal date or whatever else you might choose.
But it's hard not to think about the players who came out early and went undrafted Thursday night.
Not everyone's situation was dire, of course. There's no reason to pick on any early-entrant that went in the first round. They made a wise decision. Period.
If you want, you could point out that Elliot Williams might have gone higher next season than No. 22 or Dominique Jones could have landed at a better number than No. 25 or certainly Kentucky's Daniel Orton may have been a much higher selection next season than No. 29.
But Williams can be a fit as a solid backup guard on a likely playoff team (Portland), Jones should fit in well as a scorer off the bench in Dallas and Orton should get a shot to grow and mature with the consistently surging Magic.
But for now, let's examine the rest of the relevant early-entrants:
The Mistakes
Hassan Whiteside, Marshall (No. 33 -- Sacramento): Whiteside declared to be at least a mid-first round pick. Sure, his coach Donnie Jones split for Central Florida, but had he played for Tom Herrion next season I'd be shocked if he wasn't a lottery pick in 2011. Instead, this raw 6-foot-11, 227-pound center went No. 33 to Sacramento, where he might not make the squad after the Kings selected DeMarcus Cousins of Kentucky at No. 5 and earlier in the week made a deal to acquire veteran center Samuel Dalembert from the Sixers.
[+] Enlarge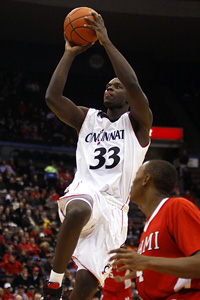 AP Photo/Tony TribbleThe much-hyped Lance "Born Ready" Stephenson was drafted 40th overall on Thursday.
Lance Stephenson, Cincinnati (No. 40 -- Indiana): The Pacers do need guards and maybe Stephenson can flourish with Indiana if he makes the squad. But there's no way, with all the hype he had coming out of New York, that he projected himself to be a middle second-round pick. Stephenson had a real shot next season with the Bearcats to be an all-Big East player. He would have refined his game and been able to mature even more. Now he'll have to scratch out a career the hard way.
Gani Lawal, Georgia Tech (No. 46 -- Phoenix): This is actually one of those cases where the player may have been better served leaving early last year. He was a borderline first-round pick a year ago. He's more mature and maybe more ready to handle the NBA now, but the middle of the second round has to be a major disappointment. His best hope is that free agent Amare Stoudemire hits the road and frees up a little room at power forward.
Solomon Alabi, Florida State (No. 50 -- Dallas to Toronto): I was stunned Alabi slipped this far. I'm sure he and his representation were too, considering he was bandied about as a first-round pick from 19 on down. Alabi could have been the dominant shot-blocking center next season in college, much like Mississippi State's Jarvis Varnado. Alabi had to work on his offensive game and would have been featured even more by Florida State. Instead, he now has to make the Raptors. Not an easy road.
Derrick Caracter, UTEP (No. 58 -- Los Angeles Lakers): Caracter had a complete transformation with his body, mind and attitude for Tony Barbee last season after a dysfunctional career at Louisville. He was a real player. Had he stayed to play for new coach Tim Floyd next season, I'd be stunned if he didn't improve his overall game and become at least a first-round pick. Instead, he chose to bolt and now he'll have a difficult time making a squad and may be forced to go overseas.
The Good Fits
Terrico White, Ole Miss (No. 36 -- Detroit): White was convinced he was a first-round pick and he nearly went to Atlanta at No. 24. Washington would have had interest had it kept its pick at No. 30. But going to the Pistons could be a good move for White. He should fit in quite well under the Joe Dumars plan and Dumars might see some of himself in White if he can become a better defender and a true pro. White has the stocky build to deal with the physical style of the NBA. He's a tremendous athlete too and could flourish on the break.
Devin Ebanks, West Virginia (No. 43 -- Los Angeles Lakers): Ebanks was a projected first-round selection when he came out of high school. He could have tantalized some NBA personnel a year ago after his freshman season. But there were questions during his sophomore season after an early, unexplained three-game absence and an offensive game that faded at times. His defensive game-changing ability made him an integral part of West Virginia's Final Four appearance. He was considered a first-round talent, but he slipped a bit. He was fortunate he landed with the Lakers. If he makes the squad, he could be a Trevor Ariza-like find for L.A. His defense would be much welcomed by the champions and he has a real shot to make this squad. Going to the best team in the league isn't a bad spot to land, even in the second round.
Hard To Know
Armon Johnson, Nevada (No. 34 -- Portland): Johnson was a relative unknown nationally. He wasn't a lock to be in the first round had he stayed around Reno, so going this high in the second was probably better than expected. But it's unclear if he can make the Blazers, so the location might not work out well.
Darington Hobson, New Mexico (No. 37 -- Milwaukee): Hobson had a stellar season for the Lobos. Had he returned he might not have been any higher than where he went this season. The Bucks probably can't keep all of their picks, so he'll have to work hard to make the squad.
Tiny Gallon, Oklahoma (No. 47 -- Milwaukee): Gallon was one of the more polite players I met during the NBA draft combine in Chicago last month. He is clearly trying to make this work. It didn't work out at OU. If he can stick with the Bucks as a second-round pick, that's better than most expected when he left after only one season.
The Enigma
Willie Warren, Oklahoma (No. 54 -- Los Angeles Clippers): Warren could be a steal for the Clippers. If he makes the team, he'll be joining former teammate Blake Griffin, who will play his rookie season next year after being hurt all of last season. But that's a big if. Warren was a preseason all-American and the preseason Sporting News player of the year. Instead, he battled injuries and illnesses throughout the season, was questioned about his poor body language and clearly wanted out of OU. His drop from headline name to afterthought is almost unheard of within one year in the basketball world. He was humbled by his play and the Sooners' swoon last season. Now he's been pushed further down by being selected at No. 54. How he reacts to his latest setback will tell us quite a bit about his desire and character going forward.
The Forgotten
Armon Bassett, Ohio: He had a memorable run in the MAC tournament and contributed to the Bobcats' stunning win over Georgetown in the first round of the NCAA tournament. He wasn't going to go back to Ohio. He didn't get selected, so it's likely off to Europe unless he can land on a summer-league team and make his way.
Charles Garcia, Seattle: Garcia was a hit early for NBA scouts. He drew their attention with his productivity on the glass. But he wasn't able to crack the second round and will have to see if he can make a squad.
[+] Enlarge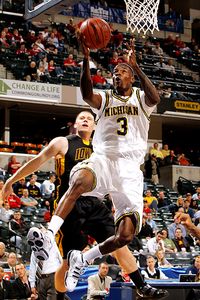 Jonathan Daniel/Getty ImagesManny Harris was one of the more notable college players left on the sidelines at the NBA draft.
Manny Harris, Michigan: Harris must not have enjoyed playing for the Wolverines much last season or got horrible advice. Or both. Harris had a chance to be a all-Big Ten first-teamer and a candidate for conference player of the year had he stayed in school. He did not and he didn't get drafted.
Courtney Fortson, Arkansas: Fortson had been suspended at Arkansas during his career. Had he been able to stay with the Hogs, he would have been one of the top point guards in the SEC. Alas, he could not. Fortson will have to find his own way and try to earn money around the globe.
Mac Koshwal, DePaul: Koshwal could have returned to play for Oliver Purnell and make some headlines in the Big East. Instead, he goes unselected. Not a good tradeoff.
Sylven Landesberg, Virginia: Landesberg couldn't have come back to the Cavs after being suspended at the end of the season. He had to make his way through the draft. It didn't happen and now he'll likely have to earn coin overseas.
Tommy Mason-Griffin, Oklahoma: There is no explanation for this decision unless he simply had no choice. He wasn't going to get drafted. He did not.
Elijah Millsap, UAB: The legacy of his family name in the NBA didn't do much for him. Had he returned to play for Mike Davis, he would have had a shot to increase his profile. Now he'll have to forge a difficult path.
A.J. Ogilvy, Vanderbilt: This one is a real shame for Kevin Stallings and his Vandy players. The Commodores would have had a real shot to compete for a top-two spot in the SEC East with the return of Ogilvy. Without him, they will likely be fending off Georgia for fourth. The Australian has a real shot to earn significant dollars overseas, but going unselected was hardly the projection he probably had for himself.
Samardo Samuels, Louisville: There was a buzz about Samuels' excellent work ethic late in the draft process. That might be enough to carry him onto a summer-league team and get a real shot to make a fall camp roster. But there's no way he thought that was his path when he decided to leave the Cardinals. Had he stayed he would have been one of the top big men in the Big East. He would have had free promotion from network television. Instead, he will have to make a team in an obscure manner.
January, 26, 2010
01/26/10
2:25
PM ET
Siena is in the midst of a three-game road swing and is currently without its best player,
Edwin Ubiles
, who is out with a shoulder injury.
If the Saints, who are cruising in the MAAC with a 10-0 record, can survive this stretch -- let alone another five-game string against upstart Iona and Fairfield at home and Niagara, Canisius and Rider on the road -- still unbeaten in the league, then the BracketBusters opponent on either Feb. 19 or 20 will be even more important to the Saints' NCAA at-large hopes.
It's essentially Butler or bust.
If the Saints can win this week (at St. Peter's Thursday and at Marist on Saturday), there's a very good chance the Saints will be Butler's opponent in the highest-profile BracketBusters game. Matchups will be made this weekend so teams have a few weeks to deal with travel and scouting.
The concept has done wonders for some and been irrelevant for others, but one thing is certain: Teams that have an outside shot at an NCAA tourney at-large or are looking for a seed boost once they qualify as an automatic can't go wrong with another quality nonconference game in late February.
Some teams won't get that chance. The West Coast Conference isn't participating in the event and there are some omissions from other conferences like the Summit (only Oral Roberts and not Oakland), the America East (no Maine), the Big Sky (served up only Montana State and not Northern Colorado or Weber State).
There are 98 teams involved in 49 games during BracketBusters. The 11 games that will air on the ESPN family of networks are determined first and then the conference commissioners will pair up the remaining 76 teams.
Home and road teams are already set for the event, so it's a bit difficult to maneuver who can go where. But the most important aspect of matching teams should be done based on who has a shot to be in the field. Not all of the 22 set teams are in that group. Actually, maybe only six could have an outside shot at an at-large.
[+] Enlarge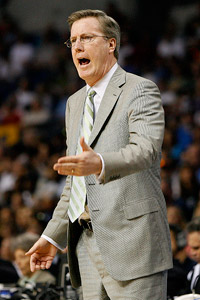 AP Photo/Mike CarlsonFran McCaffery is hoping BracketBusters provides a way to boost his team's NCAA at-large chances.
Siena is one of them.
"It's going to mean something and I would say if we could have a phenomenal league record and beat Butler and then not lose until the finals of the [MAAC] then we'd have a shot," said Siena coach Fran McCaffery. "We'll be right there in that discussion, but we don't want to get ahead of ourselves and assume the next five or six games."
McCaffery would actually be in favor of holding off on announcing the BracketBusters matchups until a few more weeks. But nevertheless, he still wants that Butler game. From a storyline perspective, it makes sense. Those are two of the better-known programs in the field and each has had some NCAA tournament success (Siena has won its last two first-round games).
"We're hoping we can put ourselves in position to get an at-large bid," McCaffery said. The problem for the Saints will be the six games prior to a possible showdown with Butler at Hinkle Fieldhouse in Indianapolis.
Ubiles didn't play against Manhattan on Jan. 18, played 33 minutes in a win over Loyola (Md.) on Jan. 21, but then missed the road game at Manhattan on Sunday. Meanwhile, guard Kyle Downey, who scored 16 points in Ubiles' absence in the first Manhattan game, broke his foot and is now out, possibly for the season.
"We're short-handed for this tough stretch, but I know we have to keep winning," said McCaffery.
Siena did beat Northeastern early in the season for what might turn out to be a solid win. It was a game McCaffery said was scheduled because "nobody wanted to play us and nobody wanted to play them and we're two hours away." But losses to Temple, St. John's, Georgia Tech and Northern Iowa were the supposed "up" games that the Saints failed to win.
Meanwhile, Butler has been rolling in the Horizon at 9-0 with a 16-4 record overall. That mark includes a win at Northwestern and home victories against Ohio State (without Evan Turner) and Xavier. Playing Clemson on a neutral court and UAB on the road (both losses) will help the power rating.
A year ago, Butler coach Brad Stevens said beating Davidson on the road was a key win for helping the Bulldogs get an at-large bid after losing to eventual champ Cleveland State in the conference tournament.
"We were coming off two losses that week before the Davidson game," Stevens said. "And you don't want to be on a losing streak at that time of the year. Doubt starts to creep in. That was a good win that got us going in the right direction."
Stevens knows the Bulldogs will get a quality BracketBusters opponent as the premier home team. There was a time when the staff was anticipating Wichita State as a possible opponent, but two losses last week for the Shockers have led to a belief that it could be Siena. Louisiana Tech, which tops the WAC, is also a possibility, but the name value of a Siena-Butler matchup may have more cachet.
The Bulldogs are handling their business in the Horizon as they become the top draw in every opposing building. That won't change as the Bulldogs go to Green Bay on Friday (ESPNU, 9 ET) and then to Milwaukee, two places the Bulldogs lost last season.
With Matt Howard staying out of foul trouble in the league after being in it throughout the nonconference, the Bulldogs are getting more of a complete effort. Gordon Hayward has been a Horizon MVP and barring a complete collapse, the Bulldogs are in good shape as far as the NCAA tournament is concerned.
Joining Butler as a BracketBusters home squad is Northern Iowa (8-1, 17-2), which leads the Missouri Valley. But Siena has already played Northern Iowa (the Panthers won 82-65) and that's why it makes more sense to send Siena to Butler and Louisiana Tech to Northern Iowa. The latter matchup may not seem headline-worthy to the mainstream fan, but these are the leaders in the WAC and MVC and both teams are talented enough to win a first-round NCAA tournament game.
If you were to pit Siena-Butler and Louisiana Tech-Northern Iowa, you'd likely have four teams that are going to be in the field of 65 matching up a few weeks before Selection Sunday.
The other hot teams are in the Colonial, but they obviously can't go up against each other. Northeastern, Old Dominion, George Mason and William & Mary all could be in play for the CAA's automatic bid with the Tribe the most likely at-large candidate because of nonconference wins over Wake Forest and Maryland on the road and Richmond at home.
That's why the question of who will play at GMU and Northeastern and where ODU and William & Mary will play during BracketBusters will be a fluid process this week.
I'd like to see the following: Wichita State at Northeastern as two of the top teams in the MVC and CAA; William & Mary hitting the road to play the best team in the Ohio Valley (Murray State); ODU traveling to Green Bay, pitting one of the top teams in the CAA against the second-best in the Horizon; and Charleston, which took out North Carolina, makes sense at George Mason in a matchup of two of the best from the Southern and CAA.
"We need a good game," said Northeastern coach Bill Coen, whose Huskies have won 11 games in a row, the third-longest streak in the country. "We've used all our mulligans and probably need to stay perfect the rest of the way to get an at-large berth. But in the spirit of the BracketBusters, we'd like to play our way into the conversation."
Northeastern failed to win games in the nonconference against potential NCAA teams Siena, Rhode Island and Saint Mary's before a humbling loss to Western Michigan in Honolulu on Dec. 23 -- its last loss -- set the team straight.
"It was good for us to be on the road because we had to take a hard look at ourselves," Coen said. "It was like a foreign tour. We were together all the time and had to go eat together breakfast, lunch and dinner and figure it out."
What happened was Northeastern got back to defending and Chaisson Allen started to play the point like Coen expected, teaming up with potential CAA Player of the Year Matt Janning.
Now Coen says the Huskies are cheering for a BracketBusters game "that will help us the most."
They're not alone.