Category archive:

Texas A&M Aggies
May, 31, 2012
05/31/12
9:15
AM ET
Billy Kennedy sounded great on the phone Wednesday from the SEC meetings in Florida.
His voice had energy and was clear.
[+] Enlarge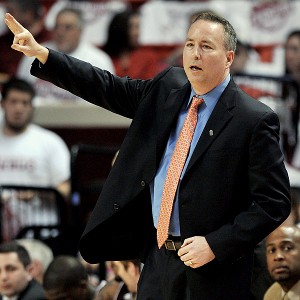 Mark D. Smith/US PresswireAs the Aggies prepare for life in the SEC, Texas A&M coach Billy Kennedy wants them to be more physical in their new league.
Kennedy attended his first SEC meeting as Texas A&M joined Missouri for their inaugural meeting in advance of officially joining the conference next season.
He said he's feeling much better. And it's obvious. Six months ago, he was slammed with a double diagnosis: the early stages of Parkinson's and exhaustion.
Kennedy took a leave from coaching in October/early November before returning to the sideline on Nov. 13.
The Aggies were riddled with injuries in his first season and finished a disappointing 4-14 in their final Big 12 season and 14-18 overall.
Khris Middleton declared for the NBA draft, and the Aggies will be rebuilding in Year 2.
Kennedy's job in the offseason is to prep rebuilding Texas A&M so it can create an identity in the new 14-team SEC.
And his plan is for the Aggies to be more physical. "We can be a physically imposing team defensively, like my teams at Murray State,'' said Kennedy. "I think we can do that. I want us to be physical like a football team.''
Missouri is ready to be a top-half SEC team with the addition of elite transfers and a solid returning core. Frank Haith's squad is loaded, regardless of league affiliation.
The Aggies can't be irrelevant early.
Kennedy isn't making promises. He said most of the perimeter players are new. So if the newcomers come through, the Aggies can be a pest in the SEC. They have five newcomers and four of the five play on the perimeter. The onus will be on rising senior Elston Turner, who is the top returning scorer. "We'll have new players and we'll have a transition, and we're in a new league,'' Kennedy said. "But we've got to get better right now. Hopefully, it equates to more wins.''
The Aggies are being paired with LSU as a traditional rival. And Kennedy said he anticipates a growing rivalry as the two schools are locked in to play each other twice every season. "There is a rivalry in football, and I think there can be one in basketball,'' Kennedy said.
Kennedy said he loved the atmosphere at the SEC meetings in Destin and called the league first class. "All the coaches get along well and they want to improve what is going on in basketball,'' said Kennedy.
But most importantly for Kennedy is that he is hitting the offseason feeling a 100 times better than he did when the season started.
He has a life-altering condition, but he at least can understand how to manage it going forward. "I'm the only one [who] would know if something is wrong, and I haven't had any issues,'' Kennedy said. "I'm working out every day. I know what to do. I'm doing exercises that are helping, and I'm doing well now.''
February, 14, 2012
02/14/12
3:38
PM ET
The Big 12 essentially traded Missouri for West Virginia and Texas A&M for TCU for the 2012-13 season, and no one associated with Big 12 basketball seems to be fretting one bit.
Missouri should be able to find its way toward the top five in the SEC, while Texas A&M will have to slog through a muddled middle of the conference.
The absence of a Missouri-Kansas and Texas-Texas A&M rivalry will hurt the Big 12. No one will debate that fact since those four games are always well-attended and hotly contested, and usually mean something in the standings.
And while Mizzou and A&M plan to continue the rivalry, Kansas and Texas have said no.
So, ultimately nobody in the Big 12 appears to be whining over the departures. The 10-team Big 12 can go forward without a hitch in its new round-robin schedule and its equitable conference tournament.
[+] Enlarge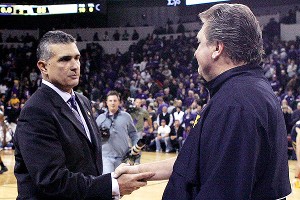 Scott Sewell/US PresswireFrank Martin is happy to welcome old boss Bob Huggins and WVU into the Big 12.
West Virginia's location in Morgantown is just another college campus that isn't easily accessible by a major airport, so that's nothing new for the Big 12. Try getting to other league schools in Columbia, Ames, Lubbock, Stillwater or Manhattan. TCU, in the Dallas/Fort Worth area, is actually easier to get to by air or car than Texas A&M is in College Station.
TCU has plenty to do to be highly competitive in the Big 12. But West Virginia will step in immediately and provide a highly competitive team that will be a tough out in Morgantown and on the road.
The Mountaineers have a top transfer sitting out this season, former La Salle big man Aaric Murray, and ex-Dayton guard Juwan Staten isn't too shabby, either.
No one seems to care about the Mountaineers' roster as long as Bob Huggins is the coach. He was universally applauded by his new Big 12 colleagues Tuesday.
"He's one of the most respected coaches in the country," Iowa State's Fred Hoiberg said. "They instantly will make our league tougher. We're getting an outstanding program, one with great tradition. West Virginia has been an NCAA tournament team in six of the last seven years."
Kansas coach Bill Self said that West Virginia adds tremendous value, and with TCU the Big 12 schools can recruit in the Metroplex area even more.
"It all adds stability to an already great league," said Self.
Kansas State's Frank Martin said the addition of West Virginia ensures that the Big 12 will be even stronger going forward.
"We're adding a Final Four team, and a Hall of Fame coach," Martin said.
Martin's praise is understandable. He's one of Huggins' closest friends, having worked for him at Cincinnati and heading to Kansas State with him for one season before Huggins went to his alma mater at West Virginia. Martin then replaced him at Kansas State.
"I have tremendous respect for that league," Huggins said Tuesday. "We're going from one great league to another."
Huggins said the travel won't be an issue for West Virginia.
"We've got a lot further to go than everybody else, but we'll just charter in and out," Huggins said. "I tell you what impressed me [in the Big 12] is the student turnout is terrific. When the students are in there, there is such enthusiasm."
Huggins is right. The Big East's college campus arenas don't come close to the Big 12's arenas. The Big 12 blows the Big East away, save a few places like Louisville and Pitt.
Huggins said the Mountaineers will be in the mix immediately in the Big 12 with the transfer additions, even with the departure of senior Kevin Jones.
West Virginia is still scheduled to play Kansas State in a return game, but Huggins said he'll let Martin out of the game unless he wants to come to the state twice in the same season.
West Virginia athletic director Oliver Luck said on a conference call Tuesday that the Backyard Brawl in football between Pitt and West Virginia won't be played in 2012. If that's the case, then don't expect it to be played in men's basketball as the Mountaineers will have an 18-game Big 12 schedule and will need to adjust their nonconference slate. Pitt will still play an 18-game Big East schedule in 2012-13. The Big East was noncommittal about the changes to the Big East schedule with a 15-team league for one regular season and conference tournament. Pitt and Syracuse could still depart for the ACC a year earlier than projected, but not for 2012-13.
The ACC got better with those additions. Those moves weren't done for survival, though. The Big 12 had to replace Mizzou for 2012-13 or face a nine-team league that would have been down a notch. West Virginia allows the Big 12 to avoid a major hiccup. The league should still have one of the most competitive conferences with multiple bids in 2013, too.
November, 25, 2011
11/25/11
1:19
PM ET
The past three weeks have been quite a whirlwind.
I've seen 20 teams in a number of venues on both coasts.
So after a thankful day to be with my family -- and a big thanks to all my tremendous colleagues who grind every day on our editorial operation on ESPN.com and on both sides of the camera on ESPN -- here's a look at what I've picked up on after two weeks on the road. And remember, this only includes games I've seen in person.
[+] Enlarge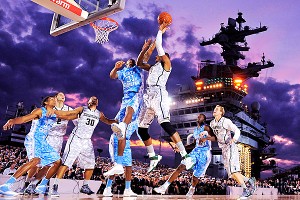 AP Photo/Mark J. TerrillIt doesn't get much more scenic than what we witnessed at the Carrier Classic.
Best venue: It was natural to be skeptical about whether or not the Carrier Classic could be pulled off. But it far exceeded my expectations. The Navy did what it does best -- tremendous organization. The enormity of the USS Carl Vinson was awe-inspiring. The men and women who serve on the ship, as well as the ship's leadership, couldn't have been more welcoming. They were so grateful to have a chance to show what they do on a daily basis. The two teams -- North Carolina and Michigan State -- were model guests and displayed tremendous appreciation. The pageantry of the event, from the patriotic opening to the scenic view of downtown San Diego, will be hard to ever duplicate due to the uniqueness of 11-11-11 and the inaugural nature of the game. And the outdoor game may have seemed like a gimmick, but it was well-played in spurts for being the season opener for both teams.
Best team: North Carolina. The Tar Heels have lived up to the hype as the No. 1 team in the country. They have flaws, especially their perimeter depth. But the overall length of the frontcourt, the ability to get out on the break and the potential to hit scoring spurts and run out on teams is impressive. The Heels have three players -- Harrison Barnes, Tyler Zeller and Kendall Marshall -- who will compete for the ACC POY and two others -- John Henson and James Michael McAdoo -- who will be tough to defend.
Signature moment: When Duke coach Mike Krzyzewski won game No. 903 against Michigan State, passed his mentor Bob Knight and became the all-time winningest men's coach in NCAA history. The impromptu embrace by Coach K and Knight was met by a swarm of photographers and a rare teary eye from Coach K. The moment was genuine, real and showed the true emotion of such an arduous task of grinding out wins in this sport for three-plus decades.
Most impressive half: Kentucky's complete domination of Penn State in the first half at the Mohegan Sun Arena. The Wildcats made it look like it was a guarantee game with an opponent from a weak Division II conference. To Penn State's credit, the Nittany Lions did respond the next day and beat South Florida. But Kentucky showed on this day that it had more offensive versatility with the emergence of Doron Lamb and Kyle Wiltjer.
Most dominating performance: Jared Cunningham, Oregon State. Cunningham went off for 37 points in an overtime win over Texas in the Legends Classic. Cunningham was a highlight reel a year ago but has settled down, working on his game and finding ways to score in a variety of ways. Hofstra coach Mo Cassara said he was the best guard they've gone against in quite some time after Cunningham lit up the Pride for 35 in Corvallis prior to the Texas game. Cunningham is a legit Pac-12 Player of the Year candidate.
Best sub: Syracuse's Dion Waiters. Waiters jump-started the Orange with 11 points off the bench in the comeback win over Virginia Tech in the NIT Season Tip-Off semifinal. Waiters is a game-changer when he's on the floor. He gives Syracuse a different look because of his ability to get into the lane quicker than Scoop Jardine. He's not as refined as Jardine and can be hit or miss, but when he's on he gives the Orange a different look.
[+] Enlarge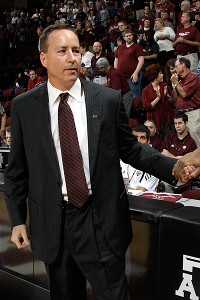 AP Photo/David J. PhillipTexas A&M's Billy Kennedy was diagnosed with Parkinson's disease before the start of the season.
Most courageous: Texas A&M coach Billy Kennedy and St. John's coach Steve Lavin. Kennedy is trying to come back from a series of health setbacks, most notably being diagnosed with Parkinson's disease. He went through incredible fatigue over a five-week stretch that weakened him and it doesn't help that he has bone spurs in his shoulder. The first-year A&M coach is beat up, but is making a comeback one step at a time. He's an inspiration and a model of perseverance.
Lavin, meanwhile, is returning from prostate cancer surgery that was more extensive than most. He had a seven-hour procedure to take out his prostate and also scrape other lymph nodes to ensure that the cancer was all gone. He said he is cancer-free, but is still working his way back from the exhausting surgery. Lavin has to manage his energy and that's why he was able to coach in the Garden for two days in a row but then needed to take a day off from the rigors of coaching earlier this week.
Biggest surprise: Stanford's blowout win over Oklahoma State. The Cowboys were obviously a bit distracted on Wednesday. Oklahoma State coach Travis Ford, who has been crushed by the horrific plane crash that cost the lives of women's coaches Kurt Budke and Miranda Serna, said there were no excuses. And there is this: Stanford was that good. Josh Owens scored 21 points and is, like Cunningham, a Pac-12 POY candidate. I'm not sure Stanford can continue this early-season success, but the Cardinal certainly have the look of an upper-division Pac-12 team.
Two to single out: Over the past three weeks, I took notice of two players who continue to exhibit maturity and professionalism in the way they handle themselves with the media and the respect they have for those older than them. Texas freshman Myck Kabongo has a tremendous presence about him. So too does Michigan State senior Draymond Green. You sense that both of these young men will be stars in whatever they choose to do going forward.
Player only scratching the surface: Kentucky's Anthony Davis will be a star by season's end with his ability to control the paint. He is such an immense talent with his length and game-changing shot-blocking. His offense will only continue to diversify.
Most important wins: Vanderbilt beating NC State and Oregon State in the closing moments. The Commodores found ways to win the Legends Classic with key defensive stops and timely shooting at the IZOD Center. The Wolfpack and Beavers are vastly improved from a year ago, but the Dores had to win these games to shed the sour taste of getting beat up by Cleveland State at home. Vandy will get big man Festus Ezeli back in a few weeks. So these wins were critical for this team's confidence.
Two teams to watch: Oregon State still has to win the games it should over the next month -- all against teams outside the power-six conferences and perhaps none against teams bound for the NCAA tournament. But the talent is in place with this team to make some noise in the Pac-12. The emergence of Ahmad Starks as a push-it point guard, the length of Eric Moreland and Devon Collier, the soft hands of Joe Burton inside and the scoring of Cunningham make this team a good watch.
NC State had talent when Mark Gottfried arrived and it has only gotten better. C.J. Leslie is a potential big-time scorer. Scott Wood can make shots. C.J. Williams and Alex Johnson are solid role players. DeShawn Painter is a rugged face-up and inside post player and the potential exists for Thomas de Thaey and Jordan Vandenberg to cause problems when they body people up in the lane. The ACC is weak beyond the top three, opening up a spot for the Wolfpack.
The great enigma: Mississippi State. After dropping a home game to Akron, the Bulldogs won the 2K Sports Classic benefiting Coaches vs. Cancer with wins over Texas A&M and Arizona. Arnett Moultrie and Renardo Sidney provide one of the tougher matchups of any big man combo. Dee Bost is a veteran point guard who knows how to run a team. But the two players who may hold the key to this team are Deville Smith and Rodney Hood, a pair of freshman guards who can change the game with their speed and shooting when inserted.
Incomplete read: Drexel. The Dragons were without two of their top three guards in Chris Fouch and Tavon Allen. Yet Drexel pulled away from Rider in impressive fashion during the Tip-Off Marathon. The CAA favorite has a tough inside, undersized player in Samme Givens and a grinding guard who can get points in Frantz Massenat. But then the Dragons fell flat in the Virgin Islands and lost to Norfolk State and scored 35 points against Virginia. Let's see how Drexel does once it's healthy before giving a full review.
Best coaching jobs: Kansas' Bill Self and Virginia Tech's Seth Greenberg. Neither team won when I saw them but they were going up against top-five squads in Kentucky and Syracuse. Self and Greenberg are maximizing the talent on their teams. They do have studs in Thomas Robinson (Kansas) and Dorenzo Hudson (Virginia Tech), but they get their teams to play as hard as they coach. Kansas' play in Maui deserves high praise and the Jayhawks will once again be in contention to win the Big 12. The Hokies will find a way to be on the bubble again. Neither team is as stocked as it has been in the past, but these two coaches will get these teams to reach their potential.
Best teams: Nothing I saw changed my opinion that North Carolina, Kentucky, Duke and Syracuse are all legitimate Final Four contenders. I have yet to see Ohio State, but put the Buckeyes in that group, as well.
Best game I missed: Well, that one is easy. The Kansas-Duke championship game at the Maui Invitational will go down as one of the best 40 minutes of the regular season. What a show that was.
November, 1, 2011
11/01/11
9:12
AM ET
Mike Sutton has reached out to Texas A&M through a third party to let Billy Kennedy know he can call on his former Ohio Valley Conference rival now that his world has been rocked to the core by a life-altering diagnosis.
Sutton nearly died from his freak affliction of Guillain-Barre Syndrome in April 2005, when he was put on a ventilator and paralyzed at one point. He stared at a road to recovery that seemed insurmountable but manages to endure, even months after he retired from Tennessee Tech last spring.
Kennedy, just about to start his first season in a dream job situation with the Aggies, was diagnosed recently in the early stages of Parkinson's disease, a debilitating illness that can take years to envelop someone but still have an early effect that is hard to measure.
Kennedy is on leave as he figures out his treatment plan. His top assistant, associate head coach Glynn Cyprien, is taking over the program until Kennedy returns.
[+] Enlarge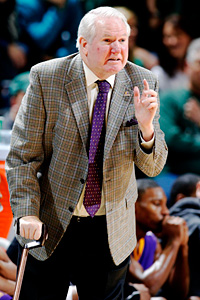 AP Photo/Al GoldisFormer Tennessee Tech head coach Mike Sutton is one of the few in the profession who know what Texas A&M's Billy Kennedy is going through.
Few coaches can honestly say they know what Kennedy must be going through as he tries to deal with the diagnosis while also hoping to steer a possible Big 12 title team toward its goal. "He's gone through the stage of figuring out what it was," Sutton said. "When you first hear about it, you're terrified."
When Sutton came out of the life-threatening part of his illness, he couldn't communicate. For him, Step 1 was being able to talk so that he could ultimately coach his coaches to coach the team.
"Because I wasn't strong enough to coach my players," Sutton said. "I didn't know if I could coach when I got back. I wanted to reach out to my assistants, but I didn't want to pry. I'm not an expert on Parkinson's, but for me, stress didn't affect me once I was back coaching. The stress of the game didn't bother me. Personal stress bothered me."
Sutton said part of the reason he retired in the spring was the health of his granddaughter. Libby Kern is 2 years old and is battling cancer after a mass was discovered behind one of her eyes. Sutton said she's in the fourth week of 10 in chemotherapy treatments.
"She can't see out of one eye," Sutton said. "There's a lot of crying going on with all of us. That's stress. The physical effects of coaching didn't bother me. Billy is 47. I was 49 when I got sick. [Tennessee women's basketball coach] Pat Summitt [who's dealing with early-onset Alzheimer's] has challenges. Those may be more similar to Bill's than mine. I couldn't ambulate. I was in a wheelchair and then a walker. I'm back in therapy now still working on PT, muscular and neurological."
Sutton's top assistant, Steve Payne, held a position similar to Cyprien at Texas A&M. Payne was extremely close with Sutton, much like Cyprien is with Kennedy. And when Sutton was ill, Payne had to hold the program together. Tennessee Tech had a veteran team, much like the Aggies.
The difference, though, is Sutton's staff had been there for three years. The Aggies' just arrived this past spring.
"It's tough watching a friend, someone you love, going through this," Payne said. "I'm sure it's the same with Billy. Billy is a tough guy, and you couldn't ask for a higher quality person than Billy Kennedy. It did make it easier for us that we had a veteran team. Cyp will do a great job. Whether it was Mike's voice or my voice, hopefully it's the same message."
Cyprien said at Big 12 media day in Kansas City less than two weeks ago that the Aggies still needed to put in their style of play, which is a bit different than what occurred under former coach Mark Turgeon. A&M was a Big 12 co-favorite with Kansas, even though Baylor may be the most talented team in the league. Kennedy, who has been out of the public's eye since his diagnosis, did go on the team's summer trip to Europe.
"Billy got to go on that trip, and that will help," Sutton said of the Aggies' dealing with his absence. "He got to know his team. They got to understand the newness of the offensive system. Billy was always supportive of me in the OVC. He sent me a book one time. Health issues will come first with Billy. But it's all unsettling. I want him to know I'm available if he needs me."
Last week, just before Texas A&M announced Kennedy's diagnosis with a statement from him, Kennedy called his former assistant and successor at Murray State, Steve Prohm.
"It was the best he sounded in a long time," Prohm said. Kennedy had said in previous statements before knowing his condition that he'd had trouble sleeping because of shoulder pain. "I never thought anything was wrong before. And that's the toughest thing for me. I worked with him for so long. I know the path he's been on, the long journey he has taken to get where he's at. Now he's coaching at Texas A&M. I want him to get back out there."
Kennedy didn't go through a traditional path. He coached at Southeastern Louisiana twice, New Orleans, Wyoming, Northwestern State, Tulane, Texas A&M, Creighton, Cal, Centenary, Miami and then Murray State. Texas A&M was a dream situation for him when Turgeon left to replace the retiring Gary Williams at Maryland. The Aggies' subsequent move to the SEC worked out better because the Metairie, La., native prefers recruiting in the Southeast.
"This was one of his dream opportunities," Prohm said. "He's a working man, a blue-collar man. He didn't get there quickly. He's not a flash in the pan. He's been doing a lot of good things along the way. I'm where I'm at today because of him. We did some good things together, and he was instrumental in helping me get this job and the promotion here."
The frustration for Prohm, much like the feelings Payne had for Sutton, is helplessness. "I just have to pray from a distance," Prohm said. "Billy's faith is remarkable. That's what I admire most about him. He didn't want to leave Murray for any job. He was going to continue to win here [and] win championships. And unless it was an ideal situation, he wasn't going to go."
No one at Texas A&M can give a date for Kennedy to return. Cyprien, who was an assistant at Oklahoma State, Kentucky and Memphis, is well-versed in the Southeast and in Texas. This team is ready-made for any staff to be successful. The hardest part now is ensuring that Kennedy can focus on getting healthy and finding a routine to his treatment, knowing that the program is in good hands.
"Cyp will do a good job," Sutton said. "But that still doesn't make it easy. What [Kennedy will] need is to be back with his guys. That will be so important for him."
October, 21, 2011
10/21/11
8:22
AM ET
KANSAS CITY, Mo. -- In 2011-12, the Big 12 will be the only power-six conference playing a true round-robin schedule to determine a regular-season champ.
And if the decision were up to the men's basketball coaches (although it never is), they would rather see the balanced schedule continue, regardless of what Missouri decides to do with its conference affiliation.
The Big 12 has 10 remaining schools this season after losing Nebraska (Big Ten) and Colorado (Pac-12). So the conference finally was able to scrap the unbalanced schedule that was based on a north-south football split that saw Texas and Kansas playing only once every season. The need to have those two teams play twice was so real that Texas coach Rick Barnes said he looked into playing a nonconference game against the Jayhawks at one point.
Texas A&M is off to the SEC in 2012, but the Big 12 has already replaced the Aggies with TCU for next season. If Missouri were to leave at some point for the SEC, it would leave the Big 12 with nine schools. That's where Kansas coach Bill Self would stop, if it were up to him.
[+] Enlarge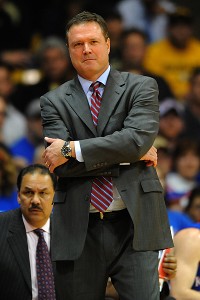 Ron Chenoy/US PresswireBill Self has certainly had plenty of opinions on the realignment occurring in college sports.
"I want nine, that's what I want, to choose to stay at nine," Self said. "That way we would have 16 league games and a round-robin instead of 18. If we don't do nine, then I'd rather do 12 for 16 games."
Multiple Big 12 sources said Mizzou is leaning toward a departure to the SEC, but there is still a chance that the Missouri board of curators could decide to stay in the Big 12 with the new revenue sharing and grant of rights for Tier I and Tier II television games.
If the Tigers leave, then the Big 12 has to decide if it wants to go to 10 (Self's wish of nine is highly unlikely) or bump up to 12. The choices for either are centered on West Virginia, Louisville and Cincinnati from the Big East and BYU, which is an independent in football and in the WCC for everything else.
"I'd like to stay at 10 for a bit and see what happens with it," Barnes said. "I'd love to see us at 10. I love the round robin. When I was in the ACC and Big East, we were at nine teams. As long as we keep Kansas, we're going to have a good league."
Barnes said that as Self walked by to give him a ribbing. But Barnes did say playing 16 games allows the Big 12 schools to play a "great non-league schedule."
Oklahoma State coach Travis Ford wants to see the Big 12 pull an ACC and be proactive, going after elite basketball schools the way the ACC did with Pitt and Syracuse.
"I have so many mixed emotions here, but I'd love for Louisville, West Virginia and Cincinnati to come in for basketball and make us a 12-team league," Ford said. "But if we went 12 and went divisions, I wouldn't be a fan of that. I do like 10. I like that the schedule is fair. And I think it will be exciting for fans to see all the teams come through the gym. We'll have a true champion. A guy like me from Kentucky, I'd love to see Louisville. Boy, what a great basketball league you'd have. But we're in a good position now."
Oklahoma coach Lon Kruger is coming off a true round-robin schedule in the Mountain West while at UNLV. He doesn't want to see a change.
"It's a true champion," Kruger said. "It's good for the fans too. It's the best way to determine a championship."
Iowa State coach Fred Hoiberg agreed with that assessment. So, too, did Baylor's Scott Drew, Kansas State's Frank Martin and Texas Tech's Billy Gillispie.
The Pac-10 used to have a true champion, the ultimate grind of home-and-home with every school. But then the additions of Utah and Colorado meant there would be unbalanced scheduling. A true champ isn't a foreign concept and happens in various conferences in Division I. The Missouri Valley comes to mind.
Less is more for the men's basketball coaches. They'd like to see the league preserve something that they've coveted for some time -- a true home-and-home with every school.
This season -- Texas A&M's last -- will give the Big 12 the feeling of truly being a conference. If Missouri is in the league next season, then the Big 12 can experience two seasons of this so-called scheduling bliss.
Beyond that is still a great unknown. The basketball coaches don't have a vote. They have a voice and they have expressed it. But clearly, like almost everything else, this will be a football-driven decision.
That seems to be a common theme of late.
September, 20, 2011
09/20/11
2:35
PM ET
Here are some quick hitters during this crazy week in college sports …
• Villanova is trying to use its rising football program as a way to get in somewhere in the ACC or a Big 12/Big East hybrid. The school is hoping the Philadelphia market and the ability to get its football to FBS status (unlike, say, Georgetown) is attractive. And by the way, Nova is not pleased about the way Pitt helped block the Wildcats from being accepted into the Big East for football.
• If what's left of the Big East became a basketball-driven league, it would still be a very attractive conference. Imagine if the league were Villanova, St. John's, Georgetown, Marquette, DePaul, Seton Hall, Providence and possibly Notre Dame, then add Xavier, Butler, Saint Louis, Dayton, Creighton and maybe Saint Joseph's.
• The remaining non-FBS teams in the Big East have to commit to unity for a setup like this to work. The problem with this idea is that it still wouldn't command major media dollars. Non-football conferences don't make the major money. Check out my colleage Dana O'Neil's take on it here.
• The Big East is saying the right things by holding Pitt and Syracuse to the 27-month departure bylaw. But it's in the best interest of the remaining Big East schools to let the schools go so that they can figure out what the conference will look like in two or three years. Multiple lame-duck seasons serve no purpose.
• Pitt is having some selective memory these days about refusing to play Boston College after the Eagles broke off to the ACC eight years ago. The Big East office was not a fan of anyone playing the Eagles in anything and made that clear to Pittsburgh. The Panthers were supposed to play BC in the Jimmy V Classic but were replaced with Indiana.
• The Barclays Arena in Brooklyn will provide the New York City area with multiple opportunities to host conference tournaments. The ACC, Big East and A-10 should all have choices for tournaments in the coming years.
• Adding Missouri to the Southeastern Conference makes the most sense for what the league wants from a 14th member. The SEC wants the perception to be that it is adding a new market (St. Louis/Kansas City) and a school that has some respect academically. Texas A&M obviously delivers a major market (Houston) and respect. But there aren't really two other natural schools out there for the SEC to bump up to 16.
• Pac-12 commissioner Larry Scott will have to do some serious convincing when he talks to his presidents -- especially the Bay Area ones -- about adding Oklahoma State and Texas Tech with Texas and Oklahoma. I would love to hear that conversation.
• I like that Mountain West commissioner Craig Thompson is being proactive, but the proposed MWC-Conference USA confederation to have a football championship that would decide a BCS bid is odd. Would it really produce an automatic qualifier to the BCS? Would there be some sort of basketball agreement?
• Texas would still rather stay in the Big 12 and have all of its program compete in the region. But it all depends on Oklahoma at this point.
• Can you imagine if the ACC added Notre Dame and Connecticut to get to 16? The Irish are always solid under Mike Brey and UConn is a three-time national champ. The top of the ACC would be scary good. But moving up from the bottom would be extremely difficult for some programs. The jobs at Wake Forest and Boston College would get even tougher.
• It really is amazing to think about how much super-conference talk is going on recently and yet Butler played in the last two national championship games and VCU was in the Final Four last season. March reminds us that there are hundreds of others schools competing in Division I and plenty of high-level players and coaches. It's not all about the big boys!
• The NCAA still hasn't decided on the fate of ousted Connecticut athletic director Jeff Hathaway. He's the men's basketball tourney committee chair yet is currently jobless. But a number of former committee members and current Big East officials want Hathaway to be on the committee for this final season as long as the NCAA can figure out a way around him not having a job. Hathaway would be able to focus solely on the task of running the committee, which meets again later in the fall.
• Michigan State coach Tom Izzo is as excited about this season as he has been in years. The Spartans are finally relatively healthy and it's clear some of the issues in the locker room are gone. Meanwhile, North Carolina coach Roy Williams, whose team will face off with Izzo in the Carrier Classic on Nov. 11, said he has been told the pickup games in Chapel Hill involving a number of locked-out NBA players have really helped his crew develop.
• UCLA's Class of 2012 commitments from the East and South, Kyle Anderson (New Jersey) and Jordan Adams (Georgia), continue to show the Bruins are a national program. Every former UCLA coach has consistently said the Bruins can't simply recruit California. UCLA has to be a national player to be a national contender. The recruiting by the Bruins and rival Arizona -- the top two teams in the latest ESPN rankings -- is a credit to Ben Howland and Sean Miller, who cut their teeth recruiting in the cut-throat East Coast. But it also shows that the down cycle of the Pac-12 elite was merely a blip on the radar.
September, 19, 2011
09/19/11
2:45
PM ET
The current 10-team Big 12 has only one season as it's currently configured.
What a shame.
When Nebraska (Big Ten) and Colorado (Pac-12) bolted, the league was left with 10 schools that are all on the upward trend. There are no bad teams. None. All of the schools are now fully committed to making men's basketball a premier sport. Finally, the Big 12 was going to have a true round-robin schedule in the sport. The Big 12 was going to be the newest and only major conference to play a balanced schedule.
And this season promises to deliver on one of the country's most competitive conference races.
But the Aggies will soon be gone for the SEC, if they can get over their legal woes, and the rest of the league is in serious doubt. If Oklahoma hadn't started the latest round of Big 12 exploration, nine remaining Big 12 schools would be together and all would be relatively well. But the Sooners are indeed exploring and that means four could bolt to the Pac-12, with Oklahoma leading Texas and those two schools dragging Oklahoma State and Texas Tech, too.
It's a tough pill to swallow for the men's basketball coaches at the remaining schools.
"Look at those nine teams in all major sports -- football, men's and women's basketball, baseball, I don't understand," Kansas State coach Frank Martin said. "What other league has what we do top to bottom?"
Added Kansas coach Bill Self: "I think every school but Iowa State [and Texas Tech] has been to the Elite Eight since 2004. No other league could probably say that."
Here are the facts the Big 12 likes to tout:
• The nine schools have combined for a total of 201 NCAA tournament appearances.
• Of the 115 NCAA victories in the history of the Big 12 (since 1996-97), a total of 109 wins (94.8 percent) have come from the nine teams that would make up the league if the Big 12 remained together.
• The Big 12 has earned 80 NCAA bids in its history (since 1996-97), all but nine (88.8 percent) have come from those nine schools.
• The Big 12 has 24 NCAA bids in the past four years and 42 since 2004. Only six of those bids came from one of the three other teams (Texas A&M).
• A total of 24 of the 26 consensus All-Americans in Big 12 history have come from the remaining nine schools.

So let's pause for a moment and actually consider what could be lost from a basketball standpoint if the remaining nine don't stay together …
[+] Enlarge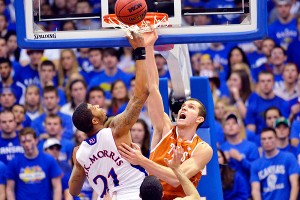 Denny Medley/US PresswireTexas and Kansas have developed a nice rivalry over the past decade. Could that soon be gone?
Kansas: This one is easy. KU is one of the five best programs in the country. Phog Allen is easily one of the top three venues in the sport. The Jayhawks consistently rank in the top 10. Bill Self won a national championship in 2008.
Texas: Rick Barnes has one of the best jobs in the country. Texas can pluck the best talent in the state or go elsewhere as it did with Kevin Durant and its host of Canadian imports (Tristan Thompson, Cory Joseph, Myck Kabongo et al). The Longhorns are consistent winners, usually play a national schedule and are regulars in the NCAA tournament.
Kansas State: The Wildcats were dormant not long ago, but Frank Martin (with an opening assist from Bob Huggins) has helped resurrect the program and ensured that Kansas State is a regular in the NCAA tournament. The Wildcats were in the Elite Eight two seasons ago. The passion for the Wildcats isn't equal to Kansas, but it's not too far behind anymore.
Baylor: The Bears were a disappointment a season ago but were in the Elite Eight in 2010. Baylor has hauled in some elite talent over the last few years, and it's clear that Scott Drew can get it done on the recruiting trail. The Bears already have the fifth-ranked class in the country lined up for 2012 and have a potential lottery pick (Perry Jones) suiting up for another year in Waco.
Iowa State: The Cyclones have hit a rough patch of late, but go back a few years and ask what opponents thought of going into Hilton Coliseum. They will tell you that it was one of the toughest environments in the league. Fred Hoiberg is going with a combination of transfers and new recruits. Let's see if that works. But you can't deny the talent he is bringing into Ames. If it works, Iowa State suddenly is relevant again.
Missouri: The Tigers have consistently had a winner in the region and been an Elite Eight team, despite coaching changes. If Frank Haith stays on despite the Miami allegations, he has an opportunity to continue the winning ways in Columbia. Athletic director Mike Alden is backing Haith, and that's a good sign for now. The Tigers have tremendous fan base, too.
Oklahoma State: The Cowboys haven't been a Big 12 title team, but Travis Ford has had them as a regular pest in the league. Oklahoma State has as passionate a following as any of these schools, and Gallagher-Iba is a gem of an arena. Ford's recruiting has picked up, and the Cowboys are clearly on the rise.
Oklahoma: The Sooners are in a rebuilding mode after the gut of early entries, attrition and an NCAA investigation sent OU down to the bottom of the league. But this is a proud program that has had a history of national talent and success. Lon Kruger is an undervalued coach who has won wherever he has coached in college. There is apathy in the hoops fan base, but this program will trend upward under Kruger.
Texas Tech: The Red Raiders haven't done much on the court lately, but they hired the right coach in Billy Gillispie. He has won in the state of Texas at UTEP and Texas A&M. He will win in Lubbock. The fan base needs to be prodded, but Gillispie will produce a product that will be a consistently decent team.
So that's what could've been.
"It would no question be an extremely strong basketball league," Ford said. "One of the positives of staying together, it keeps us all together in the region. Our rivalries would be strong. That will help with the excitement with the fans. I think it's a premier basketball league and this is the first year we're playing everybody twice. Even if it went to nine teams, it will be a battle every single night."
These schools have and will continue to produce strong, NBA-level talent. It would be too bad if they can't keep it all together.
"The Big 12 has had the most NBA lottery picks, first-round picks, total picks in the last four years and almost all of them have come from the nine schools left," Baylor coach Scott Drew said, clearly conscience of the league's talking points. "Since 2002, nine schools have had 17 Elite Eight teams and that's the most of any conference in the country. The second highest is the Big East with 14."
As you can tell, the Big 12 coaches are ready with ammunition. They don't have to be. Just look at the preseason top 25 when it comes out next month. More than likely, four of those remaining nine will be ranked -- Baylor, Missouri, Kansas and Texas (along with Texas A&M).
That speaks for itself.
September, 9, 2011
09/09/11
3:19
PM ET
Friday morning, Texas A&M coach Billy Kennedy spent the first day of the four-week contact period watching junior forward Julius Randle at Prestonwood Christian Academy in Dallas.
Baylor, Oklahoma and Texas were also in the gym to watch the No. 3 player in the ESPNU 100.
Randle might end up at one of those four programs, but who knows where those four programs will be by the time he arrives in 2013? The likelihood that all four will be in the same conference is remote. The Aggies have announced their intention to leave the Big 12, and the SEC voted them in with the condition that all nine remaining Big 12 schools waive their right to sue the SEC or A&M. Four have done so (Texas, Texas Tech, Oklahoma, Oklahoma State), three have not (Baylor, Kansas, Iowa State) and two aren't saying (Missouri, Kansas State).
It's possible that Oklahoma could pursue Pac-12 membership. Texas would like to stay put but could opt to choose a similar path to the Sooners or become an independent in football and find its other sports another home. Baylor may be in the Big 12, the Big East, the MWC or Conference USA. Who really knows?
The coaching staffs at OU, TUT and BUD certainly don't, but they will get questions about conference affiliation out on the recruiting road. They can easily put off the discussion at this point, though. The coaches at Texas A&M cannot. The Aggies have made their intentions known and plan on being in the SEC.
[+] Enlarge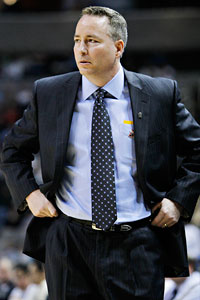 AP Photo/Paul SakumaBilly Kennedy is off to a hot start in recruiting at Texas A&M.
So how does Kennedy plan on selling the Aggies this month without knowing for certain what conference they will be playing in next season?
"I'm just emphasizing what a great school Texas A&M is and how we'll be in one of two great leagues," Kennedy said Friday. "Hopefully we'll have something defined in the next two weeks. Right now we have no clue."
Kennedy said he will stress to recruits and their families that the decision-making is way above him, but that the Aggies will be set with big-time opponents no matter where they end up.
"We'll be playing great schools whether it's Kansas or Kentucky or Florida," said Kennedy, who has already secured a commitment from 2012's seventh-ranked point guard, J-Mychal Reese of Bryan, Texas. "We're just selling the university and hope the kid looks at the whole program and that a game here or there doesn't make a difference."
Kennedy said he's not naive about scheduling former Big 12 rivals, but he wants to continue to schedule in-state games -- at least two or three a season, he said. Does that mean Texas A&M would go on the road to SMU or Rice or UTEP or TCU if it can't get home-and-home series with its former Big 12 opponents? Time will tell, but for now, Kennedy is saying the right things in regard to his desire to schedule games that players' families from Texas could drive to in order to watch their son play.
"I'm not sure how this is going to play out and if we'll continue to play some of the games that have good rivalries," said Kennedy, who realizes the ancient rivalry with Texas could be in danger.
But Kennedy doesn't think the instability of the Aggies' situation in the short term is a problem solely for Texas A&M.
"Nobody knows what league they're going to be in," Kennedy said. "It's not just us anymore."
Kennedy arrived in the spring from Murray State, where he had led the Racers to a successful run atop the Ohio Valley Conference in the regular season and an NCAA tournament win two seasons ago before giving eventual runner-up Butler its toughest games during that memorable run in 2010. Kennedy is a Louisiana native who has had a wide variety of coaching jobs at all levels of the game.
Mark Turgeon, who left A&M for Maryland after Gary Williams retired, left a program that should be a Big 12 contender this season. If the projections hold true, the Aggies will be in contention with Baylor, Missouri and Kansas for the league title.
The Aggies have a potential Big 12 player of the year candidate in junior forward Khris Middleton, a solid interior player in senior David Loubeau, a steady point guard in senior Dash Harris, a wing in Washington transfer Elston Turner who is ready for a breakout season, and rotation forwards in Kourtney Roberson and Ray Turner who should be solid, as well as two potential impact freshman guards in Jordan Green and Jamal Branch.
Kennedy was able to take his team on a trip to Switzerland and France this summer, and he liked what he saw.
"We found that we have really good character," he said. "This team has been well-coached and has good depth at every position. Middleton showed he could do some special things. He's worked really hard and should have a special year. Elston Turner played really well. Roberson and Loubeau allow our inside group to be really balanced."
Kennedy wants to push tempo and said Harris should be able to accomplish that change.
"The style may be different than what Mark played, but everyone is receptive to it and buying into it," Kennedy said. "This will help Dash, but figuring it out in the summer is different than in the fall. These guys can do it. I know Mark said this was going to be the best team he ever had here. I don't have a feel for that yet. He had a good situation when he got here -- they've had good players. This has been built over the last seven years.
"We've got a good situation here, and it should be a smooth transition."
August, 29, 2011
08/29/11
2:20
PM ET
In case BYU didn't get a stark enough reminder in March of what life is like in the paint without
Brandon Davies
, the Cougars were reminded with force during their recent tour of Greece.
[+] Enlarge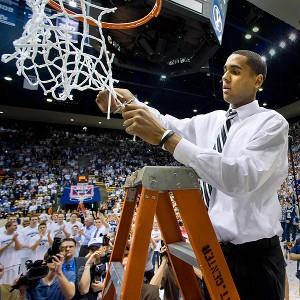 Douglas C. Pizac/US PresswireBrandon Davies was able to take part in the MWC title celebration, but his absence severely hurt the team's Final Four chances.
Having Davies might not have changed the outcome against the talented Greek and Italian national teams (BYU lost to Italy by 39 points), but there's no question the return of Davies will change everything for the Cougars in the post-Jimmer Fredette world they are set to embark upon in the West Coast Conference. Friday, Brigham Young University announced it was reinstating Davies, who was issued a much-publicized season-ending suspension March 1 after a violation of the school's honor code.
"Jimmer is impossible to replace, but Davies gives them a great go-to guy in the post,'' said New Mexico coach Steve Alford, who doesn't have to face the Cougars this season since BYU left the Mountain West for the WCC. "He is a very talented, hard-working post guy. He should be close to a double-double guy.''
BYU was ranked No. 2 in the country and in line for a possible No. 1 seed after beating San Diego State on the road by 13 Feb. 26. Davies had a modest statistical game with six boards and four points but helped neutralize the Aztecs' bigs. He was averaging 11.1 points and 6.2 rebounds before being dismissed from the team in the days after the SDSU game after having admitted to pre-marital sex, which is strictly prohibited at BYU.
The program didn't just toss Davies to the curb. Instead, the Cougars and their fans embraced him, and he was a fixture on the bench, cheering on the team throughout the rest of the regular season and during the postseason, which ended in an overtime loss to Florida in the Sweet 16.
But could BYU have gone even further and made its first Final Four appearance if it had its only true frontcourt presence on the court during the stretch run? We'll never know. But we do know the Cougars would not have been blown out by New Mexico and San Diego State late in the season with Davies patrolling the paint. His importance to this team is simply not up for debate.
"He means everything to them,'' said Colorado State coach Tim Miles, whose Rams had trouble containing Davies in multiple meetings last season. Davies had 15 boards and 14 points in a win over the Rams three days before the Aztecs game. "BYU went zone to protect the perimeter guys and Brandon would end the possession with a big rebound. It's just a matter of time before they should be able to run their offense through him. He should be a first-team All-West Coast Conference player.''
If the plan being drawn up in Provo proves successful, Davies might even have a shot at WCC Player of the Year.
BYU coach Dave Rose said the Cougars will go back to the way they played a few years ago when Trent Plaisted was manning the post.
"The ball went into Trent four out of five possessions, and then the past two years we changed things because of Jimmer,'' Rose said. "We'll go back to playing the majority of the possessions with the ball going in the post first."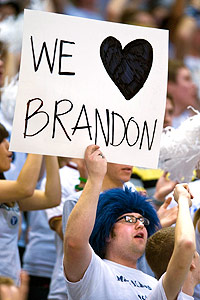 Douglas C. Pizac/US PresswireEven though his loss hurt, most fans in Provo still embraced their hometown favorite.
Clearly, Davies is a critical part of that strategy.
"The one thing that was difficult in those last two games on the trip was to play through our post guys,'' said Rose, who was also without big men and recent missionaries Nate Austin and Ian Harward. "We were a little bit undersized and had to play Noah [Hartsock] at the 5. With Brandon, he can go back to being a 4. There's no question our offense will work better. Brandon's experience with what he's been through will definitely help.''
The Cougars got stellar play out of junior Brock Zylstra on the four-game trip, as he averaged 17.3 points and six rebounds. Zylstra didn't get much time behind Jackson Emery on the wing last season, but he has loads of experience and is on the seven-year BYU plan after redshirting then going on a two-year mission.
Charles Abouo averaged 14.8 points on the trip to give the Cougars a solid backcourt presence, and freshman Damarcus Harrison averaged 9.3 points, just behind Hartsock's 10.8 and forward Stephen Rogers' 12.3 a game.
• According to a number of sources at the school, nearly everyone involved with BYU is looking forward to beginning play in the WCC and as an independent in football. The Cougars were waiting to get the chance to play on their own in football and once there was no chance they would be with Utah, which joined the Pac-12, they jumped at the opportunity.
That's why there is no movement, according to sources, to be a possible replacement for Texas A&M in the Big 12 if the Aggies go to the SEC. BYU is not an easy addition for conferences with its restrictions on playing on Sundays. The Cougars do have their own television network and a new deal with ESPN, and the football team has had no issues scheduling for the upcoming season. Sources said the Cougars want to see how this plays out before joining a conference such as the Big 12 that may have some stability issues.
Meanwhile, according to a number of sources, the SEC is more than likely going to pause for a bit if it adds the Aggies. There is clearly a movement within the conference members to block any in-state additions such as Georgia Tech (by Georgia), Florida State (Florida) and Clemson (South Carolina). Big East member Louisville (by Kentucky) fits into this as well. Blocking in-state schools in the same conference has gone on for quite some time (think Utah-Utah State, New Mexico-New Mexico State).
Virginia was never enamored with Virginia Tech joining the ACC, but politics forced the two together, so it wouldn't be out of the realm of possibility for the Hokies to leave. The one new intriguing name out there is North Carolina State, which is very similar to Texas A&M in the Big 12. The Wolfpack are the constantly overlooked "little brother" in the shadow of the all-consuming Duke-North Carolina rivalry.
One thing that is certain is no one wants to leave the comfort of the SEC (see: Arkansas). Missouri's location and TV markets make it a more realistic alternative than Big East teams such as West Virginia or Pitt. But one certainty is that the SEC will take its time on what to do with a possible 14th school and could easily go with 13 for a year rather than rush into a decision.
August, 23, 2011
08/23/11
1:07
PM ET
Marshall and Western Kentucky say they did their due diligence before hiring former Miami assistants Jorge Fernandez and Jake Morton, respectively.
Both schools' head coaches -- Marshall's Tom Herrion and Western Kentucky's Ken McDonald -- said they went through the proper protocol, as did their compliance offices. That means an email or phone call to the NCAA enforcement to see if there are any violations, even if they are secondary, on the record of the individual.
But what is not given up is whether there is an ongoing investigation.
"We've never received information like that," said Marshall's Derek Gwinn, the school's associate director of athletics for compliance. "It's always been that they won't comment on ongoing investigations."
Bob Williams, the NCAA's vice president of communications, confirmed as much.
"What we do is tell schools who have secondary or major violations," Williams said. "If there is an investigation ongoing, they won't say the individual is under investigation because of the confidentiality clause."
The NCAA has said it's been investigating Miami for five months, while Yahoo! Sports spent 11 months on its investigation. The allegations broke by Yahoo! on Fernandez were that Miami booster Nevin Shapiro witnessed him having impermissible contact with Miami football players in 2008 and entertaining then-AAU-coach Moe Hicks (now on the St. John's staff).
The allegations against Morton were more serious. Shapiro alleges that Morton was aware a family member of then-recruit and current senior DeQuan Jones wanted $10,000 for a commitment to Miami and that Shapiro agreed to front the money. The allegation is Morton met Shapiro to pick up the cash and Morton returned the money after Shapiro went to prison.
Former Miami head coach Frank Haith didn't take Morton and Fernandez with him to Missouri.
So far, according to Marshall and Western Kentucky, neither Morton nor Fernandez has spoken to NCAA investigators. That sort of leaves them in limbo, but Herrion and McDonald are sticking with their new assistants and have been told by each that the two men didn't do anything wrong. Both coaches say the cases have to run their course before any judgment can be reached. Both coaches will remain on staff and continue to recruit.
Meanwhile, Haith isn't allowed to comment on the case as he waits to be interviewed by the NCAA for his alleged role in knowing about a payment for Jones. Haith is being kept in limbo as well since the NCAA investigation will likely last into 2012 since it also involves football. That means Haith will have a shadow over him for quite some time, forcing Missouri to decide if it is going to stick with him or cut him a negotiated settlement (which would likely be in the millions) before any investigation is complete. Haith has publicly professed his innocence in a statement but can't speak anymore on the subject, making it harder for him to defend himself.
The former assistants are in a similar situation, but with a much dimmer spotlight on them. Yet, like Haith, both are at new institutions, and that makes it more difficult since neither has built up any equity at his new job.
More news and notes from around the country:
• Herrion said Marshall has signed up to play at Syracuse this season for a $100,000 guarantee. The Thundering Herd, which fancy themselves contenders with Memphis for the Conference USA title, will play two other notable Big East teams -- at Cincinnati (a return game in 2012-13 will be in Charleston, W. Va.) and the annual rivalry game against West Virginia in Charleston. MAAC favorite Iona is going to Huntington, as is MAC contender Akron. Marshall is also playing an in-season home-and-home against a Belmont team that won 30 games last season and returns nearly everyone. Games against Ohio, UNC Wilmington and High Point are also on the schedule as Marshall looks for one more game.
• The NCAA is expected to resolve outgoing UConn athletic director Jeff Hathaway's situation as incoming chair of the men's basketball tournament committee in weeks, not months, according to a NCAA spokesperson. The Big East would like to see Hathaway in the same role and trust his due diligence on the committee, even if he's not employed at a member institution. He will, after all, be technically paid by one during his year as chair since UConn reached a settlement with Hathaway.
• Williams said you can expect a number of the actions discussed at the presidential retreat to be enacted at either the next board of presidents meeting in October or in January at the NCAA convention. Williams said the new cut score for the APR (930) will likely be adopted and that teams will start missing the NCAA tournament if they don't average at least that number over a four-year period. Williams said it wouldn't affect the 2012 tournament since the schools need time to adjust to the new score. It'll kick in for the 2013 tourney at the earliest, but likely later.
• The Big East hopes to finish its conference schedule sometime around Labor Day. And that means Connecticut will know who its opponents will be for the first three Big East games that coach Jim Calhoun will have to miss due to an NCAA-imposed suspension. The Big East traditionally is the last conference to publish its league schedule as it works with a number of NBA and NHL arenas on scheduling dates.
• The MAC's decision to advance the top two teams to the semifinals of its league tournament was a much-needed change. The MAC had to do something to protect the best teams and give them the best chance to advance to the NCAA tournament then win a game. This is the same move that a number of leagues, notably the WCC, have made recently.
• Texas A&M to the SEC makes sense with the conference getting into the Houston market and dipping into a state that certainly loves its football. Leaving Texas and its natural rivalries would be a sacrifice worth taking for the more lucrative payday and passion within the Southeastern Conference. But figuring out the SEC's 14th fit -- if it comes to that -- is a bit trickier. If the SEC schools were to block out schools from their own states, that eliminates Florida State, Georgia Tech, Louisville and Clemson.
Virginia Tech would seem a natural, but the Hokies like their competitive position in the ACC and there are also the political ramifications to "breaking up" with rival Virginia. If there is one school that's a dark horse, it's West Virginia. The Mountaineers certainly could hang in both major sports (football and men's basketball) and compete at a high level. The SEC offers a lot more stability than the Big East in football and WVU's passion for its sports teams is akin to the SEC.
The problem of course is that the media market is small and doesn't deliver much to the SEC in terms of number of households. West Virginia can dip into the Pittsburgh area and that wouldn't hurt. The school would also likely have the least resistance politically of any of the other candidates. From a hoops standpoint, adding Bob Huggins to the mix and renewing an old rivalry with his old pal John Calipari would be entertaining for all.