Category archive:

Northern Iowa Panthers
November, 14, 2011
11/14/11
1:50
PM ET
The atmosphere of the Carrier Classic, with its overwhelming sense of patriotism and the sheer uniqueness of playing a game on the deck of the USS Carl Vinson, along with the historical significance of that vessel, will be hard to top.
The view was magnificent. The Naval presence in all its glory and uniformity was as impressive as one would imagine. And the appreciation from the sailors for the break from the daily routine was genuine.
If you missed that game or any of the matchups on opening weekend, you're in for a treat because you won't be able to turn on the ESPN family of networks from 11:59 p.m. ET on Monday until about 1 a.m. ET on Wednesday without seeing college basketball on the screen.
Here are some questions to ponder as the fourth annual Tip-Off Marathon begins with Washington State at Gonzaga and ends with an NIT Season Tip-Off game the following night from Stanford.
1. Will Duke coach Mike Krzyzewski become the NCAA's all-time winningest coach? The Blue Devils play Michigan State in the first game at the Champions Classic (ESPN, 7 p.m. ET) from Madison Square Garden. Duke struggled against Belmont in its opener and then blasted Presbyterian on Saturday. Neither result should come as a surprise. The Blue Devils are usually the home team in New York, but it will be interesting to see how many Spartans fans are able to make the trip, especially if some of them just went to San Diego. Still, Michigan State has a real shot to upstage Coach K. Despite their loss to North Carolina, the Spartans were the aggressor, outrebounding the Tar Heels convincingly 42-31. The Blue Devils have as much size as North Carolina, so the challenge will be similar. But MSU must shoot better from 3-point range than it did against UNC (2-of-20). Another key to the game is seeing which team converts timely perimeter shots. If Duke wins, we'll have the unique setting of Krzyzewski winning No. 903 and passing his former coach Bob Knight, who will sit courtside calling the game for ESPN.
2. How will the Thomas Robinson-Anthony Davis matchup unfold? This could turn out to be one of the more anticipated frontcourt showdowns during the nonconference schedule, as this individual battle highlights the second game of the Champions Classic between Kentucky and Kansas (ESPN, 9:30 ET). Robinson began the season as the go-to guy for Kansas, finishing with 18 points and 11 rebounds against Towson. Meanwhile, Davis, UK's highly touted freshman, blitzed Marist with 23 points and 10 boards in the Wildcats' 50-point rout. Kentucky has more options than KU and can lean on Doron Lamb or Terrence Jones to get it plenty of points. But the tussle between Robinson and Davis will be good theater throughout the night.
3. How will Ohio State's Aaron Craft and William Buford handle Florida's perimeter? We're not conceding the Jared Sullinger-Patric Young matchup (well, we will for these purposes), but this game may come down to the guards. Florida's set of Kenny Boynton, Mike Rosario, Brad Beal and Erving Walker is off to a sensational start. Rosario scored 19 points off the bench, while Boynton scored 19 and Beal 14 (Walker added 10) in a rout of Jackson State. Craft and Buford will be tested defensively more so than they were a year ago, when Ohio State won easily at UF during this same event. The Buckeyes, who host the Gators at 8 p.m. ET (ESPN2), are the No. 3 team in the nation because of Sullinger. But this will be the first time OSU may feel the loss of defensive specialist David Lighty.
4. Can Belmont emerge from the brutal opening weekend with a split? The Bruins nearly nipped Duke in a comeback that fell one possession short. The next challenge is a visit to in-state Memphis at noon ET on ESPN. Belmont won't have any awe factor in playing the Tigers. The Bruins should come into this game oozing with confidence after their showing versus the Blue Devils. Memphis is still a young team and a work in progress. The Tigers have more talent, but the question is whether they will show patience against a Belmont team that will want to run and run and run. This could be one of the most entertaining games of the day.
5. How will Baylor handle its one and likely only test during Perry Jones III's suspension? Jones must sit for three more games after accepting an extra benefit. The Bears beat Texas Southern on Friday and Jackson State on Sunday. The two games that follow Baylor's home matchup with San Diego State (ESPN, 2 p.m. ET) are South Carolina State and Texas-Arlington. This is not the same Aztecs team from last season after the roster was gutted by graduating seniors and an early-entry NBA departure. Still, they are athletic enough to cause problems. The Bears have options with Quincy Acy, Quincy Miller and Anthony Jones, but this game should at least push Baylor a tad more than the first two did during Jones' suspension.
6. How will Gonzaga's guards respond after a poor first outing? The Bulldogs showed in a tight win over Eastern Washington that they can rely heavily on Robert Sacre (22 points and 10 boards). But the perimeter shooters went 3-of-13 on 3s, and Marquise Carter was 2-of-11 and Mike Hart, Gary Bell, Kevin Pangos and David Stockton were a combined 6-of-15 from the field. Washington State is a team in transition, and the Zags should win this game. But Gonzaga has plenty of tougher challenges ahead, and so its guard play will need to improve. Still, this will be a good chance to see Sacre and Elias Harris on display against the Cougars, tipping off the Marathon at 11:59 p.m. ET on Monday night (ESPN).
7. As for the two women's games on the Marathon schedule … How will Tennessee perform after coach Pat Summitt's health diagnosis? If you saw Robin Roberts' piece on "Good Morning America," you know it is clear that the Lady Vols are determined to win a national title for Summitt. The Tennessee coach also seems as driven as ever in her quest to keep coaching while she battles early-onset dementia. This should be an emotional game, as they all may turn out to be, for the No. 3 Lady Vols as they host No. 7 Miami (ESPN2, 6 p.m. ET). And how will Texas A&M handle its status as the reigning champs? The Aggies aren't expected to repeat as national champs, but they have established themselves as an elite program. The primer to the Tennessee game won't involve as much theater, but may be as competitive a game when No. 9 Louisville goes to College Station to play the No. 6 Aggies (ESPNU, 4 p.m. ET).
8. What should we expect from Texas' Myck Kabongo? Kabongo is an impressive young man who handles himself with poise and class. Now he has to translate that onto the court against a talented Rhode Island squad that lost at George Mason by two points in its season opener Friday. The Longhorns will lean heavily on Kabongo to start the season. How he handles this first assignment will be a strong indicator on what to expect, as URI will push Texas from the outset (ESPN, 4 p.m. ET).
9. How will Drexel handle the hype as the CAA's favorite? The Dragons play at Rider (ESPN, 6 a.m. ET) when most people might be waking up to watch the Marathon. Drexel is the early pick to win the Colonial Athletic Association, a conference that's receiving some buzz after placing its second team (VCU) in the Final Four since 2006. Drexel will be minus the injured Chris Fouch, but Samme Givens and Frantz Massenat should be enough to beat Rider. But the Dragons could do themselves a service by looking impressive, too.
10. How productive can the Saint Mary's frontcourt be this season? Randy Bennett anticipates that this frontcourt will be more productive than the one led by Omar Samhan, who led the Gaels to the Sweet 16 two seasons ago. That means Rob Jones will be getting help from Kyle Rowley, Brad Waldow, Mitchell Young and Beau Levesque. Jones dominated Fresno Pacific with 25 points and 12 boards, but Northern Iowa -- coming off an impressive road route of ODU -- will be a much more formidable foe for the Gaels (ESPN, 2 a.m. ET).
11. What should we expect from LeBryan Nash? Well, if you believe the hype, Oklahoma State has an all-Big 12 player who can elevate it to the NCAA tournament. The Cowboys will likely have plenty of chances to feature Nash against Arkansas-Pine Bluff in the NIT Season Tip-Off (ESPN3, 8 p.m. ET).
12. How polished will Syracuse look? If they defeat Manhattan on Monday, the Orange will face either Albany or Brown on Tuesday (ESPN3, 7 p.m. ET) in the NIT Season Tip-Off. The early indication is that this veteran team will be ready to compete for the Final Four. Of course, Syracuse isn't being challenged as much as some other teams, but the Orange smacked Fordham in the opener as Dion Waiters complemented Kris Joseph quite well.
13. A surprisingly close game? I'm going with Austin Peay at Cal (ESPN2, 10 p.m. ET). The Governors should be one of the favorites in the Ohio Valley Conference. Will Triggs and TyShwan Edmondson could play at any level. California is one of the Pac-12 favorites, but the Golden Bears will be tested in this CBE Classic matchup. Guards Allen Crabbe and Jorge Gutierrez will be tested versus Austin Peay.
14. What are the chances of a surprise to end the Marathon? I think Stanford will have a tough time with either SMU or Colorado State at home in the NIT Season Tip-Off. The Mustangs or the Rams are fully capable of being a pest and upsetting the Cardinal (ESPNU, 11 p.m. ET). Stanford first has to get past Fresno State, of course, to be in this matchup. To do that, Aaron Bright, Chasson Randle and Josh Owens will have to really take control.
15. How will Miami score inside? The Hurricanes are sans Reggie Johnson and Julian Gamble due to injuries. The given has been that the Canes have the guard play with Malcolm Grant and Durand Scott. But Rutgers will try and make Miami (ESPN3, 7 p.m. ET) beat the Scarlet Knights on the inside. This could turn out to be one of the closer games in the Marathon.
16. What should we expect from Villanova? This is somewhat of a blank slate. The Coreys -- Mr. Fisher and Mr. Stokes -- are gone. Maalik Wayns will be the dominant presence, but there are plenty of other options as Mouphtaou Yarou, JayVaughn Pinkston, Dominic Cheek and James Bell could all star against La Salle (ESPN3, 7 p.m. ET). The Wildcats are an unknown in the Big East, and this game will at least give us a taste of what we may see.
17. Is Kevin Jones ready to be a star? For two seasons, West Virginia's Bob Huggins has been waiting for Jones to emerge. He scored 20 points and grabbed eight rebounds in a season-opening seven-point win over Oral Roberts. Kent State will hardly be a walk for the Mountaineers (ESPN, 10 a.m. ET). Darryl Bryant can offset Jones' production, but the offense will likely flow through Jones as he adapts to being the front man for the Mountaineers.
18. How ready is Hawaii to make a run at Utah State? Gib Arnold has gone through a complete roster makeover and coached the Warriors to an impressive 19-13 record in his first season in Honolulu. Utah State beat BYU to open the season while one of the WAC favorites, Nevada, was flat at home in losing to Missouri State. Hawaii has a real shot to make a move in its final season in the WAC before heading to the Big West. Establishing an identity in a new conference is always key and ensuring that Cal State-Northridge (ESPN, 4 a.m. ET) is well aware of what it is in for when it visits the Stan Sheriff Center would do wonders for a first impression.
19. What will Morehead State and College of Charleston look like after losing their stars? This game could be one of the more competitive because of who both teams lost, rather than who they gained. Morehead State no longer has Kenneth Faried, while Charleston is without Andrew Goudelock. The Eagles made the NCAA tournament last season, defeating Louisville and then falling to Richmond. The Cougars reached the NIT quarterfinals before losing to eventual champ Wichita State. Regardless of how these teams look (ESPN, 8 a.m. ET) on Tuesday, you can expect them both to be factors in their respective conferences by February.
20. What are the chances Virginia Tech doesn't end up in New York for the NIT semifinals? We'll find out Tuesday night. The Hokies will likely play George Mason, assuming the Patriots beat Florida International and Virginia Tech knocks off Monmouth on Monday. Mason beat Rhode Island by two in overtime in its opener, and while it is a more depleted roster than expected when Paul Hewitt took the job, this is still a formidable squad. Virginia Tech used balanced scoring to beat East Tennessee State by 11 in its opener, but hitting 5-of-18 on 3s was an indicator that the perimeter shooting may not be the Hokies' strong suit.
Other notable names to watch: Does Tu Holloway have a monster game for Xavier against IPFW (7 p.m. ET)? Will Cincinnati's Yancy Gates dominate against Jacksonville State (7 p.m. ET)? How will Harvard fare as the hunted team on the road, even against a rebuilding Holy Cross squad (7 p.m. ET)? How will Dayton's Archie Miller fare in his road debut as head coach at Miami-Ohio (7 p.m. ET)? Will Mike Scott be a double-double performer for Virginia against Winthrop (7 p.m. ET)? Will LSU avoid plunging into irrelevance by winning at Coastal Carolina (7 p.m. ET)? Will Butler avoid a shaky 0-2 start by winning at home against Chattanooga (7 p.m. ET)? Will Saint Louis prove to be the team projected as an A-10 contender and win games it should -- even on the road at Southern Illinois (8 p.m. ET)? Will Missouri State continue to win on the road and take down Arkansas State (8 p.m. ET)? How impressive will Royce White be for Iowa State against Drake (9 p.m. ET)? How will Wyoming play for new coach Larry Shyatt against Northern Colorado (9 p.m.)? Will Arizona State start its climb toward respectability by winning a game at home versus Pepperdine (8:30 p.m. ET)? Will Utah State follow up its BYU win by beating rival Weber State (9 p.m.) on the road?
Andy Katz is a senior writer for ESPN.com.
December, 26, 2010
12/26/10
11:18
PM ET
LAS VEGAS -- For a few stretches Thursday night, Northern Iowa had found its stroke like it was March of 2010 yet again, taking down a team of higher stature.
Last March, UNLV and top-ranked Kansas fell victim to the Panthers, before Michigan State clipped them in the Sweet 16. The daring 3-point shot by Ali Farokhmanesh that was one of the shots of the NCAA tournament to ice a win over Kansas, the play of Jordan Eglseder and Adam Koch inside and out were memories that will live in Panther lore.
But the Panthers are quickly proving that this is no longer just the team Ben Jacobson built on the heels of Greg McDermott's initial startup.
Northern Iowa has a program, and the pieces are in play for the Panthers to be in the thick of the Missouri Valley Conference race and once again potential NCAA tournament pests.
With Koch watching in the stands at the Orleans Arena, the Panthers won the Las Vegas Classic on Thursday with a 66-60 win over New Mexico. Koch's brother Jake, a sophomore, made a 3-pointer and got to the line nine times, making all nine. Junior Johnny Moran made a few crushing 3s, but the new Farokhmanesh on this squad is sophomore Anthony James, who made three 3s, finished with 23 points and had an answer every time the Lobos pushed back.
The two returning starters from Northern Iowa's most memorable team -- Kwadzo Ahelegbe and Lucas O'Rear -- are still the role players they've been, and they had their moments.
But this team's moxie will come from making 3s offensively and, of course, locking up teams defensively.
Northern Iowa enters Monday's Valley opener against Missouri State as a real threat, with the Bears and favorite Wichita State, to win the conference title. Sure, scoring 39 points in a loss to Iowa was a lowlight this season. Falling by two at Milwaukee and losing by 22 at Syracuse in the opener wasn't a stunner. But beating Iowa State at home, TCU on the road and then coming to Las Vegas and sweeping Indiana and New Mexico shows this younger team has a chance to develop into an NCAA team with a run in the Valley once again.
"These guys are now feeling like it's their team," Jacobson said. "I think our guys are at a point right now where they expect to win when they walk out there, regardless of who they are playing against."
Jacobson, like Butler's Brad Stevens, was a hot name in March but decided to stay put. He did so because he loves what he has helped build and wanted to see it come to fruition. So far, it appears there's a carryover.
• New Mexico hasn't had the pub of San Diego State, BYU or UNLV so far in the Mountain West. And there is a reason. Last season's Mountain West regular-season champs took some offseason hits with Ramon Martinez finishing his eligibility and Darington Hobson declaring abruptly for the NBA draft.
And of course the Lobos' schedule so far this season hasn't been comparable. There is hope that this squad can be a real contender in the MWC and for an NCAA bid, but there is also concern once again for a key interior player.
[+] Enlarge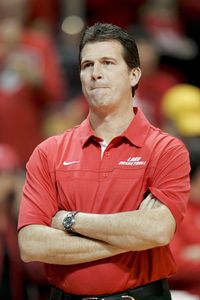 Marc Sanchez/Icon SMISteve Alford has his New Mexico Lobos off to a 10-2 start.
Emmanuel Negedu, who had a defibrillator put in his chest after he collapsed during a workout at Tennessee, is officially "under the weather," Lobos officials said. Negedu said after the loss to Northern Iowa that he would be back. But New Mexico coach Steve Alford said Negedu would meet with doctors Monday.
Negedu wasn't cleared to play at Tennessee or at Indiana, his first choice after he decided to leave the Vols. So far this season Negedu had played in 10 games, averaging 4.7 points and 5.4 rebounds off the bench. He didn't play against Colorado or Northern Iowa.
Sources within the New Mexico program said they won't ever chance anything with Negedu if he's not feeling well and will proceed with caution. On the court, Negedu's absence does hurt the Lobos, especially with UCLA transfer Drew Gordon still largely ineffective due to a knee injury.
Gordon, who has played in three games, is averaging nine points and four rebounds but was 3-of-10 against the Panthers. UNM has a developing MWC star inside in A.J. Hardeman, who knows the role of putback specialist and post option quite well. Hardeman scored 16 points and grabbed seven boards in the loss. And Alex Kirk is a serviceable big man, but the Lobos are thin in the post when foul trouble exists (Hardeman and Gordon fouled out) without Negedu. They also need his rebounding.
"I'm feeling good, but I'm rusty as all get out," Gordon said. "It's tough coming back here and everyone is in full swing. My touch is a little off and I'm not crashing the glass as I'd like. I'm hesitant with the knee. I've got to progress better."
The Lobos have a stud in Vinnie Johnson-like guard Dairese Gary, but he can over-penetrate (six turnovers) and tries to do too much sometimes. The good news for the Lobos is that freshman Kendall Williams has the look of being a headliner for the Lobos. He's second on the team in scoring at a dozen a game, plays with confidence and can get his own shot. If Phillip McDonald can be more consistent on 3s (30.2 percent), the Lobos have a shot to be a factor in the MWC race.
But you'll know more about this team if UNM can survive two winnable road games at Texas Tech (Wednesday) and at Dayton on New Year's Day.
"We just won eight in a row, and we're learning," Alford said. "We had a bad second half against Cal [a 89-64 loss] and a bad start here [down 13 in the first half against UNI]. But I'm pleased. We beat a Colorado team from start to finish. I'm happy with our start. We'll have plenty of chances [in the MWC]."
• Colorado has had an odd season so far. The Buffaloes, a trendy pick to be a top-six finisher in their final year in the Big 12, lost at Georgia by nine, at San Francisco by two in overtime and by 16 at Harvard. Yet Colorado -- which boasts two players of intrigue for NBA draft personnel in Cory Higgins and Alec Burks -- blew out Oregon State in a game in which it looked like it could take on anyone. The win over Colorado State in overtime, the 13-point home loss to the Lobos and a nine-point win over Indiana continue to show the inconsistency.
So what's it going to be for this squad?
"I feel good; I know we've been up and down, but we established a team effort," Higgins said. "We were too many individuals, but now we're together and I'm encouraged we're heading in the right direction. We haven't lost sight of our goal."
Higgins said it took a while for the Buffaloes to get used to coach Tad Boyle after playing for Jeff Bzdelik last season.
"We're finally on the same page," Higgins said. "We've got a way to go, but we're aggressive now."
The Buffs don't have enough for an at-large profile unless they win a number of key games against the Big 12 elite. You'll know early in the conference season with a three-game stretch of Missouri (Jan. 8), at Kansas State (Jan. 12) and Oklahoma State (Jan. 15).
"We kept our poise and made plays when our backs were against the wall," Boyle said. "The challenge for us is consistency. We need Cory and Marcus [Relphorde] to play well and Alec to play well. We can't have nights when those two or three guys don't play well for us to be good."
Boyle said the win over Indiana stabilizes the Buffaloes and gives them the momentum needed heading into the Big 12.
November, 12, 2010
11/12/10
12:05
PM ET
College basketball starts with a heavy dose of weekend games, before ESPN's 24-hour Tip-Off Marathon offers up a slew of must-see affairs Tuesday. But before looking forward, there must be some housecleaning done on a few issues. So here are my first impressions from a sprinkling of games this week: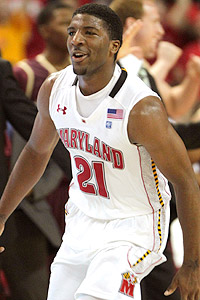 AP Photo/Rob CarrPe'Shon Howard made quite a first impression for Maryland this week.
Name to remember: Maryland freshman point guard Pe'Shon Howard
The offseason question for the Terps was who would replace Greivis Vasquez's leadership, moxie and overall late-game magic. The answer came rather quickly toward the end of the College of Charleston game. Howard made not just one, but two big-time shots to beat the Cougars. The second was all Howard, taking the ball down court and hitting a fall-back dagger of a jumper to win the game at the last second. I loved Maryland coach Gary Williams' stunned face as the buzzer sounded. He was obviously relieved, but also had to be thrilled that he had found a player who shares Vasquez's drive to do something special when the game matters most. Howard was an efficient 8-of-11 (2-of-7 at the line, though) in two games this week, scoring 19 points, dishing out 12 assists and snagging five steals.
Illinois can score: The Fighting Illini have been offensively challenged in recent years (who can forget the 38-33 loss to Penn State in '09?). But in two games this week -- albeit against poor competition -- Illinois averaged 81.5 points a game. That bodes well for a team that has plenty of talent that can push the basketball (expect games against North Carolina and at Gonzaga to be high-scoring affairs).
Texas has another stud freshman: Forward Tristan Thompson averaged 14.5 points in two games, but was even more impressive with a 17-point, seven-rebound, three-steal performance in a win over Louisiana Tech on Wednesday.
Pitt will rely on its veteran backcourt to win big: The Panthers played without injured forward Nasir Robinson in the first two games, and the consistency and production of the frontcourt is still an unknown. But Pittsburgh has two players in Ashton Gibbs and Brad Wanamaker who have matured into leaders, reliable scorers and money players in the final few minutes. Jamie Dixon can rely on these two to take over a game when needed. They carry themselves as mature young adults, ready to take the baton of leading Pitt to a possible Final Four.
Still-unresolved situations:
• Baylor coach Scott Drew said in a text message Thursday night that there had been no movement on reinstating senior guard LaceDarius Dunn for Friday's opener against Grambling State. The Bears can get by without Dunn for some time since the schedule is soft until Arizona State on Dec. 2 and Gonzaga in Dallas on Dec. 18.
• Kansas coach Bill Self said in a text Thursday night that he was hopeful there will soon be a resolution on the eligibility of point guard Josh Selby. But it didn't sound promising for the immediate future: Friday's game against Longwood and Monday against Valparaiso. Kansas starts the meat of its nonconference schedule with a rugged seven-game stretch -- Ohio, Arizona, UCLA, Memphis in New York, Colorado State, USC and at California. All of those teams, save perhaps Cal, should be in postseason contention. But the game against the defending Pac-10 champion is in Berkeley, which still makes it a difficult stop.
• Minnesota coach Tubby Smith suspended Devoe Joseph for a violation of team rules. The Gophers open against Wofford and then play Siena on Monday before going to Puerto Rico for three games, starting with Western Kentucky. Joseph is one of the better scorers for the Gophers, but this Minnesota team can take at least one suspension (unlike last season's team). In discussing this with the Minnesota staff Thursday night, I got the sense Joseph will be back sooner rather than later as long as he adheres to Smith's rules.
And now a glimpse at the weekend ahead:
Best games
No. 21 Georgetown at Old Dominion, Friday, 7 p.m. ET: The Monarchs are a CAA cofavorite, while Georgetown is a top-five Big East team. The Hoyas, who have lost two of their past three against the Monarchs, will be entering a rocking arena and will have to play well to win. This should have a February feel to it. Clearly, an ODU win will have more shelf life than a Georgetown road win. And the Hoyas have already started the season with one setback, as the school announced Friday that freshman center Moses Ayegba has to sit out the first nine games because someone who wasn't an immediate family member paid for his plane ticket to come to the United States before he enrolled in high school.
[+] Enlarge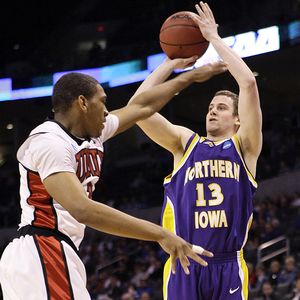 AP Photo/Tony GutierrezFresh off charming America in March, Johnny Moran and his UNI teammates open Friday at Syracuse.
Northern Iowa at No. 13 Syracuse, Friday, 7 ET (ESPN3): Don't be fooled into thinking this is the same Panthers team that upset Kansas. It's not. The Panthers lost too much of that squad to be looked at as a major threat to win at the Carrier Dome. But they will test the Orange zone. How well Kris Joseph emerges as the go-to guy and the impact of Fab Melo along the backline will be interesting developments to track.
Seton Hall at No. 22 Temple, Friday, 7:30 ET: The Pirates have been flying under the radar during all the Big East preseason talk, but still have enough talent to be a major player in the league's muddled middle. Meanwhile, Temple is the Atlantic 10 favorite and the one school at the top of the conference that has had no drama in the offseason. But a loss here at home could start the questions for Fran Dunphy's group.
Sneaky game to watch
Southern Miss at South Florida, Friday, 7 ET: The Golden Eagles project themselves as a real threat to take down Memphis in Conference USA. The Bulls are rebuilding a bit after losing Dominique Jones to the NBA. But USF is still a Big East team that won 20 games last season, so a road win here by Larry Eustachy's crew will go a long way toward earning credibility.
Notable debuts
East Tennessee State at No. 10 Kentucky, Friday, 7 ET (ESPN3): How well Brandon Knight plays at the point, Doron Lamb and Terrence Jones play on the wing and Eloy Vargas plays inside will all be interesting subplots for an Enes Kanter-less Kentucky squad. Don't forget that ETSU has gone to the NCAA tournament in each of the past two years. An upset is highly unlikely, but a young UK team had all sorts of problems with teams like Miami (Ohio) and Sam Houston State early this past season.
North Carolina A&T at No. 5 Ohio State, Friday, 7 ET (ESPN3): The Buckeyes' new stud forward, Jared Sullinger, is being billed as the possible Big Ten player/freshman of the year. Let's see if he lives up to the early-season hype.
Lipscomb at No. 9 North Carolina, Friday, 7 ET: The Tar Heels will be major players if freshman Harrison Barnes is a stud. This is our first look at America's No. 1 recruit, his fellow stud freshmen and a motivated group of UNC returnees.
Chattanooga at No. 20 Tennessee, Friday, 9 ET: The Vols have been the center of controversy this offseason due to the admitted NCAA violations by head coach Bruce Pearl and his staff. Then Tennessee lost an exhibition game to Indianapolis this week and had the critics howling. But the focus can, at least for now, return to the court and the expectations around Tobias Harris in his first game.
Detroit at New Mexico, Saturday, 9:30 ET: The Titans start the season at the refurbished Pit and get to unveil the hyped Ray McCallum Jr. The Lobos will play Tennessee transfer Emmanuel Negedu, who had to have a defibrillator put in his chest after he nearly died in 2009.
Tricky road starts
San Diego State at Long Beach State, Saturday, 7 ET: The MWC favorites begin a five-game road swing to start the season that will take them next to Spokane and then to Oxford, Ohio. Long Beach State is a Big West title contender and a heck of an opening challenge for a team with the highest expectations in SDSU history.
Florida State at UNC Greensboro, Sunday, 3:30 ET: The Seminoles, who fancy themselves to be a possible second-place finisher in the ACC, are going out of their way to challenge themselves this season with interesting road games. Florida State also goes to FIU on Nov. 18 and Loyola Marymount on Dec. 18 before opening up the Diamond Head Classic in Honolulu with a true road game against host Hawaii on Dec. 22.
March, 26, 2010
03/26/10
1:11
PM ET
Creighton's Dana Altman understood his situation. In 2007, he accepted the Arkansas job but had a change of heart and backed out of the deal, staying in Omaha, Neb., where he was more comfortable.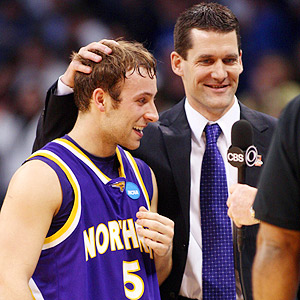 Nelson Chenault/US PresswireBen Jacobson was happy to commit his future to Northern Iowa.
Southern Illinois' Chris Lowery has sniffed at other jobs at times, but has yet to leave and still feels at peace with his place in Carbondale, Ill., despite rumblings about being considered for the DePaul opening.
In years past, the Missouri Valley has churned out coaches to higher-profile positions as soon as they won. Iowa State's Greg McDermott won at Northern Iowa before arriving in Ames, Iowa, but has since had a rocky road dealing with injuries, transfers and attrition at Iowa State. Keno Davis was picked up by Providence after a remarkable season at Drake, but is now out of the honeymoon phase and needs to show improvement in his third season. No one could question Mark Turgeon's move from Wichita State to Texas A&M. That was the ultimate high-major jump that couldn't be turned down -- a program that was already winning, loaded with resources, quality talent and a passionate fan base. This season is no different, as the coaches of the league's top two teams are highly sought after. The difference is that they are not jumping at the chance to leave and have made prudent decisions to stay -- one for the long term, the other for the short term (at the very least before he might receive a can't-miss offer). Northern Iowa's Ben Jacobson and Wichita State's Gregg Marshall decided against being wooed by a higher-profile position. The moves will pay off for the schools and for the coaches simply because they have a tremendous grasp of their careers at this juncture. In the midst of a magical run to the Sweet 16, Jacobson signed a 10-year extension, bumping up his salary from just under $300,000 to $450,000. Jacobson could have been in play for the Iowa vacancy, following McDermott's example of a big state school looking locally in Cedar Falls for its next coach. He could have angled for the DePaul job. If Tubby Smith were ever to leave Minnesota during this season's coaching carousel, he would be a slam-dunk choice for the Gophers. But Jacobson didn't take a turn on that ride. "The fit, that's what it comes down to," Jacobson said as he made his way to St. Louis on Thursday for the Panthers' Sweet 16 game against Michigan State. "It's all about the right fit. This is a great fit for my wife and our two boys." Jacobson, much like Butler's Brad Stevens, didn't want to make a mistake by chasing the cash and the higher-profile position. What has changed for Jacobson is the commitment from the UNI administration. Jacobson credits former athletic director Rick Hartzell for improvements such as ensuring the Panthers charter flights to games as well as altering the scheduling of nonconference games.
"The financial commitment to play in some of these exempt tournaments has helped us," Jacobson said. "There's more of a financial commitment now as compared to when Mac [McDermott] had the job."
That shouldn't come as a surprise. Administrators at schools like these in the Valley realize how much more they have to do to maintain their status as well as keep quality coaches.
[+] Enlarge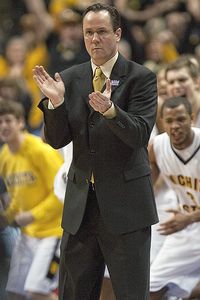 Tim Vizer/Icon SMIGregg Marshall is in no rush to leave Wichita State.
The work-life balance that Stevens has found in Indianapolis is similar to what Mark Few has at Gonzaga and Bob McKillop has at Davidson. Gonzaga has distinguished itself from the aforementioned programs with a major financial commitment to Few, paying him a salary that is similar to Pac-10 coaches' and would make it hard for him to ever leave. But for all of these coaches, not having as many off-court demands allows them to spend more time with their families, a major factor in their decisions to stay put.
"That played a huge role in the decision for me and my wife," Jacobson said. "My boys are 6 and 4, and I want to spend time with them. We're settled in now. We're going to continue to work and continue to commit to a solid basketball team. Kids want to be here. I feel fortunate and feel really great about the new deal." Meanwhile, Marshall was on Iowa's list but declined to interview. Marshall, a regular in the NCAA tournament during his time at Winthrop, has been extremely cautious in his moves. He could have pushed hard to be the South Carolina coach when that job opened up, though perhaps it would have been a stretch to think the Gamecocks would look to Winthrop for their new coach. But Marshall didn't wait for it to be open, and when Dave Odom left, the Gamecocks turned to Darrin Horn, a hot name and easy sell at the news conference after he guided Western Kentucky to a Sweet 16 run. Marshall, who replaced Turgeon at Wichita State, has arguably the best job in the Valley next to Creighton, with its facilities, fan base and financial commitment. To leave Wichita for a lower-level Big Ten job might not be the smartest move. The Shockers, who will likely be picked as the favorite in 2011 after losing to UNI in the Valley tournament title game, should be more of a national story next season. The Shockers lose just one key player in point guard and leading scorer
Clevin Hannah
, whom Marshall is out recruiting to replace. And he's doing it with the help of a recruiting budget that would have been unheard of in the Valley in recent years. Marshall went to recruit in Huntsville, Ala., on Wednesday and was home by dinner. That's because, according to Marshall, he has $80,000 a year for flights, with each roundtrip costing $3,000 to $6,000. His assistant coaches have used small private jets to see a player. That kind of access to air travel for a program like Wichita is immeasurable. "What people don't understand is how much this is a good job," Marshall said. Marshall makes an estimated $925,000 at Wichita State. That's money you can't dismiss. "You can't make mistakes," Marshall said of just bouncing around. "We've got arguably the best support: Creighton, us, Northern Iowa, Southern Illinois and Bradley, too. This league should get two bids." And that might be the only reason that drives him or someone like him in this league to leave -- NCAA tournament access. But if Marshall wins and does decide to leave then why couldn't he land a job similar to his predecessor Turgeon at a school ready-made for success? In Jacobson's case, it's not as though he isn't a potential climber in the business. He is, but he's not looking for stepping-stone jobs. He's realized, like Stevens, that you can reach heights where you're most comfortable, live life at a quality level and still get paid quite well. • Spoke with a high-level NBA personnel director who broke down the Sweet 16 prospects if they were to come out early or if they were seniors:
Cornell
:
Ryan Wittman
(second-round potential)
Kentucky
:
John Wall
(top two);
DeMarcus Cousins
(top five);
Eric Bledsoe
(early second);
Daniel Orton
(second);
Patrick Patterson
(first round).
Butler
:
Gordon Hayward
(lottery).
Syracuse
: Wesley Johnson (top five);
Andy Rautins
(second round);
Arinze Onuaku
(second-round potential).
Washington
:
Quincy Pondexter
(early second).
West Virginia
:
Da'Sean Butler
(second round);
Devin Ebanks
(15-25 first round).
Xavier
:
Jordan Crawford
(mid-to-late first round).
Kansas State
:
Denis Clemente
(second-round potential).
Purdue
:
JaJuan Johnson
(early second);
E'Twaun Moore
(second round).
Duke
:
Kyle Singler
(mid-to-late first round);
Jon Scheyer
(second-round potential).
Tennessee
:
Wayne Chism
(second round);
Scotty Hopson
(second-round potential).
Ohio State
:
Evan Turner
(top two).
Saint Mary's
:
Omar Samhan
(second-round potential).
Baylor
:
Ekpe Udoh
(mid-to-late first round);
LaceDarius Dunn
(second round).
February, 17, 2010
02/17/10
4:52
PM ET
Northern Iowa coach Ben Jacobson was getting hit from all sides with questions on how the Panthers dealt with
Jordan Eglseder
.
Was a three-game suspension for a DUI arrest too lenient? Was it too much? Should he be gone much longer?
How does it compare with how Kansas handled Brady Morningstar's DUI in the fall, suspending him for the fall semester? The problem in comparing the Morningstar situation with Eglseder's is the timing. Morningstar's DUI came after he was part of a fracas with the football team and followed a stern warning from Kansas coach Bill Self that any further embarrassment would mean serious consequences. Morningstar committed the major offense shortly thereafter.
"All these situations are different," Jacobson said. "Jordan had a 3½-year record to this point. He had shown a great commitment to being a better student and was much more of a confident young man. He had shown tremendous growth in all those areas."
Jacobson said the suspension of Eglseder, which began with Tuesday night's win over Creighton and continues with Friday's BracketBuster game against Old Dominion and next Tuesday's game at Evansville, was completely handled by the student code of conduct.
"It's supposed to be 10 percent of the total number of games," Jacobson said. "Three games is 10 percent of our 30. Some people were saying how could you do it at this point in the season? While others were wondering why we didn't sit him for just one or two games and others said we should sit him for the rest of the year. People are going to have their own opinion on what the consequences are to fit what Jordan did."
Jacobson said he supported the length of the suspension.
"At no point did I say what occurred was acceptable behavior within our program," Jacobson said. "If we get beat as a result of him being out then it will be magnified, but that's something we will have to deal with as a program."
The Panthers clinched the Missouri Valley Conference title with the win over the Bluejays, moving to 14-2 on the season, 23-3 overall.
Eglseder, a 7-footer with plenty of presence in the middle, has averaged 12.2 points and 7.6 rebounds so far this season. He is a must for the Panthers to survive in the MVC tournament or, for that matter, advance in the NCAA tournament, assuming they can get an at-large bid.
The Panthers might not be a lock if they don't win in St. Louis. UNI has one win against a team that will probably be in the NCAA tournament: Siena. The Panthers hammered the Saints 82-65 on Dec. 12. Losing to DePaul in the quarterfinals of the Paradise Jam in the Virgin Islands was a crusher because it prevented the Panthers from playing Tennessee in the semifinals.
"If we had played Tennessee then that would have put a different spin on our nonconference portion of our schedule," Jacobson said. "It took a long time for us to get back [recognition]. We had to win 15 games in a row to get back in the discussion. We had to beat Siena, Iowa, Iowa State. We won on the road."
Jacobson knows he will be criticized for the length of Eglseder's suspension. But the decision is over. There is a school policy and it was followed.
Now if the Panthers can still make the tournament and Eglseder can be a model citizen from this point forward, this will be a minor blip during their season. Eglseder made a mistake, one that could have been even more costly to himself, to others and to the program. How the Panthers handled it so far seems to be fair and just.
• I'm still stunned by the charges coming out against former Oklahoma State coach Sean Sutton. I saw him this past Monday night at the Kansas-Texas game in Austin. He did look extremely well-rested and comfortable in spending time with his father, Eddie Sutton. To see his mug shot -- the worn face, the messy hair -- and to hear the four felony drug-related charges is hard to comprehend. According to a wire story, Sutton is now in a treatment center. It's amazing to see someone look good, seem fine, and then see how much they may have been covering up for a life gone awry. It's a sad, sad story.
• Fordham announced Wednesday it will elevate its budget for the basketball program. What does this mean? Well, I spoke with longtime Fordham athletic director Frank McLaughlin on Wednesday and the hope is that the Rams will now be taken seriously in the Atlantic 10.
If the budget does go up to where the Rams are more of a serious player in terms of coaching salaries, recruiting budget and travel, then they might be able to recruit a higher-profile name in their head-coaching search.
The Rams are also exploring the option of playing four or five games at the Izod Center at the Meadowlands in the coming seasons. Fordham does have the advantage of being in the A-10 and the N.Y. metropolitan area, but its national profile right now is nonexistent. The Rams need to do something to differentiate themselves and luring the right coach for this position would certainly help.
I've always believed Fordham could be a Butler-like team in the MAAC. In the A-10, the Rams aren't going to be the lead dog in the title chase -- ever. But if the Rams ever are in the top six, they will certainly get significant traction.
The debate will always be what is better -- to be one of six or seven quality teams in the A-10 (still a reach) or to be a yearly favorite in a respected mid-major league like the MAAC with Siena and others? For now the Rams have decided they want to be a player in the A-10 and energize the legions of alumni in the area.
January, 26, 2010
01/26/10
2:25
PM ET
Siena is in the midst of a three-game road swing and is currently without its best player,
Edwin Ubiles
, who is out with a shoulder injury.
If the Saints, who are cruising in the MAAC with a 10-0 record, can survive this stretch -- let alone another five-game string against upstart Iona and Fairfield at home and Niagara, Canisius and Rider on the road -- still unbeaten in the league, then the BracketBusters opponent on either Feb. 19 or 20 will be even more important to the Saints' NCAA at-large hopes.
It's essentially Butler or bust.
If the Saints can win this week (at St. Peter's Thursday and at Marist on Saturday), there's a very good chance the Saints will be Butler's opponent in the highest-profile BracketBusters game. Matchups will be made this weekend so teams have a few weeks to deal with travel and scouting.
The concept has done wonders for some and been irrelevant for others, but one thing is certain: Teams that have an outside shot at an NCAA tourney at-large or are looking for a seed boost once they qualify as an automatic can't go wrong with another quality nonconference game in late February.
Some teams won't get that chance. The West Coast Conference isn't participating in the event and there are some omissions from other conferences like the Summit (only Oral Roberts and not Oakland), the America East (no Maine), the Big Sky (served up only Montana State and not Northern Colorado or Weber State).
There are 98 teams involved in 49 games during BracketBusters. The 11 games that will air on the ESPN family of networks are determined first and then the conference commissioners will pair up the remaining 76 teams.
Home and road teams are already set for the event, so it's a bit difficult to maneuver who can go where. But the most important aspect of matching teams should be done based on who has a shot to be in the field. Not all of the 22 set teams are in that group. Actually, maybe only six could have an outside shot at an at-large.
[+] Enlarge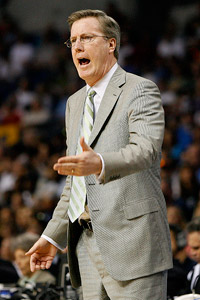 AP Photo/Mike CarlsonFran McCaffery is hoping BracketBusters provides a way to boost his team's NCAA at-large chances.
Siena is one of them.
"It's going to mean something and I would say if we could have a phenomenal league record and beat Butler and then not lose until the finals of the [MAAC] then we'd have a shot," said Siena coach Fran McCaffery. "We'll be right there in that discussion, but we don't want to get ahead of ourselves and assume the next five or six games."
McCaffery would actually be in favor of holding off on announcing the BracketBusters matchups until a few more weeks. But nevertheless, he still wants that Butler game. From a storyline perspective, it makes sense. Those are two of the better-known programs in the field and each has had some NCAA tournament success (Siena has won its last two first-round games).
"We're hoping we can put ourselves in position to get an at-large bid," McCaffery said. The problem for the Saints will be the six games prior to a possible showdown with Butler at Hinkle Fieldhouse in Indianapolis.
Ubiles didn't play against Manhattan on Jan. 18, played 33 minutes in a win over Loyola (Md.) on Jan. 21, but then missed the road game at Manhattan on Sunday. Meanwhile, guard Kyle Downey, who scored 16 points in Ubiles' absence in the first Manhattan game, broke his foot and is now out, possibly for the season.
"We're short-handed for this tough stretch, but I know we have to keep winning," said McCaffery.
Siena did beat Northeastern early in the season for what might turn out to be a solid win. It was a game McCaffery said was scheduled because "nobody wanted to play us and nobody wanted to play them and we're two hours away." But losses to Temple, St. John's, Georgia Tech and Northern Iowa were the supposed "up" games that the Saints failed to win.
Meanwhile, Butler has been rolling in the Horizon at 9-0 with a 16-4 record overall. That mark includes a win at Northwestern and home victories against Ohio State (without Evan Turner) and Xavier. Playing Clemson on a neutral court and UAB on the road (both losses) will help the power rating.
A year ago, Butler coach Brad Stevens said beating Davidson on the road was a key win for helping the Bulldogs get an at-large bid after losing to eventual champ Cleveland State in the conference tournament.
"We were coming off two losses that week before the Davidson game," Stevens said. "And you don't want to be on a losing streak at that time of the year. Doubt starts to creep in. That was a good win that got us going in the right direction."
Stevens knows the Bulldogs will get a quality BracketBusters opponent as the premier home team. There was a time when the staff was anticipating Wichita State as a possible opponent, but two losses last week for the Shockers have led to a belief that it could be Siena. Louisiana Tech, which tops the WAC, is also a possibility, but the name value of a Siena-Butler matchup may have more cachet.
The Bulldogs are handling their business in the Horizon as they become the top draw in every opposing building. That won't change as the Bulldogs go to Green Bay on Friday (ESPNU, 9 ET) and then to Milwaukee, two places the Bulldogs lost last season.
With Matt Howard staying out of foul trouble in the league after being in it throughout the nonconference, the Bulldogs are getting more of a complete effort. Gordon Hayward has been a Horizon MVP and barring a complete collapse, the Bulldogs are in good shape as far as the NCAA tournament is concerned.
Joining Butler as a BracketBusters home squad is Northern Iowa (8-1, 17-2), which leads the Missouri Valley. But Siena has already played Northern Iowa (the Panthers won 82-65) and that's why it makes more sense to send Siena to Butler and Louisiana Tech to Northern Iowa. The latter matchup may not seem headline-worthy to the mainstream fan, but these are the leaders in the WAC and MVC and both teams are talented enough to win a first-round NCAA tournament game.
If you were to pit Siena-Butler and Louisiana Tech-Northern Iowa, you'd likely have four teams that are going to be in the field of 65 matching up a few weeks before Selection Sunday.
The other hot teams are in the Colonial, but they obviously can't go up against each other. Northeastern, Old Dominion, George Mason and William & Mary all could be in play for the CAA's automatic bid with the Tribe the most likely at-large candidate because of nonconference wins over Wake Forest and Maryland on the road and Richmond at home.
That's why the question of who will play at GMU and Northeastern and where ODU and William & Mary will play during BracketBusters will be a fluid process this week.
I'd like to see the following: Wichita State at Northeastern as two of the top teams in the MVC and CAA; William & Mary hitting the road to play the best team in the Ohio Valley (Murray State); ODU traveling to Green Bay, pitting one of the top teams in the CAA against the second-best in the Horizon; and Charleston, which took out North Carolina, makes sense at George Mason in a matchup of two of the best from the Southern and CAA.
"We need a good game," said Northeastern coach Bill Coen, whose Huskies have won 11 games in a row, the third-longest streak in the country. "We've used all our mulligans and probably need to stay perfect the rest of the way to get an at-large berth. But in the spirit of the BracketBusters, we'd like to play our way into the conversation."
Northeastern failed to win games in the nonconference against potential NCAA teams Siena, Rhode Island and Saint Mary's before a humbling loss to Western Michigan in Honolulu on Dec. 23 -- its last loss -- set the team straight.
"It was good for us to be on the road because we had to take a hard look at ourselves," Coen said. "It was like a foreign tour. We were together all the time and had to go eat together breakfast, lunch and dinner and figure it out."
What happened was Northeastern got back to defending and Chaisson Allen started to play the point like Coen expected, teaming up with potential CAA Player of the Year Matt Janning.
Now Coen says the Huskies are cheering for a BracketBusters game "that will help us the most."
They're not alone.
December, 11, 2009
12/11/09
12:14
PM ET
Assuming his grades are reported as expected, UTEP will add enigmatic center
Derrick Caracter
to its lineup Sunday against New Mexico State. (Update: As announced Saturday, Caracter will indeed
make his debut with the Miners this weekend
.)
UTEP coach Tony Barbee doesn't expect a hitch in getting Caracter into the Miners' rotation. He backloaded their nonconference schedule knowing the team would be without Caracter early in the season.
The Miners, a trendy pick to push Tulsa and Memphis and win Conference USA, are 5-0 with a glut of nonconference games remaining against Ole Miss in Southaven, Miss. (Dec. 16), Oklahoma in Oklahoma City (Dec. 21), at Texas Tech (Jan. 3) and against BYU (Jan. 9). Their C-USA schedule begins SMU on Jan. 6. "I tried to play the fewest amount of games I could prior to Dec. 13," Barbee said. "If I could have played two games, I would have, but there weren't enough dates after it. I had to play some home games." According to Barbee, Caracter has been a model citizen since his arrival in El Paso after transferring from Louisville because of differences with Cardinals coach Rick Pitino about weight and work. Barbee said Caracter, who was hyped as the "next great thing" since he was 14 years old and attending school in New Jersey, has been a loyal foot soldier on the scout team. But don't for a second think that Caracter is the only reason UTEP should be watched throughout the season. The Miners, who lost to Oregon State in a decisive third game of the College Basketball Invitational in April, have one of the better-balanced scoring rosters. UTEP has five players averaging double figures -- guards
Randy Culpepper
,
Julyan Stone
and
Christian Polk
and forwards
Arnett Moultrie
and
Jeremy Williams
. "I told Derrick that he wasn't coming here to be the savior or that this would be a one-man show," Barbee said. "This is a team that we've built here. This is our fourth year, and we're where we want to be. We talked about being balanced, and we are. Derrick will make us better, but he doesn't become our team." The Miners relied heavily on Stefon Jackson early in Barbee's tenure. But although Culpepper and Stone don't have similar star power, they're much more of a complementary pair. Moultrie is a developing talent who will thrive even more with Caracter next to him. The Miners should have the best shot-blocking tandem in the league with this pair, even more so than true center
Jerome Jordan
of Tulsa, who wouldn't have as meaty a mate next to him as Moultrie will with Caracter. Barbee talked about how high this team can go once he has everyone eligible. Still, the Miners may not have as much room for error in Conference USA, which should be extremely competitive. Building a résumé with wins now will only help, and unlike a lot of other potential NCAA teams, the Miners have purposely gotten off to a quiet start. Once Caracter is eligible, the higher-profile games will start rolling in, and we'll have a more accurate picture of the possibility of UTEP being a true team to watch for the next three months. • Florida's loss meant there were 15 remaining unbeaten teams this season. It's still so early and it doesn't mean that much -- yet.
But still, which is the most surprising unblemished team?
Texas Tech. The Red Raiders' overtime win over Washington is still one of the more surprising results this season. New Mexico probably would finish second in this group. The Lobos play Texas A&M on Saturday in Houston. Which of the one-loss teams has been one of the most overlooked? Saint Mary's. If the Gaels had beaten Vanderbilt instead of losing by a deuce, they might've been one of the more-talked-about teams.
Omar Samhan
has been stellar so far, and so has the guard play. The Gaels got overshadowed by Gonzaga and Portland in November, but check who is atop the West Coast Conference standings in overall record in mid-December. Of schools outside the power six leagues, which one-loss teams should you keep tabs on? Northern Colorado at 8-1 is now a favorite to win the Big Sky, and a battle is brewing in the Missouri Valley among undefeated Missouri State (8-0), Illinois State (7-0), Wichita State (8-1) and preseason favorite Northern Iowa (6-1).
November, 20, 2009
11/20/09
1:36
AM ET
NEW YORK -- The Cal we saw Thursday night was not the Cal we picked to win the Pac-10. No way.
No Theo Robertson or Harper Kamp means no chance for California to win the Pac-10, at least until those players are back from a stress reaction (Robertson) and a knee injury (Kamp).
"Those two guys, along with [then-senior] Jordan Wilkes were key guys for us last season," Cal coach Mike Montgomery said. "All of a sudden we're picked with all the hype."
[+] Enlarge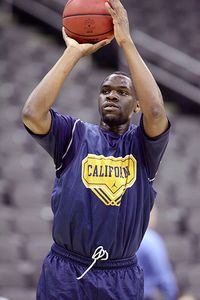 Douglas Jones/US PresswireSyracuse was already a tough enough opponent for Cal. And being without Theo Robertson certainly didn't help.
The Golden Bears were the best 3-point-shooting team in the nation last season and did return Robertson, along with senior guards Jerome Randle and Patrick Christopher. Robertson was averaging 18 points in the first two games, but suddenly couldn't practice when the team got to New York because of his bum right foot. Kamp stayed back in Berkeley because he's not ready to consistently practice after offseason knee surgery.
"They're the glue," Montgomery said. "They're the best thinkers and the people that really know what's going on now."
Cal could never catch Syracuse on Thursday night at Madison Square Garden, losing 95-73 in the semifinals of the 2K Sports Classic benefiting Coaches vs. Cancer.
Randle said he assumed Robertson was going to play.
"Then I saw he wasn't going to suit up and saw him in a boot," Randle said. "We had to have a different mindset for the game."
Montgomery said the Bears will know about Robertson's situation when they return to Berkeley on Saturday after Friday's third-place game against Ohio State. He said Robertson was "really, really sore and there was no way we were going to risk it at this stage in the season." Montgomery said Robertson wore a boot to keep his foot from flexing and to isolate where the pain was on his foot.
As for Kamp, Montgomery noted that he'd been practicing well but can't string together a few in row without discomfort.
"He wants to get to the point where he can practice hard and play the next day," Montgomery said. "He doesn't want to play, sit out and then play again."
Against the Orange, Randle had to take on much more of the scoring load with 25 points on 17 shots. Christopher struggled against Syracuse's zone by going 6-of-20 from the field and 0-of-7 from the 3-point line. The Bears were forced to play some big men that haven't had as much time like 7-foot-4 Max Zhang and 6-9 freshman Bak Bak.
"We need Theo, we need Harper, but until we get them back we have to pick up the slack," Randle said. "Missing Theo or missing Harper, we still have to win."
Senior Jamal Boykin got more involved without Robertson and Kamp with 14 points on 12 shots. Foul issues (four) limited the effectiveness of starter Markhuri Sanders-Frison.
The good news for the Bears is that the rest of the Pac-10 is in a state of flux, too. Washington, the other preseason favorite, hasn't been challenged yet. But UCLA fell flat to Cal State-Fullerton, Oregon State dropped two of three at a tournament at Texas Tech, and it's hard to say how good Oregon or Arizona are just yet. The likelihood of Arizona State having staying power is probably unrealistic with such a young team.
"I don't know if Syracuse is a great gauge to say if we're any good," Montgomery said. "They're big and we're not. I knew the zone would be a problem, and they had a lot of run-outs on us."
• Ohio State junior guard Evan Turner started the season with a triple-double against Alcorn State with 17 points, 10 assists and 11 rebounds. He got his second triple-double of the season Thursday night against North Carolina -- although this one wasn't nearly as nice: 23 points, 11 rebounds and 10 turnovers.
"It was a rough night, obviously," Turner said after the 77-73 loss to the Tar Heels. "I just have to come out [Friday]. The game is over and I just have to make sure it never happens again. Sometimes I might have thought about the situation too much, whether I should shoot or pass, so I traveled here and there."
• The tournaments on the ESPN family of networks get plenty of pub. But there is one tourney not on ESPN's air that is flying too far under the radar. The Paradise Jam begins Friday in the Virgin Islands and could provide a stellar final four of its own this weekend.
If the seeds hold, the semifinals in this event could feature four teams that are destined for the NCAA tournament.
Tennessee, which needs to beat East Carolina in the first game, would match up against Northern Iowa in one semifinal, assuming the Missouri Valley Conference preseason favorite beats DePaul.
The Volunteers are coming off an otherworldly 124-49 win over UNC Asheville in which Scotty Hopson came out of his shell and scored 25 points.
The Panthers beat a solid Denver squad 71-65 in their opener with a balanced effort, led by Kwadzo Ahelegbe's 18 points and 13 from Adam Koch.
On the other side, assuming Purdue gets past South Dakota State (which upset Wyoming on the road last week), the Boilermakers could face Boston College. The Eagles have to fly past a Saint Joseph's team that opened up with wins over Drexel and Holy Cross. But BC gets suspended starters Rakim Sanders and Corey Raji back for the opener against the Hawks. Boston College found a new scorer in their absence, as senior Tyler Roche has gone for 30 and 19 in the two games. The Eagles already knew they had a stable set of guards in Reggie Jackson and Biko Paris.
Purdue will enter this tournament minus point guard Lewis Jackson, who is out indefinitely with a foot injury. Coach Matt Painter said he expects Kelsey Barlow to get more minutes in the rotation, even though Barlow doesn't play the same position. The Boilermakers will still lean on Keaton Grant at the point and have veteran leadership up front with Robbie Hummel, JaJuan Johnson and E'Twaun Moore with D.J. Byrd (13 ppg) and Chris Kramer (11 ppg) more than holding their own.
So don't sleep on this weekend's Paradise Jam. A final four in St. Thomas of Tennessee-Northern Iowa and Purdue-BC would probably be one of the better semifinals of any of these early-season events.