Category archive:

Providence Friars
June, 17, 2013
06/17/13
1:06
PM ET
The goal of the Team USA U-19 team is to win FIBA gold in Prague, not to produce an all-star team.
So the roster cuts from 26 to 16 were done with one main thing in mind: Shooting -- something the Americans didn't excel in last year.
Coached by Florida's Billy Donovan, VCU's Shaka Smart and Virginia's Tony Bennett, the squad will practice for three days in Washington D.C. before departing for the Czech Republic next week.
Here are the players who made the first cut: Oklahoma State's Marcus Smart, Villanova's Ryan Arcidiacono, Florida's Michael Frazier, Oregon's Damyean Dotson, Pitt's James Robinson, Duke's Rasheed Sulaimon and the sleepers in the bunch, incoming Washington freshman Nigel Williams-Goss and Louisiana-Lafayette's Elfrid Payton.
Providence's Kris Dunn, Texas' Javan Felix and UConn's Rodney Purvis (who will sit out this year after transferring from NC State) did not.
"There were so many guards, but we were looking for shooting," said Syracuse coach Jim Boeheim, who heads the junior national team committee.
Purvis was on the team last year when the U-18 squad won gold in Brazil. Felix said earlier in the month how much he wanted/needed to be on the team to help a struggling Longhorns' program. Dunn must be a difference-maker for the Friars next season in the new Big East.
Providence coach Ed Cooley, who was a court coach in Colorado Springs over the weekend, had a realistic appraisal of Dunn's work in trying to make the team.
"When you've got a guy like Marcus Smart, he was the best player there, a very good player at the point, and Kris played well but they didn't need him,'' said Cooley. "They needed more shooting and that's not his strength. All his strengths are Marcus Smart's and he is way better [than Dunn]. Kris played really well. I was proud of his effort and how far he's come, but he's got a way to go to get to that level.''
Cooley said Dunn got a chance to see what he needs to do to get to a higher level, noticeably work on his mid-range game. But to finish in the upper half of the new Big East, Dunn will have to produce a breakout year. If he does, along with Bryce Cotton, then Cooley said they could have one of the best backcourts in the league.
Boeheim said the decision-makers were very impressed with Payton, a relative unknown out of Louisiana-Lafayette, as well as Williams-Goss.
As for the rest of the roster, Memphis' Shaq Goodwin didn't make the cut either. He was on the team a year ago. Memphis coach Josh Pastner said the Tigers will be relying heavily on Goodwin in the post.
The forwards who did make the cut were: Marcus Georges-Hunt (Georgia Tech), Aaron Gordon (Arizona-bound), Jerami Grant (Syracuse), Montrezl Harrell (Louisville), Jahlil Okafor (Class of 2014), Jarnell Stokes (Tennessee), Mike Tobey (Virginia) and Justise Winslow (class of 2014).
Grant, Harrell and Stokes were on the team last summer. Harrell could end up being the most NBA-ready player from the national champ Cardinals. Stokes should be an All-SEC first-team player. Grant will be one of the top anchors on Syracuse next season with C.J. Fair, Gordon has tremendous athleticism on the break, Okafor could be the top pick in 2015 and Tobey has been a surprise so far.
Now for the hard part -- cutting four more.
"It will be a tough cut, very tough cut, very tough,'' Boeheim said.
"This is a really good team. The best team over there will be Serbia. It will be a great challenge. But this team has quickness and defense.''
May, 22, 2012
05/22/12
12:22
PM ET
The Big East will send out its annual straw poll to its coaches to get their preseason predictions about the strength of the league's teams to help put together next season's conference schedule.
The league office said Syracuse's Jim Boeheim and Pitt's Jamie Dixon will be allowed to vote in the poll, even though the schools are leaving the conference for the ACC. They weren't invited to the conference meetings earlier this week in Florida.
The results of the poll will determine which teams face each other twice during the conference schedule. Having a tiered system based on those predictions has worked well for the Big East, rather than the predetermined rotations of which teams play each other twice used by the Big Ten, ACC and SEC.
[+] Enlarge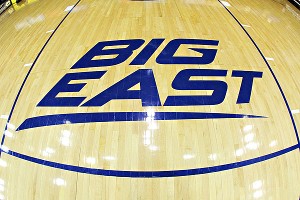 Bill Streicher/Icon SMIBig East coaches are confident the formula the league uses to determine conference schedules ahead of each season has helped in getting more NCAA tournament bids.
The Big East had 11 teams in the NCAA tournament in 2011; it sent nine teams last season. Coaches firmly believe handling scheduling this way is the reason.
"We've been able to give the league the flexibility to balance the schedule," Cincinnati's Mick Cronin said after the Big East meetings wrapped up Tuesday morning in Ponte Vedra Beach. "The repeat opponents have been set up by the hierarchy of the league in the summer. Something has been done right. We've had 11 teams and then nine teams in the NCAA. The coaches were against 18 league games but then it has helped us get more teams in [the tournament]."
Notre Dame coach Mike Brey agreed that the formula has worked for the Big East.
"It has driven us to get more bids," said Brey, who added it was odd not to have Boeheim at the Big East meetings for the first time during Brey's tenure at Notre Dame. "We've got to stay with this formula. It's not too constrictive. We don't want a rotation. We've got to keep an open mind. Some of it is by design, some of it is by luck, but it has really worked. You can sit there as a coach and say, 'If you're in the top eight, you're in the tournament.'"
There were 13 men's basketball coaches in attendance at Monday's meeting. Four coaches stayed to meet with athletic directors Tuesday. UConn's Jim Calhoun and Louisville's Rick Pitino weren't in attendance and neither were coaches from incoming 2013 members Temple (Fran Dunphy), Memphis (Josh Pastner) and SMU (Larry Brown).
According to Brey, the 11 other coaches in attendance, outside of him and Cronin, were: Stan Heath (South Florida), Ed Cooley (Providence), Kevin Willard (Seton Hall), Steve Lavin (St. John's), Mike Rice (Rutgers), Jay Wright (Villanova), Buzz Williams (Marquette), John Thompson III (Georgetown), Oliver Purnell (DePaul) and 2013 new members Donnie Jones (Central Florida) and James Dickey (Houston).
Heath said that there was even discussion about possibly opening up to 20 games from 18 when the new teams come into the conference.
"We had some conversation, but nothing was shot down," Heath said.
Heath, Cronin and Brey all said there was a renewed sense of optimism in the room, especially with presentations from television executives from NBC and Fox. ESPN and CBS have the current Big East rights, but the league will enter a new negotiating period in the fall.
"There was excitement over the TV presentation possibilities," Cronin said. "The Big East can't negotiate now but there was interest in our product. You could see people spending valuable time on the presentations and they say we'll be even stronger with the media market changes in adding Dallas, Houston and Orlando, which only helps the big picture."
The coaches agreed that the conference tournament must include all members in 2013, regardless of that number.
Heath said he brought up to the coaches that former USF player Kentrell Gransberry never played at Madison Square Garden during his career at South Florida because all the teams weren't invited.
"It's meaningful to the players and the teams even if it's one game," Heath said. "It's a big part of being in the Big East."
The format for the 2013 Big East tournament is still being discussed. There are 15 teams in the league this season with West Virginia's departure. Connecticut is currently not eligible for the tournament since it is not allowed to play in the postseason because of an NCAA ban for poor academics.
The coaches said the plan would be a for 14-team tournament with two games on Tuesday (instead of the previous four) and the rest of the schedule going forward from Wednesday on during championship week with the remaining teams.
Brey said the number of games for an 18-team Big East is still an issue.
"Everybody wants to play everybody," Brey said. "We can't have no-plays. And we need all of the schools to come to New York. A lot of these schools do a lot of business around the Big East tournament. We've got to figure out a way to do this. We're going to figure this all out together."
December, 28, 2011
12/28/11
11:24
AM ET
Maybe I was naive at times, but I never believed Rick Pitino was leaving Louisville.
Not once.
Not when stories surfaced that he was looking at the NBA or even another college job, especially after news of his sordid affair and subsequent extortion attempt by his mistress was made public two years ago.
[+] Enlarge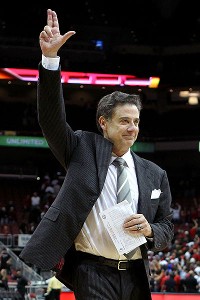 Andy Lyons/Getty ImagesIf you judge his results solely on the court, it's clear Louisville's Rick Pitino is a Hall of Famer.
The reports and rumors of a potential job search were all worth checking out. But Pitino never left. The university could have simply divorced itself from him because of the embarrassment of the situation. But they backed Pitino, and now the issue is no longer divisive to the school's supporters. However, there will always be detractors.
Now, according to Pitino, there is an official end to his tenure at Louisville. He said Tuesday he's done with coaching once his contract runs out after the 2016-17 season.
Pitino's world changed forever on 9/11 when his brother-in-law, Billy Minardi, was killed in the World Trade Center. He helped move Minardi's family to Louisville. A campus building was named for Minardi. Roots were planted in Louisville. Priorities changed. You can take sides on whether you believe Pitino. He is flawed and will be severely damaged by his own misdeeds.
But it didn't make sense for him to bolt at the time.
Leaving Louisville would have meant fleeing. And for what? No other college job could provide what Louisville had delivered for Pitino. He had already coached at Kentucky. North Carolina, Duke and Kansas were never options, either.
No other college job would pay him a top salary or would be able to deliver the pro-like atmosphere he got at Louisville. Pitino makes $3 million a year, and his salary will go up to $3.9 in 2013. The KFC Yum! Center is up and running, and he said it is the finest facility he has ever seen, and not just in the college arena. Pitino said earlier this month that the Yum! Center provides a tailgating-like environment for basketball because people enjoy being there hours prior to tipoff.
Pitino brought his son, Richard, back to the bench after he "left'' for Florida, which coincidentally happened after the revelation of the affair. Richard is back on the bench and all appears to be good again.
The NBA could have been an option for the Louisville coach. But the memories of Pitino's time with the Celtics weren't exactly positive, and no NBA team was running to hire him -- even with his extensive résumé. The likelihood that he would have been given the opportunity to coach a franchise that was on the upside or already in the playoffs was slim.
So he'll finish his coaching career at Louisville. And if we judge the results solely on the court, then there is no question that Pitino is a Hall of Famer. Pitino led Providence, Kentucky and Louisville to the Final Four. His run at PC in 1987 will go down as one of the best in Big East history. Every Friar team and coach since is held up to that standard.
Pitino came to Kentucky at the perfect time, and he got the Wildcats back to their rightful place among the great programs in the country. The NBA-type talent in Lexington continues today with his new rival, John Calipari. Calipari is bound to win a national title at Kentucky at some point, and it may be in April. Pitino's run to multiple Final Fours in the mid- '90s included a national championship under his coaching. The Wildcats then won another title with his players, who were skillfully coached by his former assistant, Tubby Smith. All of that created a legacy for Pitino.
On to Louisville … the Cardinals went to a Final Four and are now competing for the top spot in the Big East on a regular basis.
If Louisville remains in the Big East for Pitino's final four seasons (the league changes substantially in 2013), the Cards should be one of the regular favorites (along with Connecticut, if the Huskies are still in the league as well).
Pitino was the most outspoken of any Big East coach when he said that any potential expansion plans should include basketball schools Memphis and Temple. It still might, but the initial wave of expansion for all sports brought in Houston, Central Florida and SMU -- a poor trade-off for the exits of Pitt, Syracuse and West Virginia in two seasons. Pitino was correct in what the Big East needed, regardless of his position in the long term at Louisville.
Now the recruits that Pitino signs next season will be his final four-year class, if they were to stay through his final season.
And if it's any indication of what has occurred recently, then a number of them will be hard-working players who overachieve. Pitino's teams are consistently well-conditioned. They may not be the most skilled, but they don't quit.
This Louisville team isn't the fourth-best team in the country, despite what the rankings claim. The Cardinals have left home once -- winning at Butler -- and could have lost a couple of times at home already (Vandy and Western Kentucky). But to their credit, they did not.
Louisville could still finish fourth or fifth in the Big East behind Syracuse, Connecticut, Georgetown and/or Marquette. But that won't diminish what Pitino has done with this team and program.
If he walks away from coaching in 2017, then it will close out quite a career -- one that he certainly maximized every season.
December, 27, 2011
12/27/11
10:32
AM ET
Ed Cooley hasn't let the positive vibe that came with his hire disappear this season.
Providence College's decision to hire the hometown man as Keno Davis' replacement was met with widespread support. There was simply no other candidate.
Yet the Friars could have easily fallen flat, even against a soft-serve nonconference schedule set up by Davis.
[+] Enlarge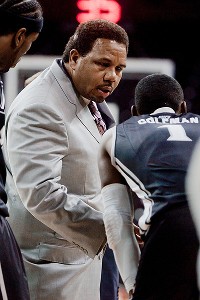 Jeff Blake/US PresswireProvidence is off to a strong start, but can Ed Cooley's team keep it up in the Big East?
Instead, they open the Big East schedule on Tuesday night at struggling St. John's with 11 wins and a seven-game win streak. Providence is led by arguably one of the top seven lead guards in the league in junior Vincent Council. "We are way ahead of schedule,'' Cooley said Monday night from New York, where he was preparing for the meeting with the Red Storm. "I never would have thought we'd be in this position after our first practice in April. We couldn't do a three-man drill, a close out, a layup. We had to stop, stop and stop.''
The Friars have had just nine players who contribute on a regular basis through the first 13 games. The top newcomer -- guard Kiwi Gardner -- never made it through academically. He's at the school but has not been able to compete on the court. The hope is that he'll be eligible in the fall of 2012, when he could join a heralded recruiting class of Ricky Ledo and Kris Dunn on the perimeter. Ledo will need a waiver to play next season since he's earning his core classes in his ninth semester of high school (the rule states that a player must complete the core course work in eight semesters or else he could lose a year of eligibility).
Council, who is just one of three true guards according to Cooley, has allowed the Friars to be competitive every game.
"He's the reason that we're able to open games up,'' said Cooley. "He'll go for two or three minutes and teams can't keep him from the rim. He's as fast end-to-end as any guard I've seen this season. He's playing at a really high level and running this team. He's not what I was told. He's been extremely coachable.''
Council's averages are up three points from 13.7 to 16.9 a game and his assists are up one from 5.9 to 6.9 per game. But he's been more of a leader for Cooley than he was asked to be by Davis. "I just didn't know how good he was until I started coaching him,'' Cooley said. "He gives us a chance every night. He puts so much pressure on the transition defense.''
Cooley isn't naive. The schedule has helped the Friars build confidence, and the Providence community has kept the faith in his gregarious nature, which isn't just for show. There were real results behind his persona.
The Friars won in a difficult spot at Fairfield early in the season. That's where Cooley used to coach, and it's a two-for-one situation for Cooley after he left the program last April. The next two games in the series are at the Dunk in Providence. The Friars also have to pay a hefty financial guarantee for Cooley to leave the Stags and come to PC.
The two losses to Iowa State and Northern Iowa were at the South Padre Island (Texas) Invitational. The Cyclones have struggled throughout the nonconference, while the Panthers were on a roll until Ohio squashed them at home. Still, Cooley said he'd like another crack at both teams now.
Beating downtrodden Boston College and A-10 cellar dweller Rhode Island are wins that the Friars should have gotten since they have more talent. And it only helps Cooley's image in New England if he can take out two of the regional schools. "We had the best player on the floor,'' Cooley said of Council.
Reality will likely hit hard when the Big East schedule begins. The Friars follow the St. John's game with a matchup at Georgetown on Saturday, and then host top-ranked Syracuse on Jan. 4. They play the Orange twice in a span of four games and also host No. 4 Louisville during that stretch. The grind continues into late January with a home game versus Marquette and a trip to Pitt.
The Friars could easily be stuck at 11 wins for quite some time. But there is also the chance that PC could be more than halfway toward a possible postseason berth -- which wouldn't have been talked about last spring. "The schedule has helped us,'' Cooley said. "You couldn't have written a better script.''
August, 25, 2010
08/25/10
2:54
PM ET
While the Big East decided it won't change its tournament format for 2011, where and when its conference games will be played this season remains a long, drawn-out process.
The Big East handles its 18-game conference schedule using a poll voted on by the league's coaches in May. According to where teams are ranked, they're placed into tiers. In some years, there have been just three tiers, sometimes four, sometimes five or even six, depending on the discrepancy between the teams' point totals.
Creating a schedule for a 16-team league is inherently difficult, especially taking into consideration games played on national television. This season, the league is facing the toughest time it has had in finalizing its conference schedule because of the late release dates of schedules for professional sports teams that share venues with half of the league's teams.
The AHL minor league hockey schedule was released Tuesday, which affected home dates for the Providence Friars at the Dunkin' Donuts Center, the UConn Huskies at the XL Center, DePaul at Allstate Arena and Marquette at the Bradley Center. The NBA schedule was released later than normal this season (due in large part, the Big East thinks, because of the reshuffling of games to accommodate the changes brought on by LeBron James' free agency saga). The NHL television schedule was supposed to be released Wednesday, which would help with arenas that house NHL and Big East teams (Georgetown at the Verizon Center, St. John's at Madison Square Garden, Seton Hall at the Prudential Arena and Villanova for its handful of games at the Wachovia Center).
Georgetown and St. John's also share their venues with NBA teams as well as other events that come through New York and Washington, D.C., in the winter months. Even Louisville had scheduling issues in the past with events when it played at Freedom Hall. The new arena is still a public facility, although the Cardinals are the primary tenant.
Big East associate commissioner Tom Odjakjian, who has to put the master schedule together, has no idea when it will be finalized.
Associate commissioner Dan Gavitt said scheduling at the Wachovia Center, Madison Square Garden and the Verizon Center has historically been the most difficult to finalize.
For the 2010-11 season, there were five tiers, determining which teams are paired up together for their three repeat games.
The tiers, based on the coaches' poll, went like this:
Tier 1: Pitt and Villanova
Tier 2: Syracuse, West Virginia, Georgetown.
Tier 3: Louisville, St. John's, Notre Dame, Connecticut.
Tier 4: Marquette, Cincinnati, Seton Hall.
Tier 5: South Florida, Providence, Rutgers, DePaul.
Pitt and Villanova received 13 of the 16 first-place votes. One of the three first-place votes went to St. John's. Louisville coach Rick Pitino admitted he gave the Red Storm and new coach Steve Lavin a first-place vote May 14. "I was debating between St. John's, Pittsburgh, Villanova and Cincinnati, but I didn't want to put that on Mick [Cronin, Pitino's former assistant] so I went with St. John's."
Pitino told ESPN.com Wednesday that he was sticking with St. John's, saying in a text: "Nine seniors. Everyone but Pitt and Villanova lost key players."
St. John's was picked in the ballot to finish anywhere from first to 13th while Cincinnati's range spread from fourth to 13th. Coaches couldn't vote for their own teams.
Gavitt said the Big East has been fortunate that some of the league's notable rivalries, such as Pitt-West Virginia and Rutgers-Seton Hall, have been in tiers that allow the teams to play each other twice.
"If you're in one of the bottom [tiers] then you generally get one very difficult repeat and two repeats against your peers," Gavitt said. "If you are picked in the middle, then you don't end up playing one of the top-tier teams. But you don't get a bottom-tier team either. It hasn't happened yet where a rival is way down away from the other team."
Below is a list of each team's repeat assignments for the upcoming season:
Tier 1
Pitt: Villanova (1), West Virginia (2), South Florida (5).
Villanova: Pitt (1), Syracuse (2), Rutgers (5)
Tier 2
Syracuse: Villanova (1), Georgetown (2), Seton Hall (4).
Georgetown: Syracuse (2), St. John's (3), Cincinnati (4).
West Virginia: Pitt (1), Louisville (3), DePaul (5).
Tier 3
Louisville: West Virginia (2), Connecticut (3), Providence (5).
St. John's: Georgetown (2), Notre Dame (3), Cincinnati (4).
Notre Dame: St. John's (3), Marquette (4), Connecticut (3).
Connecticut: Louisville (3), Notre Dame (3), Marquette (4).
Tier 4
Marquette: Connecticut (3), Notre Dame (3), Seton Hall (4).
Cincinnati: Georgetown (2), St. John's (3), DePaul (5).
Seton Hall: Syracuse (2), Marquette (4), Rutgers (5).
Tier 5
South Florida: Pitt (1), Providence (5), DePaul (5).
Providence: Louisville (3), South Florida (5), Rutgers (5).
Rutgers: Villanova (1), Seton Hall (4), Providence (5).
DePaul: West Virginia (2), Cincinnati (4), South Florida (5).
Gavitt said that the Big East attempts to get the best intelligence it can from its coaches when pairing teams for their conference schedules.
"Over the last five years it has been right about 75 percent of the time," Gavitt said. "We're always going to have teams finish higher like Pitt and Syracuse did last year. You can't bat a thousand."
• The Big East is also mulling what to do with the SEC/Big East Invitational. The event is in its final year of its current format of playing at neutral sites, which it has struggled to schedule and fill. The Big East has been fortunate with the home run of Kentucky-Connecticut last December at MSG but even Syracuse-Florida in Tampa wasn't a sellout. Coaches would like to see the event continue but on campus sites with all 12 SEC schools going against 12 of the 16 Big East schools. There would be a three-year rotation for the 16 Big East schools of home/road and off (out of the event) over an eight-year time frame.
• The Big East is trying to lessen the number of Saturday-Monday turnarounds for teams to around three this season.
• A source in the Big East said there would have been serious discussion within the league to add Kansas and Kansas State had both schools been made available if expansion dismantled the Big 12 but that there has never been any real discussion about adding Memphis. Football coaches haven't been shy about the need for a ninth member for scheduling purposes but basketball coaches are against a 17th school, and for the Big East to add one or two members it has to be a home run on all fronts. Kansas and Kansas State would have been if they were available. But they're not.
July, 15, 2009
07/15/09
12:05
PM ET
Wisconsin coach Bo Ryan was heading out to grab some souvenirs with his USA Basketball staff from their time at the World University Games in Belgrade, Serbia, and the cab driver made sure to take the Americans past bombed-out buildings, a harsh reminder of the war in the Balkans that tore apart the former Republic of Yugoslavia.
"U.S.A. did this, NATO," the taxi driver said to his passengers.
"Wait a minute; what does this have to do with us?" Ryan said he thought to himself. "You knew then that the cab driver had blown his tip. There is a sentiment that is still there. It's still the United States and in basketball, they also know we're pretty good."
The staff coaching the World University Games team through the first two weeks of July said that for the most part they weren't treated harshly when they were walking around. They were protected by a security force, a dedicated detail that USA Basketball said was top-notch. But the reception inside Belgrade Arena when they played the Serbs in a preliminary game that was won by the Americans was understandably nasty. The Americans were the ultimate road team. Everyone expected that.
What wasn't predicted was the treatment the Americans received last Saturday night when they went out to receive their bronze medals after a win earlier in the day against Israel -- after Serbia had just won the gold medal with a win over Russia.
"It was the worst I've ever seen," said Miami coach Frank Haith, an assistant to Ryan at the WUG. "There were little kids shooting us the bird. There were people yelling '[bleep] you!' It was ridiculous. We had a planned escape route if it got even worse. We were in a section for the gold-medal game where there was no one around us [for a buffer]."
Haith said the Americans were instructed not to go to the bathroom without a security person.
USA Basketball spokeswoman Caroline Williams, who was traveling with the team, said the Americans were told that security had been ramped up for the gold-medal game between Russia and Serbia.
"When it was one-on-one with the Serbs we had no problems, everyone was great," Williams said. "Our security force was phenomenal. They didn't want there to be any problem."
Williams said that the 20,000 fans booing during the medal ceremony was "pretty bad." And she added that everyone was reminded at times by the locals of the bombed-out buildings and who was allegedly responsible.
Ryan said he received a call from U.S. senior national team coach Mike Krzyzewski of Duke, who told him: "Nobody knows what you're up against. It was everything to them."
Still, despite the rude reception, the Americans desperately wanted another shot at the Serbs in the gold-medal game. But they lost to Russia by one point in the semifinal, forcing a bronze-medal game against Israel.
Ryan said that except for a three-minute stint against the Russians, the Americans played exceptionally. The Americans held teams to 67.7 points a game and 21 percent on 3s -- something that USA Basketball junior national team selection committee chair Jim Boeheim of Syracuse warned Ryan of before the event. Ryan said Boeheim told him he had to defend the 3-point line, so limiting their opponents to shooting 30-of-143 from 3 was a statistic Ryan took pride in.
"I'm not sure we would have beaten Serbia in the championship, but I would have loved to have played them in that atmosphere," Haith said.
"They booed us because of the '90s," Ryan said. "We wanted to play in that final game against Serbia. But we couldn't close the deal against Russia."
Ryan didn't have a Wisconsin player on the squad, but he did have four players who will go against him next season. He said he told them that they all improved during the tournament and "will likely kick my rear end next season."
At the top of that list is Penn State's Talor Battle. He wasn't expected to beat out Arizona's Nic Wise to make the team, but he did and led the Americans in scoring at 10.3 points a game and made 52 percent of his 3s in seven games (13 of 25).
"He not only improved during that NIT run for Penn State, but with this experience, too," Ryan said.
Ohio State's Evan Turner was last on the team in scoring at 4.0 a game. He's a scorer for Ohio State. But for the U.S. team on this trip he was more of a facilitator and a defender. Turner had 18 assists and six turnovers and six steals.
"He wasn't looking for his shot, but he was a great team player," Ryan said. "Everybody knows he can score."
Purdue's Robbie Hummel was a typical glue guy for Ryan, averaging 7.3 points and 5.6 rebounds a game and doing just about everything for the Americans in the seven games. Marquette's Lazar Hayward was a pleasant surprise, averaging 9.3 points and 5.6 rebounds. Hayward, who will go against Ryan's Badgers in a nonconference game next season, will be counted on to be much more of a go-to player for the Golden Eagles with the departures of seniors Wesley Matthews, Jerel McNeal and Dominic James.
"Every coach that has done this knows how hard it is to play 12 guys," said Ryan, who managed the minutes somewhat evenly, with no one getting more than 19 or less than 10 a game. "You've got to be tough to get a medal -- be it gold, silver or bronze -- and be booed like that. But we were on the road."
• One detail that is coming out of Memphis' hearing with the NCAA on June 6 dealing with charges of violations by the men's basketball program under former coach John Calipari could be telling. Calipari wasn't named in any of the allegations, which dealt with an allegedly fraudulent SAT score by former player Derrick Rose, as well as possible extra benefits received by Rose's brother, Reggie Rose, in the form of unpaid travel expenses.
Yet when Memphis and the NCAA's committee on infractions met in Indianapolis, Calipari was asked to join the meeting via conference call from China, where he was conducting basketball clinics. Calipari, now the head coach at Kentucky, was on the phone for three hours, according to multiple sources, and was barely involved in the conversation, with only one or two questions directed at him. That might be an indication that Calipari won't be named in any penalties.
A decision from the committee on infractions is likely due in the next three to four weeks. The major issue addressed by the COI is whether it will decide to vacate Memphis' NCAA-record 38 wins from the 2007-08 season for using an ineligible player (Rose) after his test score was invalidated in May of 2008. Rose may also be deemed ineligible if his brother was found to have received improper benefits in the form of unpaid travel expenses.
The NCAA eligibility center contends it has the right to determine whether a student should have been cleared even after he has played a full season. Memphis' defense is that since Rose was initially cleared by the NCAA, why should any wins be taken away retroactively, even if Rose was deemed ineligible after new information came forward after the season?
If the NCAA does vacate Memphis' wins, there would be even more precedent in the future to take away wins if any wrongdoing is uncovered after the fact, even though a player may initially have been cleared to be eligible. The next case like this would involve USC and the allegations concerning former player O.J. Mayo, if it is determined that Mayo shouldn't have been eligible after new information revealed allegations of extra benefits that would have jeopardized his amateur status.
• No offense to Providence's Keno Davis. Getting an extension after an NIT season and 19 wins isn't totally crazy. After all, it was just his first season with the Friars.
But the spin out of the public relations department is always a bit humorous. One of the points the Friars are selling is that Davis led them to their first Big East tournament victory since 2003. That is factually accurate. But the win was over DePaul, which went winless in the regular season, and came on Day 2 of a five-day Big East tournament.
Former coach Tim Welsh was fired for being essentially an NIT coach with the Friars. Davis made the NIT with Welsh's players in his first year. The team was senior-laden, so we'll see how quickly Davis transitions with his team in the future. He'll have time, given that he now has through 2015-16 to coach the Friars.
July, 2, 2009
07/02/09
12:19
PM ET
The Big East is in a difficult spot when it comes to scheduling. With 16 teams, the league can't ensure that its top teams will always play each other twice, as teams will play a home-and-home series with only three teams.
Pitt and Connecticut did it a year ago in what turned out to be two of the best games of the conference season. But Connecticut and Pitt went to eventual regular-season and tournament champ Louisville once without a return trip.
Next season's conference favorites are Villanova and West Virginia. They will play a home-and-home among their 18-game league schedules. Georgetown, which arguably could be the third-best team in the league, also drew Villanova twice. Villanova's third repeat game is against Marquette. West Virginia's two other repeat games are against rival Pitt and Seton Hall. Georgetown's two other repeat games are Syracuse and Rutgers.
Upstart Cincinnati, which fancies itself a Big East title contender after landing No. 12 (ESPNU top 100) recruit Lance Stephenson, drew Connecticut, Notre Dame and South Florida twice. Notre Dame, with the return of former Big East Player of the Year Luke Harangody, can make a claim to be one of the Big East's best and will play Cincinnati, Connecticut and South Florida twice.
Already you can see Villanova will have the toughest slate in the Big East if the predictions hold up. You could make the argument that Connecticut, a likely Top 25 team, might have the toughest slate behind Villanova with repeat games against Cincinnati, Louisville and Notre Dame. South Florida, projected to be one of the bottom six teams, was given a difficult slate, too, with repeat games against Cincinnati and Notre Dame as well as Providence.
Here's the official list from the Big East (each school's three repeat opponents are in italics):
Cincinnati
Home: Connecticut, DePaul, Marquette, Notre Dame, Pittsburgh, Providence, USF, Syracuse, Villanova
Away: Connecticut, Georgetown, Louisville, Notre Dame, Rutgers, St. John's, Seton Hall, USF, West Virginia
Connecticut
Home: Cincinnati, DePaul, Louisville, Marquette, Notre Dame, Pittsburgh, St. John's, Seton Hall, West Virginia
Away: Cincinnati, Georgetown, Louisville, Notre Dame, Providence, Rutgers, USF, Syracuse, Villanova
DePaul
Home: Georgetown, Louisville, Marquette, Providence, Rutgers, St. John's, USF, Syracuse, West Virginia
Away: Cincinnati, Connecticut, Marquette, Notre Dame, Pittsburgh, Rutgers, St. John's, Seton Hall, Villanova
Georgetown
Home: Cincinnati, Connecticut, Notre Dame, Rutgers, St. John's, Seton Hall, USF, Syracuse, Villanova
Away: DePaul, Louisville, Marquette, Pittsburgh, Providence, Rutgers, Syracuse, Villanova, West Virginia
Louisville
Home: Cincinnati, Connecticut, Georgetown, Notre Dame, Rutgers, St. John's, USF, Syracuse, Villanova
Away: Connecticut, DePaul, Marquette, Pittsburgh, Providence, St. John's, Seton Hall, Syracuse, West Virginia
Marquette
Home: DePaul, Georgetown, Louisville, Notre Dame, Pittsburgh, Providence, Rutgers, USF, Villanova
Away: Cincinnati, Connecticut, DePaul, Providence, St. John's, Seton Hall, Syracuse, Villanova, West Virginia
Notre Dame
Home: Cincinnati, Connecticut, DePaul, Pittsburgh, Providence, St. John's, USF, Syracuse, West Virginia
Away: Cincinnati, Connecticut, Georgetown, Louisville, Marquette, Rutgers, Seton Hall, USF, Villanova
Pittsburgh
Home: DePaul, Georgetown, Louisville, Providence, Rutgers, St. John's, Seton Hall, Villanova, West Virginia
Away: Cincinnati, Connecticut, Marquette, Notre Dame, St. John's, Seton Hall, USF, Syracuse, West Virginia
Providence
Home: Connecticut, Georgetown, Louisville, Marquette, Rutgers, Seton Hall, USF, Syracuse, West Virginia
Away: Cincinnati, DePaul, Marquette, Notre Dame, Pittsburgh, St. John's, USF, Syracuse, Villanova
Rutgers
Home: Cincinnati, Connecticut, DePaul, Georgetown, Notre Dame, St. John's, Seton Hall, Syracuse, Villanova
Away: DePaul, Georgetown, Louisville, Marquette, Pittsburgh, Providence, Seton Hall, USF, West Virginia
St. John's
Home: Cincinnati, DePaul, Louisville, Marquette, Pittsburgh, Providence, Seton Hall, Villanova, West Virginia
Away: Connecticut, DePaul, Georgetown, Louisville, Notre Dame, Pittsburgh, Rutgers, USF, Syracuse
Seton Hall
Home: Cincinnati, DePaul, Louisville, Marquette, Notre Dame, Pittsburgh, Rutgers, Syracuse, West Virginia
Away: Connecticut, Georgetown, Pittsburgh, Providence, Rutgers, St. John's, USF, Villanova, West Virginia
USF
Home: Cincinnati, Connecticut, Notre Dame, Pittsburgh, Providence, Rutgers, St. John's, Seton Hall, West Virginia
Away: Cincinnati, DePaul, Georgetown, Louisville, Marquette, Notre Dame, Providence, Syracuse, Villanova
Syracuse
Home: Connecticut, Georgetown, Louisville, Marquette, Pittsburgh, Providence, St. John's, USF, Villanova
Away: Cincinnati, DePaul, Georgetown, Louisville, Notre Dame, Providence, Rutgers, Seton Hall, West Virginia
Villanova
Home: Connecticut, DePaul, Georgetown, Marquette, Notre Dame, Providence, Seton Hall, USF, West Virginia
Away: Cincinnati, Georgetown, Louisville, Marquette, Pittsburgh, Rutgers, St. John's, Syracuse, West Virginia
West Virginia
Home: Cincinnati, Georgetown, Louisville, Marquette, Pittsburgh, Rutgers, Seton Hall, Syracuse, Villanova
Away: Connecticut, DePaul, Notre Dame, Pittsburgh, Providence, St. John's, Seton Hall, USF, Villanova
• Notre Dame coach Mike Brey said he will promote former player Martin Ingelsby from his position as director of basketball operations to be one of Brey's recruiting assistants, replacing Sean Kearney after Kearney got the Holy Cross job Thursday.
• Mississippi State is desperately looking for a power six conference school to come to Starkville for the start of a home-and-home. The Bulldogs, who could be a top 15 team come the fall if everyone is eligible (i.e., Renardo Sidney), already have a challenging schedule for what should be a highly ranked team. The Bulldogs will play UCLA in the Wooden Classic in Anaheim, Calif.; drew upstart Richmond in the South Padre Invitational in Texas (Missouri and Old Dominion are also in the field); play downtrodden DePaul in the SEC-Big East Invitational in Tampa, Fla.; play St. Bonaventure at home; and travel to Houston, San Diego and Western Kentucky. I would question if any top 15 team will play true road games like those three next season.
• Siena, which should be the favorite in the MAAC once again and a Top 25 team, can't get quality nonconference games. Siena is in the Philadelphia Classic with Temple and St. John's and plays Saint Joseph's, Albany and Northeastern at home, Northern Iowa on the road, at Tennessee State as well as a BracketBuster road game. But none of those games will jump up and grab the attention of the selection committee, unlike a year ago when the Saints were in the loaded Old Spice Classic in Orlando and also played one-way guaranteed games at Pitt and Kansas.
Siena would have had a hard time getting an at-large bid had it not won the MAAC tournament because it lost all five of those games. But at least the Saints played them. If Siena doesn't win the MAAC tournament this season, then the case will be much harder to make. The Saints still have three games left to schedule, and are willing to take a guarantee on the road. They need it to be a marquee team. That is getting harder for them to do after Siena beat Vanderbilt and Ohio State in successive NCAA tournament first-round appearances.
• It's never too early to plan Thanksgiving travel, and it's worth noting that a few of the tournaments look even better now as a result of a few personnel moves as well as some outstanding play of late from the participants.
I was originally down on the Maui Invitational field, but if Stephenson is eligible for Cincinnati the Bearcats will enter the field as one of the favorites. Stephenson would make his national television debut against a solid field. Maryland is certainly a top-20 team after point guard Greivis Vasquez withdrew from the NBA draft and returned to school. Vanderbilt's A.J. Ogilvy didn't declare for the draft, making the Commodores a viable Top 25 team. Arizona's stellar recruiting class (three USC defections) means the Wildcats are suddenly a possible top four Pac-10 team. Gonzaga, even with Austin Daye's departure, and Wisconsin are still possible NCAA teams. That leaves Colorado and Chaminade as the two bottom-dweller teams in the field, not bad for an event that had the look of being one of the weaker groups in Maui when it was originally announced.
The top Thanksgiving event will likely be the 76 Classic in Anaheim. All eight teams in the field could be in the NCAA tournament. There are Top 25 locks in West Virginia, Butler and Minnesota, a borderline Top 25 team in Clemson, a likely Top 25 team at some point in the season in UCLA, and possible NCAA teams in Texas A&M, Portland (second-best in the WCC) and Long Beach State (a Big West contender).
The Puerto Rico Tip-Off is also looking better as the summer progresses with Big East favorite Villanova and possible Top 25 teams Georgia Tech (debuting highly touted incoming freshman Derrick Favors), Kansas State and Dayton, the A-10 favorite. Ole Miss could be a sleeper team after watching Terrico White play in Colorado Springs two weeks ago (although it's still unclear if Chris Warren will be 100 percent after having ACL surgery last year). Indiana will be improved and Boston University and George Mason are hardly slouches.
The Paradise Jam in St. Thomas, Virgin Islands, has Top 25 teams Purdue, Tennessee and Boston College headlining the field with Saint Joseph's, Northern Iowa, East Carolina and South Dakota State.
The best tournament before Thanksgiving will be the Coaches vs. Cancer Classic, with the four hosts advancing to New York in top 20 teams North Carolina, Cal, Ohio State and Syracuse.
The four CBE hosts that will go to Kansas City before Thanksgiving are Texas, Pitt, Wichita State and Iowa.
The four NIT hosts projected to make it to New York are Duke, Connecticut, LSU and Arizona State, while the Legend Classic hosts that are slated to go to New Jersey on Thanksgiving weekend are Michigan State, Florida, Rutgers and UMass.
The Old Spice Classic in Orlando is a solid field, but lacks a title-contending type of team, with Michigan as the one Top 25 lock in the field (Xavier, Marquette, Creighton, Iona, Florida State, Baylor and Alabama are the others). The Charleston Classic in South Carolina has a similar field. The likely Top 25 team is South Carolina, followed by possible NCAA teams in Penn State and Miami (the rest of the field consists of LaSalle, Davidson, UNC Wilmington, USF and Tulane).