Category archive:

Tennessee Tech Golden Eagles
November, 1, 2011
11/01/11
9:12
AM ET
Mike Sutton has reached out to Texas A&M through a third party to let Billy Kennedy know he can call on his former Ohio Valley Conference rival now that his world has been rocked to the core by a life-altering diagnosis.
Sutton nearly died from his freak affliction of Guillain-Barre Syndrome in April 2005, when he was put on a ventilator and paralyzed at one point. He stared at a road to recovery that seemed insurmountable but manages to endure, even months after he retired from Tennessee Tech last spring.
Kennedy, just about to start his first season in a dream job situation with the Aggies, was diagnosed recently in the early stages of Parkinson's disease, a debilitating illness that can take years to envelop someone but still have an early effect that is hard to measure.
Kennedy is on leave as he figures out his treatment plan. His top assistant, associate head coach Glynn Cyprien, is taking over the program until Kennedy returns.
[+] Enlarge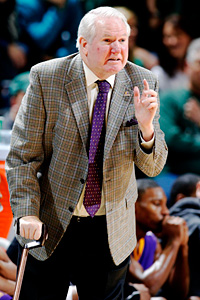 AP Photo/Al GoldisFormer Tennessee Tech head coach Mike Sutton is one of the few in the profession who know what Texas A&M's Billy Kennedy is going through.
Few coaches can honestly say they know what Kennedy must be going through as he tries to deal with the diagnosis while also hoping to steer a possible Big 12 title team toward its goal. "He's gone through the stage of figuring out what it was," Sutton said. "When you first hear about it, you're terrified."
When Sutton came out of the life-threatening part of his illness, he couldn't communicate. For him, Step 1 was being able to talk so that he could ultimately coach his coaches to coach the team.
"Because I wasn't strong enough to coach my players," Sutton said. "I didn't know if I could coach when I got back. I wanted to reach out to my assistants, but I didn't want to pry. I'm not an expert on Parkinson's, but for me, stress didn't affect me once I was back coaching. The stress of the game didn't bother me. Personal stress bothered me."
Sutton said part of the reason he retired in the spring was the health of his granddaughter. Libby Kern is 2 years old and is battling cancer after a mass was discovered behind one of her eyes. Sutton said she's in the fourth week of 10 in chemotherapy treatments.
"She can't see out of one eye," Sutton said. "There's a lot of crying going on with all of us. That's stress. The physical effects of coaching didn't bother me. Billy is 47. I was 49 when I got sick. [Tennessee women's basketball coach] Pat Summitt [who's dealing with early-onset Alzheimer's] has challenges. Those may be more similar to Bill's than mine. I couldn't ambulate. I was in a wheelchair and then a walker. I'm back in therapy now still working on PT, muscular and neurological."
Sutton's top assistant, Steve Payne, held a position similar to Cyprien at Texas A&M. Payne was extremely close with Sutton, much like Cyprien is with Kennedy. And when Sutton was ill, Payne had to hold the program together. Tennessee Tech had a veteran team, much like the Aggies.
The difference, though, is Sutton's staff had been there for three years. The Aggies' just arrived this past spring.
"It's tough watching a friend, someone you love, going through this," Payne said. "I'm sure it's the same with Billy. Billy is a tough guy, and you couldn't ask for a higher quality person than Billy Kennedy. It did make it easier for us that we had a veteran team. Cyp will do a great job. Whether it was Mike's voice or my voice, hopefully it's the same message."
Cyprien said at Big 12 media day in Kansas City less than two weeks ago that the Aggies still needed to put in their style of play, which is a bit different than what occurred under former coach Mark Turgeon. A&M was a Big 12 co-favorite with Kansas, even though Baylor may be the most talented team in the league. Kennedy, who has been out of the public's eye since his diagnosis, did go on the team's summer trip to Europe.
"Billy got to go on that trip, and that will help," Sutton said of the Aggies' dealing with his absence. "He got to know his team. They got to understand the newness of the offensive system. Billy was always supportive of me in the OVC. He sent me a book one time. Health issues will come first with Billy. But it's all unsettling. I want him to know I'm available if he needs me."
Last week, just before Texas A&M announced Kennedy's diagnosis with a statement from him, Kennedy called his former assistant and successor at Murray State, Steve Prohm.
"It was the best he sounded in a long time," Prohm said. Kennedy had said in previous statements before knowing his condition that he'd had trouble sleeping because of shoulder pain. "I never thought anything was wrong before. And that's the toughest thing for me. I worked with him for so long. I know the path he's been on, the long journey he has taken to get where he's at. Now he's coaching at Texas A&M. I want him to get back out there."
Kennedy didn't go through a traditional path. He coached at Southeastern Louisiana twice, New Orleans, Wyoming, Northwestern State, Tulane, Texas A&M, Creighton, Cal, Centenary, Miami and then Murray State. Texas A&M was a dream situation for him when Turgeon left to replace the retiring Gary Williams at Maryland. The Aggies' subsequent move to the SEC worked out better because the Metairie, La., native prefers recruiting in the Southeast.
"This was one of his dream opportunities," Prohm said. "He's a working man, a blue-collar man. He didn't get there quickly. He's not a flash in the pan. He's been doing a lot of good things along the way. I'm where I'm at today because of him. We did some good things together, and he was instrumental in helping me get this job and the promotion here."
The frustration for Prohm, much like the feelings Payne had for Sutton, is helplessness. "I just have to pray from a distance," Prohm said. "Billy's faith is remarkable. That's what I admire most about him. He didn't want to leave Murray for any job. He was going to continue to win here [and] win championships. And unless it was an ideal situation, he wasn't going to go."
No one at Texas A&M can give a date for Kennedy to return. Cyprien, who was an assistant at Oklahoma State, Kentucky and Memphis, is well-versed in the Southeast and in Texas. This team is ready-made for any staff to be successful. The hardest part now is ensuring that Kennedy can focus on getting healthy and finding a routine to his treatment, knowing that the program is in good hands.
"Cyp will do a good job," Sutton said. "But that still doesn't make it easy. What [Kennedy will] need is to be back with his guys. That will be so important for him."