Category archive:

DePaul Blue Demons
May, 22, 2012
05/22/12
12:22
PM ET
The Big East will send out its annual straw poll to its coaches to get their preseason predictions about the strength of the league's teams to help put together next season's conference schedule.
The league office said Syracuse's Jim Boeheim and Pitt's Jamie Dixon will be allowed to vote in the poll, even though the schools are leaving the conference for the ACC. They weren't invited to the conference meetings earlier this week in Florida.
The results of the poll will determine which teams face each other twice during the conference schedule. Having a tiered system based on those predictions has worked well for the Big East, rather than the predetermined rotations of which teams play each other twice used by the Big Ten, ACC and SEC.
[+] Enlarge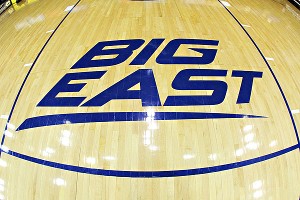 Bill Streicher/Icon SMIBig East coaches are confident the formula the league uses to determine conference schedules ahead of each season has helped in getting more NCAA tournament bids.
The Big East had 11 teams in the NCAA tournament in 2011; it sent nine teams last season. Coaches firmly believe handling scheduling this way is the reason.
"We've been able to give the league the flexibility to balance the schedule," Cincinnati's Mick Cronin said after the Big East meetings wrapped up Tuesday morning in Ponte Vedra Beach. "The repeat opponents have been set up by the hierarchy of the league in the summer. Something has been done right. We've had 11 teams and then nine teams in the NCAA. The coaches were against 18 league games but then it has helped us get more teams in [the tournament]."
Notre Dame coach Mike Brey agreed that the formula has worked for the Big East.
"It has driven us to get more bids," said Brey, who added it was odd not to have Boeheim at the Big East meetings for the first time during Brey's tenure at Notre Dame. "We've got to stay with this formula. It's not too constrictive. We don't want a rotation. We've got to keep an open mind. Some of it is by design, some of it is by luck, but it has really worked. You can sit there as a coach and say, 'If you're in the top eight, you're in the tournament.'"
There were 13 men's basketball coaches in attendance at Monday's meeting. Four coaches stayed to meet with athletic directors Tuesday. UConn's Jim Calhoun and Louisville's Rick Pitino weren't in attendance and neither were coaches from incoming 2013 members Temple (Fran Dunphy), Memphis (Josh Pastner) and SMU (Larry Brown).
According to Brey, the 11 other coaches in attendance, outside of him and Cronin, were: Stan Heath (South Florida), Ed Cooley (Providence), Kevin Willard (Seton Hall), Steve Lavin (St. John's), Mike Rice (Rutgers), Jay Wright (Villanova), Buzz Williams (Marquette), John Thompson III (Georgetown), Oliver Purnell (DePaul) and 2013 new members Donnie Jones (Central Florida) and James Dickey (Houston).
Heath said that there was even discussion about possibly opening up to 20 games from 18 when the new teams come into the conference.
"We had some conversation, but nothing was shot down," Heath said.
Heath, Cronin and Brey all said there was a renewed sense of optimism in the room, especially with presentations from television executives from NBC and Fox. ESPN and CBS have the current Big East rights, but the league will enter a new negotiating period in the fall.
"There was excitement over the TV presentation possibilities," Cronin said. "The Big East can't negotiate now but there was interest in our product. You could see people spending valuable time on the presentations and they say we'll be even stronger with the media market changes in adding Dallas, Houston and Orlando, which only helps the big picture."
The coaches agreed that the conference tournament must include all members in 2013, regardless of that number.
Heath said he brought up to the coaches that former USF player Kentrell Gransberry never played at Madison Square Garden during his career at South Florida because all the teams weren't invited.
"It's meaningful to the players and the teams even if it's one game," Heath said. "It's a big part of being in the Big East."
The format for the 2013 Big East tournament is still being discussed. There are 15 teams in the league this season with West Virginia's departure. Connecticut is currently not eligible for the tournament since it is not allowed to play in the postseason because of an NCAA ban for poor academics.
The coaches said the plan would be a for 14-team tournament with two games on Tuesday (instead of the previous four) and the rest of the schedule going forward from Wednesday on during championship week with the remaining teams.
Brey said the number of games for an 18-team Big East is still an issue.
"Everybody wants to play everybody," Brey said. "We can't have no-plays. And we need all of the schools to come to New York. A lot of these schools do a lot of business around the Big East tournament. We've got to figure out a way to do this. We're going to figure this all out together."
August, 25, 2010
08/25/10
2:54
PM ET
While the Big East decided it won't change its tournament format for 2011, where and when its conference games will be played this season remains a long, drawn-out process.
The Big East handles its 18-game conference schedule using a poll voted on by the league's coaches in May. According to where teams are ranked, they're placed into tiers. In some years, there have been just three tiers, sometimes four, sometimes five or even six, depending on the discrepancy between the teams' point totals.
Creating a schedule for a 16-team league is inherently difficult, especially taking into consideration games played on national television. This season, the league is facing the toughest time it has had in finalizing its conference schedule because of the late release dates of schedules for professional sports teams that share venues with half of the league's teams.
The AHL minor league hockey schedule was released Tuesday, which affected home dates for the Providence Friars at the Dunkin' Donuts Center, the UConn Huskies at the XL Center, DePaul at Allstate Arena and Marquette at the Bradley Center. The NBA schedule was released later than normal this season (due in large part, the Big East thinks, because of the reshuffling of games to accommodate the changes brought on by LeBron James' free agency saga). The NHL television schedule was supposed to be released Wednesday, which would help with arenas that house NHL and Big East teams (Georgetown at the Verizon Center, St. John's at Madison Square Garden, Seton Hall at the Prudential Arena and Villanova for its handful of games at the Wachovia Center).
Georgetown and St. John's also share their venues with NBA teams as well as other events that come through New York and Washington, D.C., in the winter months. Even Louisville had scheduling issues in the past with events when it played at Freedom Hall. The new arena is still a public facility, although the Cardinals are the primary tenant.
Big East associate commissioner Tom Odjakjian, who has to put the master schedule together, has no idea when it will be finalized.
Associate commissioner Dan Gavitt said scheduling at the Wachovia Center, Madison Square Garden and the Verizon Center has historically been the most difficult to finalize.
For the 2010-11 season, there were five tiers, determining which teams are paired up together for their three repeat games.
The tiers, based on the coaches' poll, went like this:
Tier 1: Pitt and Villanova
Tier 2: Syracuse, West Virginia, Georgetown.
Tier 3: Louisville, St. John's, Notre Dame, Connecticut.
Tier 4: Marquette, Cincinnati, Seton Hall.
Tier 5: South Florida, Providence, Rutgers, DePaul.
Pitt and Villanova received 13 of the 16 first-place votes. One of the three first-place votes went to St. John's. Louisville coach Rick Pitino admitted he gave the Red Storm and new coach Steve Lavin a first-place vote May 14. "I was debating between St. John's, Pittsburgh, Villanova and Cincinnati, but I didn't want to put that on Mick [Cronin, Pitino's former assistant] so I went with St. John's."
Pitino told ESPN.com Wednesday that he was sticking with St. John's, saying in a text: "Nine seniors. Everyone but Pitt and Villanova lost key players."
St. John's was picked in the ballot to finish anywhere from first to 13th while Cincinnati's range spread from fourth to 13th. Coaches couldn't vote for their own teams.
Gavitt said the Big East has been fortunate that some of the league's notable rivalries, such as Pitt-West Virginia and Rutgers-Seton Hall, have been in tiers that allow the teams to play each other twice.
"If you're in one of the bottom [tiers] then you generally get one very difficult repeat and two repeats against your peers," Gavitt said. "If you are picked in the middle, then you don't end up playing one of the top-tier teams. But you don't get a bottom-tier team either. It hasn't happened yet where a rival is way down away from the other team."
Below is a list of each team's repeat assignments for the upcoming season:
Tier 1
Pitt: Villanova (1), West Virginia (2), South Florida (5).
Villanova: Pitt (1), Syracuse (2), Rutgers (5)
Tier 2
Syracuse: Villanova (1), Georgetown (2), Seton Hall (4).
Georgetown: Syracuse (2), St. John's (3), Cincinnati (4).
West Virginia: Pitt (1), Louisville (3), DePaul (5).
Tier 3
Louisville: West Virginia (2), Connecticut (3), Providence (5).
St. John's: Georgetown (2), Notre Dame (3), Cincinnati (4).
Notre Dame: St. John's (3), Marquette (4), Connecticut (3).
Connecticut: Louisville (3), Notre Dame (3), Marquette (4).
Tier 4
Marquette: Connecticut (3), Notre Dame (3), Seton Hall (4).
Cincinnati: Georgetown (2), St. John's (3), DePaul (5).
Seton Hall: Syracuse (2), Marquette (4), Rutgers (5).
Tier 5
South Florida: Pitt (1), Providence (5), DePaul (5).
Providence: Louisville (3), South Florida (5), Rutgers (5).
Rutgers: Villanova (1), Seton Hall (4), Providence (5).
DePaul: West Virginia (2), Cincinnati (4), South Florida (5).
Gavitt said that the Big East attempts to get the best intelligence it can from its coaches when pairing teams for their conference schedules.
"Over the last five years it has been right about 75 percent of the time," Gavitt said. "We're always going to have teams finish higher like Pitt and Syracuse did last year. You can't bat a thousand."
• The Big East is also mulling what to do with the SEC/Big East Invitational. The event is in its final year of its current format of playing at neutral sites, which it has struggled to schedule and fill. The Big East has been fortunate with the home run of Kentucky-Connecticut last December at MSG but even Syracuse-Florida in Tampa wasn't a sellout. Coaches would like to see the event continue but on campus sites with all 12 SEC schools going against 12 of the 16 Big East schools. There would be a three-year rotation for the 16 Big East schools of home/road and off (out of the event) over an eight-year time frame.
• The Big East is trying to lessen the number of Saturday-Monday turnarounds for teams to around three this season.
• A source in the Big East said there would have been serious discussion within the league to add Kansas and Kansas State had both schools been made available if expansion dismantled the Big 12 but that there has never been any real discussion about adding Memphis. Football coaches haven't been shy about the need for a ninth member for scheduling purposes but basketball coaches are against a 17th school, and for the Big East to add one or two members it has to be a home run on all fronts. Kansas and Kansas State would have been if they were available. But they're not.
June, 25, 2010
06/25/10
11:07
AM ET
NEW YORK -- You can blame it on poor advice, workouts, injuries, the NCAA's very early early-entry withdrawal date or whatever else you might choose.
But it's hard not to think about the players who came out early and went undrafted Thursday night.
Not everyone's situation was dire, of course. There's no reason to pick on any early-entrant that went in the first round. They made a wise decision. Period.
If you want, you could point out that Elliot Williams might have gone higher next season than No. 22 or Dominique Jones could have landed at a better number than No. 25 or certainly Kentucky's Daniel Orton may have been a much higher selection next season than No. 29.
But Williams can be a fit as a solid backup guard on a likely playoff team (Portland), Jones should fit in well as a scorer off the bench in Dallas and Orton should get a shot to grow and mature with the consistently surging Magic.
But for now, let's examine the rest of the relevant early-entrants:
The Mistakes
Hassan Whiteside, Marshall (No. 33 -- Sacramento): Whiteside declared to be at least a mid-first round pick. Sure, his coach Donnie Jones split for Central Florida, but had he played for Tom Herrion next season I'd be shocked if he wasn't a lottery pick in 2011. Instead, this raw 6-foot-11, 227-pound center went No. 33 to Sacramento, where he might not make the squad after the Kings selected DeMarcus Cousins of Kentucky at No. 5 and earlier in the week made a deal to acquire veteran center Samuel Dalembert from the Sixers.
[+] Enlarge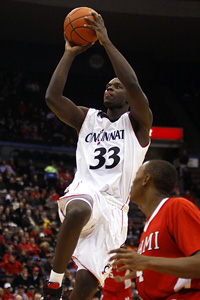 AP Photo/Tony TribbleThe much-hyped Lance "Born Ready" Stephenson was drafted 40th overall on Thursday.
Lance Stephenson, Cincinnati (No. 40 -- Indiana): The Pacers do need guards and maybe Stephenson can flourish with Indiana if he makes the squad. But there's no way, with all the hype he had coming out of New York, that he projected himself to be a middle second-round pick. Stephenson had a real shot next season with the Bearcats to be an all-Big East player. He would have refined his game and been able to mature even more. Now he'll have to scratch out a career the hard way.
Gani Lawal, Georgia Tech (No. 46 -- Phoenix): This is actually one of those cases where the player may have been better served leaving early last year. He was a borderline first-round pick a year ago. He's more mature and maybe more ready to handle the NBA now, but the middle of the second round has to be a major disappointment. His best hope is that free agent Amare Stoudemire hits the road and frees up a little room at power forward.
Solomon Alabi, Florida State (No. 50 -- Dallas to Toronto): I was stunned Alabi slipped this far. I'm sure he and his representation were too, considering he was bandied about as a first-round pick from 19 on down. Alabi could have been the dominant shot-blocking center next season in college, much like Mississippi State's Jarvis Varnado. Alabi had to work on his offensive game and would have been featured even more by Florida State. Instead, he now has to make the Raptors. Not an easy road.
Derrick Caracter, UTEP (No. 58 -- Los Angeles Lakers): Caracter had a complete transformation with his body, mind and attitude for Tony Barbee last season after a dysfunctional career at Louisville. He was a real player. Had he stayed to play for new coach Tim Floyd next season, I'd be stunned if he didn't improve his overall game and become at least a first-round pick. Instead, he chose to bolt and now he'll have a difficult time making a squad and may be forced to go overseas.
The Good Fits
Terrico White, Ole Miss (No. 36 -- Detroit): White was convinced he was a first-round pick and he nearly went to Atlanta at No. 24. Washington would have had interest had it kept its pick at No. 30. But going to the Pistons could be a good move for White. He should fit in quite well under the Joe Dumars plan and Dumars might see some of himself in White if he can become a better defender and a true pro. White has the stocky build to deal with the physical style of the NBA. He's a tremendous athlete too and could flourish on the break.
Devin Ebanks, West Virginia (No. 43 -- Los Angeles Lakers): Ebanks was a projected first-round selection when he came out of high school. He could have tantalized some NBA personnel a year ago after his freshman season. But there were questions during his sophomore season after an early, unexplained three-game absence and an offensive game that faded at times. His defensive game-changing ability made him an integral part of West Virginia's Final Four appearance. He was considered a first-round talent, but he slipped a bit. He was fortunate he landed with the Lakers. If he makes the squad, he could be a Trevor Ariza-like find for L.A. His defense would be much welcomed by the champions and he has a real shot to make this squad. Going to the best team in the league isn't a bad spot to land, even in the second round.
Hard To Know
Armon Johnson, Nevada (No. 34 -- Portland): Johnson was a relative unknown nationally. He wasn't a lock to be in the first round had he stayed around Reno, so going this high in the second was probably better than expected. But it's unclear if he can make the Blazers, so the location might not work out well.
Darington Hobson, New Mexico (No. 37 -- Milwaukee): Hobson had a stellar season for the Lobos. Had he returned he might not have been any higher than where he went this season. The Bucks probably can't keep all of their picks, so he'll have to work hard to make the squad.
Tiny Gallon, Oklahoma (No. 47 -- Milwaukee): Gallon was one of the more polite players I met during the NBA draft combine in Chicago last month. He is clearly trying to make this work. It didn't work out at OU. If he can stick with the Bucks as a second-round pick, that's better than most expected when he left after only one season.
The Enigma
Willie Warren, Oklahoma (No. 54 -- Los Angeles Clippers): Warren could be a steal for the Clippers. If he makes the team, he'll be joining former teammate Blake Griffin, who will play his rookie season next year after being hurt all of last season. But that's a big if. Warren was a preseason all-American and the preseason Sporting News player of the year. Instead, he battled injuries and illnesses throughout the season, was questioned about his poor body language and clearly wanted out of OU. His drop from headline name to afterthought is almost unheard of within one year in the basketball world. He was humbled by his play and the Sooners' swoon last season. Now he's been pushed further down by being selected at No. 54. How he reacts to his latest setback will tell us quite a bit about his desire and character going forward.
The Forgotten
Armon Bassett, Ohio: He had a memorable run in the MAC tournament and contributed to the Bobcats' stunning win over Georgetown in the first round of the NCAA tournament. He wasn't going to go back to Ohio. He didn't get selected, so it's likely off to Europe unless he can land on a summer-league team and make his way.
Charles Garcia, Seattle: Garcia was a hit early for NBA scouts. He drew their attention with his productivity on the glass. But he wasn't able to crack the second round and will have to see if he can make a squad.
[+] Enlarge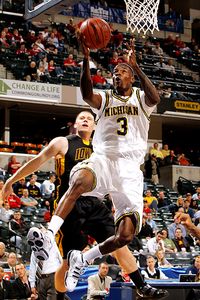 Jonathan Daniel/Getty ImagesManny Harris was one of the more notable college players left on the sidelines at the NBA draft.
Manny Harris, Michigan: Harris must not have enjoyed playing for the Wolverines much last season or got horrible advice. Or both. Harris had a chance to be a all-Big Ten first-teamer and a candidate for conference player of the year had he stayed in school. He did not and he didn't get drafted.
Courtney Fortson, Arkansas: Fortson had been suspended at Arkansas during his career. Had he been able to stay with the Hogs, he would have been one of the top point guards in the SEC. Alas, he could not. Fortson will have to find his own way and try to earn money around the globe.
Mac Koshwal, DePaul: Koshwal could have returned to play for Oliver Purnell and make some headlines in the Big East. Instead, he goes unselected. Not a good tradeoff.
Sylven Landesberg, Virginia: Landesberg couldn't have come back to the Cavs after being suspended at the end of the season. He had to make his way through the draft. It didn't happen and now he'll likely have to earn coin overseas.
Tommy Mason-Griffin, Oklahoma: There is no explanation for this decision unless he simply had no choice. He wasn't going to get drafted. He did not.
Elijah Millsap, UAB: The legacy of his family name in the NBA didn't do much for him. Had he returned to play for Mike Davis, he would have had a shot to increase his profile. Now he'll have to forge a difficult path.
A.J. Ogilvy, Vanderbilt: This one is a real shame for Kevin Stallings and his Vandy players. The Commodores would have had a real shot to compete for a top-two spot in the SEC East with the return of Ogilvy. Without him, they will likely be fending off Georgia for fourth. The Australian has a real shot to earn significant dollars overseas, but going unselected was hardly the projection he probably had for himself.
Samardo Samuels, Louisville: There was a buzz about Samuels' excellent work ethic late in the draft process. That might be enough to carry him onto a summer-league team and get a real shot to make a fall camp roster. But there's no way he thought that was his path when he decided to leave the Cardinals. Had he stayed he would have been one of the top big men in the Big East. He would have had free promotion from network television. Instead, he will have to make a team in an obscure manner.
March, 17, 2010
03/17/10
3:23
PM ET
Fran McCaffery has had quite a run of late, taking Siena to three straight NCAA tournaments, including two upsets in the first round.
The Saints are a trendy pick to win a third straight first-round game as No. 13 Siena goes up against No. 4 Purdue in Spokane on Friday.
Whenever McCaffery is done coaching this month, he'll have a decision to make.
Does he stay at Siena, where he has recently ruled the MAAC, or chase a bigger payday in a tougher conference?
Two years ago, he could have been a major player for the Providence job that Drake's Keno Davis ended up taking. McCaffery, however, was smart to stay put and not push for the job.
Now, McCaffery is definitely high up on the lists at Seton Hall and DePaul. If Norm Roberts isn't able to survive at St. John's, he could be in play there as well. McCaffery has the pedigree of someone who would be marketable to these Catholic schools. He was an assistant at Notre Dame under Digger Phelps. He is coaching at a similar institution now, though it is smaller and in a less rigorous conference. He has strong ties in the New York metro area, and there are no NCAA violations or any behavioral issues on his record. It would also make sense for Charlotte to look at him since he was once at UNC-Greensboro.
Still, he has to balance what would be a big payday with the assurance that it's the absolute right job he's taking.
He's a winner. But this is an intriguing situation for someone like McCaffery. There always seems to be the assumption that you have to go where the money and the league says you should. But do you?
I've covered the game for 20 years now, and I've seen plenty of questionable moves. The most recognizable ones came out of Butler. Few coaches have realized just how good a gig they've had in Indianapolis. Todd Lickliter left for Iowa and was fired three years later. Lickliter believed he could turn the Hawkeyes around. Barry Collier left for Nebraska. He was fired and ended up back at Butler as the athletic director.
McCaffery has to be careful here. He must make the right decision at a critical point in his career. Does also he look at Iowa, where he could be a fit since he was at Notre Dame and knows the Midwest?
The same could be true of someone like UTEP's Tony Barbee, who is a strong candidate at Auburn and DePaul. Barbee has the Miners in the NCAA tournament as a 12-seed and regular-season champions of Conference USA.
UTEP should be just as good next season, assuming the NBA doesn't grab Derrick Caracter and/or Randy Culpepper as early entrants. Barbee could be even hotter as a candidate with another successful season in El Paso. Another strong season could really improve his position in the market; he might not have to take a job at the bottom of a league that doesn't present much of an opportunity to move up in the standings quickly.
The most intriguing development Wednesday was Rutgers' announcement that it was sticking with Fred Hill. That news came to light hours after it was reported by the Newark Star-Ledger that Bobby Gonzalez was out at Seton Hall. Hill's contract situation didn't help Rutgers make a move -- he's reportedly owed over $1 million. But while Hill has had some attrition lately, such as losing big man Greg Echenique, he didn't draw attention to himself like Gonzo.
Gonzo's antics didn't help him. That fact was clear Wednesday. The lack of decorum of his Second Chance U. players -- from Keon Lawrence's wrong-way driving in the fall to Herb Pope's punch in the groin Tuesday night in the NIT loss to Texas Tech -- the Hall's appearance was not appealing.
Seton Hall should try to woo someone like McCaffery or Davidson's Bob McKillop, but the school is also smart enough to know that both coaches are in good situations. McKillop loves his life in the Davidson community north of Charlotte. Why would someone want to leave what makes sense for the craziness of the bottom of the Big East in the competitive New York metro area?
Still, the Hall will have to go with someone who has had no trouble in his past. Likewise, Fordham is trying to do that in looking for a replacement for Dereck Whittenburg. The Rams are looking to make a splash with the hire, but instead they need to ensure it is someone who makes sense, who wants to rebuild and doesn't mind grinding. That's why someone like Rhode Island's Jim Baron -- who might have overstayed his situation at URI after failing to make the NCAAs -- would be an interesting call. But why not look at a coach at a school that can't compete financially, like Northeastern's Bill Coen? There are coaches out there who need to take a gamble to move up rather than leave a comfortable situation. That's why places like Fordham and Seton Hall should also consider Tom Herrion, the top assistant at Pitt, or Hofstra's Tom Pecora. These might be jobs at which NCAA tournament appearances or success isn't the issue, but character and personality fit are more likely the answers. Pitt promoted Jamie Dixon as an assistant and that worked, right? Robert Morris' Mike Rice worked at Fordham, where he is an alum.
Some other quick hitters

• Hawaii already interviewed Gib Arnold, the former USC assistant, and Saint Mary's Kyle Smith. Arnold and Smith have strong ties to Honolulu. UH officials were on the mainland in Los Angeles on Wednesday talking to Gonzaga assistant and former Utah and Eastern Washington head coach Ray Giacoletti, Colorado assistant and former Wyoming coach Steve McClain and Southern Miss assistant and former San Jose State coach Steve Barnes. The Warriors couldn't go wrong with any of these choices. All have a sense of the difficulties of the job at Hawaii. I still contend it is a quality job.
• Charlotte is lurking as a quality gig for someone who can move quickly up the A-10 ladder. What will be interesting is whether former Charlotte assistant Dalonte Hill, now at Kansas State, can get a serious look after he left the 49ers and took committed player Michael Beasley with him to Manhattan. I would think the 49ers would get a lot of hits from head coaches.
• Oregon will wait until Gonzaga's Mark Few finishes the season before an official push. After that, expect the Oregon program to look long and hard at coaches with Nike ties who have been at a national-championship level. That's why Minnesota's Tubby Smith will be dangled as a candidate.
• Would Providence's Keno Davis go back to Iowa to coach the Hawkeyes after his father Tom was pushed out? I would say yes. Would they hire him? I think it would be hard after the way the Friars' season ended.
• I find it hard to believe that Trent Johnson would leave LSU and head back home to Boise State. Coaches are squawking about this occurring. I would be surprised if Johnson left an SEC job for the WAC. This was one bad year at LSU after winning the SEC West the previous season, but give him time.
• I'm not just shilling for a fellow colleague. I do love the knowledge Fran Fraschilla and Tim Welsh share with me on the game. They both were and should coach again if they feel it's right for them and their families. One coach just started with us and I wouldn't be surprised if he got a call this spring: former Alabama coach Mark Gottfried. He won with the Tide and reached the Elite Eight but had a number of injuries that derailed him late in his tenure. Gottfried deserves another shot.
• Was the Ernie Kent firing the longest, most drawn-out process recently? Why didn't Oregon just make it official when Mike Bellotti informed Kent? It made no sense to wait.
October, 5, 2009
10/05/09
12:43
PM ET
In the brand-new ESPN College Basketball Encyclopedia, Jeff Sagarin's all-time program rankings place DePaul at 26, reinforcing how the Blue Demons were once a mighty regional and, at times, national name.
But the DePaul of decades past was never in a conference like the current Big East, dealing with an antiquated arena in comparison to the rest of its competitors.
Jerry Wainwright was a winner at UNC Wilmington, claming two Colonial conference titles and a pair of NCAA tournament appearances. He won at Richmond, reaching the NCAA out of the Atlantic 10. He even won nine out of 16 games in the Big East three seasons ago, reaching the NIT.
Talk to anyone associated with the biz and they will tout Wainwright's coaching ability. But the 0-18 mark in the Big East last season, the 9-24 overall record, is hard to ignore. Still, it has been only four seasons at DePaul and that's why it shouldn't be a complete shock that Wainwright got an extension through 2012 last January.
"I got an extension during a difficult situation,'' Wainwright said. "But we were never an embarrassment. It's not an excuse, but we've done well with the GPA, the APR and graduation rate. I'm doing what I'm supposed to do and they were really supportive and gracious.''
[+] Enlarge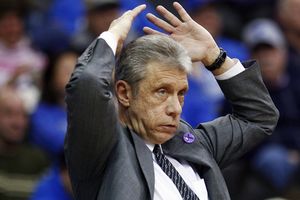 Jim O'Connor/US PresswireJerry Wainwright enters his fifth season with a 52-72 record as head coach of Blue Demons.
But Wainwright isn't naive, either. That's why the Blue Demons picking up 2010 commitments from 6-5 Moses Morgan (Palo Verde High in Nevada) and 6-3 point Brandon Young (Friendship Collegiate School in D.C.) was a much-needed positive boost heading into the start of practice in two weeks. ESPNU has each ranked in the top 32 at his respective position.
But DePaul, even with the return of junior forward Mac Koshwal from the NBA early-entry draft, will struggle to finish above 13th in the 16-team Big East this season.
Wainwright had to shed his primary assistant coaching staff, adding newcomers David Booth (a former DePaul player), Tracy Webster (a former Wisconsin player but Chicago native) and former Chicago high school coach Billy Garrett, who had bounced around in the East, Midwest and Southwest the past 10 years.
"I'm probably No. 1 on the hot seat, but people have been supportive from the president to the AD,'' Wainwright said. "Certainly there has been incredible negativity when you don't win, but that's not new. We built a staff with guys who all gave up something substantial to come and join us with the belief that this wasn't just a one-year deal.''
Wainwright said breaking the corporate structure of the Big East won't be easy. But he said neither was the tenure at Wake Forest when he was an assistant under Dave Odom from 1989 to '94, when the Demon Deacons had Tim Duncan, Rodney Rogers and Randolph Childress at a time when NC State was sliding.
"We got these kids at the right time,'' Wainwright said of his time at Wake. "You don't just jump. I'm not scared of my job. We have to be productive. I know we have to be better and having Koshwal back at 6-10, 255 pounds [and 12.2 ppg, 9.6 rpg] is someone we couldn't replace.''
Wainwright said Ohio State transfer Eric Wallace has to be productive on the wing and Wainwright doesn't see why he won't. He also predicted Oregon State and JC transfer Mike Stovall will add quite a bit to the perimeter.
"We have question marks," Wainwright said. "Will Devin Hill and the two freshmen [Tony Freeland and Ryan Siggins] be bigger and stronger? Can Will Walker play both guard positions? Can we be effective scoring? We have to be bigger at guard because we got manhandled last season on the glass. Our first-shot defense was at 31 percent, but overall we gave up 45 percent. We got manhandled because we were too small. But we're much improved.''
How much it translates into wins is still the major question. The Big East is more competitive from 1 to 16 this season than last, but lacks the nationally dominating teams at the top. DePaul should be better -- must be better -- but even if the Demons are only marginally improved in wins, none of it will faze Wainwright's feeling about how hot his seat is on the bench.
"I'm sure they'll have a list named after me and call it coaches on the hot seat,'' Wainwright said.
• Notre Dame coach Mike Brey said junior forward Tim Abromaitis and Carleton Scott will take the minutes that would have likely gone to Purdue transfer wing Scott Martin, who recently tore his ACL and is lost for the season.
• Michigan State coach Tom Izzo is already plotting whether or not he has the depth to go big in some games against deep, long and strong front lines like North Carolina (Dec. 1) and Texas (Dec. 22 in Dallas). What that means is he has to get bigs Derrick Nix and Tom Herzog ready over the next six weeks. Both players will either back up or play next to more talented and productive forwards Raymar Morgan and Delvon Roe (who Izzo is terming "quite healthy" after battling back from microfracture surgery as a high school senior two years ago).
Nix is listed at 6-9, 285. That last part would be quite a feat, considering Izzo said he had gone over 300 at one point in high school. Herzog is listed at 7-foot, 240, although Izzo said he's up to 250 and continues to get stronger. With that said, there is still a chance the Spartans will go smaller. They certainly have options with a loaded perimeter in Kalin Lucas, Korie Lucious, Durrell Summers and Chris Allen to go along with the 6-8 Roe and Morgan. Izzo said through individual workouts he's already seen how much the Spartans have improved their strength, athleticism and "explosiveness."
• Demetri McCamey has to play well for Illinois to be consistently good. That's straight from the mouth of Illinois coach Bruce Weber. So clearly the onus is on McCamey to deliver this season -- but he's not the only one. The Illini will have to depend on freshmen D.J. Richardson and Brandon Paul. Illinois already has two productive forwards in Mike Davis and Mike Tisdale, but without the other three producing, this squad can't be an elite team.
• The Atlantic 10 has been talking to a number of leagues, including the West Coast Conference, about a scheduling partnership. But there seem to be disagreements as to whether or not this is imminent or just in the discussion stage. The WCC, according to league commissioner Jamie Zaninovich, envisioned a kinship with the Atlantic 10's fellow Catholic institutions. But A-10 commissioner Bernadette McGlade said she didn't want to do a partnership that excluded certain members of the conference, in this case that could mean state schools UMass, Rhode Island and Charlotte. The other problem for a partnership is that the WCC has eight members while the A-10 has 14.
Gonzaga and Xavier have agreed in principle for a home-and-home series and without it there is no real scheduling partnership. The Bulldogs have to be in the event to give it credibility. Having simply Saint Mary's versus Saint Joseph's isn't going to make many waves. Whether it can be pulled off for next season is still a work in progress. But both leagues are looking for games to schedule for the teams that struggle to find quality nonconference opponents. Getting marquee games, or any games for that matter, isn't an issue for Gonzaga or Xavier.