Category archive:

Colorado Buffaloes
July, 17, 2012
07/17/12
10:25
AM ET
Colorado had the most boisterous contingent at the Pit during the NCAA tournament.
The black and gold fans in Albuquerque were loud, proud and committed to ensuring the Buffaloes were well represented. I was there. I heard it. It was obvious to anyone in the arena.
The Buffaloes were rewarded with an NCAA tournament win over UNLV -- their first such victory in 15 years -- before losing to Baylor in the round of 32.
This was Colorado, and the sport they were cheering was men's basketball. Now that's progress.
The CU fan base had rarely been known as well traveled (or loud) during its days in the Big 12. Yet something has changed in Boulder -- for the better -- since Colorado's move to the Pac-12.
Now the fan base has something to cheer about: a team that isn't going to shy away from its newfound success under Tad Boyle, who is entering this third season with the Buffs.
[+] Enlarge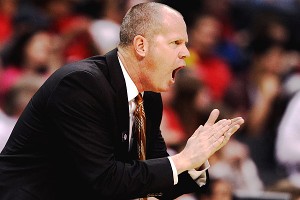 AP Photo/Jae C. HongTad Boyle has carried CU to the NIT semifinals and an NCAA tourney win in two seasons.
"Two things contributed to our home-court edge,'' said Boyle, whose team lost just one league game at home last season. "The students really got into our program, and we were very consistent. The fact that we played at altitude and played fast for the whole game got everyone to buy into the home-court atmosphere. It was the best home-court advantage in the Pac-12. Arizona may be more consistent in terms of numbers game in and game out, but when our arena is full and it's a big game, it's a wash.''
Colorado's 11-7 record in its inaugural Pac-12 season was no fluke. Neither was the team's run to the Pac-12 tournament title in Los Angeles. The league's move to Las Vegas' MGM Grand for the conference tourney should bode well in the coming years for this program. If the fans traveled well to New Mexico for the Big Dance, they'll surely make the more destination-driven spot of Vegas.
"We've got momentum now,'' Boyle said.
However, Boyle does expect this team to struggle a bit out of the box. The Buffaloes lost a few key players in Carlon Brown and Austin Dufault. The schedule will be challenging with the Charleston Classic, which includes Baylor and Murray State. Hosting Colorado State and Air Force will test this team, as will a road game at Wyoming, all regional rivalries that are more difficult than they seem.
As for the roster, the Buffs have a rising star in junior forward Andre Roberson, who was critical in the Pac-12 title run with double-doubles in three of the four games and a 13-16 performance against UNLV. Boyle also plans on leaning heavily on sophomore Askia Booker, who shined in the NCAA tournament with a combined 31 points in the two games.
The expected impact of big-time in-state recruit Josh Scott, a 6-foot-10 center from Monument, Colo., and 6-6 wing Xavier Johnson from Temecula, Calif., is already being felt. Boyle has worked out the newcomers and hasn't shied from heaping expectations on them.
"Our two most highly rated guys -- Josh Scott and Xavier Johnson -- are both as good as advertised,'' Boyle said.
They, along with four other newcomers, will get a jump on the season with an August trip to France, Belgium and the Netherlands. Boyle said he's hoping that the freshmen will pick up necessary details sooner because of the trip.
The addition of Johnson gives the Buffaloes three key players (the other is rising sophomore Spencer Dinwiddie) from Southern California. Would this have happened if Colorado wasn't in the Pac-12?
"No way, no way, no way,'' Boyle said. "We don't get them if we're not in the Pac-12. We don't get Xavier Johnson. No question about it. It was a good move for us to capitalize on the West Coast.''
No one associated with Colorado is foolish enough to think the Buffaloes will be picked to win the conference. The combination of returnees and top-five recruiting classes at Arizona and UCLA put those two programs at the top of the league. Stanford's NIT title and returning core probably put the Cardinal at third in the pecking order.
But Colorado has every reason to believe it can be in the top four, pushing past programs like Cal and Washington. Regardless, the Buffs are now officially in the mix on a regular basis.
"We've got a few key guys coming back that contributed to our run,'' Boyle said. "I like where we're positioned, not just for this year. We could be good this year, but we're poised to be good for two or three years down the road, too.''
May, 4, 2012
05/04/12
12:58
PM ET
UCLA's recent mediocrity hasn't been celebrated or seen by the rest of the Pac-12 as an opportunity.
Instead, the conference desperately needs the Bruins to come back -- and fast. Having Arizona dip, even just for one season, didn't help either.
So when the coaches gathered this week for the annual spring meetings in Phoenix, the mood was upbeat. The Pac-12 -- that ultimate big-boy punching bag in college basketball lately -- has two of the nation's top three recruiting classes. And they're from the league's two most prestigious programs.
[+] Enlarge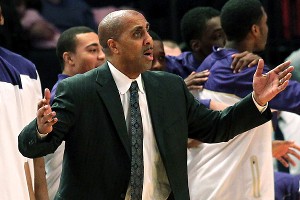 Anthony Gruppuso/US PresswireYou know it's a down year when your regular-season champ doesn't make the NCAA tournament.
"I think any buzz for our league is good for everybody,'' Oregon State coach Craig Robinson said. "As competitors, we would like the buzz to be about us, but as long as it's somebody in our conference and especially a brand name like UCLA, that can only be good for the rest of us.''
The Pac-12 had only two teams make the NCAA tournament in 2012, and one of those (Cal) was in the First Four in Dayton and lost. Regular-season champ Washington didn't get a bid, an embarrassing situation for the conference, which became the first big six league to not have its regular-season winner receive a bid.
Utah arrived in the conference and was abysmal in its first season, finishing 3-15 in the Pac-12 and 6-25 overall. Arizona State fell apart and finished 10-21. USC was decimated by injuries and was the worst of all, finishing a stunning 1-17 in league play and 6-26 overall.
The saving face of the Pac-12 was actually new member Colorado. The Buffaloes won the conference tournament, beat UNLV in the NCAA tourney and hung around with Baylor before losing in the Round of 32.
But perception of the league being down wasn't a reach. It was reality. The numbers and results didn't lie. The Pac-12 was an almost hard-to-fathom 1-25 against the RPI top 40 in nonconference play.
So with Arizona loaded up with four ESPNU 100 recruits in the Class of 2012 and UCLA having secured Kyle Anderson in the fall, the Bruins kept up the momentum in the spring by grabbing another top-five recruit (Shabazz Muhammad) and a four-star big man (Tony Parker).
That's not just good for those two schools, it's welcomed by the rest of the league.
Don't think Pac-12 commissioner Larry Scott didn't take notice of the Bruins' big April.
"It's extremely important,'' Scott said. "The public and media follow big brands, and it doesn't get any bigger than UCLA basketball in our conference.
"Having them have a strong recruiting class [and] a new Pauley Pavilion to move into is great news for our conference. We've got new TV deals. The timing couldn't be better.''
The conference's coaches have long complained about the television package and a general lack of national exposure. A few years ago, first-place Cal was at USC in a critical game and it wasn't even televised.
Well, the Pac-12 finally has a new TV package that will allow every conference game to be televised on one of three networks: ESPN, Fox or the new Pac-12 Network. The league will shift from a straight Thursday-Saturday/Sunday schedule to one that has more flexibility.
[+] Enlarge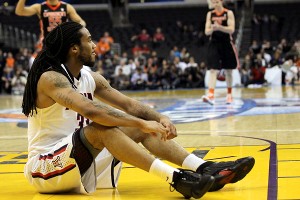 Stephen Dunn/Getty ImagesThe Pac-12 tourney has had some thrillers over the years, but few in L.A. bothered to notice.
In addition, the conference tournament now has a chance to have a sellout with the league choosing Las Vegas as the neutral destination. The Pac-12 had struggled mightily to draw consistent crowds to the Staples Center in Los Angeles. That shouldn't be the case at a destination venue like the MGM Grand, where the Pac-12 will become the fourth conference to play its conference tournament in Vegas, joining the Mountain West (Thomas & Mack Center), WCC and WAC (both at the Orleans Arena).
What will this conference look like by next March, though?
A year ago, the league was gutted by early entrants to the NBA draft at USC, UCLA, Washington, Washington State, Arizona and Stanford.
"Our league wasn't going to be good in the nonconference in November or December because of who left,'' Oregon coach Dana Altman said. "And then UCLA lost Reeves Nelson [dismissed early in the season] and so we weren't in a position to do well.''
Now they must be.
"We need some top-10 teams,'' said Cal coach Mike Montgomery, who has consistently been a Pac-12 title contender at Stanford and Cal. "We didn't have any, and it hurt us. Based on the recruiting, Arizona and UCLA should be in the mix.
"You need good teams going in. It will help us all if we're competing against better teams. Our RPI goes up. One through nine we were pretty good last year.''
The early onus will be on UCLA. The Bruins have to show well at the Legends Classic in Brooklyn, N.Y., with Georgetown and ESPN.com preseason No. 1 Indiana in the four-team field.
"We've had some bad losses out there,'' Montgomery said of the Pac-12's shoddy nonconference record lately. "Typically, everyone looks at UCLA and makes a judgment. It may not be fair or right and they haven't been the best team, but when they [are down], it hurts everybody. It's incumbent on everybody to win the games [you're supposed to win] in the pre-conference.''
Montgomery didn't excuse his own team. The Bears beat no one of significance outside league play last season and were annihilated by Missouri and UNLV.
"We didn't perform well, and that hurt our league,'' Montgomery said. "The impressions start early. We shouldn't lose games we shouldn't lose, because then when the league plays each other, we're screwed. We can't do anything to improve the reputation. That's on all of us to have a better November and December heading into the conference.''
USC coach Kevin O'Neill isn't doubting the Pac-12's ability to bounce back this season with several NCAA tournament teams.
"And we plan on being one of them,'' O'Neill said of the Trojans, led by Jio Fontan, who missed last season with a knee injury. "UCLA and Arizona had top recruiting classes, and that helps everybody improve. I think it's great. We'll see how they react to stressful situations.
"All our teams look good on paper, and we should be one of the top leagues in the country. We lost more pros in this league than the five other power leagues together the last few years. We're producing great players and most are doing well. But all of that is going to change. It's going to be a great year for our league.''
February, 28, 2012
02/28/12
11:10
AM ET
Colorado was one of the teams left out of the NCAA tournament a season ago.
Heading into the final week of the 2010-11 regular season, the Buffaloes were 18-11 and 7-7 in the league. They split the last two games and then won two in the Big 12 tournament, including beating then-No. 23 Kansas State.
A seven-point loss to No. 2 Kansas wasn't enough to get the Buffaloes into the NCAAs. But there was plenty of talk that Colorado had the look of an NCAA team.
This season, there is none of that chatter. No buzz. Nada.
Yet the Buffaloes, who lost their two best players off last season's team in Alec Burks and Cory Higgins, have better overall and conference records and appear to be in the same situation this season.
Well, sort of.
[+] Enlarge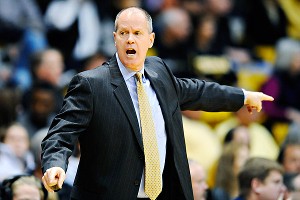 Ron Chenoy/US PresswireColorado coach Tad Boyle is pleased with his team's first season in the Pac-12.
Colorado is 19-9 overall and 11-5 -- but in the Pac-12, not the Big 12.
"Our seniors have stepped it up, and we have a great blend with a few freshman guards," Colorado coach Tad Boyle said. "We've got one guy who is third in the country in rebounding in Andre Roberson. We're not great at anything. But we are the best field goal defensive team in the league, and we can rebound. We're good at a lot of things."
The Buffaloes had an odd home weekend, getting blown out by Stanford by 24 points but then beating second-place Cal by 13. Colorado beat first-place Washington earlier in the season. The win over Cal was the Buffs' first against a top-50 RPI team. Colorado has three more in the top 100 (Washington, Oregon and Arizona -- all at home). The best road win was at No. 163 Air Force.
The Buffaloes finish with games at Oregon and Oregon State this weekend. Win those and they will be a top-4 seed and receive a bye in the Pac-12 tournament.
Boyle would also likely win coach of the year in the Pac-12. And yet there will be no buzz about the Buffs in the NCAA discussion. "It's weird, but this has been an unusual year," Boyle said. "There's so much mediocrity out there. I think for those last six or seven [spots] you could make a case for 12 or 14 [teams]."
Boyle said if the Buffaloes were to sweep this road trip, he could envision making a case to get an at-large berth out of the much-maligned Pac-12. If not, he says he will stay silent.
Cal and Washington will likely get into the field by default. Arizona has a shot. Oregon and Colorado are on the fringe, as well, if either gets on a roll.
"What's amazing is that if we get to 20 wins, it will be the first time Colorado has had back-to-back 20-win seasons in 111 years of college basketball here," Boyle said.
The move to the Pac-12 may not create more chatter for a bid, but it has translated well in recruiting. Boyle said the Buffs wouldn't have gotten Xavier Johnson out of Mater Dei High (Santa Ana, Calif.) if they didn't make the conference switch. Getting Monument, Colo., big man Josh Scott was likely going to happen with or without the move; regardless, Boyle is a year ahead in the rebuilding process.
"We're posed for success," Boyle said. "Poised to be good again."
Colorado is ahead of UCLA in its first year in the Pac-12. Fellow newcomer Utah is at the bottom of the league with Arizona State and USC.
A first-round Pac-12 tournament bye is attainable for the Buffaloes. A bid to the NCAA tournament is a long shot, but not implausible.
"If you had told me that last year, when I knew were going to the Pac-12, I would have taken it right then," Boyle said. "We have far exceeded our own expectations as well as the coaches' and the media, too."
October, 31, 2011
10/31/11
9:07
AM ET
Utah and Colorado have a chance to create a first impression in the Pac-12 that could resonate for years.
Both schools can ensure that making the road swing through the only two conference schools at high altitude is trouble for opponents.
It is imperative that each school, regardless of the rebuilding that it is heavily involved in at this juncture, creates an atmosphere that would concern any conference foe.
It's one way to guarantee that the Utes and Buffaloes can make themselves stand out in the first year of the conference.
"We've got to win games; that's how you become relevant in a conference," said second-year Colorado coach Tad Boyle. "I'm going into a new league for the second year in a row. I didn't know what the Big 12 held for us, and I don't know what the Pac-12 holds for us. We lost 75 percent of our scoring. But no one knows Colorado. No one knows what we're about. We could sneak up on people."
[+] Enlarge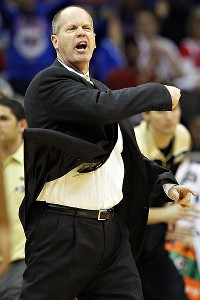 Jamie Squire/Getty ImagesTad Boyle hopes the Colorado altitude will be an advantage to the Buffs in their first season in the Pac-12.
Colorado was 18-2 at home last season. But the Buffs lost their best players in Cory Higgins and Alec Burks, as well as Levi Knutson, so they're going through a complete overhaul. But Boyle created a buzz last season when the team was on the doorstep of an NCAA berth, only to lose out in the final selection process.
In an unbalanced schedule, the Buffs and the Utes get Washington, Washington State, Arizona State, Arizona, Oregon State, Oregon, Stanford and Cal at home. That means Colorado can be a potential spoiler for the Huskies, Wildcats, Bears and Ducks in their quests to win the conference. UCLA could potentially have an advantage since the Bruins don't go to Boulder.
Colorado and Utah also have a home-and-home series against each other since they are travel partners.
"Every other team except Utah is coming from sea level," Boyle said. "Establishing a home court is critical and what we have is unique. But the only way it becomes that is if our fans show up and buy into that. I do think we'll put a team on the floor that's capable of winning. I have no feel for this league, though. I don't know what we're getting into."
Utah coach Larry Krystkowiak has less to work with than Boyle. His roster has had a complete makeover since he arrived last spring.
Utah's Huntsman Center was once one of the toughest places to play in the country. But that was when Rick Majerus had a top-10 team on the court.
The Utes went 12-11 at home last season. "I think people will be excited about the effort level," Krystkowiak said. "Utah and Colorado are the only two schools in the league that play at elevation. So that means we have to be good in shape. We can't take a chance and not be in shape."
Krystkowiak is thinking small. He wants his team to be the best screening team in the country. He also said he expects to run more of a system than NBA clear-out sets.
Whatever niche Krystkowiak comes up with, the Utes will need to win and be a tough out at home to recapture the powerful Utah atmosphere that pervaded in the late 1990s.
Utah and Colorado come into the Pac-12 and are not feared. Nebraska, another former Big 12 member, does have the rep of a difficult home court, something that Big Ten schools will have to deal with at the outset this season. Whenever Pitt and Syracuse join the ACC, both schools will be in line with Duke and North Carolina as the toughest places to earn a win in the conference. West Virginia is sure to have a similar stature when it joins the Big 12.
Utah and Colorado must have that same perception after their first season in the Pac-12. That could help both programs gain a first step toward respectability in the conference.
January, 17, 2011
01/17/11
1:39
PM ET
Mark Turgeon let it be known during the Colorado hiring process that dismissing Tad Boyle's candidacy for the head-coaching position would be a mistake.
He knew that Boyle was the perfect fit. Boyle had made little-known Northern Colorado a contender in the Big Sky, and Turgeon knew Boyle was a winner since the two played together at Kansas.
[+] Enlarge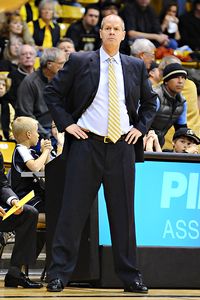 Ron Chenoy/US PresswireTad Boyle has helped Colorado get off to a fast start in the Big 12.
"He's one of my best friends in the world,'' Turgeon said.
Boyle returned the sentiment
"He's the guy I bounce things off of,'' Boyle said. "He's been in the league. He knows. I can trust everything he says.''
Check the standings three games into the Big 12 schedule, and what do you see? Texas A&M, coached by Turgeon, and Colorado, coached by Boyle, are atop the overall standings at 3-0, while the two traditional powers, Kansas and Texas, are a half game behind at 2-0.
Sunday night, Boyle and Turgeon talked again. They speak to each other multiple times a week, by either phone or text, to discuss recent turns in events.
Colorado had the buzz from NBA scouts with Alec Burks and Cory Higgins, but no one could have imagined the Buffaloes would be 3-0, based on their Big 12-opening schedule against Missouri, at Kansas State and home versus Oklahoma State. The reasons for optimism probably would have been muted, considering the Buffaloes lost at San Francisco and Harvard earlier this season.
"We probably went on the road too early,'' said Boyle, who had nothing to do with the road game scheduled at San Francisco. That was done by former head coach Jeff Bzdelik, who thought he was going to a better gig at Wake Forest, but instead, in the short term, Bzdelik is worse off, as the Demon Deacons are the worst team in the ACC. And it's hard to argue that Colorado, as a soon-to-be member of the Pac-12, won't have an easier road to the NCAA tournament than Wake will in the ACC.
"I knew as soon as we lost to San Francisco that that loss could kill us for a postseason résumé,'' Boyle said. "If we play those games around the time we went to Vegas, we win those games. But as a first-year coach at a place, it takes a while.''
Colorado's season turned around in Las Vegas, even though a split with New Mexico and Indiana on Dec. 22 and Dec. 23 came after impressive wins over Oregon State (a dominating 26-point win) and versus rival Colorado State in overtime by seven. The Buffaloes couldn't contain the Lobos' Dairese Gary in Vegas, losing 89-76, and had to hold off a furious Hoosiers rally in the second half to beat IU by nine, 78-69.
Burks then torched Missouri with 36 points to open the Big 12 slate with a huge victory. He's averaging 19.7 points, while Higgins is at 16.6 ppg, but the Buffaloes are hardly two dimensional after Levi Knutson scored 20 in the road win at K-State on Jan. 12. When Boyle talked to Turgeon, he quickly complimented the Aggies coach on his team's start, especially after A&M's overtime home win over Missouri this past weekend. Turgeon returned the compliments by saying he doesn't own a road win at Kansas State, so Colorado is better off at this juncture.
"It's great to see our team come together,'' Boyle said.
Of course, if the Buffaloes lose this week at Nebraska and Oklahoma, two teams that are near the bottom of the Big 12, the perception will be that they aren't as good as their early conference wins. "They're winnable games,'' Boyle said. "But I'm talking a lot about managing success. I'm concerned about it. We've got to be focused on the road.''
Boulder, Colo., was hardly a basketball hotbed in the previous decades, save a run with Chauncey Billups. But the atmosphere during the Oklahoma State game last Saturday was "electric,'' according to Boyle. That Colorado actually had an atmosphere is something new and different.
"But that's why it was so important that we won that game,'' Boyle said of beating the Cowboys. "If we had come out and stumbled [after winning at Kansas State], then I think people would have thought it was a fluke. Now they're believing, which makes the home court even better. We've put ourselves in a good position -- no doubt. But it's early.''
That's the party line from Turgeon, too.
"Turg is doing an unbelievable job with this team to be 16-1,'' Boyle said. "They know how to win. They grind it out. He's the coach of the year.''
[+] Enlarge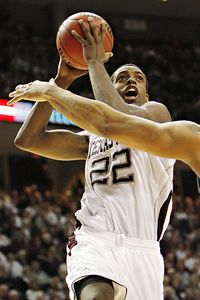 Brett Davis/US PresswireKhris Middleton has led Texas A&M to 13 straight victories.
The Aggies are a faceless crew nationally, but they do have a rising star in Khris Middleton, who scored 28 points, including 11 in overtime, in the victory over Missouri. Nathan Walkup, Dash Harris, David Loubeau and B.J. Holmes are solid college players and make these Aggies one of the least known, but most highly competitive college basketball teams around. They defend and are improving in ways to score. They continue to plod along by winning quality games.
Texas A&M's lone loss came on the final possession to Boston College at the Old Spice Classic in Orlando, Fla., in late November. The Aggies beat Temple in that tournament and Washington at home. They added necessary wins to their NCAA résumé by knocking off Arkansas in overtime in Dallas and winning at Oklahoma. The Aggies crushed the Cowboys of Oklahoma State 71-48 before the Mizzou win.
But like Colorado, Texas A&M will learn more about itself in the coming week after a road game at Texas on Wednesday and a home game against Kansas State on Saturday.
"We don't have four McDonald's All-Americans; we have to play well to win and grind,'' Turgeon said. "It's not easy for us to win. If we don't play well, we'll lose. It's early. We've had a good schedule. We've had a lot of home games. We've won our close games, but we could easily have four or five losses. We've had a couple of breaks.''
The Aggies go to Colorado, but the Buffaloes don't make the return trip to College Station. They also visit Kansas with no return game. Colorado gets Kansas twice and gets Texas in Colorado in their only meeting of the season.
"I don't get too caught up in the advantageous schedules,'' Boyle said. "We've got to win at home, and hopefully we can get a couple more on the road. I'm not talking to our players about this.''
Boyle isn't dismissing the possibility that games will matter later in the season for CU. If the current pace continues, its game in Boulder on Feb. 9 versus Texas A&M suddenly looms large. No one could have projected that when Turgeon was pushing for Boyle to land the Buffs job.
December, 26, 2010
12/26/10
11:18
PM ET
LAS VEGAS -- For a few stretches Thursday night, Northern Iowa had found its stroke like it was March of 2010 yet again, taking down a team of higher stature.
Last March, UNLV and top-ranked Kansas fell victim to the Panthers, before Michigan State clipped them in the Sweet 16. The daring 3-point shot by Ali Farokhmanesh that was one of the shots of the NCAA tournament to ice a win over Kansas, the play of Jordan Eglseder and Adam Koch inside and out were memories that will live in Panther lore.
But the Panthers are quickly proving that this is no longer just the team Ben Jacobson built on the heels of Greg McDermott's initial startup.
Northern Iowa has a program, and the pieces are in play for the Panthers to be in the thick of the Missouri Valley Conference race and once again potential NCAA tournament pests.
With Koch watching in the stands at the Orleans Arena, the Panthers won the Las Vegas Classic on Thursday with a 66-60 win over New Mexico. Koch's brother Jake, a sophomore, made a 3-pointer and got to the line nine times, making all nine. Junior Johnny Moran made a few crushing 3s, but the new Farokhmanesh on this squad is sophomore Anthony James, who made three 3s, finished with 23 points and had an answer every time the Lobos pushed back.
The two returning starters from Northern Iowa's most memorable team -- Kwadzo Ahelegbe and Lucas O'Rear -- are still the role players they've been, and they had their moments.
But this team's moxie will come from making 3s offensively and, of course, locking up teams defensively.
Northern Iowa enters Monday's Valley opener against Missouri State as a real threat, with the Bears and favorite Wichita State, to win the conference title. Sure, scoring 39 points in a loss to Iowa was a lowlight this season. Falling by two at Milwaukee and losing by 22 at Syracuse in the opener wasn't a stunner. But beating Iowa State at home, TCU on the road and then coming to Las Vegas and sweeping Indiana and New Mexico shows this younger team has a chance to develop into an NCAA team with a run in the Valley once again.
"These guys are now feeling like it's their team," Jacobson said. "I think our guys are at a point right now where they expect to win when they walk out there, regardless of who they are playing against."
Jacobson, like Butler's Brad Stevens, was a hot name in March but decided to stay put. He did so because he loves what he has helped build and wanted to see it come to fruition. So far, it appears there's a carryover.
• New Mexico hasn't had the pub of San Diego State, BYU or UNLV so far in the Mountain West. And there is a reason. Last season's Mountain West regular-season champs took some offseason hits with Ramon Martinez finishing his eligibility and Darington Hobson declaring abruptly for the NBA draft.
And of course the Lobos' schedule so far this season hasn't been comparable. There is hope that this squad can be a real contender in the MWC and for an NCAA bid, but there is also concern once again for a key interior player.
[+] Enlarge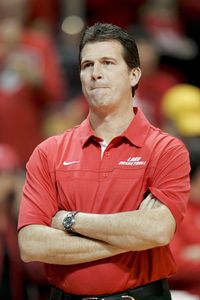 Marc Sanchez/Icon SMISteve Alford has his New Mexico Lobos off to a 10-2 start.
Emmanuel Negedu, who had a defibrillator put in his chest after he collapsed during a workout at Tennessee, is officially "under the weather," Lobos officials said. Negedu said after the loss to Northern Iowa that he would be back. But New Mexico coach Steve Alford said Negedu would meet with doctors Monday.
Negedu wasn't cleared to play at Tennessee or at Indiana, his first choice after he decided to leave the Vols. So far this season Negedu had played in 10 games, averaging 4.7 points and 5.4 rebounds off the bench. He didn't play against Colorado or Northern Iowa.
Sources within the New Mexico program said they won't ever chance anything with Negedu if he's not feeling well and will proceed with caution. On the court, Negedu's absence does hurt the Lobos, especially with UCLA transfer Drew Gordon still largely ineffective due to a knee injury.
Gordon, who has played in three games, is averaging nine points and four rebounds but was 3-of-10 against the Panthers. UNM has a developing MWC star inside in A.J. Hardeman, who knows the role of putback specialist and post option quite well. Hardeman scored 16 points and grabbed seven boards in the loss. And Alex Kirk is a serviceable big man, but the Lobos are thin in the post when foul trouble exists (Hardeman and Gordon fouled out) without Negedu. They also need his rebounding.
"I'm feeling good, but I'm rusty as all get out," Gordon said. "It's tough coming back here and everyone is in full swing. My touch is a little off and I'm not crashing the glass as I'd like. I'm hesitant with the knee. I've got to progress better."
The Lobos have a stud in Vinnie Johnson-like guard Dairese Gary, but he can over-penetrate (six turnovers) and tries to do too much sometimes. The good news for the Lobos is that freshman Kendall Williams has the look of being a headliner for the Lobos. He's second on the team in scoring at a dozen a game, plays with confidence and can get his own shot. If Phillip McDonald can be more consistent on 3s (30.2 percent), the Lobos have a shot to be a factor in the MWC race.
But you'll know more about this team if UNM can survive two winnable road games at Texas Tech (Wednesday) and at Dayton on New Year's Day.
"We just won eight in a row, and we're learning," Alford said. "We had a bad second half against Cal [a 89-64 loss] and a bad start here [down 13 in the first half against UNI]. But I'm pleased. We beat a Colorado team from start to finish. I'm happy with our start. We'll have plenty of chances [in the MWC]."
• Colorado has had an odd season so far. The Buffaloes, a trendy pick to be a top-six finisher in their final year in the Big 12, lost at Georgia by nine, at San Francisco by two in overtime and by 16 at Harvard. Yet Colorado -- which boasts two players of intrigue for NBA draft personnel in Cory Higgins and Alec Burks -- blew out Oregon State in a game in which it looked like it could take on anyone. The win over Colorado State in overtime, the 13-point home loss to the Lobos and a nine-point win over Indiana continue to show the inconsistency.
So what's it going to be for this squad?
"I feel good; I know we've been up and down, but we established a team effort," Higgins said. "We were too many individuals, but now we're together and I'm encouraged we're heading in the right direction. We haven't lost sight of our goal."
Higgins said it took a while for the Buffaloes to get used to coach Tad Boyle after playing for Jeff Bzdelik last season.
"We're finally on the same page," Higgins said. "We've got a way to go, but we're aggressive now."
The Buffs don't have enough for an at-large profile unless they win a number of key games against the Big 12 elite. You'll know early in the conference season with a three-game stretch of Missouri (Jan. 8), at Kansas State (Jan. 12) and Oklahoma State (Jan. 15).
"We kept our poise and made plays when our backs were against the wall," Boyle said. "The challenge for us is consistency. We need Cory and Marcus [Relphorde] to play well and Alec to play well. We can't have nights when those two or three guys don't play well for us to be good."
Boyle said the win over Indiana stabilizes the Buffaloes and gives them the momentum needed heading into the Big 12.
September, 29, 2010
09/29/10
2:38
PM ET
The new 12-team Pac-10 will likely follow the lead of the new 12-team Big Ten. In other words, starting in the 2011-12 school year, it looks like the conference will split into two divisions for football but remain one, 12-team entity in basketball that plays 18 conference games.
The Big Ten already formally announced its two football divisions and will make its official decision about basketball at its annual meetings this spring, with the consensus being there will be 18 league games with every team playing each other at least once, rivalries protected and the other crossover games done on a random basis for competitive balance.
The Pac-10 athletic directors meet next week (Oct. 6-7) and are likely to follow a similar path, with the final say going to the presidents and chancellors who will meet on Oct. 21.
There are still a number of options for the football divisions, from a simple split between North (Washington, Washington State, Oregon State, Oregon, Utah, Colorado) and South (Cal, Stanford, UCLA, USC, Arizona State, Arizona) and variations off that, as well as a zipper option with each rivalry split to form the two divisions (Washington and Washington State on different sides with Utah and Colorado being the two new rivals). Of course, in football, much like the Big Ten did with Ohio State-Michigan, if a rivalry was split in divisions, that game would be one of the mandatory crossover games every season.
More than likely, the men's basketball schedule will have 11 games against every other team, the 12th game would be against the natural rival and then the other six games would be chosen at random, leaving four schools that a team would play only once a season.
The hitch in the Pac-10's scheduling is that every school wants at least one road trip to L.A. and the Bay Area for recruiting and alumni purposes. League officials have to be cognizant of that sentiment.
Oregon State coach Craig Robinson said it was his preference to make sure the Beavers, or for that matter every school, gets to L.A. and the Bay Area each season.
"And we have to play Oregon every year twice, I don't think we should skip that one," Robinson said.
The Pac-10 is the last power-six conference to still play a true round robin schedule in men's basketball. But when the Pac-10 gives up that title, the Big 12 will assume the role of being the only power-six conference that anoints a true champion. The Big 12 will be a 10-team league in 2011-12 with the departure of Nebraska (Big Ten) and Colorado (Pac-10). The conference has already made it known it will play a true, 18-game round-robin schedule when it's a 10-team league.
Twelve teams might be the perfect number for football with two six-team divisions and a championship game. But going from 10 to 12 in men's basketball takes away the equitable scheduling and the true champion and creates a competitively imbalanced schedule. That's what the Big East, Big Ten, SEC, ACC and Big 12 have dealt with lately. The Pac-10 has not.
"I would select the model that gives the opportunity for us to play each other home-and-home as many times as possible in the shortest window of years," Arizona State coach Herb Sendek said. "You want every team to touch each other in the shortest time possible. That's the fairest way to do it."
UCLA athletic director Dan Guerrero said there have been a number of different models discussed, such as playing 16, 18 or even 20 or 22 league games.
"But the overall sentiment is to stay at 18," Guerrero said. "You want a scheduling model where you play your natural rival and do some home-and-homes. We might go to Oregon but they don't come and return. We might play host to Oregon State but not go to Corvallis. Nothing is definitive."
Guerrero said a number of athletic directors are on record as saying they covet being in the Los Angeles market and "we're looking at ways to make that happen."
Guerrero said the consensus among the athletic directors was to go with one division, 18 games and avoid any no-plays in basketball.
"Those are the parameters to build a model around," Guerrero said. "We could have gone with a 22-game model and still kept the double round robin, but that limits nonconference flexibility. I think 18 is the most appropriate."
Guerrero just came off leading the men's basketball selection committee, which created the "First Four" format under the newly expanded 68-team tournament. In that format, Guerrero and the other nine members of the committee reached a compromise where two of the games will involve the last four 16th-seeded teams and two of the games will include the last four at-large teams.
Guerrero has been a peacemaker/mediator with these types of NCAA issues and his experience should serve him well at the Pac-10 meetings next week.
September, 15, 2010
09/15/10
11:20
AM ET
When Northern Illinois decided to give
Sean Kowal
his release this summer to transfer to another university in pursuit of a graduate degree, Kowal said at the time that his plan was to find a Jesuit-based school and get a master's in theology.
NIU's leading rebounder (6.4) and third-leading scorer (10.5) last season, Kowal said he wanted to earn that master's so ultimately he could go back and coach at his high school alma mater, De Smet Jesuit High in St. Louis.
[+] Enlarge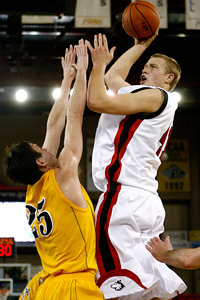 AP Photo/Al GrilloSean Kowal won't be playing basketball anywhere this season.
Ultimately, that might be his career choice. But the plan to play this season at a school such as Saint Louis, Marquette, Xavier or Creighton -- his preferred destinations when he finally was more forthright with NIU about his intentions and his choices -- is over.
The reason Kowal is sitting at home in St. Louis, working out instead of attending classes at a school such as SLU, is because the NCAA is investigating whether he or a school initiated his departure from Northern Illinois before his announced intentions to leave.
A distraught Kowal said he met with NCAA associate director of enforcement Dan Matheson on SLU's campus for 90 minutes late last month and answered questions about his intentions. Kowal said he followed that up in the first week of September with e-mail correspondence with the NCAA seeking answers as to why there was an investigation, who was making the charge of tampering and why there hasn't been closure on the matter.
Kowal said the NCAA made it clear in its response to Kowal that interviewing him was part of an information-gathering process and didn't prohibit him from enrolling at an NCAA school. But Kowal said he believes the shadow of an NCAA investigation made him too toxic for a school to take a chance on a player for one season.
The NCAA, as per its normal response, declined to comment on the investigation. Matheson referred all questions to an NCAA spokesperson and declined to say whether he was in St. Louis for the interview with Kowal.
Northern Illinois coach Ricardo Patton, who coached the 6-11 big man at Colorado and then at Northern Illinois, was miffed initially by Kowal's decision to leave when contacted earlier this summer. Kowal said he later admitted that he wasn't as forthright about his intentions. Patton didn't want to discuss Kowal when reached earlier this summer, but those close to the coach said he had a suspicion that someone was tampering with Kowal.
Saint Louis did have a scholarship for the hometown kid and, according to sources, was considering him after talking to Kowal and his father late last month. But those close to the Billikens said there was no contact with Kowal before he got his release.
"As soon as I talked to SLU, I got a call from the NCAA saying I was under investigation because someone had been tampering with me," Kowal said. "I had a very detailed meeting. I told them everything."
There was even a request for Kowal's phone records. And as the days quickly went by, Kowal said he implored the NCAA to stop so he could attend a school before the semester started. Classes at Saint Louis started Aug. 23, and Kowal's correspondence with the NCAA after that date and into September made it even more difficult for SLU to consider taking Kowal.
"I felt that no school would want more problems," Kowal said. "No one wants to take a problem. The NCAA shined a light on me. They projected me in that image to any of the schools considering me. The investigation is currently still going on. But they've made me forfeit my last year of eligibility that I could receive financial aid."
While the NCAA was pursuing Kowal, Patton's former manager at Colorado, Marc Ost, who works for Cornerstone Management in Philadelphia and knew Kowal, set up a deal for him to play professionally in Holland. Kowal initially agreed, but then upon further review declined, putting Ost in an awkward position. Kowal said he just wasn't ready to play overseas.
"It wasn't the deal for me," Kowal said.
Kowal had a chance to do what has been done by a number of players recently in men's basketball and football -- play immediately without sitting out because he had graduated at one school and was looking to pursue a graduate degree at another.
The delay in getting his release, which is based on Kowal not being up-front initially with his intentions and then Northern Illinois taking its time, can be blamed on the school and the player. The NCAA inquiry, though, took this matter to another level and made a player unworthy of an accompanying headache.
So Kowal is done in college basketball after four years, playing one at Colorado, sitting out one year and playing two at Northern Illinois. He has his degree and can still pursue that master's in theology if he wants, but he'll have to pay just like most traditional students.
"It's not right what the NCAA did," Kowal said. "It may not be the end of it with them and me. What they did was wrong, and whoever accused me of these false allegations, whoever did that, should feel terrible about themselves. It's a mess.
"I don't know what's next. I went back to my old high school and saw a professor of mine. I want to teach religion and coach basketball at my old high school. I want to be a basketball coach, but not at the college level. There are too many politics. That has been reinforced to me over these last few months. The NCAA will say they didn't stop me from enrolling, but no institution will take a chance on me. They don't want to do that. It's a real shame the way the NCAA handled this matter."
June, 18, 2010
06/18/10
11:08
AM ET
Colorado had to show an interest in basketball.
If the Buffaloes didn't, all the talk about wanting to be competitive was moot. Sure, they could pop up every few years and make some noise in the Big 12. But to be a serious player, to be taken seriously, they had to do something tangible.
A year ago, Jeff Bzdelik seriously considered becoming an assistant coach with the NBA's Minnesota Timberwolves. And he didn't hesitate to jump when Wake Forest athletic director Ron Wellman called. It was a no-thought decision. Wake Forest has always shown a commitment to college basketball. Colorado hasn't. You can't compare being the head coach at Wake Forest and Colorado.
Are the Buffs finally giving the appearance that they care enough to do something about it? Bzdelik pushed from the day he arrived to improve the facilities, and it's starting to happen -- although he won't be in Boulder to see his hard work pay off.
Tad Boyle, who was the coach at nearby Northern Colorado, was the Buffaloes' choice over Bzdelik's top assistant, former associate head coach Steve McClain (who went on to join Tom Crean's staff at Indiana).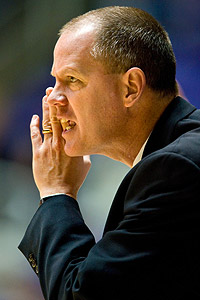 Douglas C. Pizac/US PresswireAfter leading Northern Colorado to 25 wins last season, Tad Boyle has moved south to Boulder.
The Buffaloes pale in comparison to the rest of the Big 12 in facilities, but Boyle will benefit greatly from a new indoor basketball/volleyball practice facility next to the Coors Events Center, set to be completed in April 2011.
In a year (or possibly two), CU will be in the Pac-10, a conference still playing catch-up in the facilities chase. Once Colorado has its own, it will move into the middle of the pack, behind Oregon, Arizona, Arizona State, USC (and UCLA is upgrading in a year), but at least not at the bottom.
"All I have to do is look out my window and see that they've broken ground and know that it's going to happen," said Boyle this week. "Jeff talked about how much they needed it for two or three years. But it's happening. Jeff was a big part of this commitment. But they stepped up."
"Buildings don't make programs; it's what's inside," said Texas A&M coach Mark Turgeon, who hired Boyle to be his assistant after the two played together at Kansas under Larry Brown in the early '80s. Turgeon and Boyle were together at Oregon under Jerry Green, and then Boyle split off to Tennessee under Green before reconnecting with Turgeon as his assistant at Jacksonville State and ultimately at Wichita State before venturing off on his own at Northern Colorado.
"At some point, Colorado had to step up, and Jeff worked hard to get it going," Turgeon said. "Colorado realized that it had to do something to have a chance. They had to show interest in basketball, to sell it to recruits, to the administration to put money into the program."
But as Turgeon said, what's inside matters. And Bzdelik left Boyle two players that give him a chance to be more than just competitive in what could be CU's last year in the Big 12. Colorado is coming off a 6-10 Big 12 season (15-16 overall), ahead of Oklahoma, Texas Tech, Iowa State and Nebraska. The return of rising senior guard Cory Higgins (18.9 ppg) and sophomore guard Alec Burks (17.1 ppg) means the Buffs will be able to score.
"We've got a good nucleus," Boyle said. "I think the only way we establish credibility here early is how quickly it happens. I know you need a breakthrough year."
The opportunity exists. He did turn Division I and Big Sky newcomer Northern Colorado -- 4-24 and last in the RPI in his first season -- into a postseason team (CIT) in his fourth and final season as the Bears finished second to Weber State at 12-4 (25-8 overall) last season. He was the Big Sky Coach of the Year, and if you were up late on ESPN's Tip-Off Marathon night you would have seen Boyle lead the Bears to a win at Hawaii to jump-start the season. The Bears lost to Oklahoma by one point in Norman and won at TCU during a breakthrough season.
"Can he make the jump?" said Turgeon, who worked hard to help Boyle get the job. "Yes. He played at this level. He's helped major programs. He's the full package. He's an excellent coach, a great recruiter. And before he got into coaching, he was handling people's money [Boyle is a former Boulder-based stockbroker], so he'll be a good fundraiser. He did that at Northern Colorado, and he'll do the same at Colorado."
The jump from the Big Sky to the Big 12/Pac-10 shouldn't be a shock anymore. Ben Howland broke the stereotype of needing a middle step when he went from Northern Arizona to Pitt.
"I know he'll do the coaching part," Turgeon said of Boyle. "He's the perfect fit for the job. Look at how successful Bo Ryan was at the Division III level before he got to Wisconsin [from UW-Platteville before a stop at D-I Wisconsin-Milwaukee].
"Yes, you normally have a middle step, but timing is everything," said the 47-year-old Boyle. "It was a perfect fit, whether we're in the Big 12 or the Pac-10."
The Buffaloes needed to jump-start their program after years of floundering toward the bottom of the Big 12, for the most part. Colorado is a better fit academically in the Pac-10 and men's basketball has a new chance to start the program over and build on its own history without preconceived impressions. And if there were ever a time to enter the Pac-10, it's now, as the league tries to climb out of a down cycle.
Boyle said he might not recruit the Texas area as much anymore, shifting the emphasis to fertile California, although it will be even more competitive there with Utah joining the fray as well.
And Boyle, a Colorado native, is no fool. He hired Rodney Billups for his staff. Billups is the brother of Chauncey Billups, currently with the Denver Nuggets and the easily the most famous CU basketball alumnus in the NBA.
"I know this is a heckuva challenge," Boyle said. "But I know what we did at Northern Colorado was pretty special. We won 25 games. We were dead last in the RPI when we got there. That speaks volumes. I know we can do this.
"The only way you establish credibility is on the court, and how quickly that happens I don't know. I want it to happen sooner than later. There's a great nucleus here, and Coach Bzdelik left good players in the program. We just have to add the pieces."
June, 16, 2010
06/16/10
12:49
PM ET
Nebraska and Colorado can't get out of the Big 12 fast enough for the remaining 10 schools to relish the most competitive college basketball league in the country.
"If you look at who we lost and where they've been basketball-wise, we got stronger,'' Texas A&M coach Mark Turgeon said. "It's going to be a great league. How great would it be, if, when we have 10 teams, that we get six to seven teams in the NCAA tournament in good years? As basketball coaches, we knew we wanted to save this league because we knew we had something special.''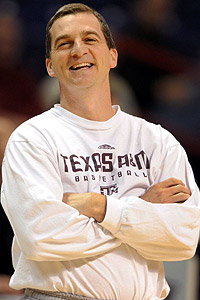 Steve Dykes/US PresswireTexas A&M coach Mark Turgeon is all smiles after hearing about his new league.
The current plan is for the Huskers to leave for the Big Ten by next summer for the fall of 2011. Meanwhile, Colorado exits for the Pac-10 in 2012, giving the league one more season of 12 teams and a 16-game men's basketball schedule, and a possible season of 11 teams and a 16- or 18-game schedule before the league goes to a tidy 10 teams in 2012. The plan for 2012-13 is an 18-game schedule with home-and-home games.
It might sound simplistic, but the Big 12 held on to a football divisional schedule even though the league standings were 1 through 12. While Kansas State and Missouri have become major national players the past two seasons, Nebraska and Colorado were still in the North. That meant the Big 12 South traditionally had tougher home-and-home games. Not having Kansas and Texas play twice in recent years, save last season's nosedive from Texas, was a disservice to the league.
Kansas coach Bill Self said the ACC, Big East, SEC, Big Ten and Big 12 didn't have true champions. Only the Pac-10 did.
But the RPI and the overall scheduling for the teams in the Big 12 North (Kansas, Kansas State, Missouri and Iowa State) will change dramatically.
"We're trading four games with Nebraska and Colorado for another game against Oklahoma, Texas, Baylor, Texas A&M and Texas Tech,'' Self said of the true home-and-home series and the jump to two more overall league games from 16 to 18.
"When we didn't get in four years ago and two years ago, we were criticized for being in the weaker Big 12 North, and therefore our conference record was weaker than teams in the Big 12 South,'' Kansas State coach Frank Martin said. "Well, the only thing that will matter is that we play everybody twice -- no ifs, ands or buts. That argument is no longer valid. ''
That's when the Big 12 becomes unquestionably the best college basketball conference in the country. No dogs. None. Not even Iowa State, which has slid toward the bottom but still has potentially one of the better home court in the country.
The Pac-10 had the envy of other power conferences because of its schedule. The true round-robin schedule produces a real regular-season champion. There is no way to hide behind the premise that the regular-season champion doesn't matter as much because the teams don't play the same schedule.
What the Pac-10 had over its fellow power conferences, it will lose once it adds Colorado and possibly Utah, which will mean 12 teams. Washington coach Lorenzo Romar said the familiarity and consistency of home-and-home games was a huge plus. He said he remembered how tough it was being in an unbalanced schedule in Conference USA with St. Louis, Cincinnati, Marquette, Louisville and Charlotte. Losing the home-and-home aspect within the Pac-10 is something Romar said he'll have to sit down, digest and figure out the best course of action for the league, assuming it will drop from 18 to 16 games.
Turgeon said he wasn't thrilled to jump from 16 to 18 league games just in number alone, but the format is the best. No one is questioning that.
No one seems to question the direction of every program in the remaining Big 12, with Kansas, Kansas State, Baylor and Missouri -- four schools that were being left out of possible expansion -- likely in the top 20 this fall. Texas won't be far behind. Oklahoma State has been a consistent winner. Oklahoma had one disastrous season but is two seasons removed from being a national title contender with then-player of the year Blake Griffin. Assuming OU coach Jeff Capel won't let the Sooners slide again, they should be in the thick of the chase soon. The coaches all agree Texas Tech's Pat Knight is ready to turn the corner this season as a factor in the Big 12 mix. The question is whether Iowa State can regroup and recruit under new coach Fred Hoiberg? If he can, there is no weak link in the bunch and there are no wins that can be counted on to get into the NCAA tournament in a given season.
If the football side agrees that other programs (Memphis, Louisville or Mountain West schools) wouldn't add serious value to the league, the compacted Big 12 could easily exist for years and become one of the most competitive leagues in the country.
The Big 12 has produced national players of the year in Griffin (Oklahoma) and Kevin Durant (Texas), and one who was close to earning it in Michael Beasley (Kansas State).
Duke and North Carolina won the past two national championships. However, outside of Memphis and Kentucky these past two seasons, Big 12 schools have had some of the top storylines in the country. That should only continue as the league matures into a 10-team conference that will become the envy of the other power-six schools because of how easily it will be managed.
Navigating wins will be tough, but there will be no letdowns. Every game will be important. As rivalries are enhanced, interest in conference games will increase, and to the benefit of the Big 12, the ratings might rise, too.