Roe's recovery welcome news for Spartans
September, 17, 2008
09/17/08
4:25
PM ET
Tom Izzo doesn't want to make a big deal out of
Delvon Roe
participating in his first Michigan State workout Monday. But he can't help himself. Roe was too good, too soon probably after having surgery Aug. 5 on his left knee to clean up some small particles of cartilage that caused swelling.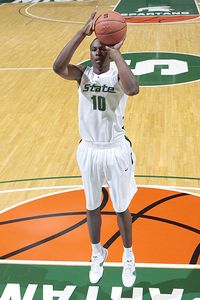 Matt Mitchell/MSU Athletic Communications
Delvin Roe expects to step in and
contribute right away for MSU.
Roe -- a 6-foot-8 power forward who could be the difference for a possible Final Four berth for the Spartans -- hadn't played since December of 2007 after he injured his right knee while playing for St. Edward High in Lakewood, Ohio. He had microfracture surgery that kept him out the rest of the season.
"You don't take nine months off and be the same player," Izzo said. "But he would rank right up there for anybody I've had that has come back quickly. He has the brains and the athleticism. He didn't look like a fish out of water on that first day." Roe said he didn't have the "explosion off his right leg. That's going to come. Other than that I felt fine. I did every drill. I've been itching to get out there on the court. At the same time I was very patient, watching film, and listening to the coaches." Izzo cautioned that no one should expect Roe to be 100 percent when the Spartans play in the loaded Old Spice Classic in Orlando with headline teams Gonzaga, Tennessee, Georgetown and Siena (all predicted to make the NCAAs in March) or against top-ranked North Carolina in the ACC/Big Ten Challenge featured game at Final Four site Ford Field in Detroit on Dec. 3. "He could be 80 percent in December and then really be rocking and rolling when we get into the Big Ten," Izzo said. Izzo said the Spartans' "monster" early schedule that also includes a Jan. 10 home game against Kansas has made him rethink how to handle Roe earlier in the season. Izzo said with so many big games early in the season he may have to be more cautious in using Roe.
Izzo said had Roe not been injured last season he would have been a McDonald's All-American and one of the names to follow entering the season.
Izzo said Roe lifted, lifted and lifted during his rehab and learned to appreciate the game. What excites the coach mostly is Roe's ability to score in traffic in the lane and run the court. That's what has Roe's frontcourt mate
Raymar Morgan
excited after playing with him Monday. The 6-7 junior is the top returning scorer for the Spartans (14 ppg, 6.1 rpg) and with Roe will be expected to shoulder the leadership and production load in the absence of guard
Drew Neitzel
, who finished his illustrious career at MSU last spring. "He's a great worker, very intense and has a different game than me," Morgan said. "He's real strong and can shoot it outside a bit. He's one of the strongest guys on our team. I could tell by his work ethic that he was going to do whatever it took to stay in shape [during his rehab]." Roe said when he heard he needed microfracture surgery his first response was "Oh my god." Notable players like Amare Stoudemire and Greg Oden had previously had the surgery. Oden was just going through the rehab a year ago when Roe got injured. Stoudemire had already returned. Roe quickly became savvy to the injury and was told that catching it early and not playing on it was critical. "I didn't play another minute or another game," Roe said. "Most people end up playing for a few months before having surgery." Roe's disappearance from game action and national high school hype didn't lessen the expectations on him. He said he knew they would be high as soon as he was cleared. "It's going to take a little bit of time but I think I'll be fine," Roe said. "I can run the lanes, guard multiple positions and be one of those basketball players who has the ability to do more things on the basketball court." Not playing last season past December adds to Roe's motivation. Roe talked about his ability to rebound and defend and that's perfect for Izzo. That's all he wants to hear. But Izzo is quick to say that the new emphasis on frontcourt scorers like Roe and Morgan and to some extent
Goran Suton
will give this team a different look. Not having Neitzel means teams won't key on one guard as much, which according to Morgan did open up more scoring opportunities for the big men. Guards
Kalin Lucas
,
Chris Allen
,
Durrell Summers
and
Travis Walton
are all capable scorers but they won't be the primary focus. The Spartans were offensively challenged at times last season as evidenced by the brutal 36 points scored in a seven-point loss at Iowa in January. The Spartans still managed to make the Sweet 16, losing to Memphis in Houston. "We're going to score more points," Izzo said. "There are three things that are going to be key for us: Delvon, Chris Allen and Durrell Summers both being athletic and shooting well, and whether or not those guys can check anybody defensively. If they can guard and lock down then we'll defend." Izzo said he will still think throughout the fall about how much to play Roe in the early big games. He said he'll get caught up in wanting to win them all but has to make sure Roe is ready for February and March and not fatigued by playing too much, too soon on his repaired knees. "We may take our lumps in November and December but we have to make sure he doesn't deteriorate and get him better for January, February and March," Izzo said. "We've got the depth and the talent but Roe is the difference-maker with Morgan."
Final Nuggets
• Washington State coach Tony Bennett heaped praise on his highly touted freshman Klay Thompson after the first week of workouts. The son of former NBA forward Mychal Thompson, the 6-7 Thompson is expected to have a major impact on the Cougars. "He's a complete player, well-schooled and really gifted," Bennett said. "He has length and athleticism. He's also hungry defensively."
Bennett will drill into Thompson the importance of defense early and often in advance of practice officially starting on Oct. 17. But already Bennett sees how much more athletic his freshman class is with Thompson,
James Watson
,
DeAngelo Casto
,
Marcus Capers
,
Nick Witherill
and
Mike Harthun
. The Cougars are trying to replace
Derrick Low
,
Kyle Weaver
and
Robbie Cowgill
. The return of guard
Taylor Rochestie
, center
Aron Baynes
and reserve
Daven Harmeling
gives the Cougars three experienced part-time starters to go along with the infusion of newcomers. "Three of those freshmen are going to have to contribute," Bennett said. "I can't wait to watch them five-on-five. But we'll have to grind it up defensively." •
ESPN's Jay Bilas had it right on in his Wednesday blog
about the NCAA being more cautious before handing out hardship waivers for transfers who want to play immediately instead of sitting out a year. The National Association of Basketball Coaches is looking for a way to stem the tide of appeals. Phil Martelli of Saint Joseph's, who is on the NABC board of directors, said that there were 20 such cases pending. But ESPN.com was told that number was a bit high. Still, there are outstanding cases at Seton Hall and USC that could help change both of those teams this season. One idea that Martelli and I discussed was to allow a player who needs to transfer back home because of a family illness the option not to go to school while he is tending to his family, but then once he returns the following year he would be eligible immediately and not lose any of his remaining years of eligibility. A great example of this was last year when Northwestern's
Kevin Coble
took the fall semester off to be with his mother in Phoenix while she went through cancer treatment. Coble didn't transfer to a Phoenix-area school. He took the time off to be with his mother and then when it was appropriate returned to school and was eligible immediately. Coble did do academic work while in Phoenix, but the school worked with him during his leave of absence. Now, Coble returned to Northwestern so there were no transfer rules in play, but it's a case in which Coble didn't just jump to transfer back home to deal with a family issue and also play basketball. He took the time to be with his family and then returned to basketball. Having the Division I Legislative Council Subcommittee for Legislative Relief decide whether or not a family member is sick or ill enough to warrant immediate eligibility doesn't seem right. Making that determination seems beyond the jurisdiction of a collection of personnel from other NCAA schools. But if someone is denied a waiver, then it could open up a difficult legal road for the NCAA. As one head coach told me Tuesday, "Pandora's box is open and now we could see an abuse, where recruiting a player back home off another team could be the next issue if you can get him eligible right away by claiming a hardship in the family."