Mitchell, LSU prepare for new season
September, 23, 2008
09/23/08
1:11
PM ET
BATON ROUGE, La. --
Tasmin Mitchell
's voice was echoed throughout the Pete Maravich Assembly Center.
He ran through drills with his teammates, made shots and exerted his presence throughout the practice Monday.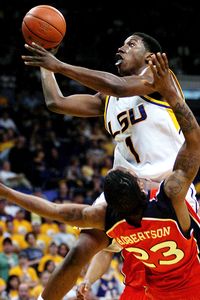 AP Photo/Tim Mueller
Tasmin Mitchell is back practicing
with LSU after missing all but three
games last season.
The significance is this: If Mitchell is back to playing at a high level after missing all but three games last season with a stress fracture in his left shin bone, then new LSU coach Trent Johnson will have a potential NCAA tournament team to work with.
"He's not 100 percent but he's working extremely hard," Johnson said after Monday's session. Teams are allowed to work out for two hours a week from Sept. 15 to Oct. 17, when official team practices start. Individual instruction can occur from the outset of whenever the fall semester or quarter begins. "I told him to enjoy playing everyday. He's going to be rusty but we know after surgery you're never 100 percent," Johnson said. "After two weeks of individual instruction and some five-on-zero stuff I think you'll see that he's a lot better in a structured environment. He's an undersized four man and we'll use him for the short 15-foot jumper and to use his strength and quickness around the basket. He's got a good feel for the game and he's ready to have a good year." Mitchell, a 6-foot-7, 240-pound forward, was a member of the SEC All-Freshman team and an integral part of the LSU Final Four run under former coach John Brady. He averaged 11.4 points and 5.6 rebounds as a freshman and followed that up by averaging 14.5 points and 5.9 rebounds as a sophomore on a squad that failed to make the postseason and finished 17-15. Mitchell said he started feeling discomfort prior to the Tigers' appearance in the Maui Invitational. He had started the first three games of the season, and scored 16 points against McNeese State, but he lasted just six minutes in the Maui opener against Oklahoma State. "I tried to play on it but it just ached and it got worse and worse," Mitchell said. "I tried to get out there but I couldn't. It hurt so bad. It felt like somebody had stabbed my ankle." He had surgery and he was out for the rest of what would end up being a tumultuous season for the Tigers. Brady was fired Feb. 7. Assistant Butch Pierre finished the season as head coach. LSU finished the year with a record of 13-18, going 6-10 in the SEC. "I feel better than I did before the injury since my IQ has been broadened on the game sitting on the sideline," Mitchell said. "I was watching more and seeing it from a coaching standpoint. I hated not playing because I could see myself contribute." Mitchell was outspoken on the Final Four team, even with a squad that included Glen Davis and Tyrus Thomas. But his voice seems to carry more weight now, even during a preseason workout Monday.
"He's always been a workhorse and he adds so much toughness and leadership," said teammate and classmate Garrett Temple. "He definitely talks more than I do." Temple is a senior and Mitchell will be listed as a junior after receiving a medical hardship for last season.
Freshman point guard
Chris Bass
, the younger brother of former LSU player and current NBA backup Brandon Bass, said Mitchell's enthusiasm and energy has helped everyone else get pumped for the season. "It may take a little bit more to get back into the flow and I'd say he's 90-to-95 percent back," senior guard
Marcus Thornton
said. "By the time we start the season he'll be back to the Tasmin Mitchell I've known since high school." • The Tigers were back in the PMAC on Monday for the first time this month. Hurricane Gustav, which came through here on Sept. 1, turned the PMAC into a hospital for the second time in three years. In 2005 following Katrina, the PMAC was more of a triage center for victims of the storm coming from New Orleans and the surrounding area. This time, the PMAC was being used as a relocation site for critical patients who were already hospitalized but were in the path of the hurricane. LSU staff members said in the days prior to Gustav hitting there were military helicopters landing on the track outside of the PMAC constantly delivering patients and personnel. The players and staff couldn't get into the arena area. Last week it was closed for three days to be fumigated after a few of the patients had died in the arena. During the past few weeks LSU was able to get into its locker room but worked out at the nearby Louisiana School for the Deaf. • Johnson spent Gustav in his office. He said there were six players who were on campus who didn't evacuate and he wanted to be close to them if something were to happen. Johnson did venture out during the middle of the storm to fetch one of his cell phones from his car. It was almost a costly mistake from a rookie dealing with Hurricane-force winds. "The winds were tough," said Johnson, who said he had dealt with earthquakes while at Stanford. "My car was five feet from the door and those 100-mile per hour winds don't mess around. It threw me up against my Tahoe. Literally, it lifted me up against my Tahoe. There were three of us in the building and the two other guys [from another department] were on the sixth floor and I asked them when I got back why they didn't come down to help me and they said, 'the elevator power is off and we weren't going to walk down six floors.' And they also said, 'we were too busy trying to get it [video of Johnson being hoisted up] on their cell phones.' It was a different experience." • Johnson said he knows he's not in a position to change the academic calendar but wonders why schools in the Gulf Coast don't move to a quarter system to start school later in September (like UCLA and Ohio State and number of other schools in various parts of the country) to get out of the Hurricane season that is usually at the start of the fall semester in late August, early September. • LSU associate sports information director Kent Lowe said too much national media was focusing on New Orleans during Gustav and missed out on what happened here in Baton Rouge. It's clear in flying over the city that there was substantial damage. It seemed like every third house had a blue tarp on it to indicate roof damage. There are still downed trees all over the city. • LSU will hold its first-ever doubleheader of football-basketball since the PMAC opened in 1972 because of Gustav. The football team's rescheduled game against Troy will be Nov. 15 at 7 p.m. while the basketball team will open the season against Jackson State at 1 p.m. The PMAC is directly across the street from Tiger Stadium. Parking could be an issue for those who just want to go to the basketball game, so athletic department officials are trying to figure out a way to make it work.