Questions start at point for LSU
October, 2, 2008
10/02/08
1:24
PM ET
BATON ROUGE, La. -- Musings from a snapshot day with LSU:
• The Tigers are a legit threat to win the SEC West if they can get solid point guard play out of sophomore Bo Spencer or freshman Chris Bass.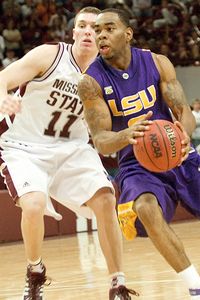 AP Photo/Kristen Hines
Marcus Thornton returns for LSU
after leading the Tigers in scoring
last season.
The return of Tasmin Mitchell from a foot injury, who will play power forward, scorer Marcus Thornton at shooting guard, versatile Garrett Temple at his more natural small forward, and the lanky defensive presence Chris Johnson in the middle, means the Tigers have one of the most experienced teams in the division.
Thornton averaged a team-high 19.6 points a game. Gone is second-leading scorer
Anthony Randolph
, who took his 15 points a game after his freshman season to the NBA. Johnson averaged 11.6 and blocked 66 shots. Temple is more of a defensive guy than a scorer. Guard
Terry Martin
can be a solid bench producer after averaging 8.3 points a game last season. The question will be at the point. Spencer played 15.8 minutes a game last season. Bass, the younger brother of former LSU and current NBA player Brandon Bass, has been a surprise in early-season workouts. Bass said he started to get recruited by former assistant Butch Pierre but then Pierre passed him on to Johnson when Pierre left for Oklahoma State. Johnson saw him at a tournament in April and wanted him to visit with him. When
J'Mison Morgan
got out of his national letter and went to UCLA, a scholarship opened up for Bass. "I'm hoping I can bring in the point-guard leadership they didn't have last year," Bass said. Bass looks nothing like his older brother. Brandon was a power player. Chris is more of a piston of a point. The other players definitely have warmed up to Bass and clearly want him to do well. They talked about him being a pleasant surprise and someone who fit in right away with the squad. It makes it easy that Chris Bass has been around this program for years. • The SEC West is wide open with Alabama, Ole Miss, Mississippi State, Arkansas and LSU all probably feeling they have a shot to win the division. LSU wants everyone to fall asleep on its team. "I like to shock people just like we did the year we went to the Final Four," said Mitchell, who was a freshman on the 2006 Final Four team. "I'd love to be the underdog. I'm not saying we're going to win the national championship or go to the Final Four, but I promise you that you'll see LSU and know that we're there. I'm not saying we'll have an undefeated season. I'm a realist. But we're striving to make the Final Four and play for a championship." Mitchell said the Tigers are ready to come back from the 13-18 season that he watched for all but three games because of a foot injury. • Coach Johnson was more diplomatic, as expected. "We have no margin for error," he said. "Tasmin hasn't played for a while. The best player on the team is with the Golden State Warriors [Randolph]. Bo Spencer and Chris Bass haven't played at this level [not much for Spencer, and not at all for Bass]. But I'm excited, and if they buy in to defending and rebounding and take care of that son of a gun [the ball], then yeah, we have a chance to surprise." • Johnson is taking the team to Alexandria, La., for the first three days of practice, beginning Oct. 17. It's not boot camp. It's just a way for the team to get to know the staff better and how they should travel. He said he did the same thing with his Stanford team last season, when they went to Stanislaus after the Cardinal didn't travel well the previous season. "There are no secrets," Johnson said. • Johnson is still frustrated about being ejected in Stanford's second-round NCAA tournament win over Marquette. He still contends he wasn't specifically warned before he received his first technical from David Hall, and didn't deserve to be tossed by Curtis Shaw after walking out toward the officials during a timeout. Still … "I've moved on, but what bothers me about it, regardless of whether it's right or wrong, is that everybody saw the game and the kids worked extremely hard in a tough situation. It could have cost them, and that will always bother me. That will never happen again." Assistant Doug Oliver coached the Cardinal in the second half, and Stanford won on a well-guarded
Brook Lopez
bad-angle baseline jumper with 1.3 seconds left in overtime for the 82-81 victory in Anaheim. • LSU is celebrating 100 years of basketball. The Tigers are putting together a list of their top 15 all-time players. There are already three locks: Pete Maravich, Bob Pettit and Shaquille O'Neal. • LSU is in the midst of building a new practice facility and offices behind the PMAC. Doesn't that always happen when there's a new coach? It sure seems that way.