Take a chill pill, Kansas' title seems safe
October, 13, 2008
10/13/08
12:14
PM ET
A few quick hitters on this Columbus Day:
• Let's chill out with trying to link an investigation into whether or not Darrell Arthur had improper grade changes in a Dallas high school and its ultimately nullifying Kansas' national championship in April.
Here's the deal from multiple sources with ties to the NCAA process and Kansas: Kansas would have to know that Arthur's grades were changed after he went through the independent NCAA clearinghouse, then failed to do anything about it and essentially purposely played an ineligible player during his two-year career.
[+] Enlarge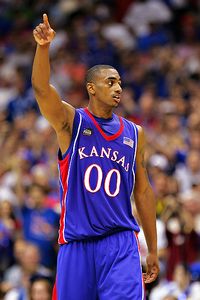 Ronald Martinez/Getty ImagesDespite speculation over Darrell Arthur's eligibility to play at Kansas, the Jayhawks' 2008 national title would be hard to contest.
Kansas denies knowing there was anything wrong with Arthur's grades.
Arthur was cleared by the NCAA to participate out of Dallas' South Oak Cliff High School. Kansas, LSU and Baylor were three of the schools recruiting Arthur the most. Dallas Independent School District superintendent Michael Hinojosa, according to ABC affiliate WFAA, wants a new investigation into Arthur's academic records and those of former teammates.
If Arthur's grade change occurred then he might not have had the sufficient credits to graduate from high school. That means Arthur would have been ineligible to go through the NCAA clearinghouse.
But Kansas played Arthur after he was cleared by the NCAA. If the clearinghouse received false information that it didn't know was false, then Kansas wouldn't be at fault. It would have to be proved that Kansas helped coordinate a change or had knowledge of it, both points Kansas denies. Kansas' staff has no evidence to support that Arthur had his grades changed or knew anything about it.
So, unless this proves to be true and Kansas was complicit in the case there is nothing to worry about when it comes to KU's national title in April.
Kansas coach Bill Self went back and looked at Arthur's academic report when this issue was first raised two months ago. Self was convinced Arthur was fine, and so Kansas was too, and still is. The first investigation cleared South Oak Cliff for the 2005 and 2007 state championships. But WFAA-TV reported that witnesses weren't interviewed for Arthur's algebra, English and theater arts grades.
This story will continue until this next investigation is completed and released. But Kansas is showing no signs of sweating out the decision. The 2008 national title is expected to be unscathed and the banner will be raised to the top of Phog Allen without incident.
• Kentucky's Big Blue Madness was moved up a week to do two things: allow the Wildcats to start practice without any distractions next weekend and serve as a recruiting tool in a weekend that was better suited for Kentucky.
The event went on without a hitch Friday night and the benefit should be felt well into 2009. Daniel Orton, considered the second-best center by Scouts Inc. on ESPNU's top 100 list, committed to Kentucky on Sunday. The 6-10 Orton out of Bishop McGuinness High in Oklahoma City said Sunday by phone from Lexington that hearing the passionate Kentucky fans cheering his name did wonders for his decision. Orton said he understands that with the adulation comes incredible pressure to perform. He said he welcomes that kind of interest in him and basketball.
Orton said he was amazed at the passion fans showed for a practice Friday night. But more than anything, he stayed true to Billy Gillispie, who he said showed loyalty to him throughout the recruiting process.
Orton was down to Kansas and Kentucky. But he said Kansas made the decision easier for him once the Jayhawks took power forward Thomas Robinson (Brewster Academy, N.H./Washington D.C.) last week.
Getting Orton ensures the Wildcats will have a replacement for Patrick Patterson if he chooses to leave for the NBA after his sophomore season. Orton said he would love to play with Patterson but knows that if Patterson has an outstanding season, he could leave.
Meanwhile, Gillispie, who can't comment on commitments, said the practice was a success and that no matter when it was held, Kentucky fans would sell out Rupp Arena. The National Association of Basketball Coaches board of directors is pushing to prevent teams from holding recruiting-style Midnight Madness events the week before the start of official practice. Teams are allowed a two-hour workout together prior to the start of official practice and Kentucky, Illinois, West Virginia and Marshall all took part over the weekend in advance of the official start of practice on Oct. 17.
"People camp out for tickets,'' Gillispie said. "We'll do it again next year, whenever we're allowed.''
Gillispie said last season's injured stars, Patterson and Jodie Meeks, are doing just fine. Patterson is ahead of schedule and his hunger to return to the court, according to Gillispie, is driving him to shake off the rust of the past six months. Gillispie has also been impressed with Meeks, who he said is truly healthy for the first time since Gillispie took the job in the spring of 2007.