For McKillop, home is where the Wildcats are
October, 21, 2008
10/21/08
11:22
AM ET
DAVIDSON, N.C. -- Candidly refreshing is how I would describe Bob McKillop.
While there was a movement afoot by at least one McKillop representative to consider the open Stanford job (and, for that matter, Providence and Rice), McKillop knew exactly where he should be this spring: Davidson.
The man knows who he is. He is a basketball coach at a school that clearly gets the student-athlete mission.
[+] Enlarge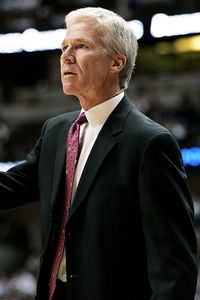 Ric Tapia/Icon SMIThere was talk that Bob McKillop would leave Davidson after the Wildcats' tourney run last season, but the coach stayed put.
He has one son on the bench with him as a coach, another on the court as a point guard and a daughter who he walked down the aisle on campus over the summer. Talking about his family made him tear up Friday. This man gets balance in life.
Candidly refreshing, that's what he is.
"I have a tremendous opportunity to live my life as a family man and that's pretty important to me,'' McKillop said. "I'm not sure I would have that somewhere else. I celebrated my daughter's marriage. If I had taken another job, I don't know if I would have been able to do that. I have a chance to coach and work with my son, and this team and staff are like sons to me. I have a great sense of joy here.''
McKillop praised the support he receives from the administration. Davidson returned the favor by giving him a contract extension through 2016.
McKillop is a New Yorker -- he has the accent to prove it. But he does not have to be in New York. He has coached at Davidson since 1989.
"Sometimes you become who you are from where you were raised,'' McKillop said. "I was raised in New York and I never let those [roots] disappear. I treasure my New York roots and memories. But where you raise your children becomes your home. I consider myself lucky that I have tremendous roots and memories in New York and now tremendous memories and roots in North Carolina.''
McKillop appears to be staying put. That's good for him, the university and the town of Davidson, and ultimately it's good for the game to keep coaches like McKillop at places in which they can thrive. McKillop's decision to stay at Davidson means this school can help diversify the landscape of excellent college hoop programs.
• McKillop coached the FIBA Under-18 U.S. team to the silver medal in Argentina last summer. He has been asked to coach the same team, albeit a year older, at the World Championships in New Zealand next summer.
• Davidson's Southern Conference streak is something to behold: The Wildcats have won 30 straight regular-season SoCon games and 33 straight games against SoCon teams.
That's an underrated stat. Every time the Wildcats go up against SoCon team, they are the team to beat. They are the team the opponent can't wait to beat.
Davidson junior guard Stephen Curry said the SoCon schedule is a "grind.'' The Wildcats went 20-0 last season, 16-0 in 2004-05 and 14-0 in 1995-96. That is quite amazing. That is dominance.
• McKillop said the Wildcats had a game scheduled with Liberty but the two sides couldn't get a date. Davidson-Liberty would have meant a Curry-versus-Curry matchup. Seth Curry, Steph's younger brother, is the high-profile freshman point guard for the Flames. If the elder Curry were to stay for his senior season, the brothers may just get their wish, since McKillop is confident a game can be found for 2009-10.
Steph Curry said he feels for his younger brother and already knows the trash talk is coming Seth's way.
"I'm his biggest fan since I've played against him all his life,'' Steph Curry said. "I'm sure players will try to get in his head.''
• The Wildcat players say they are cognizant of a legacy to keep Davidson a consistent top-25 team. The Wildcats played UCLA, Duke, North Carolina, Charlotte and NC State last season but didn't win any of those games. The Wildcats also lost at Western Michigan. But the 20-0 SoCon record may have been enough to get Davidson in the Dance even had it not won the SoCon tournament.
This season, the Wildcats get possibly Oklahoma in Norman in the NIT Season Tip-Off on Nov. 18 -- a win against the Sooners would yield two games in New York over Thanksgiving -- NC State at home (Dec. 6), West Virginia in the Jimmy V in New York (Dec. 9), Purdue in Indianapolis at the John Wooden Tradition event (Dec. 20) and at Duke (Jan. 7).
"If we want to be a top-25 team, we have to win these types of games,'' junior Stephen Rossiter said. "That's a big step for the program.''