Montgomery returns to Pac-10 with Cal
October, 30, 2008
10/30/08
3:26
PM ET
BERKELEY, Calif. -- Mike Montgomery thought he had it all figured out. He was done with college basketball. He had a remarkable 18-year run at Stanford that put the Cardinal in the national elite, a Final Four appearance in 1998, a No. 1 ranking in 2004, 16 NCAA berths, a 70-percent win clip, a plethora of pros that came through the Maples Pavilion doors. He received the prestigious John Wooden "Legends of Coaching" Lifetime Achievement award.
"I felt like I had retired from college basketball," said Montgomery. "That was my thought process."
He had moved on to the NBA. He didn't have to move from his Bay Area home, accepting a lucrative offer from the Golden State Warriors. The run lasted two seasons. For a man who prided himself on being at one of the nation's true academic-athletic institutions, failing at something was unacceptable.
[+] Enlarge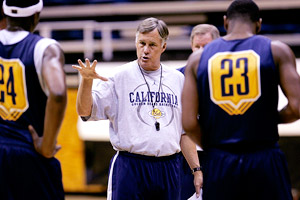 AP Photo/Paul SakumaAfter a failed stint in the NBA, Mike Montgomery is back to his familiar stomping ground in the Pac-10 with a Bay Area team, though this time he'll be pacing the sidelines for Cal.
"You don't like being told you can't do something," Montgomery said. "You don't like being told you've failed at something. And whether you've failed or not, you're no longer the coach. It took me awhile to get over that." Montgomery said he got the NBA itch as an assistant on the World Championship team, even though it was the same team that began a downward spiral of the USA basketball program when the U.S. finished a disappointing sixth in the 2002 event in Indianapolis. But the plan was to make sure he was prepared for the gig. He said his plan was to ensure he paid attention to the NBA game. "Quite frankly, I'm not sure I ever watched it on television. I always turned college basketball on," Montgomery said. The problem Montgomery encountered in the NBA was how to handle the players. "You don't know exactly how to act, how to approach the guys," Montgomery said. "How strong should you be? Should it be [Don] Nelson's laid-back approach or [Mike] Dunleavy's hard-nosed approach? The key is getting the opportunity to play hard for you. At the point you figure it out, the players have given up on you." So, too, did the Warriors' administration, as Montgomery learned quite quickly. "They courted Nelson all summer and I didn't know and that bothered me," Montgomery said of his 68-96 record in two seasons with the Warriors. "Once I got over that, and got it all out of my system, I was fine and pushed on." Had Montgomery lasted in the NBA at least five years, as was his plan, there's no way he would be where he is sitting today: at Stanford's most hated rival, Cal. But here he is, sitting in his office at Haas Pavilion, his window overlooking the outdoor pool, plotting practice for the next day for a team that will be rebuilding within the unforgiving Pac-10. Montgomery is wearing the traditional deep blue of Cal and thinks nothing of the change in wardrobe from Cardinal to Cal's Yale blue and gold. While the Cal and Stanford fans have their own Red Sox-Yankee issues (true story: a friend's mother is such a Cal partisan that she once asked her daughter's friend to get out of the car when she talked up how much she liked Stanford), Montgomery has no problem changing allegiances. "It's not odd at all, not at all," Montgomery said. "It's a different office, different kids and a different way of doing things. It's all about this stuff [pointing to the drawn-up drills on his desk], getting ready for practice and putting in a new set and teaching it." Montgomery said he never would have gone directly from Stanford to Cal. There would have been no reason. He considered himself to have one of the top jobs in the country at Stanford. "We were No. 1 in the country, a No. 1 seed, 30-1 [prior to losing in the NCAAs], we were pretty good," Montgomery said of the Cardinal in 2004. Montgomery once talked to UCLA while he was at Stanford, but at that time he had the Cardinal along with Arizona positioned as the team to beat in the league. He wasn't leaving for another college gig until the NBA called. So don't get him started about moving across the Bay, which he literally did because the drive time from the Berkeley area to Palo Alto is well over an hour with traffic -- each way. "I understand people making a big deal out of it, but when I was at Stanford I didn't hate Cal," Montgomery said. "It will be more different for the people at Stanford than it would be for me." The reason Montgomery had soured a bit on college hoops was recruiting. He was quick to speak up at coaches' meetings. But he was admittedly immune at Stanford. The Cardinal dealt primarily with players who were part of a traditional family structure and Montgomery didn't have to go through middlemen to get to a player. He dealt with two-family parents and high school coaches. He'll have to branch out a bit at Cal. He knows it. He doesn't like the recruiting business but he accepts it. He brought his son, John, on staff with him and is conscious that he doesn't want to be too negative about the business. "I don't know if anything can be done, I'm not sure anyone cares, with a $6 billion contract [with CBS and the NCAA for the tournament rights]," Montgomery said. "I like to talk to a kid, his parents and talk about education but that's the last thing that is going on. I'm trying to do it the right way, the way that's right for me." While Montgomery healed his bruised ego from the Warriors, he did Bay Area television work and had an office at Stanford working as an assistant to athletic director Bob Bowlsby. He said his former assistant, Trent Johnson, had come to him a few times to see if he wanted his old job back. That's exactly what Johnson said last month when ESPN.com visited him at LSU. But Montgomery said no. He said he had no idea that Johnson was that unhappy.

I understand people making a big deal out of it, but when I was at Stanford I didn't hate Cal. It will be more different for the people at Stanford than it would be for me.
--Mike Montgomery
"I wasn't naive, I had heard from some people but I was amazed [that he left]," Montgomery said. Montgomery said he knew nothing about Johnson's dealings with LSU after the Cardinal lost to Texas in the Sweet 16. He said he had gone to Bowlsby to push the AD to deal with Johnson's expiring contract, something that Johnson said was a reason why he was open to LSU. Johnson said once there was no proactive move by Bowlsby, he was out when the lucrative LSU offer arrived.
"I had no idea he was looking or that LSU had come after him," Montgomery said. A week before Johnson left for Baton Rouge, Montgomery took the Cal job on April 5 after the Bears made him their No. 1 target following the firing of Ben Braun.
Montgomery ended up getting the three most visible basketball jobs in the Bay Area, perhaps the most unique occurrence in coaching.
"People here are excited," Montgomery said. "We want to get to the NCAA tournament, recruit great kids and make a run at some national recognition."
When Montgomery took the job, though, he was convinced Ryan Anderson would stay. He didn't, leaving for the NBA and being drafted late in the first round by New Jersey.
So, Montgomery finds himself teaching everything, down to every single drill, to a team that is devoid of a star. "Right now it's an educational atmosphere," said fourth-year junior
Jamal Boykin
, who played for Mike Krzyzewski at Duke, Braun and now Montgomery in his career. "We're learning about a new way of thinking defensively, offensively. It's a different team, a different offense." As Montgomery shuffled papers on his desk he remarked that there wasn't a playbook from last year. "We're pretty much having to do everything and that takes longer," he said. That's fine. Montgomery has plenty of time now. He's not going anywhere else. This appears to be his last stop. "In a perfect world the NBA thing would have lasted three, four or five years, I would have gotten a good feel and be done," Montgomery said. "But two years was short. I was left unfulfilled."