UNC down but not out without Hansbrough
October, 31, 2008
10/31/08
4:46
PM ET
Pinpointing an exact return for Tyler Hansbrough, who is out with a stress reaction condition in his right shin, will be a fluid process.
[+] Enlarge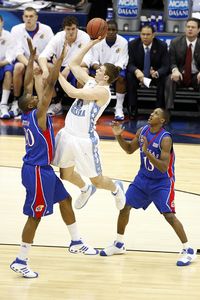 Bob Donnan/US PresswireAn MRI on Thursday revealed a stress reaction in Tyler Hansbrough's right shin.
The prescription to keep the condition from turning into a stress fracture is apparently rest.
Hansbrough's father, Gene, told ESPN.com on Thursday night that after Tyler's rest and rehab, he fully expects his son to play this season. But it's hard to tell how much he would practice versus rest for games.
When Hansbrough will return is the unknown question. Postulating on a date may end up being moot if Hansbrough comes back in time for marquee games against Kentucky (Nov. 18), at the Maui Invitational (Nov. 23-25 with a potential final against Notre Dame or Texas) and against Michigan State in the ACC-Big Ten Challenge at Final Four site Ford Field in Detroit (Dec. 3), or even if Hansbrough has to wait until the ACC play.
What has become clear, though, is this: The Tar Heels definitely could have used Alex Stepheson back and the heralded freshmen will have to play.
Stepheson transferred to USC after last season to be closer to his family, which he said is going through health issues. He said last week in Los Angeles that he remains hopeful, although not overly optimistic, that he can win an appeal to the NCAA to be eligible to play this season without having to sit out the traditional one-year requirement for four-year transfers. After watching the powerful Stepheson pound away and dominate the post at practice, it's obvious that the junior forward could have pushed former teammate junior Deon Thompson for the starting position with Hansbrough out.
At least in the immediate future, Thompson will have to shoulder the production load in Hansbrough's absence. Putting Thompson and Stepheson on the floor together, at their current state, wouldn't be as clumsy as it could have been when they arrived together as freshmen.
One rival coach Friday morning said that Carolina recruits McDonald's All-Americans, so they should be expected to contribute immediately. That means Tyler Zeller and Ed Davis should expect to play. That shouldn't be a problem, but they clearly might get more run than anticipated.
The rival coach isn't suddenly relishing a chance to play against the Tar Heels without Hansbrough, knowing full well that Carolina is loaded with talent, albeit not as experienced behind Thompson. Losing senior forward Marcus Ginyard, too, while he's recovering from his own injury means the Tar Heels suddenly lose two-thirds of their experienced front line.
The Tar Heels were the consensus No. 1 team in the Top 25 polls, and that shouldn't have ever been a question. And when healthy, they will rightfully assume their place as the team to beat. But they were hardly invincible even with Hansbrough. North Carolina did get rocked by Kansas in the national semifinals last season. This core group of players is still capable of a letdown and defensive issues. But adding a stellar recruiting class and a healthy Bobby Frasor to improve the perimeter depth certainly helps.
Hansbrough has to think about himself now and get back to being 100 percent healthy. Hansbrough knows only one way to play, and that's with little regard for his body. He doesn't mind taking the hits in the paint or on the floor when he dives for a loose ball on every possession.
Winning a second consecutive national player of the year award was going to be tough -- healthy or not. Repeating in sports is one of the toughest accomplishments. Quarterback Tim Tebow may be having another strong season for Florida, but to expect him to win the Heisman again may be asking too much.
[+] Enlarge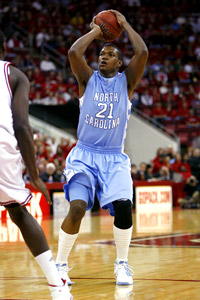 Kevin C. Cox/Getty ImagesDeon Thompson will be taking over for Tyler Hansbrough as the Tar Heels' star player rehabs a shin condition.
Hansbrough has a few records in sight that will be intriguing to watch. With 2,168 points, he's 122 away from being the all-time leading scorer at North Carolina, overtaking Phil Ford, and 602 points away from taking over the all-ACC scoring record set recently by Duke's J.J. Redick.
The Tar Heels are still the team to beat in the ACC, although that was never going to be a gift. Winning at Duke, Wake Forest or Miami will be a chore.
What Hansbrough's injury has done maybe more than anything is make the college basketball slate this season a tad more interesting, even two weeks before the season begins. From No. 2 on down through the top 25, the difference was hard to slice. If Hansbrough is out for a considerable amount of time, you can include No. 1 in that discussion.
Final nugget
• College coaches have moaned about the duration of the NBA's early-entry process for years. Last year's NCAA rule change to allow NBA teams to pay for individual workouts at their facilities meant more sophomores and juniors were going to declare just to see if they could keep their stock high. And while players such as Arizona's Chase Budinger; North Carolina's Wayne Ellington, Ty Lawson and Danny Green; UAB's Robert Vaden; Memphis' Robert Dozier and Antonio Anderson; and Alabama's Ronald Steele and Alonzo Gee all returned to school, they still gave their coaches plenty of time to fret.
The Carolina trio, Budinger and Vaden took their decisions down to the final days.
If the coaches, notably the ACC crew that put forth the proposal to the NCAA's board of directors, get their wish, then the time frame for players to decide if they will stay in the draft will be reduced from late April to mid-June down to seven to 10 days after the Final Four.
The proposal goes up for a discussion at the NCAA convention in January. The National Association of Basketball Coaches is expected to endorse this proposal. The NBA will weigh in as well.
This has always been the NBA's calendar. The NCAA has legislated only whether or not a player can return to school if he doesn't sign with an agent. It has also changed the rules about what are acceptable benefits from NBA teams or the league (there was a time when the NCAA didn't allow players to accept expenses at the pre-draft camp, but that was short-lived).
If this were to pass, would the NBA look to change its withdrawal date from 10 days before the draft to much earlier? How would this affect the withdrawal date for international players, which has been the same as the one for American collegian players? How would this affect the NBA's deadline to declare for the draft? The NBA had accommodated the NCAA by moving it up a few weeks to the end of April from mid-May to decrease the length of time schools were being held hostage by the initial decision.
Would the NBA change when teams could conduct individual workouts? Last year, the NBA prohibited workouts from being held before the pre-draft camp, shortening the time for players who were still deciding on whether to stay in the draft to just about two weeks in June. If everyone was in the draft by mid-to-late April, would the NBA teams even bother waiting to work out players until June or start in May?
An NBA spokesperson on Friday said the league would review the proposal. But the dates for declaring and withdrawing are part of the collective bargaining agreement and can't be arbitrarily changed.
One thing that could be cleaned up a bit (maybe) is the influence of agents in the decision. If a player has only seven to 10 days to make a decision, it might be harder for an agent -- if that agent isn't already or hasn't been involved for years with the player -- to influence a decision to declare. Having six weeks to mull over a decision gives agents plenty of time to work the NBA teams to see how much interest is out there for a prospective client while the player mulls the decision of whether or not to stay in the draft.