Williams has players, opponents believing in Terps
November, 28, 2008
11/28/08
7:52
AM ET
LAKE BUENA VISTA, Fla. -- Gary Williams walked into Maryland's locker room Thursday and didn't hesitate to push his objective.
Maryland was here to win -- the tournament, not just maybe a game or two.
Williams' confidence in his players, something that he has been professing all offseason, had a profound effect on the Terps.
[+] Enlarge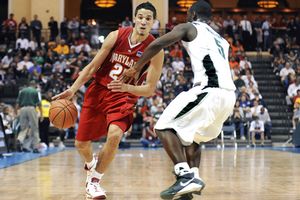 Al Messerschmidt/Getty ImagesGreivis Vasquez had 17 points in the Terps' upset win over Michigan State.
They weren't at the Old Spice Classic to get a few free rides at Disney's Hollywood Studios. They were here to win the tournament.
"Since I've been at Maryland, that man can beat any ranked team in the nation," Maryland junior guard Greivis Vasquez said, pointing to Williams. "He gives you an unbelievable amount of confidence. You've got to believe him."
Maryland pulled the upset of the loaded eight-team field, knocking off No. 6 Michigan State in a convincing 80-62 final Thursday at the Milk House on the campus of Disney's Wide World of Sports.
No one saw this coming -- except Williams.
"These guys needed this," Williams said. "We've been kicked around a bit. This keeps them quiet for a day, anyway."
Williams' tongue-in-cheek comment was reserved for anyone who wants to kick him while he's down. Maryland has gone into a drought recently, missing out on the NCAA tournament in two of the last three seasons.
But the Terps' issue has been winning games like this before ACC play. Maryland did beat North Carolina on the road last season. What the Terps didn't do was differentiate themselves in the nonconference games. Well, they did, but not in a positive light. Maryland lost to VCU in D.C.; they lost at home to Ohio and American; and when the Terps were in a high-profile tournament field, they lost both games to UCLA and Missouri in the CBE Classic.
Maryland is predicted to be a middle-of-the-pack ACC team. The Terps still may find themselves in that slot. But what the Terps had to do, and still must do, is come out of this weekend with quality wins.
So far the Terps have the best win of the four games, beating a Michigan State squad that should compete for a top-four seed in March.
What this win does for Maryland, Williams said, is "raise expectations, which is good. I've always wanted high expectations. That means you're pretty good. So, pick me No. 1. But this does raise expectations for us."
Maryland's nonconference schedule is devoid of other high-quality win opportunities after this event, save the ACC-Big Ten Challenge. That event is now a bigger deal for Maryland because the Terps host Michigan, which has a suddenly higher profile because the Wolverines knocked off UCLA in New York last week at the 2K Sports Classic.
If the Terps can beat Gonzaga in Friday's semifinals (ESPN, 5:30 ET), then Maryland is in an even better position to increase its credibility, power rating and overall profile before Dec. 1. Even if the Terps lose to Gonzaga, they are in the winners bracket and would face a quality team Sunday in a third-place game against either Tennessee or Georgetown (a team it rarely faces, despite the proximity of the schools).
"We just proved to people that we can play against anybody now," Vasquez said. "This is a great win for us."
This was classic Williams. Critiquing Williams' recruiting is moot when Williams can get lower-profile players to bust their tail on a game-by-game basis. Maryland got a game-high 17 points out of senior Dave Neal, who Williams had said was more of a YMCA-type player. Yet there was Neal, knocking down 3s (all three he took) to help keep the Spartans at arm's length. Freshman Sean Mosley simply outworked the Spartans, getting to the line six times and converting five while also picking up three steals. Adrian Bowie was another hard-working, low-profile, big-game player who outhustled the Spartans for 13 points on efficient (5-of-7) shooting.
"It's one win," Williams said. "We have to earn it. But polls at this time of the year are based on last year and the expectations of this year. Until a team gets good wins, you can't have a legitimate top 25."
He's right. And that means Maryland should start to check back on the polls next week. If the Terps keep this up, they'll be one of the most deserving teams in the poll.
The rest of the field:
Michigan State:
The Spartans played without Goran Suton, who is instrumental to the Spartans' offense despite the limited numbers (6.5 ppg). Suton sprained his left knee in a win at IPFW last week. He was listed as day-to-day.
Michigan State then had to deal with its top scorer, junior Raymar Morgan (21.5 ppg), in foul trouble all game. He had three fouls in eight first-half minutes. He had four quickly in the second and played only 14 minutes.
That meant the Spartans had essentially no consistent inside threat, as freshman Delvon Roe (1 of 4 for five points in 17 minutes) is still finding his footing after missing most of his senior year in high school with microfracture surgery on his knee.
Michigan State coach Tom Izzo was disappointed in his team's poor free-throw shooting (12 of 27) and inability to check defensively, notably by Chris Allen and Durrell Summers. The only player who was consistent for the Spartans was senior guard Travis Walton (8 of 10 shooting, 16 points, two steals in 30 minutes).
The consensus was that Michigan State would play Gonzaga in the semifinal. Instead, the Spartans will play Oklahoma State in a game that may prove to be just as difficult as Maryland (if not more so) because of the Cowboys' ability to make perimeter shots.
Michigan State is in the midst of a grinding stretch. The Spartans leave here to play North Carolina on Wednesday in Detroit at Ford Field in the ACC-Big Ten Challenge. A healthy Suton, a foul-free Morgan, and a more fundamentally sound Spartan team is a must before that game arrives.
Gonzaga:
The Zags have their most balanced team under Mark Few. They have star players in Josh Heytvelt, Jeremy Pargo, Matt Bouldin and Austin Daye.
But what the previous successful Zag teams had was a glue guy to excel in key spots in the game, do all the dirty work and come up with selfless acts throughout the course of the game.
Enter Ira Brown. Brown was sensational in Friday's 83-71 victory over Oklahoma State. Brown, who is built like a tank, came off the bench to score six points, make 3 of 4 shots, grab three boards, block a shot and pick up a steal in 13 minutes.
"He's the guy for us that can play multiple positions, play his tail off defensively," Gonzaga assistant Ray Giacoletti said.
"I know what I have to do: be the spark plug for the team," said Brown, a 6-foot-4 senior wing.
Brown said he feels more comfortable this season than last after transferring from a junior college. He said he knows the system and the plays and is more at ease playing power forward than small forward.
He also has tremendous respect among his teammates.
"Ira is a man, and did you know he can bench-press 400-something pounds?" Pargo said. "True story: I weigh 220 pounds and I laid flat on his back and he did five straight pushups. That's unbelievable. He's about 250. When he gets in the game, he gives us a boost of energy, plays hard and does all the little things we need to do to win."
Oklahoma State:
The Cowboys coaches were impressed that the squad has picked up Travis Ford's system quite well already. The blowout win over Tulsa last week was a good indicator.
Ford said that he firmly believes the Cowboys can play with any team in the country. But they have to make shots. They did for stretches against the Zags. Keep watching Terrel Harris. He was on Thursday, making 6 of 8 shots, all three 3-pointers he attempted and grabbed seven boards for 17 points. The onus, though, may be on Bryon Eaton, who was off on his shot (2 of 15, 0-of-7 on 3s) and had 10 assists but committed six turnovers.
Oklahoma State will try to outshoot and outrun Michigan State, but the Cowboys probably can't board with the Spartans if Michigan State can be more effective than it was Thursday.
The Gonzaga coaches came here expecting to play Michigan State. Oklahoma State was confident it could meet the Spartans, too, but thought it would be in the semifinal, not the consolation.
Georgetown:
Hoyas coach John Thompson III's stock answer is that the Hoyas are young. They'll get better. They'll get what needs to be done.
Clanking 3 of 18 3s, dishing out only 10 assists and turning the ball over 17 times while letting inexperienced Wichita State outrebound it 38-35 isn't the game plan.
[+] Enlarge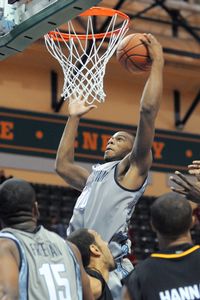 AP Photo/Phelan M. EbenhackGreg Monroe had 11 points and grabbed 4 rebounds for the Hoyas against Wichita State.
What the Hoyas showed Thursday is that they still need to learn how to be more patient in their offense and close out on the boards, and that everyone needs to find their consistent stride and run with it.
Heralded freshman big man Greg Monroe scored 11 points in the first half. He didn't score in the second. He did block three shots and force two steals, but he also fouled out.
Monroe will be a problem for opposing teams because of the way he can play out on the perimeter defensively and challenge a defender. He can finish without an issue. But he needs to stay on the court.
Conversely, DaJuan Summers, whom Thompson was counting on, was simply off in the first half (no points) and much more assertive in the second (14). Austin Freeman is playing with confidence (18 points), and Chris Wright is continuing to figure out how to run the team (five assists and five turnovers). But the Hoyas made their free throws when it mattered most (21 of 27) and escaped with a 58-50 win.
Wichita State:
The Shockers stunned this field by playing with as much spirit and determination as anyone here.
Wichita State coach Gregg Marshall has the Shockers playing the way he wants, with passion on every possession. Marshall said he's starting from the ground up, but his energy is clearly rubbing off on the players.
The Shockers were shaky early but then were in step with the Hoyas for the final 30-plus minutes. Wichita State was right there to win the game, despite shooting 27.9 percent overall, 26.3 percent on 3s. The Shockers made some key buckets when needed, from players like David Kyles or Ramon Clemente, but weren't able to keep Georgetown off the free-throw line.
Marshall made an interesting move when he went from Winthrop to Wichita State. He had South Florida, once was the head coach at College of Charleston before going back, and maybe never was going to be the head coach at South Carolina. But that's OK. You could make the point that Marshall is in a much better situation with a salary that pays him over $800,000, a seven-year contract, and a chance to climb higher in the Missouri Valley than he likely would have if he had been in the SEC East. There is no guarantee that Marshall would have, could have, maybe even should have, gotten the South Carolina job after Dave Odom. That's moot. He's happy at Wichita and sees the Shockers, especially behind players like freshmen Toure' Murry and Garrett Stutz, helping him move the program up quickly.
Tennessee:
The Vols displayed remarkable balance in their 78-64 tournament opening win over Siena. Tennessee held only a two-point lead in the first half when star Tyler Smith picked up his second foul.
He went to the bench. When halftime hit, the Vols were up 20.
[+] Enlarge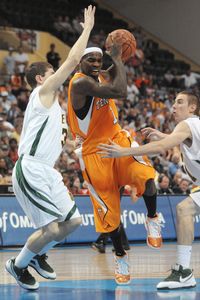 AP Photo/Phelan M. EbenhackTyler Smith overcame first-half foul trouble to score 14 points against Siena.
Tennessee got inspired play from Wayne Chism inside and out (15 points, including one 3-pointer) and from freshman Renaldo Woolridge, the son of former NBA player Orlando Woolridge. Woolridge knocked down 3 of 6 3s to help stretch the game.
"Coach recruited me to shoot 3s," Woolridge said. "This game really helped my confidence."
The Vols have plenty of balance, something that will serve them well in the SEC. Smith, Chism and Brian Williams can score inside. Woolridge and Cameron Tatum can make 3s. So, too, can Scotty Hopson. J.P. Prince is a versatile swing man who can pick up steals (three), dish out the ball (three assists) and convert high-percentage shots close to the basket.
The point-guard play is calm with Allen Iverson lookalike Bobby Maze pushing the ball and Josh Tabb pushing him to get on the court at the position.
Siena:
If Izzo was the most disappointed at the end of the night, then Saints coach Fran McCaffery was probably a close second.
The Saints were rushing their possessions and turning the ball over too often. McCaffery implored his team to settle down, but it was too late in the second half.
Siena entered the tournament with the hope of proving it was one of the top 25 teams in the country. The Saints have two one-way guarantee games against Pitt and Kansas on the road. So this was their shot to get a neutral-court win against a quality opponent.
Siena could leave here 2-1, but only one of the wins may be against a team that is still playing in March. Leaving here 0-3, though, is still not out of the question if MAAC preseason player of the year Kenny Hasbrouck doesn't shake the funk he was in against Tennessee when he went 1 of 10.
Final note:
The crowds were tremendous. The evening session was a sellout at 4,644 fans. Watch television this week, and you'll see that a lot of these nonconference events don't draw flies. Credit fans like those of Wichita State, Tennessee and Michigan State for their passion and pride to come down over Thanksgiving and wear their school colors.