Bench effort pushes Pitt past Rutgers
January, 1, 2009
01/01/09
3:59
PM ET
PISCATAWAY, N.J. -- Pitt's bench could end up being the decisive factor for the Panthers if they're going to win the Big East.
[+] Enlarge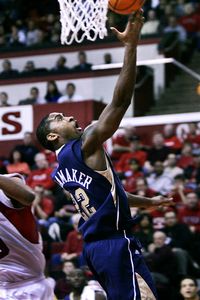 AP Photo/Mel EvansBrad Wanamaker scored 15 points off the bench in Pitt's win over Rutgers.
The Panthers needed every ounce of effort from their reserves to beat Rutgers 78-72 on Wednesday. And it could prove to be the difference for Pitt if they're to beat out Georgetown, Syracuse, Connecticut and anyone else who may survive the 18-game grind in the Big East to challenge for the league title.
DeJuan Blair
was limited to just eight minutes because of foul trouble, and he scored two points and grabbed four boards. So that meant
Gary McGhee
had to chip in, and he contributed three boards and two points. But the Panthers will get even better throughout the course of the season if
Gilbert Brown
and
Brad Wanamaker
can duplicate what they did against the Scarlet Knights. Few teams in the Big East, let alone the country, have a player like Brown off the bench. Pitt coach Jamie Dixon envisioned that Brown was going to be a star. But injuries have constantly limited him. That wasn't an issue Wednesday. Brown made shots (4-of-8), got to the free throw line (3-of-4), elevated for an intimidating dunk, blocked a shot, scored in double figures (11) and gobbled up important minutes (22). "The injuries have been slowing me down all year," said Brown, a 6-foot-6 sophomore wing. "I've had both ankles, forearm, knee, shoulder, everything." Dixon said the running joke among the staff is that Brown is always hurt. But what's no laughing matter is how much Brown will change the Panthers if he stays healthy. "He can make shots, defend; he's athletic, and he's very smart," Dixon said of Brown. "He knows everything that is going on." Wanamaker, a 6-4 sophomore guard, isn't known to be a lights-out shooter. But against Rutgers he scored 15 points and nailed two 3s that silenced the Scarlet Knights' comeback. The criticism of the undefeated Panthers was that they didn't have a consistent perimeter threat. If Wanamaker can deliver, then the Panthers are a different team. "I've been doing it in practice, and it translated into the game," Wanamaker said. "This could be a big difference for us. If we can all be productive, then we can be a Final Four team."
Ashton Gibbs, a 6-2 freshman guard, contributed off the bench as well, playing nine minutes and spelling Levance Fields at the point. Freshman guard Travon Woodall didn't even get in the game. If Woodall -- who hails from Paterson, N.J., was recruited by Rutgers and would no doubt be playing significant minutes for the Scarlet Knights had he matriculated -- can pitch in, then the bench will become even deeper.
It's clear that the soul of this team consists of Fields, Blair and senior forwards Tyrell Biggs and Sam Young. Biggs is a do-everything player who had six points and 10 boards against Rutgers, while Young is a Big East Player of the Year candidate and an extremely tough matchup who had another ho-hum 18 points Wednesday. Junior college transfer Jermaine Dixon will have opportunities to contribute, and the 6-foot-3 wing did so with three huge steals against Rutgers.
"It just makes us that much better," Fields said. "We've got guys scoring the ball, rebounding and coming up with assists. They're all impacting the game, giving us energy and buckets as well."
[+] Enlarge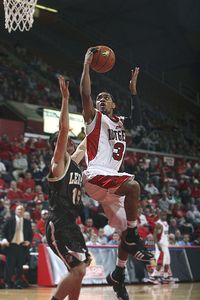 Saed Hindash/US PresswireFreshman Mike Rosario is averaging almost 18 points a game for Rutgers.
Dixon said that the youth of the bench players is the reason their development has taken time. But nothing that any of them did surprised him. Their success was expected; it just wasn't known when it would come. Quick hitters from a day at the State University of New Jersey: • Biggs is yet another perfect example of Pitt's program. Biggs could have left for somewhere else when he wasn't getting playing time. Instead, he stayed, found his role and is now an integral part of the team. He said he likens himself to players of the past like Jaron Brown. Biggs does whatever is needed on a particular day. On Wednesday against Rutgers, he was needed on the boards, so he grabbed 10. • Rutgers freshman guard
Mike Rosario
is a stud scorer. Pitt couldn't touch him in the first half, when he had 15 points and blew by the Panthers to create space for his shots. He wasn't great from the 3-point line (2-of-10), but he can get to the rim and finished 8-of-20 for 22 points. Rosario is a creator, and the Panthers did a better job of checking him (a Tom Izzo term) in the second half. Still, Rosario, who scored 26 points at North Carolina on Sunday, is one of the top freshmen in the country and should be a strong contender for Big East Rookie of the Year. He is the first McDonald's All-American at Rutgers and clearly the cornerstone for Fred Hill's rebuilding project. He's not ready for the NBA, so the hope is that no one is foolishly getting in his ear. If Rosario stays put, he can really do something for himself and for Rutgers. "The hard work is paying off," Rosario said. "I'm doing everything now with confidence." Hill said that he expects Rosario and freshman forward
Gregory Echenique
to shoulder a lot of the production load. Echenique grabbed eight boards but still has to improve as a post presence. "We've put a lot on those two kids, but they can handle it," Hill said. "That's why Mike came here. They both came here to build something special." The Scarlet Knights have some interesting pieces in addition to those two freshmen: They have senior guard
Anthony Farmer
, a scoring guard in sophomore
Corey Chandler
and a shot-blocker in junior center
Hamady N'Diaye
. Rutgers hung around with Carolina for a half, and had Pitt on the ropes for 30-plus minutes. This is clearly a better team than the one that lost at home to Lehigh and Binghamton earlier in the season. "We call it a fine line, and we embrace where we are. We're standing on that line," said Hill, whose team has played the No. 1-ranked Tar Heels and the third-ranked Panthers already this week and will play the No. 2-ranked Connecticut Huskies on Saturday. "We've competed in the toughest stretch in college basketball history, and in two days we'll do it again [at Connecticut]. We think we're better than last year." They are. Rosario and Echenique make that obvious. Look, Rutgers will beat some people at the top of this league. The difference for this team will be in where teams play Rutgers. Pitt came here first. Marquette, Syracuse, Louisville and West Virginia all have to come here, too. But Connecticut, Georgetown, Villanova and Notre Dame don't. "I told you before the game that the RAC is a tough place to play," Fields said of Rutgers' home court. "How the schedule breaks will be interesting for teams." • Ousted Rutgers athletic director Bob Mulcahy made his final appearance at a game as AD. The school said he resigned; he said he didn't. Mulcahy, who hired Hill, met Hill as he came out of the locker room. The two embraced, and Mulcahy told Hill that they would walk out to the floor together one last time. Mulcahy spoke to the crowd at halftime and was greeted mostly with cheers (just a few boos). He thanked the Rutgers faithful and promised that the Rutgers athletic department will never go back to what it was, claiming that it had moved forward to a new era. Play-by-play broadcaster Don Criqui had the line of the day in discussing Mulcahy, who used to head the New Jersey Department of Corrections. Criqui said Mulcahy told him, "The worst day in prison is the day they turn back the clocks." • Surprisingly, Hill isn't a huge fan of the Big East tournament's expansion to 16 teams, up from 12 in the first three years of the 16-team league. Even though Hill coaches one of the projected bottom teams in the Big East, Hill said there was something to earning a berth in New York. "I have mixed feelings, torn about it," Hill said. "We want to get better, but we don't want a pass to it. We want to be a team to be reckoned with down the road in the Big East. I have mixed feelings. I'm glad we're going and want to win five games in a row. But you also want to be playing good enough basketball to earn it. Hopefully we can do both." On to the scores from Wednesday: • UNLV's road win at Louisville without an injured
Wink Adams
might be one of the best wins of the season. And at this point, maybe it's time to stop saying Louisville is a Big East title contender and Final Four contender until the Cardinals actually beat some other league leaders or contenders. • Michigan and Minnesota lost at home in the Big Ten. That means only Penn State and Ohio State won home openers. Purdue lost at home to Illinois.
• Illinois State is putting together a Drake-like season in the Missouri Valley. The Redbirds won again, beating Evansville by 30 to go to 13-0 and 2-0 in the league. Southern Illinois lost to Northern Iowa to drop to 0-2. Circle the Illinois State-Creighton game Saturday and the one on Feb. 28 in Omaha as the two games of the year in the Valley.
• Two teams to keep an eye on: Texas A&M is 12-1, winning at Rice Wednesday, and Utah State is 12-1, outlasting Wyoming at home in overtime. Utah State is emerging as the favorite in the WAC. A&M is a solid pick to make the NCAA tourney and will cause fits for everyone in the Big 12. • Gonzaga may have gone from the top five to out of the Top 25 after losing at Utah on Wednesday when
Matt Bouldin
and
Austin Daye
couldn't convert a final bucket in a 66-65 loss. Next up for the Zags is a visit to Tennessee. The schedule just looks ludicrous at this point, with so many games away from the Kennel. Gonzaga is 8-4. Talk of Gonzaga as a No. 1 seed out of the West is now moot. This shouldn't be a reach, but don't be surprised to see a Big East team as a No. 1 seed in the West, as there might not be a likely candidate from the West to serve in that role. • Stony Brook had the shocker of the night by beating Air Force 67-64 on the road. The America East now has wins over the Mountain West (Air Force by Stony Brook), the Big 12 (Colorado by Vermont and Nebraska by UMBC), the Atlantic 10 (George Washington by Vermont), the Big East (Rutgers by Binghamton) and Conference USA (Tulane by Binghamton).