Harvard puts an end to BC's celebration
January, 8, 2009
01/08/09
12:21
PM ET
After his team's shocking win at No. 1 North Carolina, Boston College coach Al Skinner didn't want to talk about the ACC on Monday. He didn't want to skip ahead to upcoming home games against Miami and Wake Forest.
His team first had to play Harvard on Wednesday.
I, of course, thought that was just the usual one-game-at-a-time coachspeak.
Yikes.
Harvard beat Boston College Wednesday for the biggest win in Crimson history, just three days after BC pulled off one of its most impressive wins in its program history. BC had beaten North Carolina before, in Chapel Hill, in the ACC tournament and even in the NCAA tournament. But it was knocking of this Carolina team that made it historic since this Carolina team was a unanimous No. 1 and was being billed as a world-beater.
But BC couldn't shake the annual bad loss that has dogged this program. Robert Morris and Vermont have done it before to the Eagles. This time it was Harvard.
"We didn't come out ready to play, it's just that simple," said Skinner late Wednesday night. "We played with no emotion and thought we could just show up and play and walk out with a win. And that's not the case."
Skinner said there was no indication the Eagles would lay an egg after a solid few days of practice, but said he wasn't quite sure how his team would handle success.
Now he knows.
"It's disappointing, but it's not devastating," Skinner said. "We won't be confronted by this type of internal motivation again. We're motivated by external things (like ACC games)."
What bothered Skinner as much as the mental lapses were the carelessness with the ball. Harvard isn't a pressing team, yet the Eagles turned the ball over 16 times. BC turned the ball over only 10 times against a trapping Carolina squad.
"It's all mental and we had a total disrespect for the opponent," Skinner said. "That's what I told them after the game. But when this type of thing happens, it's the team, not an individual. The energy we had the previous game was non-existent. That's a team factor.
"But we're 13-3 and that's not all bad," Skinner said. "We've got some big home games to take care of."
Now, it's Harvard's turn not to pull a BC. The Crimson is coming off consecutive nonconference wins over the Santa Clara and Boston College and opens Ivy League play at 2-10 Dartmouth on Saturday.
Harvard coach Tommy Amaker said late Wednesday that he told his team immediately after the win that it can't let what happened to the Eagles happen to the Crimson.
[+] Enlarge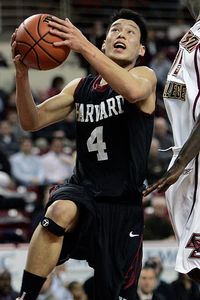 AP Photo/Michael DwyerHarvard's Jeremy Lin did a little bit of everything in his team's victory at Boston College on Wednesday.
"Conference play is a different animal," he said, "and hopefully everybody expects there to be a challenge."
Harvard has a solid win over Holy Cross and road victories at Maine, New Hampshire and Colgate. The toughest losses were by four at Rice and in double overtime to Northeastern at home.
"We're trying to build the Harvard basketball brand," Amaker said. "We're getting a great effort, and as you know, funny things happen in the world of college sports."
Harvard has a potential Ivy player of the year candidate in Jeremy Lin, who is averaging 18.4 points, 5.1 assists and 5.1 rebounds after his totaling 27 points (11-of-16), eight assists, three rebounds, six steals and just two turnovers against BC.
"He's tremendous," Amaker said. "He's in the top 10 in every major category in the Ivy. He can play at any level in college basketball, and I think I'm qualified to make that statement."
• Kansas coach Bill Self said Wednesday he'll make a decision early next week whether to shut down JC transfer Mario Little for the season. Leg and hand injuries have limited Little to two games so far this season, playing 10 minutes against Tennessee and five against Siena. Little was expected to be a major contributor to the Jayhawks, offering some scoring help next to Sherron Collins. Self didn't say whether he would play Little at Michigan State on Saturday.
"It's a problem, because he needs two days off and then one day on," Self said. "He's not comfortable."
Self said he's still hoping either Little or freshman Travis Releford can emerge as another option next to Collins, who is carrying a major burden on the perimeter, averaging 17.6 points a game. Tyshawn Taylor, another freshman, has been a solid contributor, giving the Jayhawks a dozen points in the win over the Volunteers.
Self said he's not sure what this team's identity is yet, but he'd rather it not just be a great shooting team. He wants it to be one that deals with toughness plays.
Self said the only night he was discouraged this season was after the loss to UMass in Kansas City.
"We didn't compete," Self said. "We did against Arizona, even though we lost. We did against Syracuse. We didn't play the last part of the game the way we should have. I took positive things away from those but against UMass -- nothing."
In Self's estimation, Texas and Oklahoma are the two premier teams in the Big 12, and then Baylor after that. He was essentially giving Arkansas a salute for beating Texas and Oklahoma at home.
• Hard to believe the MEAC and the Ivy took down the ACC on the same night. Morgan State's 14-point comeback to beat Maryland at the Comcast Center on Wednesday was impressive. Todd Bozeman's Bears had already beaten a team from the Big East (DePaul) and Conference USA (Marshall) this season. Expect Reggie Holmes (25 against the Terps) to help the Bears make a serious run for the school's first-ever NCAA bid.
• Providence is off to a 3-0 start in the Big East with a road win at Cincinnati. But I have to disagree with a statement thrown out at the end of the broadcast about the Friars only needing six more wins to get a bid. The Friars would be 9-9 if that were to occur. But it's not just about getting to 9-9, but also which wins are among the nine.
The Friars can't, and shouldn't, get a bid if the nine wins are solely: St. John's, DePaul, South Florida, Seton Hall, two vs. Rutgers, two vs. Cincy, and one again, say, the team that finishes just above them in the standings. That would mean the Friars would have only one win against an NCAA tournament team in the Big East (likely the team above it in the standings). The Friars, at least at this juncture, didn't beat an NCAA-projected team in nonconference play. PC is beating the teams it should so far, but it's going to have to knock off at least two that it shouldn't going forward to justify a bid.
Providence is aided by the scheduling imbalance that gives it Cincinnati and Rutgers twice, but that also may be a hindrance with two fewer opportunities to pick up NCAA-resume wins.
• Marquette gutted out a five-point win at Rutgers to remain undefeated in the Big East. As I said above with Providence, the Eagles are so far winning the games they should at this point.
• Time to take Syracuse seriously as a Big East title contender. The Orange (15-1, 3-0) has everything needed to win the Big East. I'll still take Pitt, but the 'Cuse can't be discounted among the favorites.
• Wisconsin is quietly 12-3 (3-0 in the Big Ten) after a 29-point win over Northwestern.
• Michigan's comeback win over Indiana on Wednesday is an example of why this Wolverines team is different. Michigan has won games it wasn't supposed to (beating UCLA and Duke) and is still winning the games it should (home vs. Illinois and at Indiana). The only slip up so far is to Wisconsin in Ann Arbor.
• Duke's defense doesn't get enough credit. The Blue Devils did a great job confusing Stephen Curry in the first half Wednesday night.
• Bill Coen's Northeastern squad continues to show why it's the team to beat in the Colonial Athletic Association. After a road win at Georgia State, the Huskies are 4-0 in the CAA.
• Bill Herrion may have finally hit a consistent stride in his rebuilding job at New Hampshire. Like Harvard, UNH took out Santa Clara at home by four and then opened up America East play by beating Hartford at home. A trip to Boston University is next for the Wildcats. A win there for UNH might be a significant turning point for Herrion.
• Ron Hunter's barefoot coaching day will be Jan. 17 against Centenary. It's all part of his effort to raise awareness for those who do not have shoes, a cause taken up by the organization, Samaritan's Feet. The IUPUI coach is hoping other coaches will participate during the weekend of Jan. 16-18. He has commitments from some coaches in the Horizon League, MAC and a few others. Meanwhile, the National Association of Basketball Coaches is gearing up for its annual "sneakers and suits" weekend to raise awareness for cancer research. That's set for Jan. 30-Feb. 1.