Is Wake Forest the best team in the country?
January, 15, 2009
01/15/09
11:35
AM ET
CHESTNUT HILL, Mass. -- Selection Sunday is two months from today, and Wake Forest has every reason to believe it could be the best team in the country and a potential No. 1 overall seed.
Is this crazy talk?
Nope, not at all. We'll see what happens Saturday at undefeated Clemson, but Wake Forest continues to prove that it should be put in this category and on this level. The Demon Deacons also have a rightful claim to the No. 1 spot in the poll, with Duke and Pitt.
The Deacons (15-0, 2-0 in the ACC) beat up on Boston College on Wednesday, winning by 20 on the road. It wasn't that close for most of the game. Wake could have been feeling good about itself after the emotional win against North Carolina in Winston-Salem on Sunday night. The Demon Deacons could have waltzed into Conte Forum and been clocked by their overconfidence.
But it didn't happen.
"It shows you how much this team has grown," Wake Forest senior guard Harvey Hale said.
A year ago, Wake Forest beat Duke at home and then lost four straight games and missed the postseason. This team isn't even remotely close to that one. This team could win the national title. That team couldn't make the NIT.
"We know what it feels like to lose all the time. We beat Duke, and the rest of the season was garbage," said Wake Forest sophomore forward James Johnson. "We're not big-headed. We're just working hard."
First off, look at Wake's résumé to date. The Demon Deacons won the Anaheim Classic by beating a potential postseason team in UTEP and then a likely NCAA tourney team in Baylor. The Demon Deacons then beat two teams that aren't going to be in the NCAAs, but they were still true road games at Richmond and East Carolina.
"East Carolina was 8-2 and we go down there and challenged our guys. The place was sold out, and it was a great environment," WFU coach Dino Gaudio said.
Wake Forest won by 41 points.
But the season turned at BYU, and that has been well-documented on this site. Wake Forest went into one of the most hostile environments in the country, beat the Cougars by seven, snapped a 53-game home-court winning streak and took out the likely Mountain West Conference champ.
Last Sunday, Wake Forest outlasted UNC by three at home. Then the domination of BC. So Wake has four road wins, three neutral-site wins and one monster home win over Carolina.
"We're a confident group," said sophomore guard Jeff Teague. "I do feel like something special is going to happen this year."
Teague is on quite a roll himself. He scored 30 in the win over BYU, 34 in the win over Carolina and 29 against BC.
"I didn't think he played particularly well," Gaudio said, referencing Teague's four turnovers against the Eagles.
But BC, Carolina and BYU couldn't stop him from getting the shots he wanted.
Let's look at the rest of the major contributors. What don't they have? Johnson was a load against BC. He blocked two of Rakim Sanders' shots early, limited him to 1-of-8 shooting, and then Johnson posted up down low and scored 11 points, grabbed eight rebounds and blocked three shots. Gaudio said they challenged Johnson to be a better defender and told him to get inside instead of being more of a jump-shooter like he was against Carolina.
"He did an extraordinary job for us," Gaudio said.
Al-Farouq Aminu, the talented freshman forward, was an extremely tough matchup for the Eagles. He scored 15, got eight boards and seemed to be in the right place at the right time. Against Carolina, he was forcing his play offensively and looked a bit lost. Aminu said he was too excited for his first ACC game, settled down in game two and found his footing.
Chas McFarland didn't have 20 in the post like he did against UNC, but he contributed a solid 11, had eight boards and kept possessions alive with tip rebounds. The rest of the crew in L.D. Williams, Hale and Ishmael Smith have all proved they can hold their own against any other team's role players. The same is true with David Weaver and Tony Woods in the post.
You can debate which team is better in a seven-game series or a one-game playoff; arguments can be on either side. But Wake Forest has every reason to believe that it can play with any team in the country, beat any team in the country and ultimately win the national title.
That doesn't mean they will, and that doesn't mean they will get there, either.
But the pieces are in place.
• From my colleague Dana O'Neil, who was at Texas A&M's victory over Baylor on Wednesday night:
COLLEGE STATION, Texas -- The ink wasn't even dry on Chinemelu Elonu's stat-stuffed box score before the questions about the next game came at him.
[+] Enlarge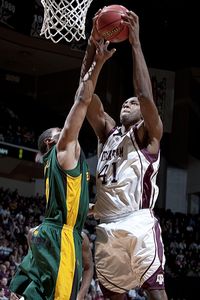 AP Photo/Wade BarkerA&M's Chinemlu Elonu had a 17-point, 16-rebound effort in a win over Baylor on Wednesday.
Elonu came late to the press conference, his body getting some well-earned treatment after a 17-point, 16-rebound night in Texas A&M's 84-73 win over No. 21 Baylor. As he walked into the room, coach Mark Turgeon turned and smiled. "Hey, Chin, they're already talking about your matchup with
Blake Griffin
," he said.
Elonu just shook his head. The 6-foot-10 big man had waited a long time to enjoy this sort of night. He was determined to milk it.
A limited contributor in his first two seasons, Elonu has come on for the Aggies lately. He headed into the game against Baylor averaging 13.3 points and 9.3 rebounds and was the lone bright spot in an otherwise dismal loss to Oklahoma State, scoring 20 and adding 12 boards.
"My confidence is sky-high right now," he said. "My teammates have been an inspiration to me. When I had a bad practice, they were there to pick me up. I've just taken it all in."
Elonu will need all that confidence and then some Saturday. Putting up a double-double against the guard-heavy Cowboys and Bears is one thing. Doing it against Griffin is another.
"Let's not get ahead of ourselves," Turgeon smiled. "Phew. Blake Griffin is a man. He should have gone pro last year. I know Chin won't back down, and Bryan [Davis] won't back down, but it's going to take more than just those two guys to defend that kid."
Back to more musings from Wednesday:
• Tasmin Mitchell had the type of game Wednesday that he is capable of, and suddenly LSU is an SEC West title contender again. Mitchell went off for 30 points and 14 boards in an 85-68 win over South Carolina in Baton Rouge.
• Jack McClinton's 3-pointer to beat Maryland as the Canes rallied from a 17-point deficit in the second half is the type of play that can help keep a season from derailing. Miami moved to 13-3, 2-1 in the ACC, but was about to get run out of its home gym by Maryland. Had Miami lost this game, after winning at BC, the Canes could have had their confidence shot going to Chapel Hill on Saturday.
• It's a shame that Bruce Weber even had to go through any kind of stress the past few seasons over the Illini's inability to get Eric Gordon and remain consistent. The man can coach and is a great person. The Illini are 15-2, 3-1 after beating Michigan on Wednesday night and clearly look like a real contender in the Big Ten title chase.
• Hard to see how Conference USA will get multiple bids. C-USA is looking at Memphis and no one else if the Tigers win the conference tournament at home again.
Houston had an impressive 94-86 win over UTEP on Wednesday. But the Cougars' profile isn't one of an NCAA team. The Miners have six losses already and would have to go on a serious run. Tulsa coach Doug Wojcik had Memphis beat Tuesday night before Antonio Anderson won the game on a last-second shot.
"It's a shame," Wojcik said Wednesday about the missed opportunity to end the Tigers' 44-game conference win streak. "I didn't sleep much last night."
He admitted that he might have guarded the last play differently if he had it to do over again. Overall, Wojcik said he was just disappointed the Golden Hurricane couldn't close out the game. Tulsa hosts the conference tournament in 2010, and if Jerome Jordan were to stay, the program would have a real shot at competing for a bid.
• Dayton hasn't been the same team since halftime of the UMass game Saturday in Springfield. The Flyers were lost in the second half and needed a final shot to beat two-win Fordham at home Wednesday night.
• Paging UNLV: What happened to the confident Runnin' Rebels after winning at Louisville? UNLV lost to a solid TCU team on the road, but then fell at Colorado State by two Wednesday. Colorado State ended a 19-game conference losing streak with the win and got its sixth victory of the season.
UNLV dropped to 13-4, 1-2 in the Mountain West. Maybe the road trip to Wyoming and Colorado State is once again a tough chore the way it was when those two schools were near the top of the WAC in the early 1990s. The Cowboys beat San Diego State at home Wednesday. Competitive balance is great in the Mountain West, but it might make it tougher to land multiple bids (outside of BYU). Utah (11-6, 2-1) needs to keep winning to make nonconference wins over Gonzaga and LSU matter in March.
• Boston College beat North Carolina and then went south. Arkansas beat Oklahoma and Texas and then did the same, losing to both Mississippi schools in the SEC. Just mentioned UNLV beating Louisville and then going south in the MWC.
One win, maybe two, doesn't mean a team is suddenly NCAA-worthy. This happens every season; we all get yet another reminder that fame is fleeting. It's easy to get excited about these particular teams and lavish praise on them, but the selection committee hammers home the point time after time that the body of work is the most important factor. The upset or the impressive win only matters if it is followed up by others.
• By the way, Davidson's Stephen Curry had 39 points in the Wildcats' win over Elon. Ho-hum.
• Great news for Georgia Tech to get Derrick Favors for next season. Bad news is the Yellow Jackets can't get a win in the ACC, falling to 0-3 after getting losing by 14 to Duke on Wednesday.
• Michigan State is rolling right now, beating Penn State on the road to go to 4-0 in the league. I'd love to see the Spartans play North Carolina again in Detroit.
• Illinois State got back to what it had been doing: winning. The Redbirds (15-2, 4-2) took out Drake behind Champ Oguchi's 29 points on seven 3-pointers.
• Hartford junior guard Joe Zeglinski underwent season-ending ankle surgery Monday. Zeglinski, a first-team all-America East player as a sophomore, played in 10 games this season. Hartford coach Dan Leibovitz said Zeglinski will qualify for redshirt status. The Hawks are 2-1 in the America East after beating Maine on Wednesday.