Pitino apologizes; now awaits the fallout
August, 13, 2009
08/13/09
10:45
AM ET
Louisville coach Rick Pitino will have to face the taunts directed toward him when the Cardinals play on the road this season, regardless of what happens this fall during the extortion trial of Karen Cunagin Sypher, the woman who, according to police reports, he had consensual sex with back in August 2003.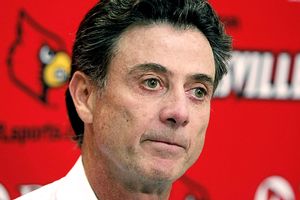 AP Photo/Garry JonesAt a press conference on Wednesday, Louisville coach Rick Pitino apologized for "an indiscretion" he committed six years ago.
Charges against Cunagin Sypher include trying to extort money from Pitino as well as lying to the FBI.
The fodder for those who want to direct their venom toward Pitino is already in place.
But how vicious it gets for Pitino on the road, months from now -- especially at his former employer and present heated rival Kentucky on Jan. 2 -- is still unknown. The case is still fluid. Yet how Pitino handles himself over the coming months, and then how he responds when he's thrust into a hostile situation remains to be seen.
"I'll probably make sure at that time to say to be respectful," Kentucky coach John Calipari said Wednesday after returning from a trip to China. "But I can't control 25,000 people." No one can. But there are plenty of coaches who have been the recipient of similar types of behavior when they've gone on the road. Every case is unique unto itself. The Louisville administration has made it clear that Pitino is going to coach the team. Pitino said Tuesday that he plans to coach the Cardinals for "as long as they'll have me." Pitino will have to face potentially rowdy crowds on the road soon after his scandal. The Louisville Courier-Journal, citing police records, reported that Pitino had sex with Cunagin Sypher in a restaurant after closing time in August 2003 and that two weeks later she called to tell him she was pregnant.
Pitino then gave Cunagin Sypher $3,000 after she said she needed an abortion and didn't have health insurance, according to a summary of Pitino's July 12 statement to police. The coach's attorney, Steve Pence, said Wednesday that the money was to help her get medical coverage, not specifically to pay for an abortion.
That's not akin to what then-Cincinnati and current West Virginia coach Bob Huggins had to deal with following the release of a video of his DUI arrest in early June 2004. Huggins was suspended by the university over the summer. He returned to coach the team that season but then was forced out the following summer.
"Any place that has any class won't do something," Huggins said. "You can have your signs and have fun but anybody that has signs about those kinds of things [referencing an affair and an abortion] is very classless. Rick is the ultimate professional. He will handle things extremely well like he always does."
[+] Enlarge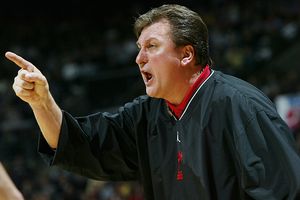 Doug Pensinger/Getty ImagesBob Huggins faced hostility from opposing fans while he was head coach of Cincinnati following his DUI arrest in 2004.
Huggins said coaching Cincinnati always meant going into hostile arenas as one of the favorite teams. Louisville has shared that experience, like many other traditional powers, during rivalry games. Still, when it got personal about his family, Huggins said that's when he had had enough.
"Places that talked about my wife and family and stuff, that's when I wanted to beat somebody's ass," Huggins said. "The other stuff people said, I just let it go. It always amazes me about the people who would be too scared to say 'boo' to you but when they pay $22 they can abuse you."
Ole Miss coach Andy Kennedy, who was an assistant under Huggins and succeeded him at Cincinnati, said he didn't see a difference in the way Huggins was treated by fans before or after the release of the video of his DUI arrest.
"It was uncomfortable but I'm not sure they wanted to beat us more," Kennedy said. Kennedy had to deal with his own public scandal after he was arrested in Cincinnati in December for an assault on a cab driver -- coincidentally the night before playing Pitino and Louisville in an SEC-Big East Invitational game. There were civil suits and countersuits filed between Kennedy's family and the alleged victim but Kennedy did plead guilty to a disorderly conduct charge last April. Kennedy said he didn't notice being treated any differently by opposing fans during the SEC season. "You get so locked into the game, in the big venues, that I never heard the individual stuff," Kennedy said. "I don't foresee Coach Pitino having a problem. He's always had to deal with a lot of scrutiny." Kennedy said the timing of Pitino's sensational story helps. The heart of basketball season, notably the game in the Commonwealth, isn't until January. "All the stuff with [new Tennessee football coach] Lane Kiffin has been pointing to the game at the Swamp," Kennedy said, referring to barbs traded between Kiffin and Florida coach Urban Meyer over recruiting. "But that's the third week of the football season -- right around the corner. By the time Kentucky and Louisville play they will have both played 10 or 12 games. Sure, it's going to be huge, but it will be regardless, because it's Kentucky and Louisville. To think the whole year will anticipate that game is ludicrous."

Rick can overcome this but it all depends on the president of the university. If he stands by him, just like my president stood by me in all my travails, then I think he'll be able to manage it.
--Former Temple coach John Chaney
Larry Eustachy, who was photographed drinking with college students at a campus party while on the road in 2003, was ultimately forced out as basketball coach at Iowa State. He resurfaced at Southern Miss a year later in a less intense Conference USA setting.
There have been plenty of other times coaches have to deal with direct personal attacks, such as last season when Connecticut coach Jim Calhoun sounded off to a local activist when he was questioned about his high salary during a recession. When Connecticut played at Marquette, one fan had made up a cardboard sign of Calhoun in the shape of a dime since Calhoun had snapped that he wasn't going to give a dime back. But that was also the night Calhoun won his 800th game and the jeering was somewhat muted as soon as the game ended. Former Temple coach John Chaney had to deal with opposing fans getting on him a few times after his own actions were played out nationally. In February 1994, following a game at UMass, Chaney charged Calipari, then the UMass head coach, during his postgame news conference and could be heard saying, "I'll kill you." Eleven years later, Chaney was suspended for five games after "Goongate," when he sent in a player for a hard foul against Saint Joseph's in a rivalry game. Signage followed Chaney around at games following that incident. Chaney, reached Wednesday in his hometown of Philadelphia, referenced politicians and their problems as an example of the current state of affairs. Plenty of politicians have survived extramarital scandals from former President Bill Clinton to current Sen. John Ensign of Nevada to current South Carolina Gov. Mark Sanford. "Rick can overcome this but it all depends on the president of the university," Chaney said. "If he stands by him, just like my president stood by me in all my travails, then I think he'll be able to manage it." Chaney said he lived with the truth that he believed in what he was doing in each of the two aforementioned situations. He said his word choice was wrong, but his anger wasn't in the Calipari incident. Referring to the Saint Joseph's incident, Chaney said he was simply calling for a hard foul, not for someone to get hurt. Still, once the stigma is attached, it's hard to shed. "Other coaches will say things [about Pitino] in recruiting just like they said things about me, saying that Temple started practice at 3 a.m.," Chaney said. "It was something I always had to live with. The people of Louisville have to stand up and stand by him but there will be a debate. I don't know much about Kentucky. But I do know that there is a greater chance of understanding and forgiving if you're brutally honest. He'll have to be when he's recruiting -- saying that he made mistakes, that he's human." Chaney said that one snapshot of a person can undue many years of good deeds. "What he did wasn't illegal," Chaney said. "It might have been immoral in the eyes of many. It will be tough to move ahead but he has the resolve to do that and I have every faith in Rick that he'll be able to do that. If he has a good president holding his hand, he'll be fine to coach there."