Amid NCAA questions, Majok plugs away
September, 11, 2009
09/11/09
10:22
AM ET
STORRS, Conn. -- The Connecticut basketball team had finished playing pickup for at least 30 minutes Wednesday, but
Ater Majok
was still on the floor working on his face-up game.
He continued for a few more minutes, doubling everyone else's workout time.
Majok, a bit of a mystery a year ago, has since become one of the more recognizable names on the Huskies -- but not for all the right reasons.
Majok is from Sudan, spent time in Egypt and eventually settled in Australia, and he wasn't able to become eligible in time for last season. He arrived in the United States this past December in time for the spring semester, and the NCAA clearinghouse granted him partial eligibility in January. He can practice with the team but won't be able to play until the end of the 2009 fall semester.
"I was just waiting and waiting and waiting," Majok said of his eligibility hang-ups. "Then one day Coach [Jim Calhoun] called me and said I was good to go. So I said, 'Where's my uniform?' I just wanted to play. But then he explained the whole situation to me that I couldn't play until next December and to do well in school."
When Majok is eligible after Connecticut's Dec. 9 SEC-Big East Invitational game against Kentucky at Madison Square Garden, the Huskies will have at their disposal a developing, athletic 6-foot-10 forward who should flourish in finishing on the break but will need time to improve his skill in the post.
"I'm going to fill the needs of what Coach wants me to do, work hard, score the ball, block shots, defend and rebound," Majok said. "I can help our defense and bring energy."
If he does all that, and there are no more lingering issues with his eligibility, Majok will be worth the wait.
The eligibility issue still lingers, however. Majok sat out, and as the Huskies marched toward the Final Four, he was swept up into the growing controversy surrounding former agent/manager Josh Nochimson's involvement with the program.
Yahoo! Sports originally reported that Nochimson was tied to former UConn signee Nate Miles and created the blueprint for the NCAA enforcement staff to investigate illicit phone calls on the matter, an investigation that is ongoing. ESPN.com then reported that Nochimson set up Majok's inclusion in the Kentucky Derby Festival Basketball Classic, a high school all-star contest in Louisville, in the spring of 2008. That mention prompted Majok to go through an NCAA enforcement interview about his amateur status.
"They asked me a lot of questions, and I answered them honestly," Majok said. "I had nothing to hide. I told the truth. I don't know what was going on at the time. I was really confused and locked myself in my room because everyone on campus was asking me. I kept saying, 'I don't know who this dude is. I'd never seen him.'"
Majok said he didn't know Nochimson and the agent didn't get him to Louisville.
"I met a lot of people in Louisville," Majok said. "I'm not a rude person. I said hi to a lot of people."
Majok said Calhoun asked him whether he knew Nochimson, and he answered he didn't. He said Nochimson didn't get him to UConn, but assistant coaches Andre LaFleur and Patrick Sellers did, recruiting him while he was playing on a traveling team while in the United States in 2008.
"Coach asked me and I said, 'I don't know him.' I know it's against the rules to know an agent. I don't know him," Majok said.
Majok said he was interviewed by the NCAA after the story came out in March and hasn't been approached on the subject since.
Still, Majok raised questions about whether he was running from something when he surprisingly declared for the NBA draft in April. Majok worked out during a group session at the Golden State Warriors' practice facility and then later for the Chicago Bulls. He withdrew from the draft right before the June 15 deadline.
"I learned a lot and helped my game a lot," Majok said. "I did it to get experience and thought I might as well put my name in to get better and get workouts under my belt, because I knew the Big East would be tough. I found out that I need to run hard, play hard."
NBA personnel who watched Majok said he wouldn't have been drafted if he hadn't withdrawn.
"I know I can play in the league one day," Majok said. "It takes a lot of hard work, which I'm doing."
Majok didn't say when he would declare for the last time or whether he'll stay for the rest of his college career. He said he plans to earn a law degree at some point.
If there are no hiccups for him, Majok has the potential to be a good player. He's still figuring out his position as a flying 4-man who can finish on the break but probably would struggle in a traditional half-court game. He's not an intimidating shot-blocker and doesn't have the beef of being a rebounder -- yet. That could come if he continues to commit to developing his game.
• During the 2008 NCAA tournament, word had spread quickly at the Denver Regional that then-Stanford coach Trent Johnson had been ejected from a game in Anaheim against Marquette. Soon after, I relayed the news to a well-respected veteran official. The official's answer was, "I bet it was Curtis Shaw [who had ejected him]." It was.
Obviously you can debate whether Johnson deserved to be tossed from that game for walking out and challenging Shaw with his body language during a timeout. But other officials weren't surprised that Shaw would have a quick trigger to eject a coach.
[+] Enlarge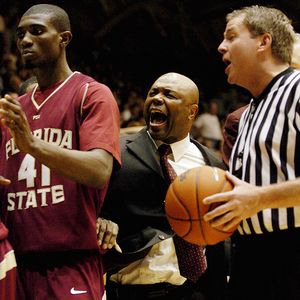 AP Photo/Sara D. DavisCurtis Shaw, seen here handing the Florida State bench a technical in 2007, will soon be director of officiating for the Big 12.
The numbers back up the point. According to StatSheet.com, which tracks referee statistics dating back to the 1996-97 season, Shaw has called 584 technical fouls and handed out 26 ejections during that time. No other official has assessed even 400 technical fouls, and only six other officials had given at least 10 ejections. Steve Welmer ranked second with 15.
It's no wonder he's referred to as "Quick Draw" Curtis Shaw in some parts. During a Tulane-Rice game last season, Shaw even ejected Sammy the Owl. Yes, that Sammy the Owl. The Rice mascot.
"He loves to be in control," said a coach from a major league.
"He doesn't have much tolerance," another Division I coach said.
"He doesn't mind putting people in their place, and he watches to see your reaction to him," a third coach said.
The control that Shaw exhibits in a game is exactly the reason the Big 12 tabbed him to replace Dale Kelley as the conference's director of officiating for the 2010-11 season. Shaw will observe Kelley in his final season on the job before taking over the assignment. He is forbidden from officiating once he becomes the coordinator. Big 12 commissioner Dan Beebe said Shaw won't work any Big 12 games in his final officiating season as he observes the conference, but he might work for other leagues.
Beebe knew Shaw from when Beebe was the Ohio Valley Conference commissioner and Shaw worked games in the conference.
"I've observed him for a long time, and he manages the game the way it's expected," Beebe said. "He doesn't let one coach or player get away with the rules. He's highly regarded, and that's why he did the finals last year. He is a strong official who doesn't let coaches or players cross the line."
How that translates into his coordinating Big 12 officials will be a good watch. Will more technicals be called in the league in 2011? It's hard to say. But clearly the statistics back up that Shaw won't tolerate any talk back and may ask his officials to handle situations as he did.
"Curtis is demanding of the officials, like coaches are demanding of their players," Beebe said. "We feel he'll be the same as a coordinator as an official. There will be no excuses on how they should behave in calling the game. We want him coaching the officials as much as coaches coach their players."
Beebe said the coaches were well aware of Shaw's record. He said three Big 12 men's coaches, whom he would not name, were on the selection committee with himself, three athletic directors and Big 12 associate commissioner for men's basketball John Underwood.
• Mississippi State freshman forward Renardo Sidney is still waiting to be cleared by the NCAA Eligibility Center as it reviews his amateur status after a Los Angeles Times story detailed his family's high-rent living near Fairfax High in L.A. Sidney's attorney, Birmingham, Ala.-based Donald Jackson, said the NCAA continues to demand that Sidney's parents and grandparents produce additional financial information. He said they are not required to do this and will not produce the asked-for documents. Jackson also said the NCAA hasn't established that there is a violation of Sidney's amateur status, and he has requested that it produce facts that a violation has occurred. Jackson said he expects the fight for Sidney's eligibility to continue to linger.
• Gonzaga is waiting for the arrival of Canada's Bol Kong, who has been in Vancouver awaiting a visa to enter the United States. Kong is originally from Sudan and has lived in Canada since he was 7. Kong has 12 days from the start of the fall semester to be admitted and eligible. To make that deadline, Kong would have to be on campus by the end of next week.
• USC coach Kevin O'Neill was searching this summer for a point guard. He couldn't find one. So that means Donte Smith will be the Trojans' point, with two-time transfer Mike Gerrity (Pepperdine, Charlotte) as the backup once he becomes eligible in mid-December. Smith played in 24 games last season, including 12 of the Trojans' 18 Pac-10 games, averaging 1.2 points and five minutes a game.
That lack of playing time is understandable considering Daniel Hackett was the starting point guard. The Trojans were caught short at the position when Hackett declared for the draft a year early and Tim Floyd's resignation depleted the recruiting class, including the departure of point guard Lamont Jones to Arizona. Meanwhile, O'Neill said sophomore Leonard Washington, who had issues becoming eligible from the end of his senior season at Washington-Marion High (Lake Charles, La.) in 2007 to the fall of 2008, isn't eligible for the first eight games of this season. Washington was a force early last season, averaging 9.8 points and 6.7 rebounds in the first 10 games before he suffered an ankle injury.