Rebels try to end SEC's longest tourney drought
September, 15, 2009
09/15/09
10:23
AM ET
Ole Miss coach Andy Kennedy said there has been a renewed emphasis on good hygiene after the university's football team was racked with symptoms of the swine flu the past two weeks.
"So far we're good, but the problem comes in when there are close quarters on one team. That's when it spreads," Kennedy said. "We've been very careful and continue to bring awareness. We're making sure they don't share towels or cups. It's different with football when they're out there sweating, cutting, bleeding and it's inevitable that they will share bodily fluids. It's in the nature of the sport."
Kennedy said the practice that a number of players have of handing off towels to each other when replacing one another in games will have to be readdressed. Sharing the sweat, which does occur during the course of the season, will need to be curtailed.
"We've been pretty lucky so far and it looks like football is getting out of it," Kennedy said of the flu bug. "Hopefully, though, it won't just jump on us."
Meanwhile, the Rebels are only waiting for guards Trevor Gaskins and Zach Graham to be cleared, which Kennedy said would happen sometime in the next week, for the entire team to be deemed healthy for the season.
Gaskins tore his ACL a year ago in preseason practice after making the All-SEC freshman team the previous season. Graham is coming back from offseason surgery to repair a partially torn patella tendon. Graham averaged 8.5 points and started 23 of 31 games last season.
Chris Warren, who enters the season ranked eighth in school history with 128 3-pointers, was averaging 19.6 points a game last season before suffering a torn ACL in the 11th game against Louisville. But Warren was cleared to participate in individual workouts. So, too, was Eniel Polynice, who played in one game last season before needing left knee surgery to repair cartilage damage.
[+] Enlarge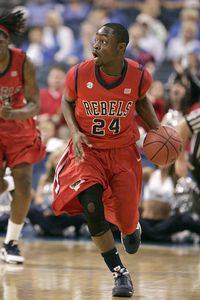 Kim Klement/US PresswireTerrico White not only filled in admirably for the injured Chris Warren, but he also became a star in his own right.
If the Rebels put out on the floor a healthy Warren, Polynice, Gaskins and Graham to go along with potential All-SEC first-team guard Terrico White, they should have one of the deepest and most talented perimeters in the SEC.
Kennedy said the Rebs will get out on the floor for the first time Wednesday as a team to start to work on the different combinations. The NCAA allows limited weekly team workouts beginning Tuesday, prior to the official start of practice Oct. 16. Each player is allowed two hours a week to be instructed on the court by the coaching staff (not including strength and conditioning). A team workout would count toward that two-hour period for each player.
"There are so many mix-and-match lineups we could try," Kennedy said. "We could try with four of them on the court at the same time since they all have perimeter size."
Ole Miss did lose Malcolm White and his 5.7 rebounds a game. So who could be that forward to play with the guard-oriented lineup and board with the best of the SEC? Well, if the first few weeks of individual workouts are any indication, there could be a freshman stud ready to assume the role.
Kennedy doesn't want to hype him too much, but he can't resist placing the expectations on 6-8 freshman Reginald Buckner out of Manassas High in Memphis, Tenn. Buckner, who holds the Tennessee high school record for blocked shots, has a "skill set that can help extend everyone out on the perimeter defensively," according to Kennedy. Kennedy said the Rebels got Buckner early, ultimately away from Missouri, UTEP and Kentucky.
"It was just like when we got Terrico," said Kennedy of another Memphis high-schooler who ended up blossoming during his senior year and commanding more recruitment. "We evaluated early and got it done."
The Rebels do return 6-7 Murphy Holloway (6.6 rpg) and have hopes that 6-9 JC transfer DeAngelo Riley and 6-9 DeAundre Cranston (4.2 rpg) will be effective in the post. But let's not fool anyone into thinking this will be a frontcourt-led team. The Rebs are focusing on being a perimeter-based team with a Buckner-led presence in the middle.
Kennedy went aggressive with the nonconference schedule, banking on his team contending for an NCAA tournament berth after it finished 16-15 (7-9 SEC) during an injury-riddled 2008-09 season. Ole Miss has the SEC's longest NCAA tourney drought, having not competed in the Big Dance since 2002.
Ole Miss will face a strong field in the Puerto Rico Tip-Off Classic Nov. 19-22. Let's assume the Rebels take out Indiana in the first round. If they do, and Kansas State knocks off Boston University, a matchup against K-State would provide long-term power-rating pop. The top half of the bracket is loaded with likely NCAA teams Dayton and Georgia Tech in one game and Big East favorite Villanova against CAA contender George Mason in the other.
Playing at Arkansas State should be a win, but it is still a true road game. The Rebels also play in nearby Southaven, Miss., against UTEP (Dec. 16), one of the favorites in Conference USA. The game is on a neutral court, although the arena will lean heavily toward Ole Miss. Former Memphis assistant Tony Barbee was looking for a game near Memphis to get players with ties to the city (Randy Culpepper, Arnett Moultrie, Gabriel McCulley and JC transfers Myron Strong and Jeremy Williams) back to the region and he wasn't sure with an unbalanced schedule if UTEP was going to play at Memphis this season (but the Miners actually do, playing the Tigers on Jan. 20 in the only game the two teams play this season). Hosting Southern Miss (Dec. 5), a possible sleeper in C-USA, also won't be a walk for Ole Miss.
Playing at Big East title contender West Virginia on Dec. 23 is a monster matchup for the Rebels, too. If the projections hold and Ole Miss plays two NCAA-bound teams in Puerto Rico, then it could come out of the nonconference schedule with four games against NCAA teams.
The unbalanced schedule in the SEC also provides this team with plenty of difficult stops against the SEC East. Ole Miss has to go to SEC East favorite Kentucky (Feb. 2) and likely second-place Tennessee (Jan. 16), but does get projected NCAA teams South Carolina (Jan. 20), Vanderbilt (Feb. 18) and Florida (Feb. 20) at home.
"If we can get through practices unscathed this year, we've got the pieces," Kennedy said. "We'll just see how they fit, but it's going to be very competitive in practice."