Brand changed the way we look at the NCAA
September, 17, 2009
09/17/09
9:20
AM ET
Shortly after being named the new NCAA president, Myles Brand asked Wally Renfro to come back to the organization.
Renfro, the former NCAA spokesperson, wasn't sure what Brand's idea was of the NCAA.
"So I asked him, what did he hope to accomplish as the president of the NCAA? Do you have a thought in mind what this will look like in some period of time?" Renfro recalled.
"I do," the former university president at Oregon and Indiana responded, "Do you want to hear it?"
"I do," Renfro said.
"I want to change the way people think about college sports," Brand answered. "I want them to understand this is a phenomenal piece of American culture -- that this doesn't exist anywhere else [in the world] in higher education. I want student-athletes to be students. I want them to graduate, to be involved in intercollegiate athletics and make it a part of the college experience."
[+] Enlarge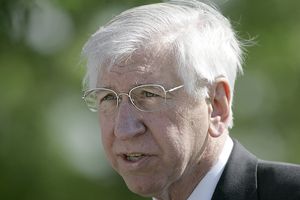 AP Photo/Nati HarnikAfter working 35 years in higher education, Myles Brand was named NCAA president in October 2002.
Renfro said he was hooked as soon as Brand finished the quote.
"Since [Brand took over the NCAA], nothing has changed from that," Renfro said. "For the next six and almost seven years, nothing changed. That's the way he went in with it and that's what he stuck with."
Renfro was deeply saddened Wednesday night over the death of his good friend, contemporary and confidant Myles Brand, who lost his battle with pancreatic cancer at 67.
"I was just really, really happy to help him, to be a part of that, to give him some council from time to time," Renfro said.
Brand did change the way the NCAA should be viewed. He put a face on it. There was always an Oz-like feeling about the NCAA. Maybe it had something to do with the office initially being located in Kansas. But more than any other previous president, Brand reached out to the members and their coaches, telling his staff to make sure they opened up more lines of communication to cast away the curtain that had been shrouding the national headquarters.
Walter Harrison, the University of Hartford president who was a former chair of the NCAA's Executive Committee and worked closely with Brand on the Academic Progress Report that makes coaches and programs accountable for the academic standing of their players, said Brand always reminded college presidents that college athletics came under the umbrella of universities.
"He always led you to the proper role of college athletics," said Harrison, who was a close friend of Brand's. "His lasting impact will be there in all sorts of different ways. But he always put intercollegiate athletics in the right perspective, whether that's for students, coaches, fans or faculty."
Harrison said Brand was open to how much college athletics were a fundamental part of the university, but he also knew it was big business.
"I always admired that he never sounded like an apologist," Harrison said. "He sincerely believed in the best interest, acknowledged the flaws and promoted what he thought was good."
"He would take you places that you never thought about going if you were willing to go on an intellectual ride," Renfro said. "He was very pragmatic and down-to-earth in terms of problem solving. I was blessed to have the opportunity to work with him."
From the Bob Knight "zero tolerance" press conference I attended in 2000 to my meeting with him at Conseco Fieldhouse soon after he was tabbed as NCAA president to the time when he came to ESPN to open up more dialogue, Brand was always willing to listen. You might not have agreed with every point, but he was a good listener and a good soul. A thoughtful person who didn't rush into decisions.
"What you saw was a moral man, a man who paid attention to the differences between right and wrong," Renfro said. "He changed the way we talk about intercollegiate athletics. We talk about the collegiate model of sports and the uniqueness of that. He caused people to think about it in relationship to higher education more than in relationship to professional sports."
While college sports mushroomed into a mega-billion-dollar business, Brand fully embraced the delicate balance of the cash cow and the need to make sure higher education wasn't embarrassed. He wasn't perfect at this craft -- no one would be. But he honestly made the attempt. It's hard not to see the parallels in the SEC's hiring of lawyer and fellow pragmatist Mike Slive as its commissioner. Like Brand, Slive knows he has a product he must sell, but his position of attempting to make sure no one on his watch makes a mockery of the institutions isn't far from his sphere of influence. Slive has an easier time trying to control 12 institutions than Brand could ever have with hundreds. Still, Brand never stopped trying.
"I saw it over and over again in the way he connected with audiences and delighted them in surprising them with information about college sports, counter to what they thought it was," Renfro said. "He loved to say that on average, student-athletes graduated at a higher rate than the rest of the student body. He loved to talk about that fact. He also said that if participation was good for all these years for the men then it should be just as educationally sound for women."
Brand challenged the coaches' groups if an argument didn't make sense. He was open to other alternatives, but he wanted solutions, not just rebuttals.
The trail Brand left at the NCAA will be hard to fill, but it's likely going to be someone of the same mindset. The influence of the presidents on the membership likely means one of their own will follow Brand. There is too much at stake for a strictly "sports person" to take over the organization and deal with everything from contracts to student welfare to Congress. It needs to be someone who has proved him- or herself in the higher education world.
Brand was the first college president to head the NCAA, and he likely won't be the last. There is a chance that someone from the public sector like former Secretary of State Condoleeza Rice, who was the provost at Stanford and a noted fan of intercollegiate and professional sports, could be approached. One source said if former U.S. Senator George Mitchell had not taken a position as Middle East envoy in the Obama administration, he would have been a natural, too. But it's unlikely that an athletic director would be tabbed to make the jump to the president's office in Indianapolis.
The NCAA's executive committee, chaired by Georgia president Michael Adams, knew this day was coming. Renfro said they were sensitive to the timetable Brand's doctors set for him since the diagnosis. A source with knowledge of the process said there is expected to be a search committee put forth, with the chance that an interim president may be put in charge during the search.
No matter who gets the permanent job, he or she would likely look to carry Brand's legacy of ensuring there is accountability for student-athletes across the membership.
"Myles understood what the odds were with his disease," Renfro said. "He didn't flinch from that. He understood it was a very progressive disease. He didn't dwell on his legacy. He focused on those things that were critical in the continuation of college athletics in this country. His energy was focused on trying to get people to understand college sports in the context of higher education."
• A final thought from my colleague Jay Bilas: The passing of NCAA president Myles Brand caught me a bit off-guard. I knew how ill he was and how serious a battle pancreatic cancer is, but somehow I did not process that he was indeed a sick man for whom the end was so near.
His fight was punctuated by dignity and toughness. This was a man who continued to go to work during this terrible disease, shifting the focus from his illness to his work. Brand was a man of uncommon intelligence and a common touch. While reasonable minds may disagree over his views and policies, Brand was never disagreeable. He was a man of thoughtful judgment and principle, and he listened and thought carefully before he spoke. In just six years, he brought a much clearer direction to the too-often directionless NCAA bureaucracy and became a true leader in what could easily have been a figurehead position.
Perhaps the most poignant tribute to Brand would be contemplative silence. Because when the question of who can successfully succeed Brand is asked, contemplative silence will meet that query.