Cougars hope to run their way to a MWC title
September, 21, 2009
09/21/09
10:15
AM ET
PROVO, Utah -- The first thing you notice about BYU is how much the Cougars want to run, run and run some more.
BYU started team workouts last week with the intent of getting the team confident enough to push the basketball as much as possible.
If Thursday's snapshot of the Cougars is any indication, there is hope that they can pull it off this season.
Sure, the program lost leading scorer Lee Cummard to graduation. But junior guard Jimmer Fredette can push the ball and so too can senior wing Jonathan Tavernari, who played in four games this summer for the Brazilian national team during the FIBA Americas Championship. And there is a sleeper amid the group in sophomore guard Charles Abouo, who played in 33 games last season and averaged 2.9 points.
"Charles had a great summer, working on his body and his jump shot," Fredette said. "He's going to come in and really, really help us. He can be a double-digit scorer -- watch out."
"Charles is going to be the surprise," Tavernari added. "Everybody is going to see."
The Cougars do have size with the return of 6-foot-11 senior Chris Miles (7.1 ppg, 4 rpg), 6-10 sophomore James Anderson (2.5 ppg) and 6-8 sophomore Noah Hartsock (2.4 ppg). But in Thursday's practice, BYU coach Dave Rose was praising the development of 6-9 freshman Brandon Davies. He can run the floor well and is developing effective post moves and an aspiring mid-range game that was apparent Thursday.
Freshman guard Tyler Haws was a big-time scorer and two-time Mr. Basketball in the state of Utah, and sophomore guard Michael Loyd Jr. is coming off a redshirt season. If Loyd can stay in control when he's pushing the ball, he can be a valuable contributor. Rose said the biggest issue may be shot distribution, because Fredette (383 attempts last season), Tavernari (451), Abouo (75) and even players like Haws are volume shooters (read: need shots).
"I haven't played with this many experienced guys since I've been here," Tavernari said. "We've got size, all-conference players, and we're bigger and stronger."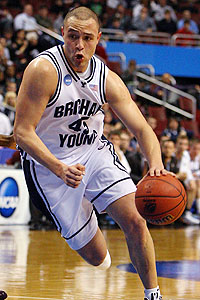 Jim McIsaac/Getty ImagesJonathan Tavernari earned first-team Mountain West honors for the Cougars last season.
The Cougars should be the favorite for the Mountain West title, with UNLV and San Diego State lurking. But the odds are in BYU's favor as no other team can boast the experience and leadership of players like Fredette and Tavernari. If the Cougars can be a disciplined running team, they have a shot to cause havoc come March.
And there might not be a team in the country that has as much motivation as BYU. You could tell how much this team wants to rally around Rose's cancer fight. They listen to every word, pick up the pace when he commands and then gladly show respect to him at the end.
"It's an act of God that Coach had such a rare form of cancer," Tavernari said of Rose's pancreatic cancer, which on average afflicts only about five people per million. "He fought through it when we thought he was going to die. But he's here now and if we don't use that simple fact as motivation, then we don't deserve anything. We have huge motivation to do everything for Coach and win, enjoy and seize every moment for him. If we don't, then we've disrespected him."
The Cougars have been a rock of consistency since the Steve Cleveland-Dave Rose combination took over in 1997 after the program had gone 1-25 the previous season. Rose served as an assistant for eight seasons and was named head coach in 2005 when Cleveland went back home to Fresno State.
The Cougars have reached the postseason in nine of the past 10 seasons, including six NCAA bids, the past three under Rose.
"The one word that describes this program is stability," BYU associate head coach Dave Rice said. "We've had an even-keel program. No big ups and no big downs. We've been consistently a regular-season champ [at least a share of the MWC the past three seasons]. We're the only team that has a winning road record in the Mountain West and have won 51 conference games in four seasons. San Diego State and UNLV are next with 43."
Rice said the team -- with the good news that Rose's cancerous tumor didn't return in his scan Friday -- can focus on the season at hand.
"We're here to go for another championship," Rice said.
It's plausible, and so is an NCAA at-large berth with a nonconference schedule that has some potential power-rating pop.
Like most Mountain West teams, BYU has the same scheduling struggles every season. Rose said the Cougars contacted 37 power-six conference teams and failed to lock in a new one, even though they were willing to do a series with the return games being at Energy Solutions Arena in Salt Lake City (BYU has done a deal like that with Michigan State in the past). Arizona had already agreed to a series in that manner. The Cougars go to Tucson on Dec. 28 this season and the return game in 2010 will be in Salt Lake City.
The Cougars play the annual rivalry game at Utah State, a possible WAC champion. Winning in Logan would certainly give a boost to the Cougars. Arizona State could finish near the bottom of the Pac-10, so beating the Sun Devils this season at home won't mean as much but is necessary nonetheless (ASU won a controversial game against BYU last season in Glendale, Ariz., when a BYU basket at the buzzer was disallowed).
The key for the Cougars will be winning a tournament in Las Vegas just before Christmas. The first game is against Nevada, another WAC contender. The second game will be against either Nebraska or Tulsa. It would probably mean more if the game were against the Golden Hurricane, since TU is one of the favorites in Conference USA.
Playing at Hawaii and Fresno State at the Galen Center on USC's campus won't drive up the power-rating points on their own, but victories away from Provo always help.
But the most critical game of all could be at UTEP on Jan. 9. The Miners, like Tulsa, are a Conference USA favorite, and few teams, if any, will go into El Paso and pick up a win this season.
The one strike against the Cougars under Rose is that they haven't been able to win an NCAA tournament game. Getting a team other than Texas A&M would help, since the NCAA tournament selection committee oddly pitted the Cougars and Aggies in consecutive first-round games. Texas A&M won both.
"Hopefully if we get there we'll get someone else," Tavernari said. "What we want is for this to be a continuously ranked top 25 team. That's something we can do for coach. We don't want to just get ranked and stay there for one or two games. I think we have the talent, we're deeper, stronger, quicker and more athletic for this to be a special season."
• In 2010, BYU needs to be in either the Coaches vs. Cancer tournament or the Jimmy V Classic.
There's really no argument against putting the Cougars in one or the other unless the four host slots in the 16-team CVC (the four hosts automatically go to New York) or the four teams in the Jimmy V have already been selected. And the odds it has happened are slim.
There's no reason to balk at putting Dave Rose's Cougars in either event. The intended thrust of both events is to benefit cancer research. No coach in America is dealing with more of a public fight against the horrific disease than Rose. Sure, his tumor is surgically removed, but there is the chance that it could return and that's why he will continue to get cancer scans for the next two years.
Ratings shouldn't be an issue. You can't tell me that ratings are the only factor with all the teams that are in these events. Besides, BYU does have a following that can reach all over the globe because it is a school run by the Church of Jesus Christ of Latter-day Saints.
Having Rose in either event would make sense, but the Jimmy V is actually even more appropriate. Rose was on Houston's Phi Slama Jama team that lost to Jim Valvano's NC State Wolfpack in the dramatic 1983 final. Valvano is now more renowned posthumously for the cancer research that bears his name.
And don't think BYU doesn't make sense in New York, either. BYU's Jimmer Fredette, one of the top guards in the Mountain West, is from Glens Falls, N.Y., and would bring his own cheering section for his senior season.
I'll get off my soapbox now. But unless the events are already filled, there's no excuse not to include BYU. There would be no better ambassador for cancer research than Rose. He needs to coach in one of these games.