UCLA's Howland recruits through appendicitis
September, 23, 2009
09/23/09
3:20
PM ET
Ben Howland's right side had been bothering him for about a week. But it wasn't pressing enough to keep him from traveling during a recruiting period.
So, the UCLA men's basketball coach plugged on and flew to Portland and Detroit before coming back on Sept. 13, when he realized the ache was now a pain that wasn't going away.
Howland met with a doctor on the morning of Sept. 14, had a CT scan, and then headed to Las Vegas to Bishop Gorman High School. Still not sure about what was going on with his side, he went back home and waited for word on his results. He visited another recruit on Sept. 15 in Los Angeles. The Bruins were scheduled for their first team workout on Sept. 16. Howland was running around and didn't pick up his phone until noon.
[+] Enlarge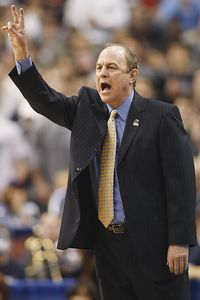 Howard Smith/US PresswireUCLA coach Ben Howland's recruiting schedule was interrupted by appendicitis.
"The message was that there was something with my CT scan, the appendix was infected," said Howland late Tuesday night as he and assistant Scott Garson drove back from a recruiting visit in San Diego. Howland said he had to go to Seattle for another recruiting assignment on Sept. 17.
Not quite.
"The message was I had to call the surgeon right now," Howland said. "I found out at 12:15 p.m. and I was in surgery by 4 p.m."
Howland had laparoscopic surgery on Sept. 16 to remove the appendix.
"It didn't break, it didn't burst and that's great news," Howland said. "I'm just taking it slow. I'm a little bit tired still."
Howland will attempt to take things slowly, but he was slated to work out the Bruins on Wednesday and then leave for a six-day recruiting trip on Friday to Seattle, Portland and Detroit.
What Howland will find when he convenes the Bruins is a team that is extremely thin on the perimeter. The Bruins have essentially three guards to rotate in with sophomores Malcolm Lee and Jerime Anderson and senior Michael Roll. Howland said freshman wing Mike Moser will have to play, as well. Freshman forward Reeves Nelson will need to play small forward, too.
The shortage of perimeter players is a result of the loss of Jrue Holiday, whom the staff wasn't prepared to see leave after one season in Westwood.
"College basketball teams are playing four guards and a big anyway a lot," Howland said. Howland cited former Bruin Luc Richard Mbah a Moute as an example of a big guard who had to board in college and as a result got to the NBA.
Freshman forward Tyler Honeycutt has been bothered by a back injury, and it's still unclear how much he'll be able to help the Bruins this season. Meanwhile, sophomore forward Drew Gordon isn't showing any effects of a knee injury that kept him out of the USA Basketball under-19 trials for all but one practice in Colorado Springs in June. Howland expects Gordon to gobble up a lot of minutes with James Keefe, J'mison Morgan and Nikola Dragovic, the only returning starter. Dragovic is nursing a thumb injury and will be kept in check in some of the early workouts.
The Bruins aren't projected to win the Pac-10, a first in five years. Cal and Washington are projected to win the league. But the Bruins are expected to be talented enough to make the NCAAs.
• Clemson's Oliver Purnell and Notre Dame's Mike Brey wanted to make sure legislators remembered cancer victims in their ongoing debate about health care reform. What neither Purnell nor Brey -- or for that matter fellow coaches Ed DeChellis of Penn State, Tubby Smith of Minnesota and John Thompson III of Georgetown, who were also on the Hill on Tuesday -- needs is to make his appearances political. All of the coaches have fans who are on both sides of the debate, but the one thing that is hard to dispute is the victims in this issue need help.
"Everybody says they're for health care reform but they disagree on how to do it,'' said Purnell. "We were there to say to get something done; get it done now. Waiting for cancer patients is not an option."
Purnell met with the South Carolina delegation, including outspoken members of Congress Sen. Jim DeMint, R-S.C., and Rep. Joe Wilson, R-S.C. Purnell was with a prostate cancer patient and another cancer victim "whose insurance was so high that she couldn't afford it and it was bankrupting her. She couldn't get insurance. We were there to tell their story."
"The easy thing is to put it off, but if you look through the lens of a cancer patient, putting it off is not an option,'' Purnell said.
Purnell said DeMint and Wilson said they were willing to talk about it and come up with something.
"They said there is agreement to a certain level, but the tough part is to bridge the level of disagreement and come up with something acceptable,'' Purnell said. "The problem is that everyone wants health care reform but they can't get an agreement. They need to get a bill that they can agree on, that would pass and that then the president would sign it.''
Brey said there were 700 volunteers working with the American Cancer Society, lobbying members of the House and Senate. He said after the coaches did a news conference, they then split up to work with various state delegations. He said they met with Department of Health and Human Services Secretary Kathleen Sebelius as well as Minnesota Democratic Sens. Al Franken and Amy Klobuchar and Sen. Bob Casey, D-Pa., at a rally that was co-sponsored by the American Cancer Society's Cancer Action Network.
"We were there in the midst of the reform debate and the craziness,'' Brey said. "We just wanted to make sure they didn't lose sight of the cancer patients and to show the progress research has made. We're not in the middle of the debate but we want to keep pushing for a cure to the disease.''
Brey said you could feel the intensity of the debate on health care while walking through the Capitol.
"It was hovering, it was right there,'' Brey said. "This is an interesting time.''
• Quick: Name the top six Big East all-time winningest coaches by victories in conference games.
The first five are easy: Syracuse's Jim Boeheim (356), Connecticut's Jim Calhoun (282), former coaches John Thompson of Georgetown (231), Lou Carnesecca of St. John's (139) and Rollie Massimino of Villanova (123).
I would have never guessed who is No. 6 on this list. Would you?
Well, it's former Villanova coach Steve Lappas (97), who coached the Wildcats for nine seasons, but hasn't coached in the league for eight seasons. But Lappas' hold on No. 6 is fading. Notre Dame's Mike Brey is next at 92. Former Seton Hall coach P.J. Carlesimo is at No. 8 with 90 wins, but he'll be eclipsed this season by Rick Pitino, who has 88 wins at Providence and Louisville, Villanova's Jay Wright (85) and Pitt's Jamie Dixon, who has 81 wins in just six seasons. Georgetown's John Thompson III has 61 wins, good for 17th on the list.
The rest of the current Big East coaches' win totals are: St. John's Norm Roberts (27), West Virginia's Bob Huggins (25), DePaul's Jerry Wainwright (21), Seton Hall's Bobby Gonzalez (19), Cincinnati's Mick Cronin (18), Marquette's Buzz Williams (13), Providence's Keno Davis (11), Rutgers' Fred Hill (8) and South Florida's Stan Heath (7).