Seat is hot, but DePaul's Wainwright remains cool
October, 5, 2009
10/05/09
12:43
PM ET
In the brand-new ESPN College Basketball Encyclopedia, Jeff Sagarin's all-time program rankings place DePaul at 26, reinforcing how the Blue Demons were once a mighty regional and, at times, national name.
But the DePaul of decades past was never in a conference like the current Big East, dealing with an antiquated arena in comparison to the rest of its competitors.
Jerry Wainwright was a winner at UNC Wilmington, claming two Colonial conference titles and a pair of NCAA tournament appearances. He won at Richmond, reaching the NCAA out of the Atlantic 10. He even won nine out of 16 games in the Big East three seasons ago, reaching the NIT.
Talk to anyone associated with the biz and they will tout Wainwright's coaching ability. But the 0-18 mark in the Big East last season, the 9-24 overall record, is hard to ignore. Still, it has been only four seasons at DePaul and that's why it shouldn't be a complete shock that Wainwright got an extension through 2012 last January.
"I got an extension during a difficult situation,'' Wainwright said. "But we were never an embarrassment. It's not an excuse, but we've done well with the GPA, the APR and graduation rate. I'm doing what I'm supposed to do and they were really supportive and gracious.''
[+] Enlarge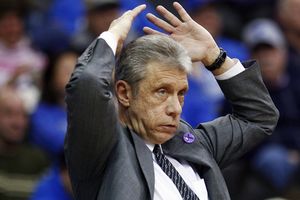 Jim O'Connor/US PresswireJerry Wainwright enters his fifth season with a 52-72 record as head coach of Blue Demons.
But Wainwright isn't naive, either. That's why the Blue Demons picking up 2010 commitments from 6-5 Moses Morgan (Palo Verde High in Nevada) and 6-3 point Brandon Young (Friendship Collegiate School in D.C.) was a much-needed positive boost heading into the start of practice in two weeks. ESPNU has each ranked in the top 32 at his respective position.
But DePaul, even with the return of junior forward Mac Koshwal from the NBA early-entry draft, will struggle to finish above 13th in the 16-team Big East this season.
Wainwright had to shed his primary assistant coaching staff, adding newcomers David Booth (a former DePaul player), Tracy Webster (a former Wisconsin player but Chicago native) and former Chicago high school coach Billy Garrett, who had bounced around in the East, Midwest and Southwest the past 10 years.
"I'm probably No. 1 on the hot seat, but people have been supportive from the president to the AD,'' Wainwright said. "Certainly there has been incredible negativity when you don't win, but that's not new. We built a staff with guys who all gave up something substantial to come and join us with the belief that this wasn't just a one-year deal.''
Wainwright said breaking the corporate structure of the Big East won't be easy. But he said neither was the tenure at Wake Forest when he was an assistant under Dave Odom from 1989 to '94, when the Demon Deacons had Tim Duncan, Rodney Rogers and Randolph Childress at a time when NC State was sliding.
"We got these kids at the right time,'' Wainwright said of his time at Wake. "You don't just jump. I'm not scared of my job. We have to be productive. I know we have to be better and having Koshwal back at 6-10, 255 pounds [and 12.2 ppg, 9.6 rpg] is someone we couldn't replace.''
Wainwright said Ohio State transfer Eric Wallace has to be productive on the wing and Wainwright doesn't see why he won't. He also predicted Oregon State and JC transfer Mike Stovall will add quite a bit to the perimeter.
"We have question marks," Wainwright said. "Will Devin Hill and the two freshmen [Tony Freeland and Ryan Siggins] be bigger and stronger? Can Will Walker play both guard positions? Can we be effective scoring? We have to be bigger at guard because we got manhandled last season on the glass. Our first-shot defense was at 31 percent, but overall we gave up 45 percent. We got manhandled because we were too small. But we're much improved.''
How much it translates into wins is still the major question. The Big East is more competitive from 1 to 16 this season than last, but lacks the nationally dominating teams at the top. DePaul should be better -- must be better -- but even if the Demons are only marginally improved in wins, none of it will faze Wainwright's feeling about how hot his seat is on the bench.
"I'm sure they'll have a list named after me and call it coaches on the hot seat,'' Wainwright said.
• Notre Dame coach Mike Brey said junior forward Tim Abromaitis and Carleton Scott will take the minutes that would have likely gone to Purdue transfer wing Scott Martin, who recently tore his ACL and is lost for the season.
• Michigan State coach Tom Izzo is already plotting whether or not he has the depth to go big in some games against deep, long and strong front lines like North Carolina (Dec. 1) and Texas (Dec. 22 in Dallas). What that means is he has to get bigs Derrick Nix and Tom Herzog ready over the next six weeks. Both players will either back up or play next to more talented and productive forwards Raymar Morgan and Delvon Roe (who Izzo is terming "quite healthy" after battling back from microfracture surgery as a high school senior two years ago).
Nix is listed at 6-9, 285. That last part would be quite a feat, considering Izzo said he had gone over 300 at one point in high school. Herzog is listed at 7-foot, 240, although Izzo said he's up to 250 and continues to get stronger. With that said, there is still a chance the Spartans will go smaller. They certainly have options with a loaded perimeter in Kalin Lucas, Korie Lucious, Durrell Summers and Chris Allen to go along with the 6-8 Roe and Morgan. Izzo said through individual workouts he's already seen how much the Spartans have improved their strength, athleticism and "explosiveness."
• Demetri McCamey has to play well for Illinois to be consistently good. That's straight from the mouth of Illinois coach Bruce Weber. So clearly the onus is on McCamey to deliver this season -- but he's not the only one. The Illini will have to depend on freshmen D.J. Richardson and Brandon Paul. Illinois already has two productive forwards in Mike Davis and Mike Tisdale, but without the other three producing, this squad can't be an elite team.
• The Atlantic 10 has been talking to a number of leagues, including the West Coast Conference, about a scheduling partnership. But there seem to be disagreements as to whether or not this is imminent or just in the discussion stage. The WCC, according to league commissioner Jamie Zaninovich, envisioned a kinship with the Atlantic 10's fellow Catholic institutions. But A-10 commissioner Bernadette McGlade said she didn't want to do a partnership that excluded certain members of the conference, in this case that could mean state schools UMass, Rhode Island and Charlotte. The other problem for a partnership is that the WCC has eight members while the A-10 has 14.
Gonzaga and Xavier have agreed in principle for a home-and-home series and without it there is no real scheduling partnership. The Bulldogs have to be in the event to give it credibility. Having simply Saint Mary's versus Saint Joseph's isn't going to make many waves. Whether it can be pulled off for next season is still a work in progress. But both leagues are looking for games to schedule for the teams that struggle to find quality nonconference opponents. Getting marquee games, or any games for that matter, isn't an issue for Gonzaga or Xavier.