Both Cuse and ISU could end up in decent shape
October, 9, 2009
10/09/09
10:09
AM ET
No transfer enters the season with as much expectation as Wesley Johnson.
The former Iowa State wing is supposed to take Syracuse on his back and carry the Orange to a top-five finish in the Big East and back to the NCAA tournament.
"I know the expectations are on me from the first day," Johnson said by phone from Syracuse, a week before official team practice begins on Oct. 16. "I know everyone is wondering if he's that good. Everyone is waiting to see me play, but I just say 'wait and see.'"
Senior wing Andy Rautins said the hype on Johnson is justified. Through individual workouts, pickup games and a few team sessions in the pre-preseason, Johnson has shown his versatility will be a major hit for the Orange.
"He's an unbelievable athlete and a great leader," Rautins said. "He's a pro. He's got the body of a pro. He's got all the tools. There is a buzz about him here."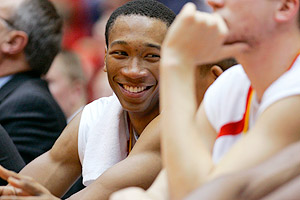 AP Photo/Charlie NeibergallJim Boeheim and his Syracuse players have high hopes for Iowa State transfer Wesley Johnson.
Johnson averaged a dozen points for the Cyclones, despite being slowed by an injured ankle that required surgery after the 2007-08 season. He was supposed to then team up with Craig Brackins to make the Cyclones relevant again in the Big 12. Instead, in what he termed a difference of opinion with coach Greg McDermott, Johnson left ISU in May 2008 and not long after made his way to Syracuse.
What SU coach Jim Boeheim didn't know was that both Paul Harris and Eric Devendorf would leave after last season. He had an idea that point guard Jonny Flynn could bolt for the NBA, but that wouldn't have effected Johnson's playing time since he's not a point.
"You have to recruit proactively today," said Boeheim, who added that he has rarely taken four-year transfers in his 30-plus years in coaching. "I didn't know for sure Paul and Eric would leave. I thought maybe one would. We had to prepare ourselves. And once we knew [Johnson] was available, we brought him in. He was a nice kid. He wasn't a dissatisfied player, an unhappy player. It was just a different situation. It wasn't an easy decision, but it turned out we needed him."
Boeheim saw Johnson's versatility, his ability to score in a variety of ways during practice last season. He said Johnson doesn't need a high volume of shots.
"I watched him play for the first time this year as part of our two hours of practice and he took only seven or eight shots the whole scrimmage," Boeheim said. "He made six of them and the rest of the time he got offensive rebounds. He's a team player. He's not a cocky kid, but he's a confident kid. I'm sure when you don't play for a whole year it could take a while to get into things. I don't expect him to dominate the first two games."
But the expectation is that Johnson will be an impact player within the first month of the season. Having experienced big men like Rick Jackson and Arinze Onuaku and an improved Scoop Jardine next to Rautins gives the Orange a solid five. And according to Rautins, who said he sees no reason why the Orange won't contend for the Big East title, freshman guard Brandon Triche is already making an impression with his strong, 6-foot-4 frame, his confidence in delivering the ball and his overall ball skills.
Johnson said his decision to attend Syracuse was because of Boeheim's Hall of Fame credentials and the "up-tempo style and fast pace." Flynn certainly pushed the ball for the Orange, something Triche and Jardine may have a hard time duplicating.
Boeheim said the Orange will be a balanced team, but Johnson will be expected to score from in the lane, as well as with his midrange and 3-point shot.
What about Johnson's former team, though? How is McDermott's rebuilding job coming along?
Iowa State, sans Johnson, finished 4-12 in the Big 12 last season (15-17 overall). Brackins led the Cyclones with 20.2 points a game, including 42 points in an 82-67 loss to Kansas.
McDermott said Johnson would have taken pressure off Brackins if he would have produced similar scoring numbers as a junior in Ames. No other Cyclone outside of Brackins averaged in double figures last season.
ISU wasn't going to find someone comparable to Johnson in the late spring after he bolted, but the Cyclones had a full recruiting cycle to find someone who could light up the scoreboard alongside Brackins. They did their work well. Iowa State landed Marquis Gilstrap, a 6-7 forward out of Gulf Coast Community College in Florida. He was named the Big 12 preseason newcomer of the year on Thursday.
Gilstrap, who has only one season of eligibility remaining unless Iowa State can get a waiver from the NCAA, started in junior college four years ago but ruptured his patella tendon after his freshman fall semester and then took the next two years off from the game. He returned to play last season, but since his clock started four years ago, he has only one season left -- even though he has only played basketball for three semesters. Iowa State is appealing for another season on his behalf.
[+] Enlarge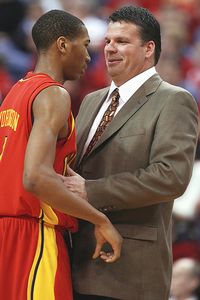 Bruce Thorson/US PresswireISU coach Greg McDermott had a tough time replacing Wesley Johnson last season.
"When we lost Wesley Johnson my charge to the coaching staff was to find the best wing available," McDermott said. "Not everybody would take a player with one year of eligibility left, but Wesley's departure left a gaping hole in the middle of our lineup."
McDermott, who is entering his fourth season in Ames and is still searching for his first winning record, said the Cyclones played without a small forward last season.
"The best available wing in the country was Marquis Gilstrap," McDermott said. "He's done everything so far in the summer and the first six weeks of the fall in individual workouts. He hasn't disappointed us. He's been everything we've hoped for."
What does that mean? Well, Gilstrap is scoring the ball in a variety of ways, just like Johnson is doing at Syracuse.
"He's hungry to do whatever he can," said McDermott, which is similar to what was said about Johnson after he sat out last season at Syracuse. "We don't know if we can get him another year, so he's really motivated to make the most of this opportunity."
Gilstrap is making 3s, scoring in the lane and rebounding with force. That should jive well with Brackins, who was penciled in as a first-round pick but decided against declaring for the NBA draft.
"They get along great and have a mutual respect for each other's game," McDermott said. "They have a lot of ability and are both hungry to make the most of this season since it could possibly be each of their last at Iowa State."
For the Cyclones to move up in the Big 12, they can't rely on just Brackins and Gilstrap. The second- and third-leading scorers from last season -- guards Diante Garrett and Lucca Staiger -- both return, the latter coming off a summer spent playing with his native Germany. If 6-9 LaRon Dendy, a JC transfer, can rebound the way McDermott needs and 6-3 freshman point Chris Colvin can be a solid distributor, the Cyclones would have decent depth for the first time under McDermott.
But if ISU is going to have any momentum going into the Big 12, it'll have to get through its roughest nonconference schedule since McDermott took over for Wayne Morgan.
The Cyclones play the three annual in-state games -- at Drake and home against Iowa and Missouri Valley favorite Northern Iowa -- but they'll have a game in the Chicago Invitational against either Notre Dame or Northwestern, both possible NCAA tournament teams. That's after playing what will likely be a grinder against Rick Majerus' Saint Louis squad. The Big 12 didn't do Iowa State a favor by sending it to Berkeley, Calif., to face Pac-10 favorite Cal in the Big 12/Pac-10 Hardwood Series.
That's not all. ISU also plays Conference USA contender Houston and three days later, on Jan. 6, will tussle with Duke in Chicago. That's all before Big 12 play opens. The first two conference home games are against the two teams that are picked to contend for the league and national title -- Texas and Kansas.
"We're going to challenge ourselves," McDermott said. "We'll find out where we are and our weaknesses. But this could be our best group we've had in four years."
In November and December, Johnson will have a more pronounced stage than Gilstrap with the Orange playing Cal in Madison Square Garden on Nov. 19 and then either North Carolina or Ohio State on Nov. 20. Playing Florida in Tampa in the Big East/SEC Invitational on Dec. 10 will be another marquee matchup before the Big East opener at Seton Hall on Dec. 29.
Johnson is expected to take Syracuse to the NCAA, while the Cyclones would be thrilled if Gilstrap helped Brackins lead them to the NIT or beyond.
"I know it could have been fun with Craig last year, but who knows what would have happened," Johnson said.
No one does. What we know now is that Johnson is supposed to deliver for Syracuse, and Brackins has his much-needed sidekick in Gilstrap. If both teams reach their postseason goals, it will have worked out just fine for everyone involved.