Will an A-10 team break away from the pack?
October, 22, 2009
10/22/09
2:46
PM ET
The Atlantic 10 needs a runaway champ, someone to distance themselves from the rest of the pack.
Saint Joseph's may have been the best example in recent years, earning a No. 1 seed in 2004 and coasting into the A-10 tournament with a 27-0 record before eventually losing in the Elite Eight.
Xavier has had runs of note. The Muskeeters also went to the Elite Eight that season, though they weren't as dominant in the league (10-6). XU also had A-10 runs of 15-1 (2003) and 14-2 (2008), with the latter resulting in a 30-win season and another Elite Eight.
George Washington had one of those runs as well, going 16-0 in 2006 (27-3 overall).
Dayton is the favorite to win the A-10 this season. The Flyers return the league's projected top player in Chris Wright. The Flyers won a first-round NCAA tournament game last season by beating West Virginia. But the talk among the coaches during Thursday's A-10 preseason media conference call was that this could be the most balanced season the league has seen.
"I don't think teams will go on a four- or five-game winning streak in this league," George Washington coach Karl Hobbs said of the balance this season.
[+] Enlarge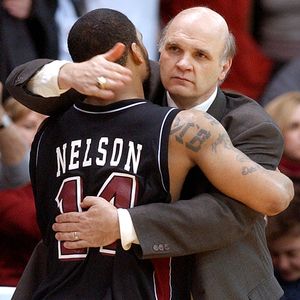 AP Photo/Bradley C. BowerJameer Nelson, Phil Martelli and the Hawks made national headlines while going 30-2 and earning a No. 1 seed during the 2003-04 season.
That's great for competitive flavor every night, but is it good for the league's national profile?
"If you look at the history of our league, when we've had a lead dog, that team has been like a monster," Saint Joseph's coach Phil Martelli said. "When we had that lead dog, everyone is chasing that team and you're chasing a national team in the top 15 in the country. Every night that lead dog plays, 16 nights in the league, the league is being talked about."
Martelli said Dayton could be that team this season, but he drew more similarities to the George Washington squad than the Saint Joe's or Xavier teams of the past. The difference could be that Dayton is playing a more challenging national schedule than the Colonials did in 2006, a main reason ticked-off GW ended up with an 8-seed in the NCAAs.
Dayton plays in the loaded Puerto Rico Tip-Off Classic with an opening game against Georgia Tech and a second game against either Villanova or George Mason (the other side is Indiana-Ole Miss and Boston University-Kansas State). There are at least five teams in that field with a realistic shot at an NCAA tourney at-large bid. Playing potential league champs Creighton (MVC) and Old Dominion (Colonial) and a true road game at New Mexico will also help Dayton's power rating come March.
"I would say that Dayton is being undersold," Martelli said. "They are very balanced, relentless and have a swagger after building off the success they've had."
Rhode Island coach Jim Baron, who has been in the league for 18 seasons with his stops at St. Bonaventure and now with the Rams, said it has been critical for the conference to have that "lead horse." But he emphasized the depth of the league, too. URI has been a part of that over the past few seasons (63 wins in three seasons), but the Rams haven't been able to land an NCAA bid.
Having nationally respected teams in the league is a must for a bubble program hoping to snatch a late-season berth. The A-10 needs to have one or two elite teams in February for the rest of the league to chase and pick off a power-rating win.
Why? Because a number of the teams can't schedule national games, so they may end up relying on a league game to produce that power-rating pop for them in conference.
"Hopefully this year we can have one or two or three step out and step ahead," Baron said.
The runaway team has given the league "lots of national attention," Hobbs said. But only one program has been able to maintain it. Even through several coaching changes, Xavier just keeps chugging along.
"Xavier has had that high level of excellence that's been difficult for the rest of the league [to match]," Hobbs said.
In the coaches' poll, XU was picked second behind Dayton, followed by upstart Richmond, La Salle, Duquesne, Temple, Charlotte, Rhode Island, UMass, Saint Joseph's, St. Bonaventure, Saint Louis, GW and Fordham.
If these projections are correct and Richmond and La Salle are top-four teams, that gives great hope for programs recycling up from the bottom. But it might make it harder for the league to have national relevance beyond Dayton and Xavier unless the Spiders and Explorers can knock off some national names and get close or inside the Top 25.
• Temple's Lavoy Allen, Richmond's Kevin Anderson, La Salle's Rodney Green, UMass' Ricky Harris and Dayton's Chris Wright were named to the All-A-10 first team.
• The Atlantic 10 moved its conference title game to a Sunday this season. It will be broadcast March 13 on CBS, from the Boardwalk in Atlantic City, N.J.
• The NCAA has proposed potentially sweeping changes to its recruiting policies, pending approval by the Division I board of directors at its meeting next week. The goal of the recommendations is to get at the root of the money in recruiting as the NCAA enforcement staff's Basketball Focus Group works with the National Association of Basketball Coaches board of directors and the newly formed coaches ethics group.
A conference commissioners board, led by the SEC's Mike Slive, was quoted on the NCAA's Web site as saying "it has become evident that more individuals have inserted themselves into the recruiting process other than families of the prospects in a way that is contrary to the spirit of the legislation." That means college coaches would only be allowed to contact a person who maintains contact with the prospect, which includes relatives, guardians or coaches. So that means the NCAA would look deeply into who are the guardians, the handlers, athletic trainers and coaches. This gets back to the pre-existing relationship, a slippery slope the NCAA has been on before, making it harder to see who has truly been associated with the prospect. Seton Hall's Bobby Gonzalez said the idea is great, but policing it will be another matter. Yet the proposal apparently will include harsh sanctions for those that violate the proposal, including missing games for coaches who contact people that are loosely associated with the prospect.
The proposal also looks at non-coaching staff hiring practices. This is a way to get out of package deals. The rule would state that any non-coaching personnel hire would have to come two years before or two years after the prospect the hire is associated with would be on campus. So if you want to hire an assistant to the head coach, as some have done to get a player, that hire had better arrive two years before the recruit. Camps and clinics at schools would only be able to employ their own staff members or students to work at the camp. This would eliminate AAU or summer league coaches from coaching at clinics to help pay for unofficial visits or gain a recruiting advantage.
Schools would also not be allowed to host a nonscholastic event on their campus. Also, in an attempt to get rid of scouting services that are tied to gaining access to a prospect, the legislation would prohibit paying consulting fees to anyone associated with the prospect. If any of these proposals are approved on Oct. 29, they would be in effect for May 1, 2010.
There is also some legislation that would alter the recruiting calendar, tryouts, travel expenses for prospective student-athletes and those associated with the prospect (other than parent or guardian) and communication with prospects.
Martelli, a member of the NABC board, said the spirit of all the proposals are sound, but the details still need to be worked out.
• Steve Pence, the attorney for Louisville coach Rick Pitino, said Thursday that the reason Pitino was correct in saying he won't miss a practice or a game to be on the witness stand in the federal extortion trial of Karen Cypher is that courts routinely make accommodations for witnesses. "He's not a defendant, and that would be different," Pence said. "With any witness, the court works with their availability and their schedule." Pence said he is sure of this as a former U.S. attorney. He said the trial date still needs to be set by the court.
• Washington coach Lorenzo Romar said he hoped to be back up to eight players for Thursday's practice. He said the flu bug (not swine flu) had hit his team after Friday night's Midnight Madness event. The Huskies had only seven available bodies for the first few days of practice.
• Romar said freshman guard Abdul Gaddy has been a gem early on and is a quick learner and isn't making mistakes. Gaddy is expected to be a force on the perimeter with Isaiah Thomas and Venoy Overton, forming one of the top backcourts in the country. Romar also said Tyreese Breshers and Clarence Trent are proving to be more than capable rebounders in a search to get Quincy Pondexter help to offset the rebounding loss of Jon Brockman.