Glasser adjusting to role as ASU's leading man
November, 3, 2009
11/03/09
12:14
PM ET
Derek Glasser
was unsure how to handle the attention.
While he and James Harden were teammates at Artesia High (Calif.) and then at Arizona State, all Glasser had to do was set up his good friend with the ball.
Sometimes it would come back and he would benefit, like when he scored a career-best 22 points in an NCAA tournament first-round win over Temple last season.
Sometimes it would not, which was just fine too, since Harden was a prolific scorer last season (20.1 points a game). So was teammate Jeff Pendergraph (14.5 ppg) inside.
But Harden left for the NBA after two seasons, picked by Oklahoma City with the No. 3 pick. And Pendergraph, a senior, was plucked by the Sacramento Kings (and then dealt to Portland) with the first pick of the second round.
Suddenly, the upstart Sun Devils which should have made the NCAA tournament in 2008 and then finally did in 2009, were in a rebuilding mode with Glasser as the lone leader left.
Glasser phoned his friend Harden to see how he should handle this attention.
"I knew I was going to be the guy on the team that had to do this and do that for us to have a chance," Glasser said. "I asked James how did he deal with that? I've never had anybody put pressure on me. Everybody else had the pressure. I was the guy who sneaked around and does the other things."
Glasser knows from the opening game the opposing coach will focus their scout on what to do with him. So Glasser improved his ballhandling, spending the summer working against quicker players and trying to get past them to the basket.
[+] Enlarge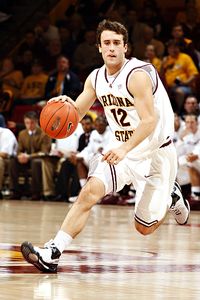 Rick Scuteri/US PresswireGlasser will be the unquestioned leader of ASU this season.
But is that really what Glasser must do this season for Arizona State to have a chance at a postseason berth?
"Derek is at his best when he sets the table for other people," ASU coach Herb Sendek said. "He's a true point guard in every sense of the word. Simply because James and Jeff aren't here, that doesn't mean he gets away from who he really is. He's a true point guard.
"It wouldn't be in the best interest of our team for him to reinvent himself. He's a good player at what he does best."
But it is unquestionably a different feel for Glasser this season.
"It has definitely been different for me without James being around and Jeff for that matter," Glasser said. "I've had to adjust my mindset."
Glasser said the ball was in his hands a lot more throughout the preseason. A year ago, he would just feed off Harden penetrating and get a reverse pass for an open 3-pointer. Now he will have to create more on his own.
"We're a team in transition," Sendek said. "We lost the third pick in the draft and two players to the NBA. Everybody has Washington and Cal atop [the Pac-10], but there's an awful lot of parity in the conference after that. We'll change our offensive approach. The last two years it started and ended with James and Jeff. There was a lot of two-man stuff. Clearly, those guys were our primary option and everyone else fed off what they created. This offense will be much more about equal opportunity."
In theory, that's right. But the preseason hasn't been kind to Sendek's plan. A knee injury to junior guard Ty Abbott put him on the sideline during the preseasoan. Sendek is hoping Abbott (7.1 ppg) can return later this month. But without him, the perimeter has been a bit thinner with Glasser (8.8, 4.8 apg), sharp-shooter Rihards Kuksiks (93 3s last season) and Jamelle McMillan (4.8 ppg) as the primary perimeter players. Freshman Victor Rudd, who was expected to help inside, hasn't been cleared to compete yet. Senior Eric Boateng will be counted on heavily to produce inside.
Glasser said freshmen Trent Lockett and Demetrius Walker have benefited from Abbott's injury, getting more reps with the first team during practice on the perimeter.
Last weekend, the Sun Devils scrimmaged at Texas Tech.
"It was good because they were really aggressive on the ball and play defense like Washington," Glasser said. "It was good for our young guys to have pressure and for our big guys like Eric to get them ready."
Despite the huge losses for this team, the Sun Devils were granted an immense amount of respect by being picked seventh in the Pac-10. Washington State returns Klay Thompson and DeAngelo Casto, two of the better players at their respective positions. Yet, the Cougars were selected behind ASU, possibly because of the coaching change from Tony Bennett to Ken Bone. Even USC, which was gutted with the departure of Tim Floyd and a recruiting class that was wrecked, could make the argument to be in line with the Sun Devils. The Trojans were instead picked ninth.
"We have experience at guard and I think the big thing is that we learned how to win last season, when to take the big shots," Glasser said. "We have talent. Once we learn to play together, we'll be just fine."
Glasser said the Sun Devils' zone will keep them in games, too. He said that after Cal and Washington, the wide-open Pac-10 invites rebuilding teams like the Sun Devils to move up in the standings.
• Oregon coach Ernie Kent said he couldn't be more pleased with the progress of his squad. The Ducks won just two Pac-10 games last season, Kent's worst in Eugene.
But that should change dramatically with the experience of younger players like sophomore guard Malcolm Armstead, Matthew Humphrey and Michael Dunigan, the arrival of freshmen Jamil Wilson (who led the Ducks with 17 points in an exhibition Sunday) and E.J. Singler (brother of Kyle) and an infusion on the staff from assistant Mike Dunlap, who was essentially like a co-head coach with Russ Pennell during the interim season a year ago at Arizona.
"We have a chance to be really, really good," said Kent, who has guided the Ducks to two Elite Eights in his 12-year tenure. "It all centers around confidence. We have size, athleticism, and good leadership."
Kent said Dunlap has already helped with his knowledge of the game. But the Ducks aren't going to change. They're going to run and press. A lot of that will hinge on senior point guard Tajuan Porter, who thrived two seasons ago when he was with Aaron Brooks as a complimentary player. He struggled last season when the onus was on him to produce alone. Now he's got more help and he was much more of a distributor than scorer in the exhibition.
"This is TP's basketball team," Kent said. "He's by far our best player. This is his team and he's pushing us at a relentless pace. What he did was change his body and made himself stronger."
A new strength and conditioning program is another reason Kent is high on his Ducks. He said their stamina, strength, quickness and overall condition has all improved.
This is a team that can score, but the question will be can it defend and rebound well enough to make an NCAA run? The Ducks were picked to finish sixth in the Pac-10, which would be an NIT range this season. The difference though could be the 6-7 Wilson, a Wisconsin native who was coveted by Michigan State and Texas.
"He's as talented as anyone [I've coached]," Kent said. "His feel for the game is along the lines of [former Duck and NBA first-round pick] Fred Jones. He's a great athlete and an all-American volleyball player. He's a great athlete with running and jumping ability. His work ethic is really picking up."
Kent's effusive praise for his freshmen doesn't stop at Wilson. He said Singler has had the smoothest transition of any freshman he has seen in college basketball.
• Arizona State media relations director Doug Tammaro is one of the best in the biz at compiling stats. He offers up this one on Sendek's coaching tree. He leads the country with former assistants who are currently head coaches:
Herb Sendek, Arizona State (8)
Jim Christian, TCU
Charlie Coles, Miami (Ohio)
John Groce, Ohio
Larry Hunter, Western Carolina
Ron Hunter, IUPUI
Thad Matta, Ohio State
Sean Miller, Arizona
Mark Phelps, Drake

Rick Pitino, Louisville (7)
Mick Cronin, Cincinnati
Billy Donovan, Florida
Sean Kearney, Holy Cross
Marvin Menzies, New Mexico State
Herb Sendek, Arizona State
Tubby Smith, Minnesota
Kevin Willard, Iona

Mike Montgomery, California (7)
Jeff Jackson, Furman
Trent Johnson, LSU
Ernie Kent, Oregon
Stew Morill, Utah State
Eric Reveno, Portland
Blaine Taylor, Old Dominion
Wayne Tinkle, Montana

Jim Calhoun, Connecticut (6)
Howie Dickenman, Central Connecticut State
Karl Hobbs, George Washington
Glen Miller, Pennsylvania
Tom Moore, Quinnipiac
Steve Pikiell, Stony Brook
Ted Woodward, Maine

Ben Braun, Rice (5)
Keith Dambrot, Akron
George Nessman, San Jose State
Joe Pasternack, New Orleans
Charles E. Ramsey, Eastern Michigan
Gary Waters, Cleveland State

Tom Izzo, Michigan State (5)
Jim Boylen, Utah
Tom Crean, Indiana
Brian Gregory, Dayton
Stan Heath, South Florida
Doug Wojcik, Tulsa

Stew Morrill, Utah State (5)
Don Verlin, Idaho
Randy Rahe, Weber State
Blaine Taylor, Old Dominion
Terry Dunn, Dartmouth
Jeff Jackson, Furman

Jay Wright, Villanova (5)
Patrick Chambers, Boston U.
Fred Hill, Rutgers
Joe Jones, Columbia
Billy Lange, Navy
Tom Pecora, Hofstra

• Texas Rick Barnes went with Varez Ward at the point during his team's scrimmage with Davidson last weekend. That's no easy choice with Dogus Balbay and Florida transfer Jai Lucas (eligible in mid-December) also around. Freshman Avery Bradley is a lock for shooting guard, with Justin Mason next to him and Damion James and Dexter Pittman inside. But that leaves quite a loaded bench with Gary Johnson and freshman Jordan Hamilton first off for forwards and then J'Covan Brown ready to play on the perimeter.
Davidson coach Bob McKillop was thoroughly impressed with the Longhorns: "It's very clear that Rick Barnes spends more time making players than recruiting players. He teaches them. He coaches them and it shows. They get better. When his rookies fully grasp the system, they will be very, very difficult to beat."