Make no mistake: UK's Bledsoe is here to stay
November, 13, 2009
11/13/09
9:21
PM ET
LEXINGTON, Ky. -- As
John Wall
ran up court during Friday's shootaround at the University of Kentucky's Craft Center, an NBA scout turned to me and said he wasn't going to write up a report.
There is no need, the scout said, since all Wall needs to work on is his shooting. That's it.
Eric Bledsoe, who showed no signs of an ankle injury that kept him out of an exhibition game last week, took the next drill and raced upcourt to finish a play.
A scout to my left turned, rolled his eyes and smirked about Bledsoe's speed, as well.
Fast-forward to Friday night at Rupp Arena. Wall was in a blue sweat suit, sitting out the final game of his two-game NCAA suspension for extra benefits totaling nearly $800 (unrelated to his Kentucky enrollment), and Bledsoe was running the point for 37 minutes in Kentucky's 75-59 season-opening win over Morehead State.
What the Big Blue Nation saw with Bledsoe was only half as good as it'll get once Wall is cleared to play for Monday's second game, against Miami (Ohio). What they'll see is a lightning-quick guard tandem that will be extremely difficult to catch.
[+] Enlarge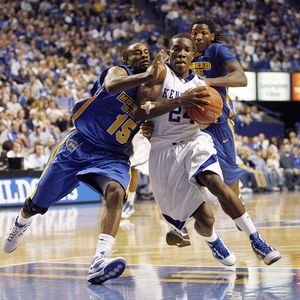 Mark Zerof/US PresswireEric Bledsoe began his UK career with a 24-point performance against Morehead State on Friday.
Bledsoe finished with 24 points against the Eagles, making 7 of 14 shots from the field and 9 of 10 from the free throw line. He dished out four assists and had seven of UK's 24 turnovers.
"It will be people just running back and forth, back and forth," said Kentucky junior forward Patrick Patterson of what it will be like to play with the freshman backcourt of Wall and Bledsoe. "People will get winded from trying to chase them down. We'll get layups and dunks. It's going to be pretty much a show."
John Calipari, coaching in his first regular-season game for Big Blue, didn't mince words about who will start once Wall is back.
"Eric Bledsoe will start, duh," Calipari said. "John Wall will start, and Patrick Patterson will start."
Calipari said the other two spots are still open for competition, but those three shoo-ins he rattled off are three players who will garner national attention all season. The backcourt alone is going to be a heck of a lot to fun to watch. There are plenty of great guards in the SEC, including Ole Miss' Terrico White and Chris Warren and South Carolina's Devan Downey, but it might be hard to put together a quicker backcourt than Bledsoe and Wall.
Bledsoe said Friday that he felt some pressure to play, score and stay on the court without Wall available. He was fretting about his ankle, too. That didn't seem to be an issue when he had an athletic block on a shot from behind or when he made an acrobatic layup as he was falling down that surely will be the top highlight of the first full night of college hoops. Bledsoe is, as one scout described, a Kyle Lowry type of player, a piston of a man who powered his way to the basket Friday, taking the contact and finishing.
"Nobody can stop me from playing," Bledsoe said. "Coach told me to push it. I could see they were getting tired and fatigued so I pushed it."
When Wall is on the court Monday and beyond, Bledsoe said that whoever has the ball will push it and that he and Wall will be in attack mode at all times.
Calipari said he's hoping the rest of the players start to fully understand the commitment they'll need, especially on the boards and rebounding. He didn't hesitate to call out those who didn't play well. But it was easy to praise Bledsoe.
"I love him. I love his courage on the floor," Calipari said. "I think he's a very intelligent player, even though he had seven turnovers without John Wall on the floor and I tried to play him every minute. What I expect from him is six and two, that is six assists and two turnovers and 10, 12 or 15 points a game. What about the blocked shots he made with one ankle? He blocked guys with one ankle."
Yes, it was quite something. Morehead State zoned, and Calipari said he expects more teams to do that. He said there will be plenty of sagging defenses, too, to force the Cats to shoot. Kentucky made just 4 of 19 3s; that could be an ongoing problem. But scoring won't be the issue if Bledsoe and Wall push the ball and find Patterson (20 points and 12 boards) in the post. The issue will be defending and rebounding.
But if there was any uncertainty about what Bledsoe's role would be once Wall signed, that should be erased from the memory. Bledsoe is here to stay in the starting lineup and will be a major player in this team's future.
"He's just a gamer," Calipari said. "I said to the team, 'Who on this team takes the game winner and knows it's going in?' and I pointed to Eric. Some guys hope it goes in, and he knows it's going to go in. One of the guys said to me, 'He's tired' and I said, 'I know, but he's better than most guys that are fresh, so I'll leave him in.'"