Six things to take away from the 76 Classic
November, 30, 2009
11/30/09
3:01
AM ET
ANAHEIM, Calif. -- West Virginia won the 76 Classic, in what may go down as the toughest tournament this season when the bids are handed out in March.
So the Mountaineers are good. But we knew that already. What other conclusions can be drawn after a holiday weekend in Anaheim?
1. UCLA is in trouble: The Bruins lost to Portland by 27 points and then fell to Butler on a last-second drive by Gordon Hayward that resulted in free throws with less than a second left. On the final day, they fall flat in the second half in a 11-point loss to Long Beach State.
That means the Bruins (2-4) have lost to four schools outside the so-called "power six" conferences, including twice to the Big West for the first time ever in the same season. Neither Cal State Fullerton nor Long Beach State, both long in the SoCal shadow of the Bruins, had ever beaten UCLA.
"We got beat twice soundly and had a chance to win one," UCLA coach Ben Howland said. "We've got to change some things defensively, maybe play softer [man-to-man defense], because athletically we can't stay in front of teams right now."
Howland said the Bruins' transition defense was "really poor," and maybe that's a result of players' playing too many minutes. He said he has to get his freshmen more time, too, and that means players like Reeves Nelson and Brendan Lane, who did provide some spark.
[+] Enlarge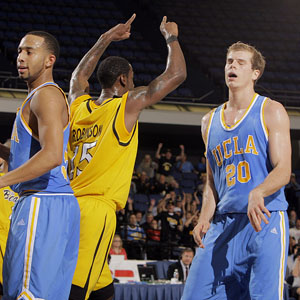 AP Photo/Jae C. HongFor the first time ever, UCLA has lost to two Big West teams in the same season.
There was some good news, such as Jerime Anderson's hitting a big shot when he tied the Butler game with a deep 3-pointer. But Malcolm Lee and Nikola Dragovic missed wide-open shots against Long Beach State.
"If we're going to beat good teams, then we have to make those," Howland said.
Freshman forward Tyler Honeycutt said he should be able to return to the Bruins for the Dec. 6 game against top-ranked Kansas after sitting out the first six games with a stress reaction in his right tibia. We'll see whether that's the case, since he still hasn't practiced at full speed. Honeycutt will help, but he's not a savior offensively.
The problems with the Bruins are: missing too many good looks; lack of consistency at the free-throw line; lack of a proven go-to post player; and erratic effort, which often results in inconsistent defense.
All is not lost, though. There are opportunities. If the Bruins were to pull off an upset of KU or take down Mississippi State in Anaheim or win at Notre Dame, maybe the discussion would turn. But the facts are still against the Bruins after the team went 0-3 for the first time ever in an eight-team tournament.
"We've got to get back to the Ben Howland philosophy," senior guard Michael Roll said. "We've got to get better."
2. Texas A&M is the third-best team in the Big 12: Yes, that may be presumptuous on my part, but the Aggies certainly look the part after comparing scores over the last few weeks.
Texas A&M left Anaheim with an identity and quality wins. The Aggies beat Clemson and Minnesota, two ranked teams that should be in the NCAA tournament come March, and played West Virginia tight for a spell. The Aggies should be a tough defensive team, as evident by a key Bryan Davis block to preserve a one-point third-place win over Minnesota on Sunday. And they may have found their go-to scorer in point guard B.J. Holmes.
The power rating for the Ags should be significant, given their upcoming games against undefeated New Mexico in Houston and at Washington in the Big 12/Pac-10 Hardwood Series.
"I'll wake up [Monday] and feel a lot better," Texas A&M coach Mark Turgeon said. "Our RPI is going to be pretty high throughout the year."
Remember a few Aggies going forward this season: forward David Loubeau (a hard-working nose-for-the-basket scorer), Holmes (the tough, diminutive scoring guard), Naji Hibbert (a role player who can make big shots) and Nathan Walkup (a player who always seems to be around the ball).
3. Portland is a credible NCAA tourney team: Pilots coach Eric Reveno got plenty out of this event, beating UCLA and Minnesota before losing to West Virginia in the final. But he said something telling before Sunday's title game. He said that if the Pilots are the team they are supposed to be now and the one that has earned respect, they need to win games like Wednesday against Portland State. He's right. The Pilots can afford to lose at Washington but must win the games it should to be taken seriously as a real at-large threat and/or challenger to Gonzaga in the WCC.
"I hope that people see that we play as a team," Portland forward Kramer Knutson said. "We don't have a bunch of guys out there playing for themselves and trying to make big shots. We play as a unit and go hard every time we are on the floor."
Remember Knutson, Ethan Niedermeyer, Luke Sikma and Robin Smeulders inside as tough, gritty guys who can finish and don't mind being knocked down. The compact, cornerback-like T.J. Campbell is a piston of a player at the point, and Jared Stohl can make big-time shots.
"We are going to look at these three days and see how much we have improved and see what we need to work on to be competitive," Reveno said. "I loved that these guys really tried to battle back and they showed some true heart and competitiveness."
Reveno said this team has a chance to be special. He's right. This team is deeper than conference mate Saint Mary's a year ago and will have more quality wins if it doesn't lose games it shouldn't.
4. Trevor Booker is a winner: Clemson's senior forward blocked Shelvin Mack's corner shot that would have won the game for Butler in a 70-69 fifth-place win for the Tigers.
Booker has his issues because he's a bit undersized. But he finds a way to make plays.
"I wanted to win so bad," Booker said. "A lot of people said we're not for real because we play easy schedules in November and always have a good record. But we got out of here 2-1 in the best tournament."
The Tigers were hurting during the weekend with a virus that spread through the team. Jerai Grant had an alarmingly high temperature of 105 degrees at one point Friday, according to coach Oliver Purnell. It came down, and he was able to play 14 minutes.
Purnell challenged his lot Sunday, saying that the game against Butler was a "March-type game." It was. The win over the Bulldogs will have shelf life. The Tigers were able to pick up their defensive intensity and prove they can force turnovers. The best news for Clemson is that Andre Young made four of the six 3s he attempted. This team desperately needed to leave here with multiple 3-point threats. The Tigers knew they had one in David Potter, but Demontez Stitt and Young proved they could make big-time 3s, too.
5. Butler has to keep Matt Howard out of foul trouble: The Bulldogs lost to Minnesota in the quarterfinals, beat UCLA essentially at the buzzer in the second game and then lost by one to Clemson. That doesn't mean the Bulldogs were overrated or won't ever sniff the top 10 again this season (although it will be difficult with the Horizon League schedule). Butler still plays Georgetown in New York and has a date with Ohio State.
But the bigger issue for the Bulldogs is trying to keep Howard out of foul trouble. He had three fouls in the season-opening win over Davidson, fouled out of the next four games before coming close in the sixth, and committed four in the loss to Clemson. Butler coach Brad Stevens said Howard is vital to the Bulldogs' success and has to stay on the floor. This was clear, even with the positive play of Hayward, Shelvin Mack and role players such as Ronald Nored, Zach Hahn and Shawn Vanzant.
6. Long Beach State broke through: The 49ers' win over the Bruins was a significant step for Dan Monson in his third season at the Beach. Long Beach State won the game despite Larry Anderson's still finding it hard to be consistent. T.J. Robinson looked like a star against UCLA with 25 points, making 10 of 19 shots and grabbing 13 boards. Casper Ware more than held his own at the point with 11 points, six assists, four turnovers and three steals. And Stephan Gilling was more than a role player with 10 points and a pair of 3s. The 49ers made five of 10 3s and limited UCLA to 3-of-20 on 3-pointers.
"It gives you a yardstick to point to," Monson said of the win. "Hopefully it gives us confidence that we can play together with those types of teams."
Big West favorite Long Beach State still has to go to Texas, Duke and Kentucky. No one is expecting the 49ers to win any of those games or be an at-large team. But who knows -- what if they were to win one of those? One thing is certain: The profile of the Big West has changed this week … at UCLA's expense.
"It establishes credibility," Big West commissioner Dennis Farrell said of the wins by Fullerton and Long Beach. "UCLA is still UCLA. This is the time of the year to establish yourself in Division I. This is why I wanted to create this event in Orange County, so that our teams would have a chance to play teams like West Virginia on a neutral court.
"Long Beach State is aggressively scheduling. We need a school like Long Beach to step up like Gonzaga did for its conference. It's looking right now like we have four good teams in our league based on the results that have me very encouraged."