Meyer's dilemma all too familiar to hoops coaches
December, 28, 2009
12/28/09
1:06
PM ET
Wake Forest coach Dino Gaudio was thrilled his two daughters -- one in law school, the other a student at Wake Forest -- were home for Christmas weekend. He saw them in the house, of course, but didn't get to spend an extensive amount of time with them.
While the girls and their mom were in the living room watching television, Gaudio sat at the dining room table watching tape of UNC Greensboro, Richmond and Xavier -- Wake Forest's next three opponents.
"Every night my wife Maureen would ask if I wanted to watch a movie with them," Gaudio said. "You're home, but you're not there."
The constant struggle for work-life balance for a college coach, regardless of the level, never seems to fade.
On the way back from practice in Greensboro, N.C., on Sunday, in advance of Monday night's game at nearby UNC Greensboro, the Wake Forest coaching staff was discussing the topic of the day: Florida coach Urban Meyer's decision Saturday night to resign due to stress-related symptoms.
Of course, little did Gaudio and any other coach know that Meyer would completely change his mind 24 hours later and decide to take a leave of absence instead of quitting the Gators. Still, any time a high-profile coach looks to get away from the pressures of coaching, the rest of the profession pauses to see if they're doing everything they can to avoid a similar physical breakdown.
For the Wake Forest staff, especially Gaudio, this is especially pertinent. It has been two-plus years since Gaudio's best friend, Skip Prosser, passed away from a sudden heart attack at age 56. Prosser didn't have a chance to change his lifestyle, something that Meyer is apparently attempting to do after experiencing chest pains several times over the course of the season. Ironically, Sunday's game against Xavier, Prosser's former employer, is being dubbed the Skip Prosser Classic, as the two schools will continue a home-and-home series honoring the late coach.
[+] Enlarge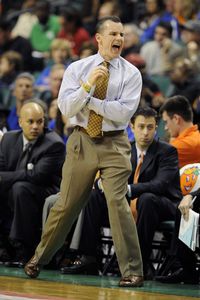 Richard C. Lewis/Icon SMIBilly Donovan, Urban Meyer's friend and Florida colleague, experienced his own moment of indecision when he was close to leaving Gainesville for the Orlando Magic.
Orlando Magic coach Stan Van Gundy recently voiced his concern about maintaining a work-life balance when he complained about the NBA's Christmas Day games and said how he had no time to spend with his family on Christmas morning.
"For me, to alleviate the stress, I have to work out at least an hour to an hour and fifteen minutes a day," Gaudio said. "You have to have some sort of balance in your life. Skip won't be the last one. You have to be diligent."
Florida coach Billy Donovan essentially chose his family's life in Gainesville, Fla., over the rigors of the NBA when he flip-flopped between college and the pros, opting to return to the Gators rather than become the Orlando Magic coach three years ago. Donovan said he hadn't talked to Meyer as of late Saturday. But he said the constant struggle of distancing himself from work is ongoing. He said it's almost impossible today.
"When my dad was working, he would get off at 5 p.m. and come home and if you tried to get him and you called late you didn't get him until the next morning," Donovan said. "There were no cell phones. There was no e-mail, there was no texting. This is all in the last 25 years, so it's not that long ago."
But Donovan said the 24-7 world that we all live in has made it nearly impossible to find distance from the work of a coach -- dealing with players, staff and recruiting -- when you're with your family.
"You have tunnel vision," Donovan said. "You're home, but you're not really home and your wife and kids know that."
We're all accessible now, no matter the time. Coaches make their own lives miserable because of the demands on their schedule and the constant desire to be in contact with everyone involved in their program. A number of coaches talk about how the team is their "family." But being an absentee father for their own children is worse than not being as diligent with these so-called "kids" that are coming through their program for a year or two or three or four. According to the New York Times, after he announced he was stepping down as Florida coach, Meyer's daughter said, "I get my daddy back," after feeling like she hadn't seen him the past two years. That's just a sad statement and perhaps not an uncommon theme among many families of coaches with high-pressure jobs.
Meyer's sudden move made everyone pause. Prosser's death had much more of a profound effect on the coaching consciousness. But nothing seems to change. The wired coaching brains in a wired world apparently won't allow a real alteration.
There always seems to be UNC Greensboro (or you fill in the school) tape to watch on Christmas Day.